A Myanmar military raid killed a resistance commander on Thursday morning in Sagaing Region, according to local resistance groups. At least two other People's Defense Force (PDF) fighters are missing following the raid on a resistance base in Sagaing's Myaung Township.
Around 90 junta soldiers from a detachment which refers to itself as the 'Ogre Column' raided the headquarters of the Sagaing District PDF Battalion 1 at Swal Lwal O Village in the south of Myaung Township on Thursday morning, according to the Civilian Defense and Security Organization of Myaung (CDSOM) resistance group.
Bo Sin Yine, deputy commander of Sagaing District PDF Battalion 1, was killed during the raid, while two other PDF fighters are believed to have been detained, CDSOM's leader Ko Nway Oo told The Irrawaddy.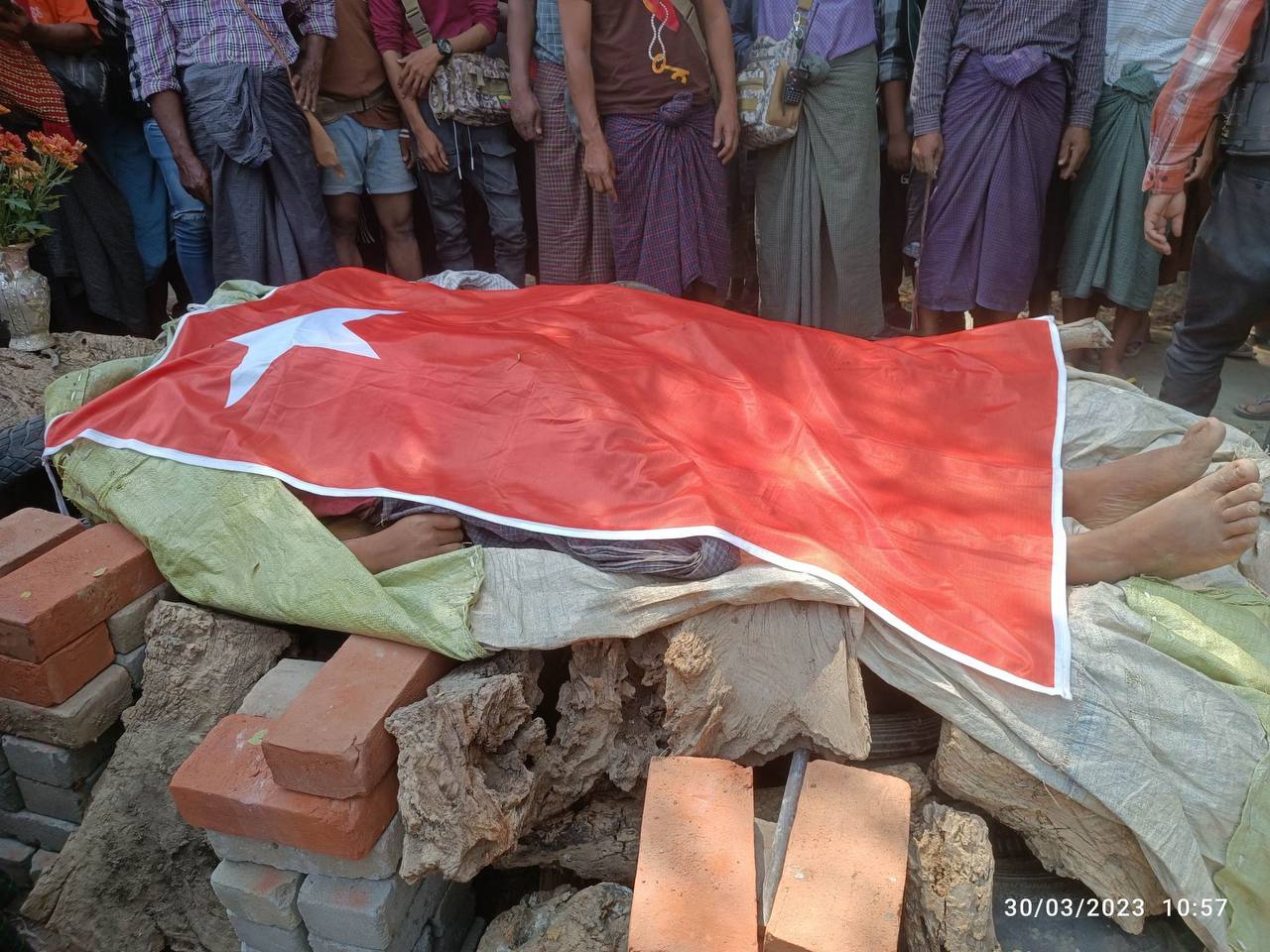 He added that the PDF fighters were unable to defend themselves as they lacked proper weapons.
"Despite being a PDF battalion under the civilian National Unity Government, the battalion has only two automatic rifles. Unluckily, the two weapons were being used by PDF fighters patrolling outside the base at the time of the junta raid," said Ko Nway Oo.
However, Swel Lwal O Village residents escaped as they all had been evacuated by the PDF to safe places the day before the raid, while military regime forces were stationed at a nearby village.
On Thursday morning, resistance groups used a drone to bomb junta troops deployed in Swal Lwal O Village. Over a dozen soldiers are believed to have been killed or injured, CDSOM said.
The 'Ogre Column' is comprised of troops from Light Infantry battalion 708 led by Lieutenant Colonel Tun Lin Aung.
Since February 23, the column has conducted a series of raids on resistance strongholds in Ayadaw, Myinmu, Sagaing and Myaung Townships in Sagaing Region, as well as Yesagyo Township in Magwe Region, killing nearly 50 resistance fighters and civilians.
During the raids, the column has beheaded and mutilated detained PDF fighters and massacred a large number of civilian detainees, including women who were raped before being killed.
The column also massacred 29 civilian detainees and two resistance members during a raid on Mon Taing Pin Village in Sagaing's Ye-U Township in early May 2022.
But some 42 soldiers from the 'Ogre Column' have been killed in a series of attacks by several PDFs in Myaung Township between March 12 and 23, while the junta column was raiding villages and PDF bases in Myaung and Yesagyo townships.
The column returned to Myaung Township on Wednesday, after being reinforced while deployed in Myinmu Township.