Myanmar's regime recently arrested a gems merchant for allegedly supporting the civilian National Unity Government (NUG) and seized his assets. Gems and jewelry traders are viewing it as a threat to the entire industry.
U Kyaw Thura is the vice-chair of the Myanmar Gems and Jewelry Entrepreneurs Association and owns the Myanmar Thura Gems Company, a leading jade mining company and the only privately owned firm owned by a member of the majority Bamar ethnic group among the companies at the jade-mining hub in Hpakant, Kachin State. The sector is dominated by Chinese traders and junta cronies.
His possessions, including land, buildings, machinery and 193 tons of raw jade, estimated to be worth nearly 12 billion kyats, were sealed off.
The regime is trying to discourage business owners from financially supporting strikers that have refused to work for the regime and any group linked to the NUG, which the junta has labeled terrorist organizations.
A trader from Mandalay said: "Many business owners are afraid of both sides [regime and the NUG] and feel insecure. We have to pay cash if requested by either side. If it continues this way, the economy will only get worse. What happened [to U Kyaw Thura] is a threat to the entire gems and jewelry business."
Another gems dealer from Mandalay said: "The arrest of U Kyaw Thura and seizure of his property has rocked gems merchants. He is the key figure in the efforts to manufacture finished jewelry so it impacts the entire industry."
U Kyaw Thura was detained at his house in Chanayethazan Township, Mandalay, on August 17 for allegedly financially supporting the NUG and resistance groups in Kachin and Chin states and Magwe and Sagaing regions, as well as strikers, according to the regime.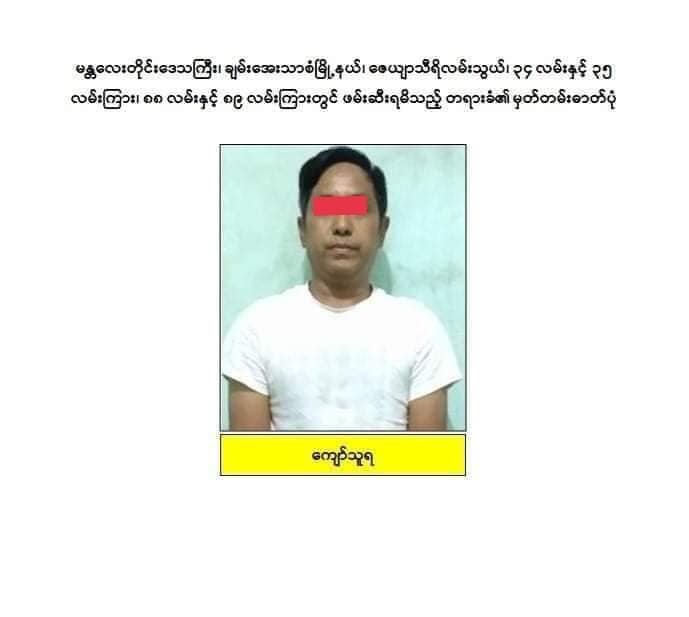 Within three days of his arrest, his property, including houses, company offices and workshops in Naypyitaw, Mandalay and Myitkyina and Hpakant in Kachin State, were sealed off.
U Kyaw Thura is apolitical and his friends were shocked by his arrest, said a fellow gems merchant.
"He is one of the few successful Bamar business owners. His position is clear. He focuses on the development of the gems industry no matter who is in power. I never heard him speak about politics. As he has risen from humble beginnings, he treats everyone with respect. No one can believe this has happened to him," he said.
U Kyaw Thura was detained following the interrogation of U Min Thu Aung, a driver at Myanmar Thura Gems, according to junta spokesman Major General Zaw Min Tun. The driver was also accused of funding the resistance.
According to the junta report, U Kyaw Thura had provided over 600 million kyats, US$10,000 and 19,000 yuan to protesters, strikers, the NUG and the resistance.
The regime said a pistol and bullets were found at his firm's compound in Namaphyit village in Hpakant.
A Hpakant source said: "You will find many guns in Hpakant. It was not found in U Kyaw Thura's house in the compound but an employee's room. The employee admitted it is his gun. Men like Ko Kyaw Thura do not need to keep guns. He is a likable man and lives in a guarded compound."
U Kyaw Thura, 46, of Sagaing Township is divorced with three daughters.
While Myanmar produces some 90 percent of the world's jade, the country only exports raw jade because of the lack of technology. Myanmar Thura Gems has been trying to manufacture finished jade domestically.
A gems dealer from Mandalay said: "He pays for jade sculptors to learn in China. He sends young trainees to China to learn from Chinese jade sculptors. U Kyaw Thura is the first trader in Myanmar to develop finished jade products."
U Kyaw Thura has engaged in the jade industry for nearly three decades and employs over 5,000 staff.