Around eight Myanmar regime troops were reportedly killed on Wednesday when people's defense forces (PDFs) conducted aerial bombing attacks in Sagaing Region.
Eight PDFs bombarded troops deployed at Myaung's fire station, according to the Civilian Defense and Security Organization in Myaung.
Ko Nway Oo of the group posted on Facebook that five drones targeted soldiers under a tree and in a fire department office.
At least seven regime troops were killed and many others injured, the PDFs claimed.
PDF video shows an explosive dropped by a drone exploding near a tree and another breaking a roof.
The Irrawaddy was unable to independently confirm the casualties.
The PDFs said another drone carrying a bomb was brought down by regime forces using a jammer while it was attempting to attack a military vehicle.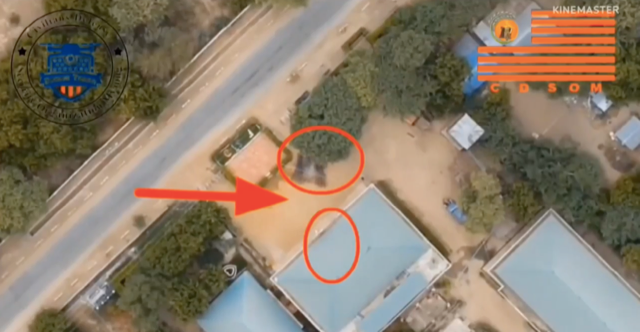 On Wednesday the Myaung Revolution Army (MRA) and Chaung-U PDF claimed to have killed two pro-regime Pyu-Saw-Htee militia members who accompanied troops raiding Shwe Pann village in Myaung Township.
The groups said the two were shot at close range while they were away from troops in the village.
The resistance fighters escaped without any casualties, despite intense regime attacks, said the MRA.
A junta soldier was killed and four others injured when two PDFs bombed a military checkpoint in Depayin Township, Sagaing Region, said the Dictatorship Revolutionary People's Army that said it took part in the attack.
Video shows a grenade dropped by a drone hitting the checkpoint.
Myanmar's junta faces attacks from PDFs and ethnic armed organizations across the country nearly every day.
On Wednesday, an estimated 28 regime troops were killed and four injured in resistance attacks, according to the civilian National Unity Government's Home Affairs and Immigration Ministry.
The number was probably an underestimate of regime casualties, the ministry said.