The junta-controlled Supreme Court's ruling on Aug. 22 to auction off Daw Aung San Suu Kyi's residence at 54 University Avenue in Yangon reflects the regime's eagerness to banish every trace of the ousted civilian leader from Myanmar.
On the surface, it appears to be no more than the latest twist in a long-running inheritance dispute between Daw Aung San Suu Kyi and her estranged elder brother U Aung San Oo. But 54 University Avenue is not just a house; the site is a symbol of the democracy struggle in Myanmar, as it is where Daw Aung San Suu Kyi was confined for 15 years by the previous military governments, which called themselves the State Law and Order Restoration Council and the State Peace and Development Council.
Apparently motivated by his feelings of guilt and his fear of Daw Aung San Suu Kyi, Min Aung Hlaing seeks to erase her legacy after putting the 77-year-old civilian leader in solitary confinement in Naypyitaw Prison on trumped-up charges.
Even if 54 University Avenue is sold at auction, Daw Aung San Suu Kyi will remain in the hearts of the Myanmar people and the struggle for democracy and the fight to uproot the military dictatorship will go on.
Compared to Min Aung Hlaing, his predecessors Saw Maung and Than Shwe were less harsh in their treatment of Daw Aung San Suu Kyi. She was sentenced to years of house arrest under the previous military regimes, but at least she could live in her family home. But Min Aung Hlaing wants to tear down the historic building and the compound.
54 University Avenue
After Daw Aung San Suu Kyi's father, Myanmar's independence hero General Aung San, was assassinated in 1947, his widow Daw Khin Kyi and children continued to live at their house on Tower Lane in Yangon's Bahan Township, which has been made a museum in memory of the general since 1962. But after the middle son Aung San Lin drowned at the swimming pool at the house in 1953, the family moved to 54 University Avenue, at the arrangement of the Anti-Fascist People's Freedom League (AFPFL) government.
Aung San Oo and Daw Aung San Suu Kyi were raised at 54 University Avenue as Daw Khin Kyu served as social welfare minister in the AFPFL administration. The government started to collect memorabilia from Daw Khin Kyi in 1957 for a museum. After renovations, the museum opened in 1960. In that year, by which time the two children were teenagers, Daw Khin Kyi left Myanmar to serve as the country's ambassador to India.
As the country's first woman to serve as the head of a diplomatic mission, she served until 1967. After she returned to Myanmar, she continued to live at 54 University Avenue while her two children studied abroad in England.
Daw Aung San Suu Kyi, who was married to British national Michael Aris, a Buddhist, often visited her mother at 54 University Avenue. The novitiation ceremony of her two sons was also held at this house.
She was in Myanmar to nurse her ailing mother in 1988 while the Myanmar military carried out brutal crackdowns on mass demonstrations demanding democracy. As she took a leadership role in the mass uprising, the residence became the hub of her party, the National League for Democracy, and the epicenter of the democracy struggle in Myanmar.
Daw Khin Kyi died at this house in December 1988. Daw Aung San Suu Kyi urged junta leader Saw Maung and military intelligence chief Khin Nyunt to restore democracy in Myanmar when the two generals visited the house during her mother's wake.
U Aung San Oo, who returned to Myanmar for the first time in 26 years to attend his mother's funeral, lived at 54 University Avenue for a while. At this time, the democracy movement reached its peak in the country. But U Aung San Oo showed no interest in it, and instead, disputes over the inheritance of the house began.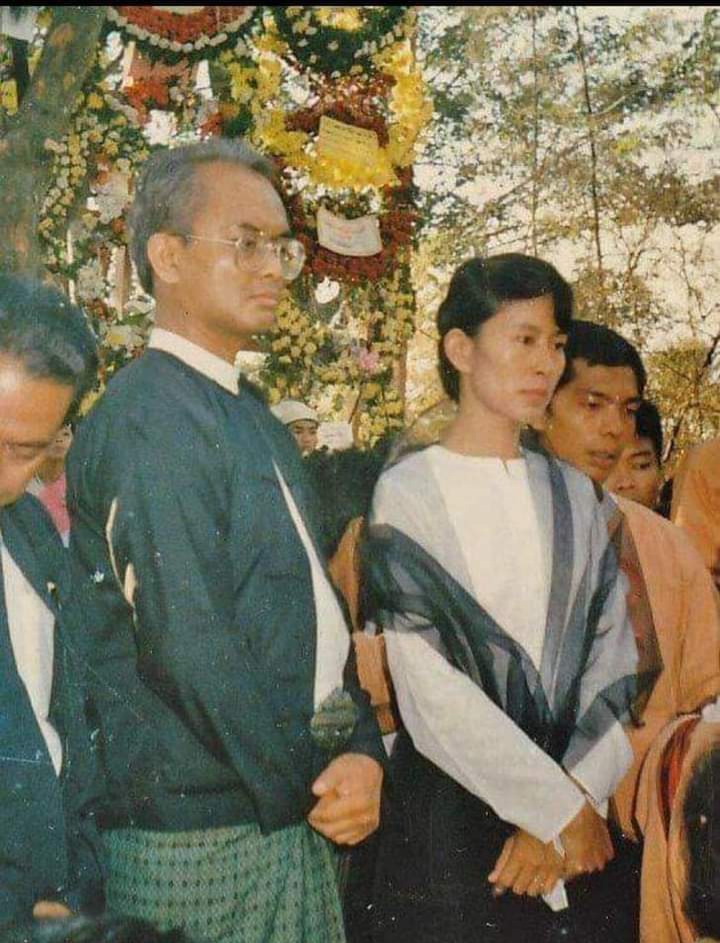 At 54 University Avenue, Daw Aung San Suu Kyi was placed under house arrest three times spanning 15 years between 1989 and 2010 by military regimes.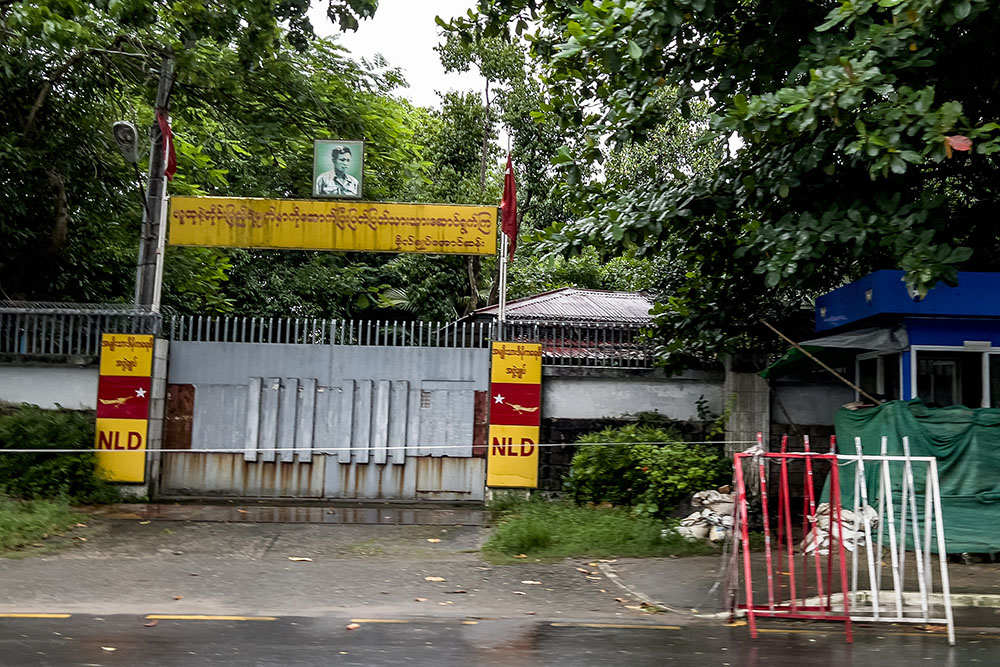 After she was released from her first house arrest in 1995, it was a familiar site on weekend afternoons to see Daw Aung San Suu Kyi climb up on a fence or a rickety table outside the house and make speeches promoting free speech and democracy to crowds of hundreds, sometimes thousands. Some who joined the gatherings were jailed by the regime.
When Aris died in 1998, Daw Aung San Suu Kyi could only mourn at the house. She was not under house arrest then, but she knew that she would not be able to enter Myanmar again if she left.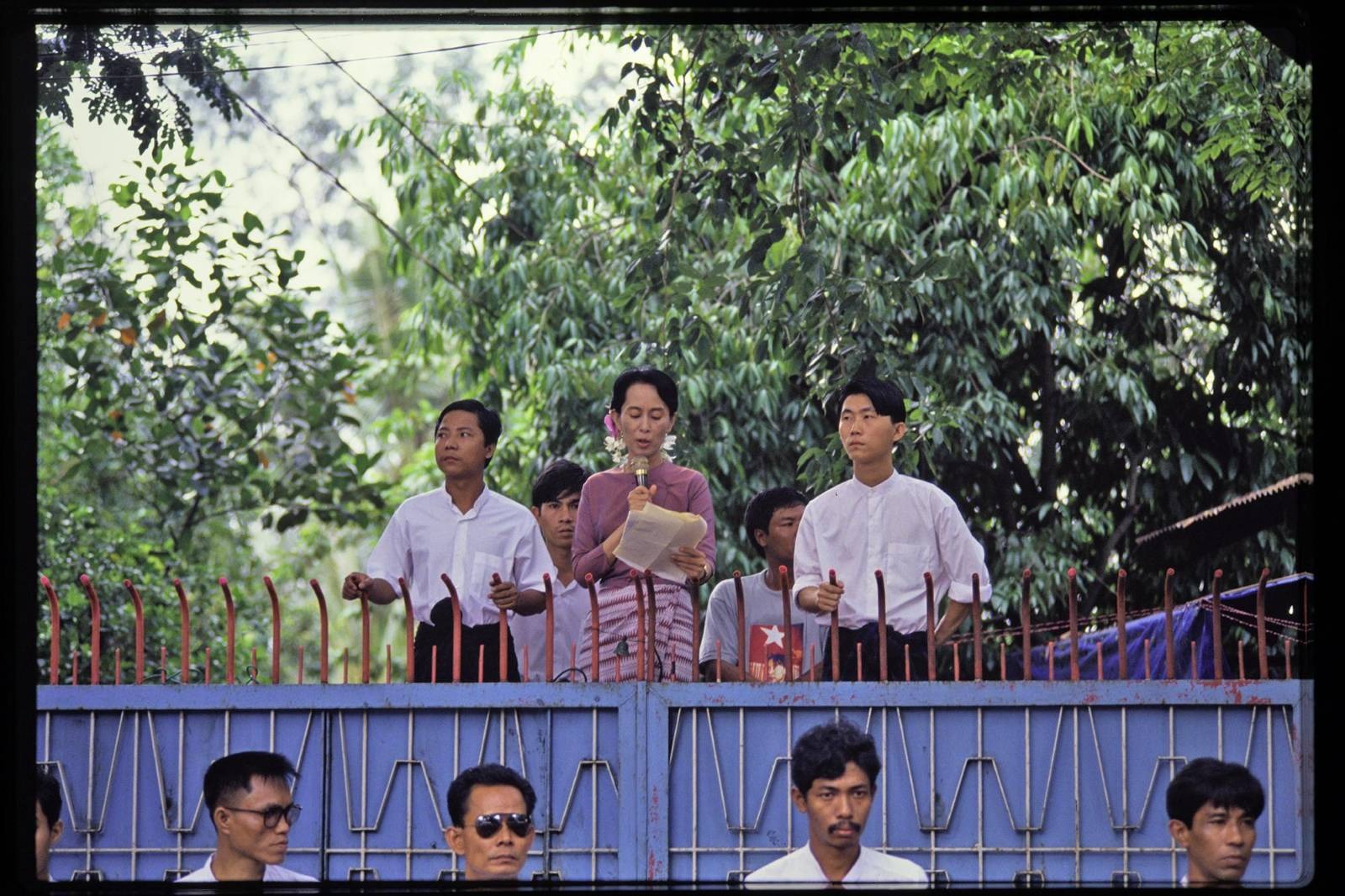 In 2001 when Daw Aung San Suu Kyi was under her second house arrest, U Aung San Oo sued her sister for the family estate. When she was under her third house arrest in 2003, U Aung San Oo was ordained as a Buddhist monk in Bagan. It was military spy chief Khin Nyunt who donated the requisites for U Aung San Oo to join the monkhood as part of a custom of monastic ordination in Theravada Buddhism. Khin Nyunt referred to U Aung San Oo as "my friend".
Just a month before U Aung San Oo's ordination, a convoy transporting Daw Aung San Suu Kyi was attacked by a pro-junta militia in Depayin, Sagaing Division in May 2003, leading to the deaths of up to 70 of her supporters.
In 2009, she was six years into one of her numerous periods of house arrest when US citizen John Yettaw arrived at 54 University Avenue after swimming across Inya Lake. As she was not allowed unauthorized guests, she was tried by a special court inside Insein Prison and given three years in prison with labor. Than Shwe however halved her prison sentence and allowed her to serve her term at her residence.
After she was released from house arrest in November 2010, 54 University Avenue became lively with politicians, artists, and local and foreign visitors.
In 2012, it was through the gates of this villa that US President Barack Obama drove to attend his historic meeting with Daw Aung San Suu Kyi, accompanied by then Secretary of State Hillary Clinton. Among the other high-profile visitors were United Nations Secretary-General Ban Ki-moon and British Foreign Secretary William Hague.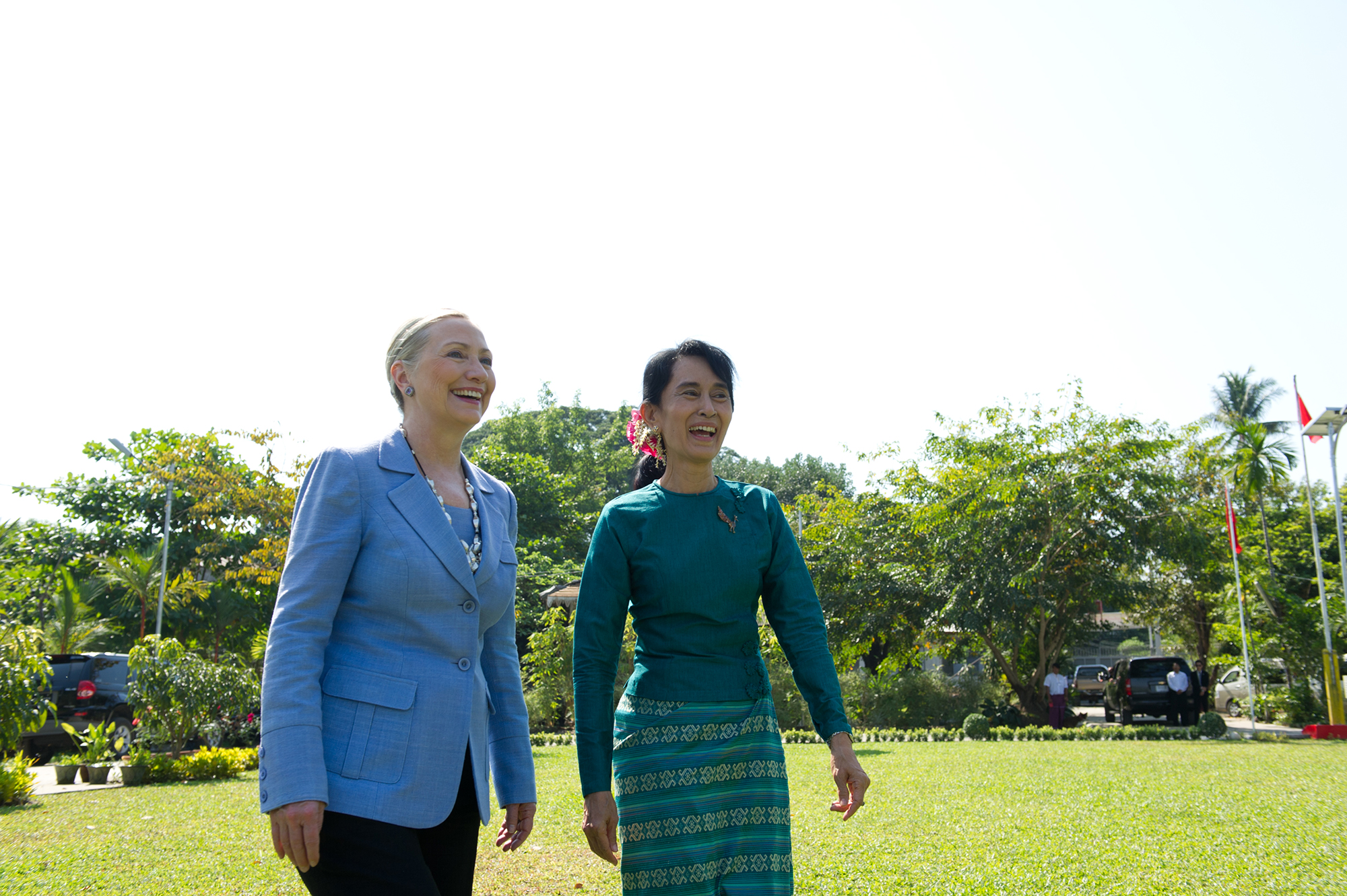 Daw Aung San Suu Kyi has not lived in the house since 2012, but it still attracts visitors who take photos with the villa in the background.
In 2016, a Yangon court ruled that the then State Counselor owned the two-story building and half of the land, while another building on the property and half of the land belonged to her brother. Daw Aung San Suu Kyi intended to use her inheritance as the basis for the Daw Khin Kyi Foundation, a charity founded by her and named after her mother.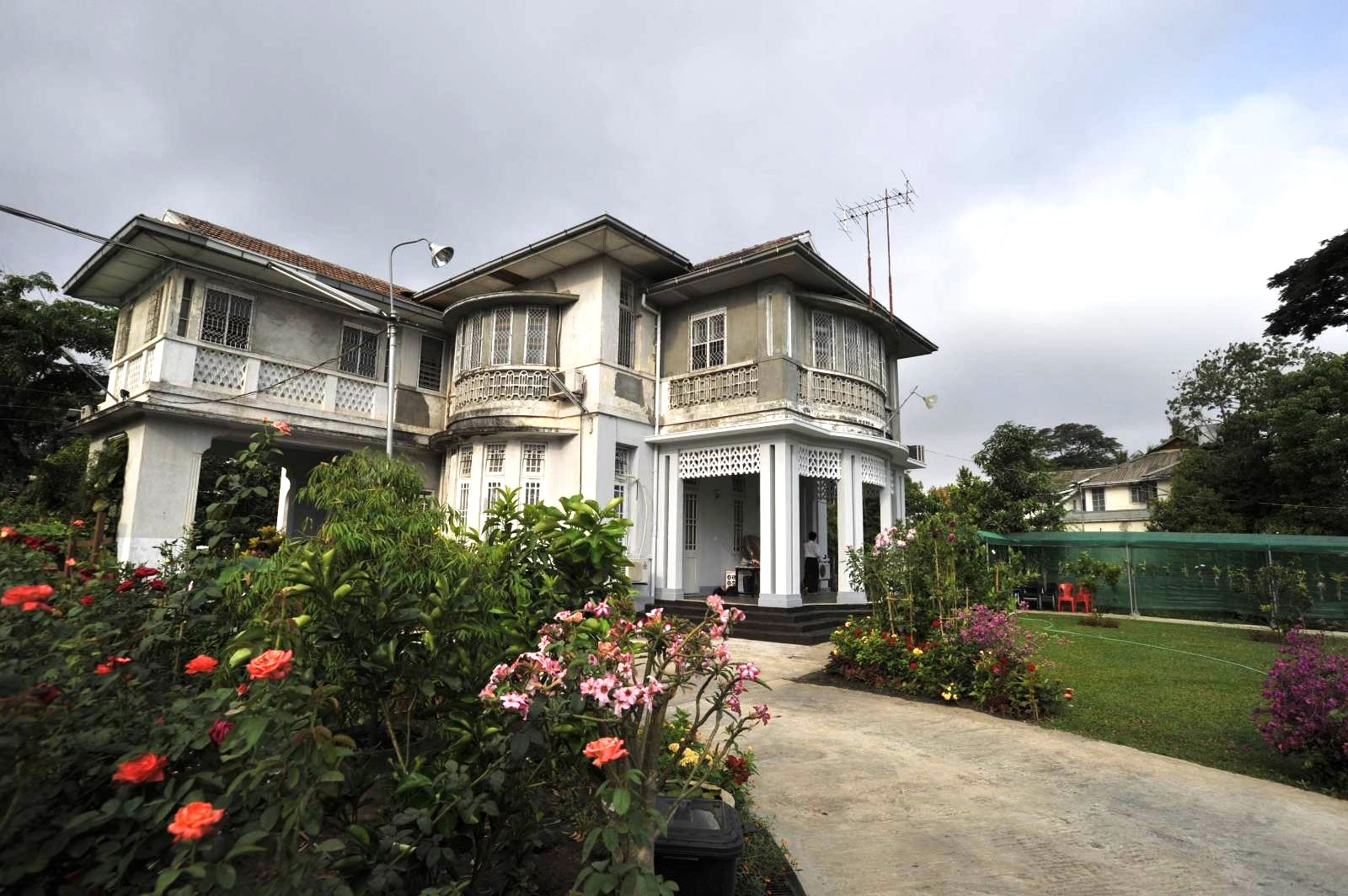 U Aung San Oo appealed to the Supreme Court in 2018, petitioning for the auction of the residence and a share of the proceeds. His appeal was rejected. The following year, he submitted a special, final appeal to Chief Justice U Tun Tun Oo, who is also the chairman of the nine-member court, the highest judicial body in the country, but no ruling was made at the time.
U Tun Tun Oo has served as the chief justice since the time of U Thein Sein's quasi-civilian government, and is a former assistant advocate-general of the Myanmar military.
On Aug. 22, U Tun Tun Oo approved U Aung San Oo's appeal to auction off the house and obtain a share of the proceeds. Everyone knows that he approved the appeal at the instruction of Min Aung Hlaing, after rejecting it as the chairman of the country's highest court in 2018.