SITTWE—The bodies of nine victims who were on board a Myanmar Port Authority vessel that sank on Monday near an island in Manaung Township in Rakhine State have been found. Ten of the 26 people who were on board at the time the vessel went down remain missing, after seven were found alive on Monday.
The vessel, the 180-ft-long Bull Elephant, sank early Monday morning after being struck by a large wave while moored off Let Pet Taw Island.
Eight of the bodies, including that of the helmsman, U Tun Tun, were found on Tuesday and were sent to Manaung Township. The ninth was found on Wednesday and was still at the seashore, according to U Myint Hlaing, a Manaung Township administrator.
Relatives of the deceased had arrived in Manaung Township and were negotiating with officials from the Transport Ministry and preparing funerals. The authorities continued their search-and-rescue operation to find the 10 remaining missing people.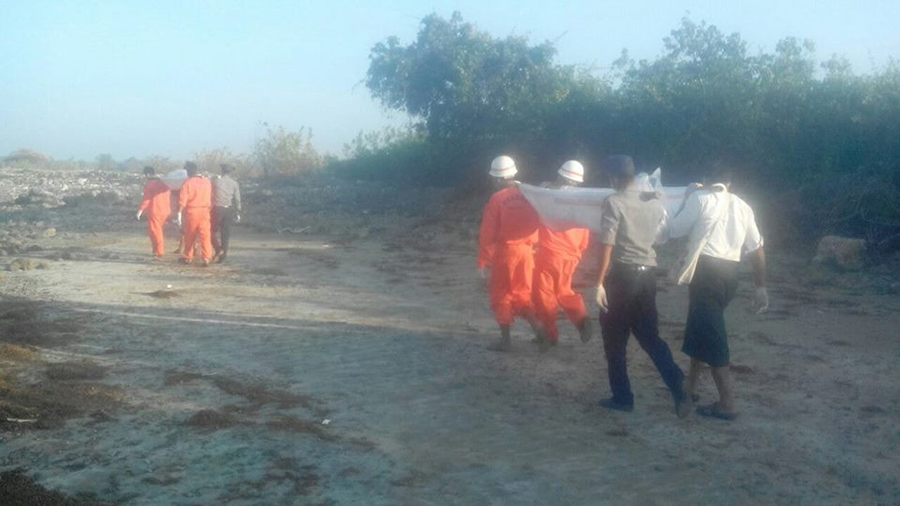 A total of 34 people—24 vessel staff, nine staff from the lighthouse and passenger U Tun Oo, from Yangon, who was not on the original list of those on board—were taken to Let Pet Taw Island from Yangon to repair a lighthouse on Feb. 7 and arrived at the island on Feb. 9, according to township General Administration Department officials.
Eight of the lighthouse staff disembarked on the island before the vessel sank. Authorities said the vessel's 24 crew members, one employee of the lighthouse and U Tun Oo were on board when the vessel capsized some 4 miles from the Zeetaw shoreline.
U Zaw Tun Lwin, the general manager of the Myanmar Port Authority who is in charge of the research operation, said officials were continuing the search and would follow the families' wishes regarding the disposal of the victims' remains.
He said, "The bodies will be sent to Manning Hospital and shown to the families. Then we will do our best, whatever they want to do—whether they want to take them back to Yangon or bury them here. We will coordinate with the local authorities and the funeral services."
Then, he said, the ministry would provide support to the family members after the search and rescue operation.