Myanmar's oldest revolutionary group, the Karen Nation Union (KNU), on Monday urged the United Nations and foreign countries to take action to stop the junta's war crimes.
The group, founded in 1947, made the call after a series of junta airstrikes on civilian targets in three villages, killing three children and a teacher in Papun Township, Karen State.
Southeast Asian leaders last Tuesday urged the junta to stop attacks on civilians while strongly condemning its violence and attacks on civilian targets.
But the junta attacked Papun two days later, ignoring the call.
During the airstrike on a boarding school at Htee Kaw Htar village, pupils Saw Eh Mu Lar, 14, Naw Htee Khu Phaw, 16, and Saw Bo Gyi, 13, and teacher Saw Phar Dah, 56, were killed.
Five children, aged nine to 16, and another teacher were injured.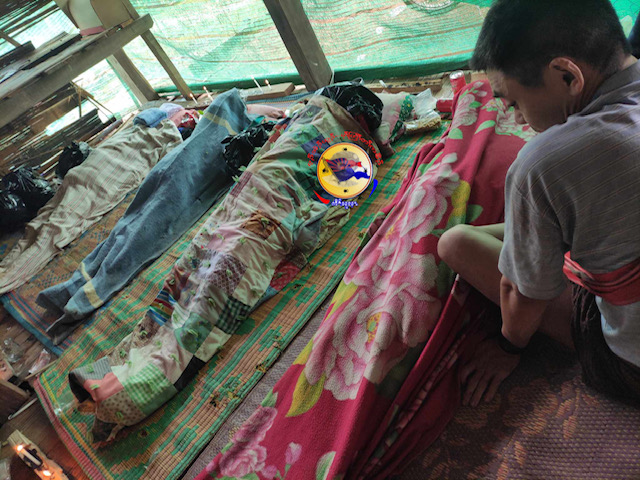 In the other two airstrikes, 13 civilian buildings, including a school and two religious buildings, were destroyed and a villager was injured.
The KNU said: "We urge the UN, its member countries and international justice mechanisms as well as ASEAN and international human rights organizations to take action for more effective sanctions against the military council."
Amid strong condemnation by rights groups, the ASEAN Air Chiefs Conference will be chaired by Myanmar junta's air force chief General Htun Aung in Naypyitaw from September 12-15.
By ordering an indiscriminate campaign of aerial terror, Htun Aung is responsible for the slaughter of civilians and destruction of schools, hospitals and places of worship, rights group Justice for Myanmar stated in late August.
About 1,000 people were killed in 930 airstrikes under Htun Aung's command between January last year and this July, according to the Armed Conflict Location and Event Data Project.
He has been sanctioned by the United States, United Kingdom, European Union and Canada.
The Philippines, Malaysia and Indonesia told the media last week that their air force chiefs will not attend the Naypyitaw meeting.