Last week's arrest of trade chief Major-General Yan Naung Soe amid a crackdown over surging food prices has placed his boss – the junta's notoriously corrupt Lieutenant-General Moe Myint Tun – under the spotlight.
Yan Naung Soo's arrest, which came after the military regime detained and questioned hundreds of importers and exporters, leaves Moe Myint Tun, who ranks 6th in the junta, embroiled in deep scandal and at risk of being sacked.
In addition to business owners and bankers, officials at military-owned businesses such as the Myawaddy Bank and Myanmar Economic Corporation have also been detained for interrogation. Many of the detainees reportedly bribed Moe Myint Tun. Yan Naung Soe is Moe Myint Tun's right-hand man.
Businesspeople estimate that Moe Myint Tun has acquired millions of US dollars in bribes from exporters and importers over the past two years.
Business owners who have sought his favor said he only meets those who bribe him in US dollars. They nickname him "The Sky" – a reference to his high regime position and the English translation of his name. He also drives a military-grade vehicle specially ordered from Russia.
"We have to pay a bribe of at least US$ 20,000 or the equivalent in gold and gifts just to meet him. We then hand over more money depending on the type of business," said a business owner, describing his dealings with Moe Myint Tun.
Moe Myint Tun refuses to meet those who bribe him with less than US$ 20,000, and the bribe is not returned, added the business owner, who requested anonymity.
"Even his former secretary who was sacked recently is already a millionaire," said another business owner.
The secretary, a military officer, handled bribes directly on Moe Myint Tun's behalf but was sacked after quarrelling with his boss a few months ago, according to sources.
Who is Moe Myint Tun and what's next?
The positions he holds grant the general significant benefits.
Moe Myint Tun is the sixth most powerful general in the current regime after junta chief Min Aung Hlaing, deputy junta chief Soe Win, General Maung Maung Aye, Navy chief Admiral Moe Aung and Air Force chief General Tun Aung.
A graduate of the Defense Services Academy 30th intake, Moe Myint Tun played an important role in the 2021 coup, leading a team of military officers to arrest elected President U Win Myint. This earned him the trust of Min Aung Hlaing.
He was appointed to the State Administration Council, as the junta calls itself, following the coup. Aged 55, he is the youngest member of the council.
He was tasked with overseeing Myanmar's economic affairs, chairing the junta-controlled Myanmar Investment Commission (MIC) and the Foreign Exchange Supervisory Committee (FESC), which was formed by the regime in response to a dollar shortage.
The FESC has backroom control not only of the Central Bank of Myanmar but also of any dollar expenditures in the country. It also issues export and import licenses.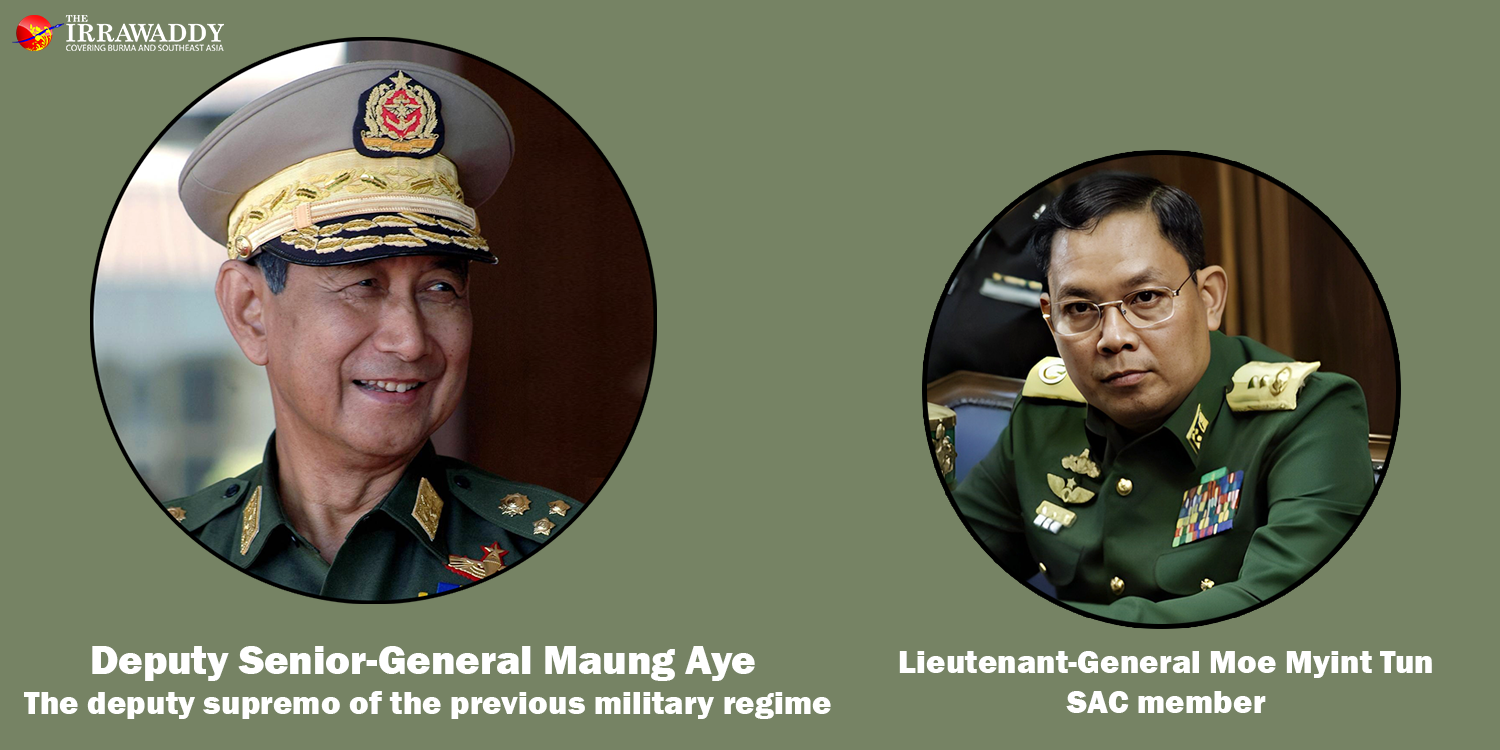 Moe Myint Tun served as a personal staff officer to Deputy Senior-General Maung Aye, the deputy supremo of the previous military regime, which collaborated with numerous business cronies. This position enabled him to build up a network of business contacts that includes Myanmar's top cronies.
After the current regime appointed him to key posts overseeing Myanmar's foreign trade and economy, Moe Myint Tun brought in Maj-Gen Yan Naung Soe to his office.
Yan Naung Soe leads the junta's Central Committee on Ensuring Smooth Flow of Trade and Goods. He created breathing space for the regime when it was suffocating under a dollar shortage triggered by US sanctions, helping design measures such as mandatory currency conversion that drew dollars from Myanmar businesses and citizens into regime coffers.
Last week, however, he became the highest victim so far of the crackdown on soaring food prices.
"Yan Naung Soe has been scapegoated as the corruption scandals unfold. In fact, Yan Naung Soe can do nothing without Moe Myint Tun's knowledge," said a business owner.
As Yan Naung Soe was being questioned, Moe Myint Tun was simultaneously pressuring military intelligence chief Ye Win Oo, according to information leaked from a military office.
Meanwhile, retired Lieutenant General Nyo Saw has been brought in to cover for Yan Naung Soe in the Central Committee on Ensuring Smooth Flow of Trade and Goods.
The junta boss now faces a dilemma over whether to sack his trusted aide, Moe Myint Tun.
"We have to wait and see what Min Aung Hlaing decides," said a business owner.