Following Myanmar junta's hanging of four democracy activists, the civilian National Unity Government's (NUG) foreign minister Daw Zin Mar Aung asked the United Nations Security Council to send troops and weapons using the Responsibility to Protect (R2P) principle to stop the regime killing more civilians. 
"How many more lives does the international community need before it can act decisively against the junta? Weapons for Ukraine, airlifts for Afghans and deafening silence for Myanmar's people. Who are we to you? Are we expected to suffer more atrocities than the others?" she asked on Saturday.
She said while the world called for restraint and negotiations, junta leader Min Aung Hlaing hardened his stand. While the world calls for State Counselor Daw Aung San Suu Kyi to be released, Min Aung Hlaing moved her from house arrest into prison. When the world asked him not to allow the executions, he had four political prisoners killed and the junta spokesman said the regime will execute more, Daw Zin Mar Aung added.
"We appreciate the statements of condemnation after the execution of our friends but without practical action, they are hollow words. Effective, decisive, united collective action is needed immediately," she said.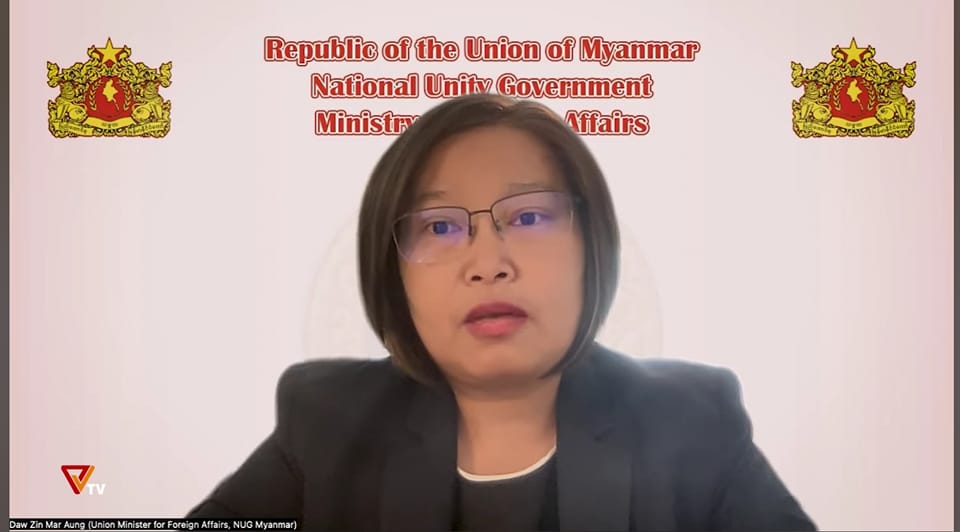 She called on the Security Council to supply troops and weapons and for UN member states to cut junta revenue streams and suspend all its international representation.
Daw Zin Mar Aung demanded recognition for the NUG as the official government and the same rights and dignity offered to other democratically elected governments, instead of legitimizing the junta or issuing ineffective statements of regret.
Formed as a parallel government on April 16 last year, largely by elected lawmakers from the ousted National League for Democracy and their ethnic minority allies, the NUG has enjoyed popular support at home and abroad. A majority of Myanmar's people see it as their legitimate government, while the regime has branded it a terrorist organization.
"We have a vision for the peaceful future of our country… I assure you that the people of Myanmar shall prevail. Peace and justice shall prevail. And we will restore Myanmar to its place among the democracies," Daw Zin Mar Aung said.
Monday marked 18 months of the people's revolution against the junta.
Since grabbing power on Feb. 1, 2021, the junta has killed more than 2,100 people, including more than 140 children, and arrested more than 14,000 people.
According to the NUG's parliamentary committee, at least 99 elected lawmakers remain behind bars and two parliamentarians were killed by the junta.