At least nine civilians and anti-regime protesters in Yangon who spoke to CNN on Friday remain in detention, although the junta told the US broadcaster that they had been released.
CNN reported on Saturday that Myanmar's military authorities said they had been released but at least four women and a man remain in the Shwepyithar interrogation center, according to sources.
The witnesses recently told The Irrawaddy that seven civilians, including those who spoke to CNN reporter Clarissa Ward at Mingaladon market, were detained on Friday afternoon. Among the arrested were Ma Nay Zar Chi Shine, Ma Yin Thet Tin and Ma Phoo Mon Kyaw.
Two female protesters near Salminegone bazaar in Sawbwagyi Gone ward, Insein Township, were also detained after CNN's visit on Friday.
According to a witness, personnel in plainclothes seized anyone seen protesting or speaking to CNN at Mingaladon market in Mingaladon Township after the reporters left on Friday.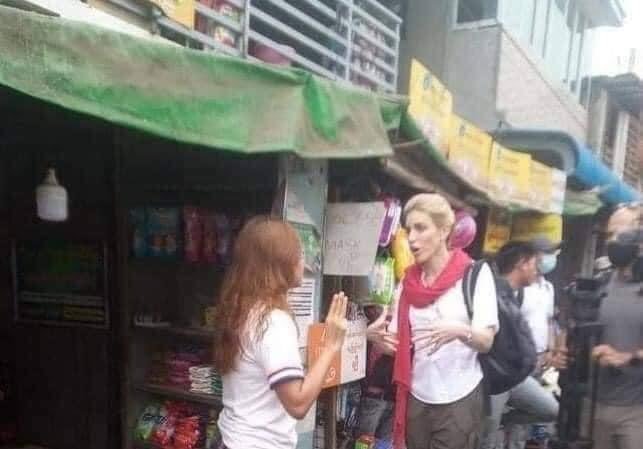 "We thought civilians were allowed to talk to CNN. But the security forces in civilian clothes had already been deployed to the market secretly," the witness said.
On Friday morning, the CNN team visited the Salminegon bazaar in Insein after troops had been deployed to the area, a witness told The Irrawaddy.
When they saw the CNN team at the market, many traders and shoppers began protesting, banging pots and pans and shouting anti-regime slogans.
The protest swelled with drivers sounding horns and displaying three-finger salutes to the CNN crew.
As soon as the journalists left, a vehicle from the convoy returned and detained two female protesters, who were later reportedly released.
A lawyer who is assisting detainees told The Irrawaddy that he has been asked to help secure the release of two of the detainees from the CNN visit.
"We don't know where the two have been held. They haven't been sent to Insein Prison," the lawyer said.
The CNN team has the regime's permission to visit Myanmar and an escort is being provided.
Ward and her colleagues have been spotted across Yangon, traveling in an army convoy, leading to fears that the team will not be able to conduct accurate reporting.
By Saturday, about 557 people have been killed by the security forces, according to Assistance Association for Political Prisoners.
It said about 2,658 people, including elected leaders, election commissioners, pro-democracy protesters, students, teachers, writers, artists, journalists and civilians, have been detained since the February 1 coup.