Myanmar beauty queen Thuzar Wint Lwin won the award for best national costume at the Miss Universe pageant in the United States on Sunday. The 22-year-old used the competition's global platform to urge the world to speak out against the military regime, appearing on stage with a placard saying "Pray for Myanmar".
"Our people are dying and being shot by the military every day," she said in a video message for the competition. "I would like to urge everyone to speak about Myanmar. As Miss Universe Myanmar, I have been speaking out as much as I can since the coup," she added.
However, she now faces an uncertain future telling media that she fears her life may be at risk if she returns to Myanmar.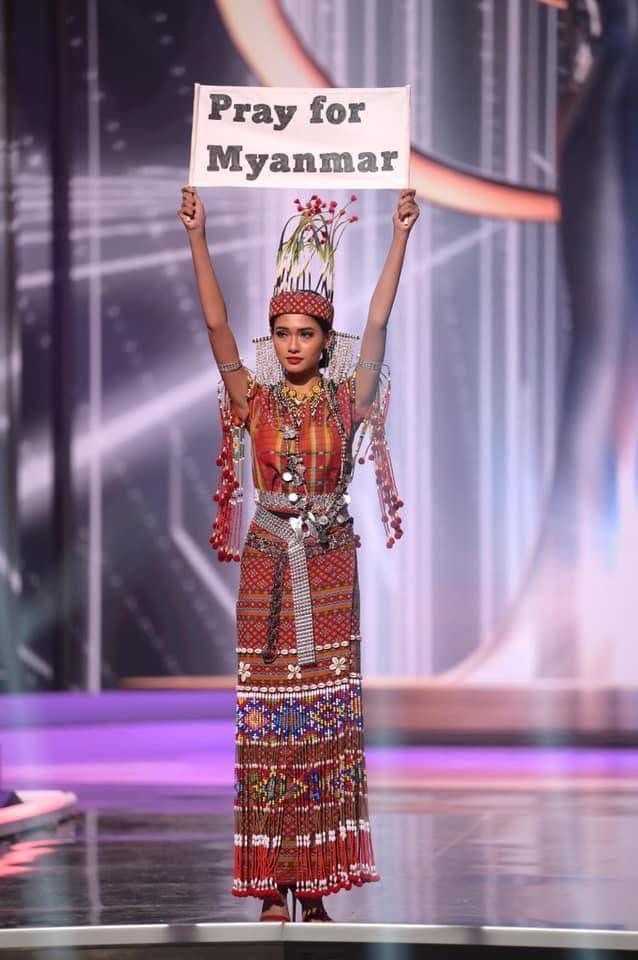 Thuzar Wint Lwin won the Miss Universe Myanmar pageant representing the Chin State capital Hakha and wore ethnic Chin costume at the 69th Miss Universe contest in Florida. Fighting between civilian resistance forces and junta troops in Chin State has intensified in recent days, with clashes in both Hakha and Mindat.
Just before the final round of Miss Universe, Thuzar Wint Lwin wrote on her Facebook that she was very sorry to hear about conditions in the mountain-top town of Mindat, where military regime forces reportedly used civilians as human shields during a raid in response to the town's resistance to the junta.
Last week, the regime declared martial law in Mindat, which is home to some 20,000 people, after bombarding the town with artillery.
Thuzar Wint Lwin is one of dozens of Myanmar celebrities, including actors and social media influencers, who have condemned the junta's Feb. 1 coup and the overthrowing of the democratically-elected civilian government led by State Counselor Daw Aung San Suu Kyi.
Following the coup, Thuzar Wint Lwin joined Yangon street protests against the regime and donated most of her life savings to family members of pro-democracy supporters who have been killed in the junta's lethal crackdowns on anti-coup demonstrations.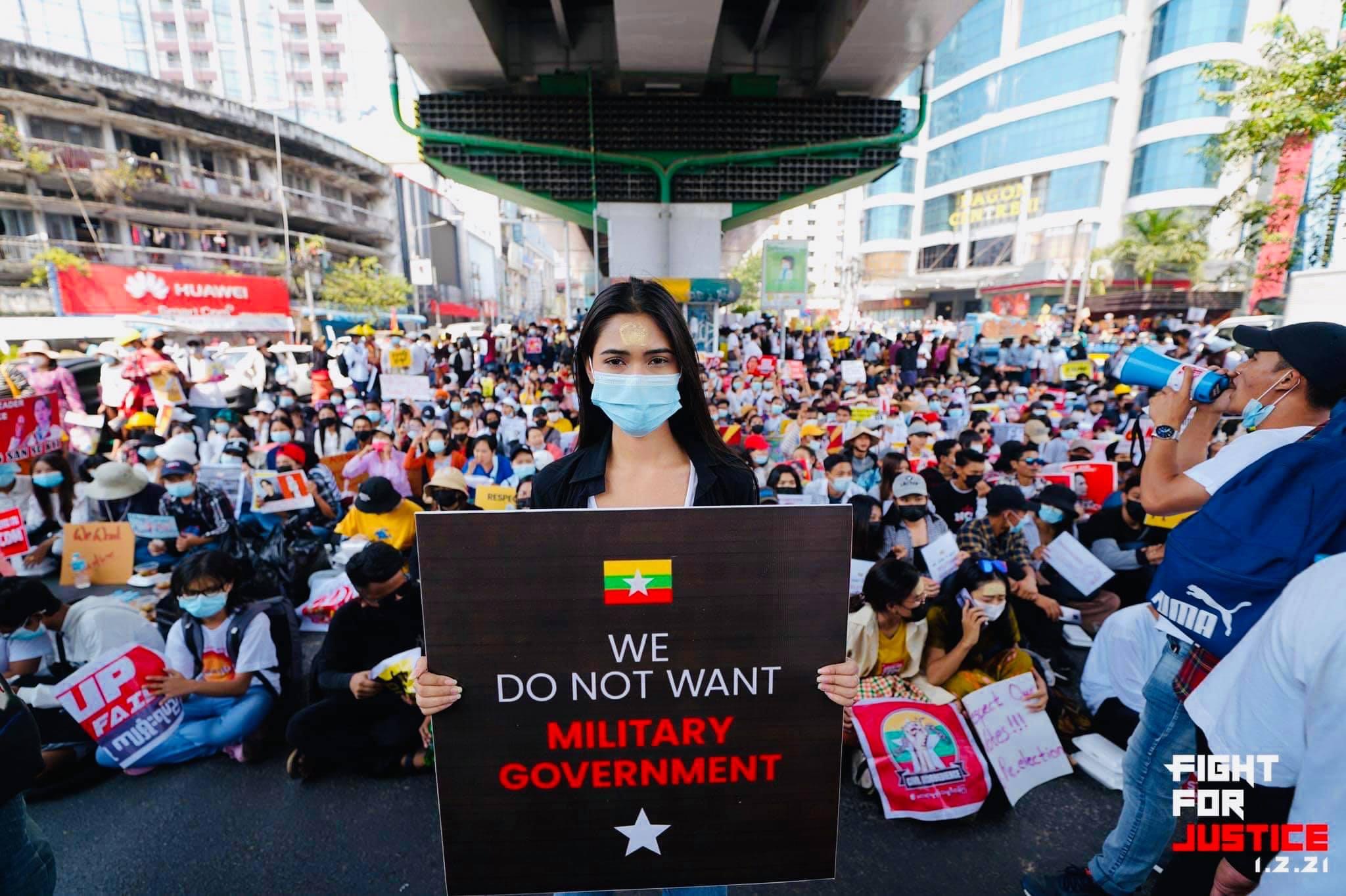 She also called for the military to return the country to civilian rule and for the immediate release of Daw Aung San Suu Kyi on March 8, International Women's Day.
When some Myanmar beauty pageant fans urged her in early March to stop protesting against the dictatorship and focus on preparations for the Miss Universe contest, she responded that "Miss Universe is very important for me because it is my biggest dream. But, the most important thing at this time is [changing] our political system."
"We will lose everything…our hopes, dreams and our entire lives if we lose this revolution. So I must protest and stand with my fellow citizens for my country and for the truth," she said.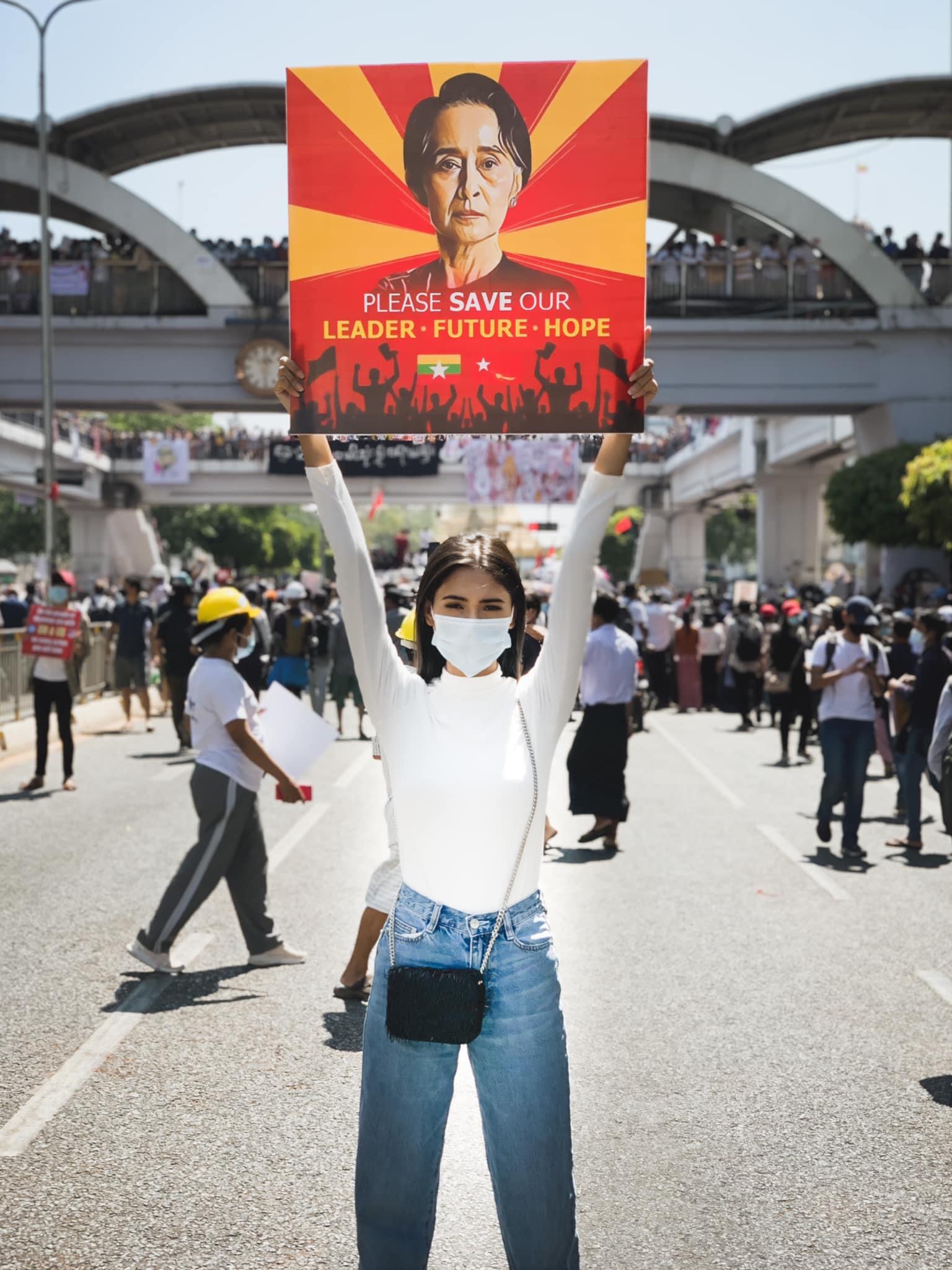 Despite the fact that an airline lost her suitcase, which included original costumes for the pageant, Thuzar Wint Lwin made it to the top 21 of the Miss Universe competition. Other beauty queens loaned her dresses, while Myanmar citizens resident in the US also helped prepare dresses for her.
As of Sunday, she did not know which country she would apply to stay in instead of returning to Myanmar.
Han Lay, winner of Miss Grand Myanmar, also spoke out against the military regime at the Miss Grand International 2020 pageant in Thailand in April, and described Daw Aung San Suu Kyi as her greatest inspiration. She is currently living in Thailand as she also fears being arrested by the junta if she returns to Myanmar.
At least 790 people have been killed by security forces and more than 5,000 arrested since the coup, according to the Assistance Association for Political Prisoners.

You may also like these stories:
Myanmar Regime Air Base Hit by Rockets: Military
Thirteen Warnings for Myanmar Junta Chief Snr-Gen Min Aung Hlaing
Myanmar Political Prisoners Harshly Interrogated: Freed Japanese Journalist