Military regime-owned Myanmar Brewery, the country's largest beer maker, saw its first-quarter sales plunge by almost 50 percent on-year, according to financial results for Japanese beverage giant Kirin, the military's partner in the joint venture that owns the brewer. The collapse in sales follows a boycott by anti-junta protesters of military-linked products, which is aimed at severing the coup leaders' financial lifelines.
Kirin owns 51 percent of Myanmar Brewery, with military-owned conglomerate Myanma Economic Holdings Public Co. Ltd. (MEHL) holding the rest.
In its Q1 2021 financial report, the Japanese company said that in addition to the pandemic, the coup had impacted sales from February onwards, and had disrupted all economic activity in Myanmar.
Kirin said Myanmar's beer market has shrunk due to the spread of COVID-19, the "political upheaval" and supply chain disruptions. Myanmar Brewery's sales volume was down by 46 percent year-on-year, almost in line with market performance, it said.
"Myanmar Brewery's sales volume also declined by almost the same amount as the market," Kirin said.
Kirin said revenue and normalized operating profit both declined due to the lower sales. Myanmar Brewery's normalized operating profit was down 49.6% compared to the first quarter of 2020, according to the financial report.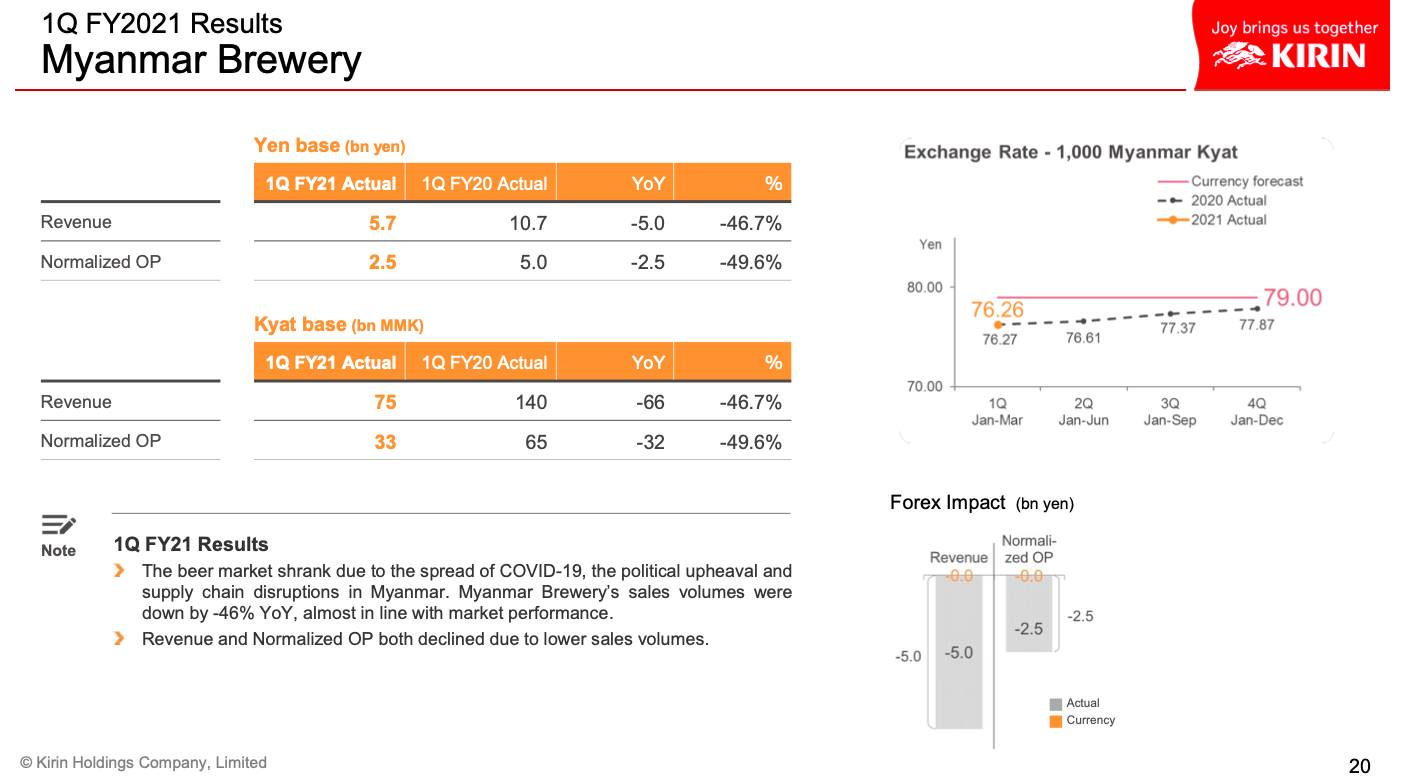 Following the coup, Kirin announced that it was ending its joint-venture partnership with MEHL, citing its deep concerns over the actions of the military, which it said run counter to the company's standards and human rights policy.
In the report, Kirin said it is still in discussions on dissolving the partnership with MEHL.
Kirin earlier faced international condemnation for its partnership with Myanmar's military amid accusations of genocide against the Rohingya. Last year, Kirin hired Deloitte Tohmatsu Financial Advisory to conduct an independent review of the financial and governance structures of MEHL. However, its probe into MEHL's military connections ended inconclusively because access to information was denied.
Nonetheless, Kirin stopped making dividend payments to the military-owned company in November. Kirin's Myanmar business recorded operating profit of US$115 million (161.84 billion kyats) in 2019, according to the company.
In response to Kirin's report, human rights group Justice for Myanmar said the financial results provide clear evidence that the mass boycott of military-linked products by Myanmar consumers is working, causing a direct hit to the pockets of the coup leaders.
Kirin's figures show yet again that Myanmar people reject military rule and demand that democracy is restored, JFM said.
"Kirin has attempted to explain the figures as a result of pandemic and 'political upheaval' but we know that it is evidence of a mass rejection of their abhorrent business model in Myanmar, which finances these killers," JFM said.
JFM also called on Kirin to urgently disclose the steps it is taking to cut ties with joint venture partner MEHL.

You may also like these stories:
Myanmar Villagers Detained After Overnight Battle with Junta Troops
Myanmar Junta Looks to Replace Striking University Staff
Deadly Attack on Pipeline Station Spotlights China's High Stakes in Myanmar