Myanmar's civilian National Unity Government (NUG) says the junta's hanging of the four pro-democracy activists is unacceptable and that those responsible will face justice.
"For this atrocious act of brutality, the NUG pledges to take a systematic approach to any legal and political routes available, be it national, international and military, to get legal retribution for the unlawful deaths and punish those responsible," the NUG stated on Monday night.
The parallel government, which is leading efforts to topple the junta, said the cold-blooded executions are further proof that the junta is completely unwilling to find a peaceful solution.
"This is solid evidence that the terrorist military is not prepared to solve our country's difficulties and has no intentions of doing so peacefully," the NUG said.
It asked international organizations and other countries to assist resistance forces and help end people's suffering.
The NUG held an emergency meeting on Tuesday morning to boost the revolution.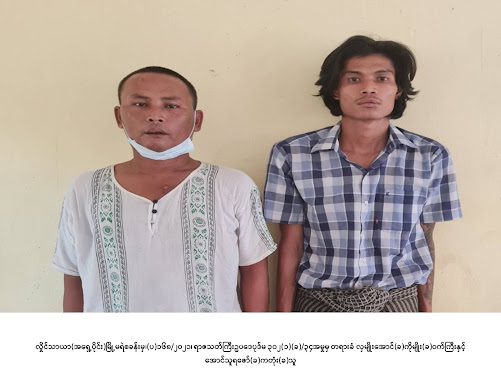 The NUG's acting president Duwa Lashi La, prime minister Mahn Win Khaing Than and their ministers discussed the crisis, bearing in mind the peril faced by detainees, the NUG said.
"They agreed to escalate the revolution through different means and ensure the terrorist military leader Min Aung Hlaing and his fellows, who torture and kill people and execute revolutionary leaders in cold blood, face punishment," it added.
Since the regime announced on Monday that it had hanged veteran democracy activist Ko Jimmy, former National League for Democracy lawmaker Ko Phyo Zeya Thaw and activists Ko Aung Thura Zaw and Ko Hla Myo Aung, condemnation has been expressed domestically and internationally.
It was the first time in four decades that political prisoners have been executed in Myanmar.
A junta spokesman told a press conference on Tuesday that the executions were lawful and the activists each deserved several death penalties.
Formed as a parallel government on April 16 last year, largely by elected NLD lawmakers and their ethnic minority allies, the NUG has enjoyed support at home and abroad. A majority of Myanmar's people see it as their legitimate government, while the regime has branded it a terrorist organization.
You may also like these stories:
Myanmar Junta's Executions 'Unforgivable'
Myanmar Regime's Execution of Democracy Activists Condemned at Home and Abroad
Executed Myanmar Democracy Activist's Mother Recalls Last Meeting