US Secretary of State John Kerry will arrive in Burma for the Asean Regional Forum this weekend amid continuing negative media reports about the country's backsliding on political reforms and a worsening of the human rights situation.
The concerns could give Kerry a bit of headache as one of the Obama administration's major foreign policy successes has lost its shine, and could even unravel.
President Thein Sein and his officials will insist in their meetings with the secretary that reforms are still on track, but many observers have grown skeptical of this government's intentions. Kerry will have to walk a fine line between admonishing the Burmese government and further strengthening relations between Washington and its new friends in Naypyidaw.
The last time a top US official visited was in November 2012, when President Barack Obama spoke at Rangoon University to endorse Thein Sein's reformist government. "Reforms launched from the top of society must meet the aspirations of citizens who form its foundation. The flickers of progress that we have seen must not be extinguished—they must be strengthened," he said, shortly after the US suspended economic sanctions against the country.
The US president is due to visit again in November to attend the East Asia Summit and Burma remains a top priority as an apparent foreign policy successes of his Asian pivot, and as a strategically important country amid a growing US-China rivalry in Asia.
China remains Burma's biggest trading partner but ever since Naypyidaw cancelled the Myitsone Dam, a Chinese-funded mega project, in 2011 Burma's government has moved closer to the US.
Washington will be eager to bring Asean chair Burma on board as it seeks to unify opposition among Southeast Asian nations against rising power China and stem regional tensions brewing in the South China Sea.
However, the White House is struggling to present a positive story on its expanding ties with Burma as the reform process stalls. Meanwhile, criticism is growing at home and abroad over its decision to quickly lift economic sanctions and begin military-to-military cooperation with Burma.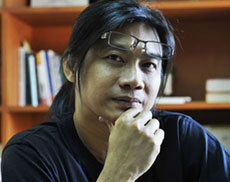 Recurrent outbreaks of anti-Muslim violence (which many believe is being organized), the treatment of the Rohingya and ongoing ethnic conflict are some of the concerns. Scores of land rights activists battling a sharp rise in land-grabbing cases have been imprisoned, and recently authorities initiated a media clamp down that led to the detention of about a dozen journalists.
A lack of will to follow through on political reforms has become increasingly obvious. Aung San Suu Kyi's efforts to amend the undemocratic 2008 Constitution are going nowhere and she has publicly questioned the intentions of the ruling party and the military.
US lawmakers and international and local rights groups have urged Kerry to press Burmese officials on the stalling reform process during his visit this weekend, when he will attend the Association of Southeast Asian Nations (Asean) Regional Forum and several other regional meetings, which Burma is hosting as this year's Asean chair.
Last week, more than 70 US lawmakers asked the White House to take a tougher line and "undertake a significant recalibration of US policy" towards the Thein Sein government because "conditions in Burma have taken a sharp turn for the worst." Some Congressmen have initiated laws to restrict further US military cooperation with Burma.
Human Rights Watch (HRW) said this week that it wrote to Obama in July to highlight growing concerns that human rights reforms "have stalled or are backsliding."
"During the past year the number of political prisoners has risen with increased arbitrary arrests of peaceful protesters and prosecutions of journalists," the New York-based group said. "Efforts to reform the justice system and enforce the rule of law have achieved little progress."
"Kerry should use his visit to deliver a clear and public message of deep concern about serious human rights problems, including continued persecution of the Rohingya, continued military abuses against ethnic groups, and the need for constitutional reform," HRW Asia director Brad Adams said.
In Burma, optimism about the reforms has faded and doubt and disappointment are on the rise among activists, ethnic groups, the media, businessmen and the wider public.
Critics say that Thein Sein is part of the former regime and his ultimate aim is to serve the interest of the old political elite, to placate the West in order to lift sanctions and to defend the interests of the military and its business empire.
In the country, many are now closely watching Washington's engagement with Naypyidaw to see whether it will pressure Burma for more reforms, or if expanding economic and military ties will take priority.
The White House's decision in 2013 to begin limited military training for the Burma Army is viewed with particular concern in Burma.
State Department officials have stressed that the training focuses on human rights law and the law of armed conflict, and that it will promote a rights-respecting Burma Army under civilian control.
"Voices from across Burmese society—including civil society, ethnic minority representatives, and members of the government and political opposition—are urging us to engage with the Burmese military and civilian police force to teach new models of conduct," Judith Cefkin, State Department senior advisor for Burma and likely successor to US Ambassador Derek Mitchell, told a House of Representatives committee in December 2013.
In fact, ethnic communities and activists feel that it is far too early to lend such credibility to the government and military.
This weekend, Kerry will have to convey a message of concern to the Burmese leaders about the stalling reform process in the country and he is likely to do so without risking US relations with Naypyidaw.
But it is safe to say that the 'flickers of progress' are fading fast in Burma, and it is time for the US to stop rewarding Burmese leaders and talk to them in straightforward manner to first demand further genuine reforms.