Has Cambodia's autocratic ruler Hun Sen suddenly become an advocate for democratic rules and accountability? Or are there other reasons for his seemingly principled stand on the murderous Myanmar junta? During an ASEAN summit in October, he blamed the slow progress of ASEAN's plan to solve the crisis in Myanmar on the junta's "lack of cooperation," adding that coup leader Senior General Min Aung Hlaing would not be invited to the upcoming Asia-Europe meeting hosted by Cambodia in November—and he wasn't. Min Aung Hlaing was indeed excluded from the Asia-Europe meeting on Nov. 25. Three days prior to that, the coup maker was also barred from attending the China-ASEAN summit, which was held to commemorate the 30th anniversary of bilateral relations between Beijing and the bloc.
But compared to what the foreign ministers of Indonesia and Malaysia have had to say about the coup in Myanmar, Hun Sen was still very cautious in his criticism. His recent statements are nevertheless in sharp contrast to what he had to say in the days after the Feb. 1 coup, which were more in line with what could be expected from him: "Cambodia shall not make any comments on the internal affairs of any countries regardless if they are within the framework of ASEAN as member states or outside."
The new tune that's now being sung could be a last-minute attempt on the part of ASEAN, whose chairmanship Cambodia is about to take over, to restore its international credibility, which has been severely damaged after it became clear that the bloc's "five-point consensus" to solve the crisis has ended in utter failure. One of the points is to hold a "constructive dialog among all parties concerned to seek a peaceful solution in the interest of the people." After Min Aung Hlaing's paying lip service to the plan during a meeting in Jakarta on April 24, the Myanmar junta has refused ASEAN envoys access to President U Win Myint and State Counselor Daw Aung San Suu Kyi, who are both in military custody. As for seeking "a peaceful solution", the junta has intensified its military campaigns against the pro-democracy forces across the country. Villages have been bombed and burned to the ground, homes have been looted and more than 1,000 protesters have been killed.
Hun Sen himself is also under international pressure for his human-rights violations and may be eager to improve his own standing in the international community. According to Human Rights Watch, there are more than 60 political prisoners in Cambodia, among them land rights activists, journalists and people who have been arrested for posting remarks critical of Hun Sen on social media. But there is also another, perhaps more important reason, which was alluded to by Sun Kim, a lecturer of international relations at Phnom Penh's Pannasastra University. According to him: "Cambodia's next move on Myanmar as ASEAN chair will depend on the rest of the bloc and major external powers, including China."
The China factor will be decisive once Cambodia takes over the chairmanship. Given the extent of China's influence in Cambodia, it is hard to believe that Hun Sen would, or could, act independently of Beijing. Rather, he will become China's proxy inside ASEAN and, most likely, criticize the junta when the Chinese would be reluctant to do it themselves. A good-cop-bad-cop scenario cannot be ruled out where Cambodia and ASEAN might voice some criticism—and China will then step in and allay any fears that the junta may have.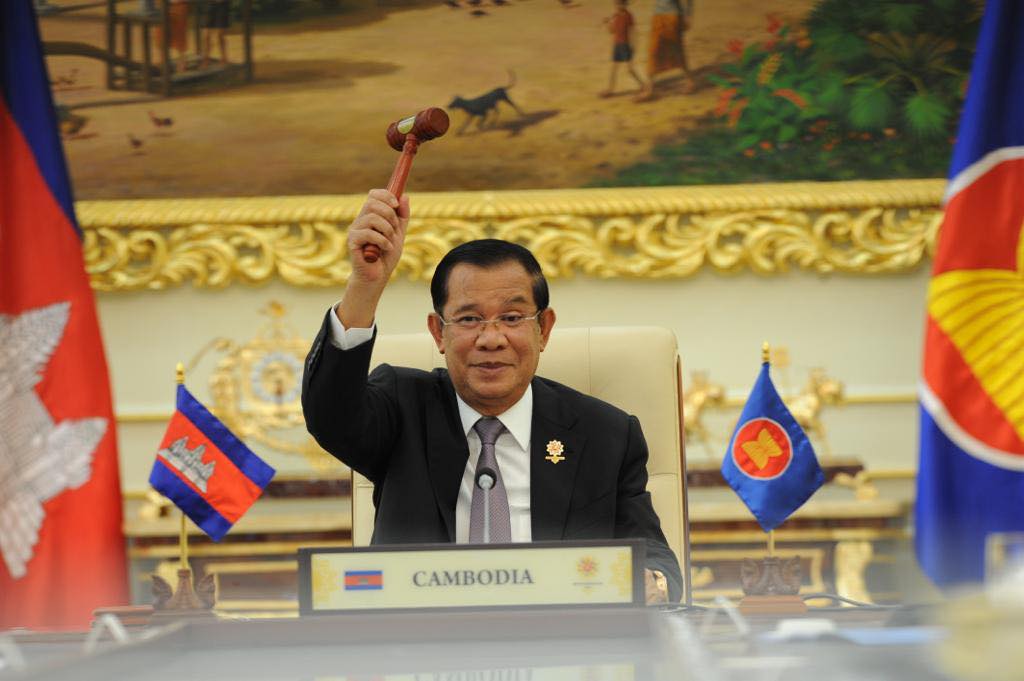 In his much younger years, Hun Sen belonged to a pro-Vietnamese and pro-Soviet faction of Cambodia's communist movement who opposed the China-allied Khmer Rouge leadership that ruled the country from April 1975 to January 1979. Hun Sen and his comrades, who had fled to Vietnam in 1977, returned to Cambodia when the Vietnamese military drove the pro-Beijing Khmer Rouge from power in Phnom Penh. The old leadership and their troops ended up in exile in Thailand as well as in some enclaves close to Cambodia's border with its western neighbor, where they with support primarily from China continued their fight against the Vietnamese and the new government in Phnom Penh. Hun Sen, then only 26, became foreign minister in that government. He took over as prime minister in 1985, at a time when his government, and the Vietnamese, were still battling Khmer Rouge and other guerrillas in the border areas.
All that changed when the Vietnamese withdrew their troops from Cambodia in 1988-89, paving the way for peace talks, which were held in Paris in 1991, and an intervention by the United Nations. Hun Sen had by then transformed his communist Khmer People's Revolutionary Party into the more palatably named Cambodian People's Party (CPP). That party lost the UN-supervised 1993 election to the royalists led by Prince Norodom Ranariddh. Hun Sen and his CPP refused to accept the outcome of the election, and after the country was almost plunged into a new civil war, a compromise was found. Prince Ranariddh and Hun Sen became co-prime ministers in a shaky coalition between the CPP and the royalists.
All along, the ousted Khmer Rouge had continued their fight and maintained a close relationship with China. That prompted Hun Sen to condemn China in a 1988 essay as "the root of everything that was evil in Cambodia." Hun Sen missed no opportunity to lash out against China which, in turn, saw him as a puppet of its regional rival Vietnam and the Soviet Union.
The situation began to change in the late 1990s, by which time the Khmer Rouge had more or less vanished from the scene. Then, in July 1997, Hun Sen ousted his coalition partner Prince Ranariddh in a violent coup. The fighting continued until September when Hun Sen's forces eventually managed to suppress the resistance. In order to consolidate his power, Hun Sen had his forces execute at least 40, perhaps as many as 60, officials from Prince Ranariddh's party, including two former ministers. Cambodia's Western donors were not amused: the United States and Germany suspended non-humanitarian aid and Japan, then Cambodia's largest donor, said it would halt new projects.
Hun Sen seemed isolated internationally—his former ally, the Soviet Union, had collapsed along with other former communist states in Europe—but, in that precarious situation for his coup-installed, new government, China came to the rescue. China was the first country to recognize the regime after the coup—and Hun Sen won praise from Beijing for shutting down and expelling Taiwan's liaison office in Phnom Penh. Hun Sen claimed that Taiwan had been covertly supporting Prince Ranariddh's royalist party. Longtime Cambodia-watcher Julio Jeldres wrote later that "Hun Sen's actions opened the door for Chinese influence in Cambodia…in December [1997], China delivered 116 military cargo trucks and 70 jeeps valued at US$2.8 million."
In February 1999, Hun Sen paid an official visit to China and obtained US$200 million in interest-free loans and $18.3 million in foreign assistance guarantees. Before long, Chinese investors, businessmen and other migrants arrived in Cambodia, investing in the garment industry, mining, metals production, agriculture, and hotels and tourism. Cambodia's entry into ASEAN, scheduled for 1997, was delayed because of Hun Sen's coup, but in April 1999, it became a member—and soon also China's main ally and voice inside the bloc.
The Financial Times reported on Sept. 9, 2016: "Big investment deals have cemented Beijing's relations with Phnom Penh, but they have also helped yield political dividends for China as it imposes claims to disputed areas in the South China Sea….as regional tensions have grown, so has Cambodia's value to Beijing. Of particular use is Phnom Penh's membership in ASEAN. Because ASEAN works by consensus, the objections of one member can thwart any group initiative."
According to the Financial Times, Cambodia used that power when, in July 2016, ASEAN was poised to issue an official statement mentioning an international tribunal's ruling that there was no basis under UN law for China's territorial claims in the South China Sea. But, as the Financial Times wrote, after Cambodia objected, a watered-down final communique was issued with no mention of the ruling.
Notably, Beijing had pledged $600 million in aid to Cambodia just days before the ASEAN meeting. After it was held, Chinese Foreign Minister Wang Yi said that Beijing "highly appreciates" Cambodia's stand at the meeting, which "history would show was correct." A few days after the meeting, China also said it would build a $16-million National Assembly hall in Phnom Penh.
In more recent years, Chinese investment has transformed the once-sleepy port city of Sihanoukville into a metropolis with Chinese casinos, hotels, factories and high-rise buildings. The main attraction there is the Sihanoukville Special Economic Zone (SSEZ), a tax-free establishment where Chinese companies run the majority of its over 100 factories. Cambodia is also a firm supporter of the Belt and Road Initiative, China's multi-billion-dollar infrastructure project.
More worryingly, according to a July 22, 2019 report in The Wall Street Journal, Cambodia and China have signed a secret agreement allowing the Chinese navy access to a Cambodian navy base at Ream near Sihanoukville. Hun Sen reacted angrily to the report, citing the Cambodian constitution, which forbids the hosting of foreign military bases in the country. But doubts remain. In October this year, Washington-based think-tank the Center for Strategic and International Studies published a report saying that new facilities are being built at Ream naval base "to facilitate a Chinese military presence in Cambodia."
With solid Chinese backing, Hun Sen has moved against all opponents to his rule. Politicians like Sam Rainsy were forced into exile several years ago, and a month-long, brutal crackdown before the 2018 elections destroyed what remained of the opposition. Dissenting politicians were locked up along with journalists and civil society workers. The previously quite outspoken press stopped publishing material that could be seen as critical of the CPP and its government. Not surprisingly, the CPP captured all 125 seats in the National Assembly, turning the country into a virtual one-party state.
So what can the people of Myanmar expect from Cambodia's chairmanship of ASEAN? Rather startlingly, Pou Sothirak, a former diplomat and executive director of local think-tank the Cambodian Institute for Cooperation and Peace, was quoted in the pro-government newspaper The Khmer Times on Nov. 1 as saying that "Cambodia is capable of doing this [mediating in Myanmar] because of its own successful experiences in ending years of internal conflict…especially through the win-win policy of Prime Minister Hun Sen."
This was apparently not meant as sarcasm, and with Hun Sen at the helm of ASEAN Min Aung Hlaing and his junta should feel secure. Any development depends as well on what kind of games China will play behind the scenes. But it is also obvious that it will be hard for ASEAN members such as Indonesia, Malaysia and even Singapore to push for a more decisive policy towards Myanmar. The bitter truth remains that Myanmar's future lies only in the hands of its people. No one, and certainly not ASEAN or China, will save them from the repression they now are enduring under Min Aung Hlaing's brutal rule.
Bertil Lintner is a Swedish journalist, author and strategic consultant who has been writing about Asia for nearly four decades.

You may also like these stories:
UN Envoy Joins Her Predecessors in Myanmar's 'Graveyard of Diplomats'
A Textbook Example of Authoritarian Rule in Myanmar
Explained: The Tussle Over ASEAN's Special Envoy to Myanmar