Myanmar is heading for failed state status. In the ethnic states of Kayah and Chin, tens of thousands of people have been displaced by renewed conflicts between the Myanmar military on the one side, and ethnic armed rebel groups and newly emerging civilian forces on the other. Young activists and students are heading to the jungle to receive military training; many other educated young people are leaving Myanmar amid daily explosions and targeted killings throughout the country.
The economy is on the brink of collapse, as is the healthcare system. The violence on both sides can only be expected to intensify, and an exodus of refugees and dissidents to neighboring China, India and Thailand has already begun.
China professes to be unfazed by Myanmar's descent into chaos, however. Its policy of friendship toward Myanmar is "not affected by changes in Myanmar's internal and external situations and remains oriented toward the people of Myanmar," China's Foreign Ministry said, summarizing a message conveyed by Chinese Foreign Minister Wang Yi to his Myanmar regime counterpart Wunna Maung Lwin at a meeting last week on the sidelines of the Special ASEAN-China Foreign Ministers' Meeting in Chongqing.
Of course, as a key investor and supplier of weapons to Myanmar, Beijing wields considerable influence in Naypyitaw. Eager to safeguard and advance its key strategic political and economic interests in its southern neighbor, Beijing has since the coup pressured ASEAN to engage with Myanmar's military junta. To put it plainly, China is using ASEAN to legitimize the regime.
"In the past, present and future, China supports Myanmar to independently choose a development path that suits its national conditions," the Foreign Ministry said. Apparently that holds true even if the path chosen by the coup leaders in Myanmar is one of turmoil and instability; meanwhile, China's long-touted "pauk paw" (or fraternal) ties with the people of Myanmar have been shattered.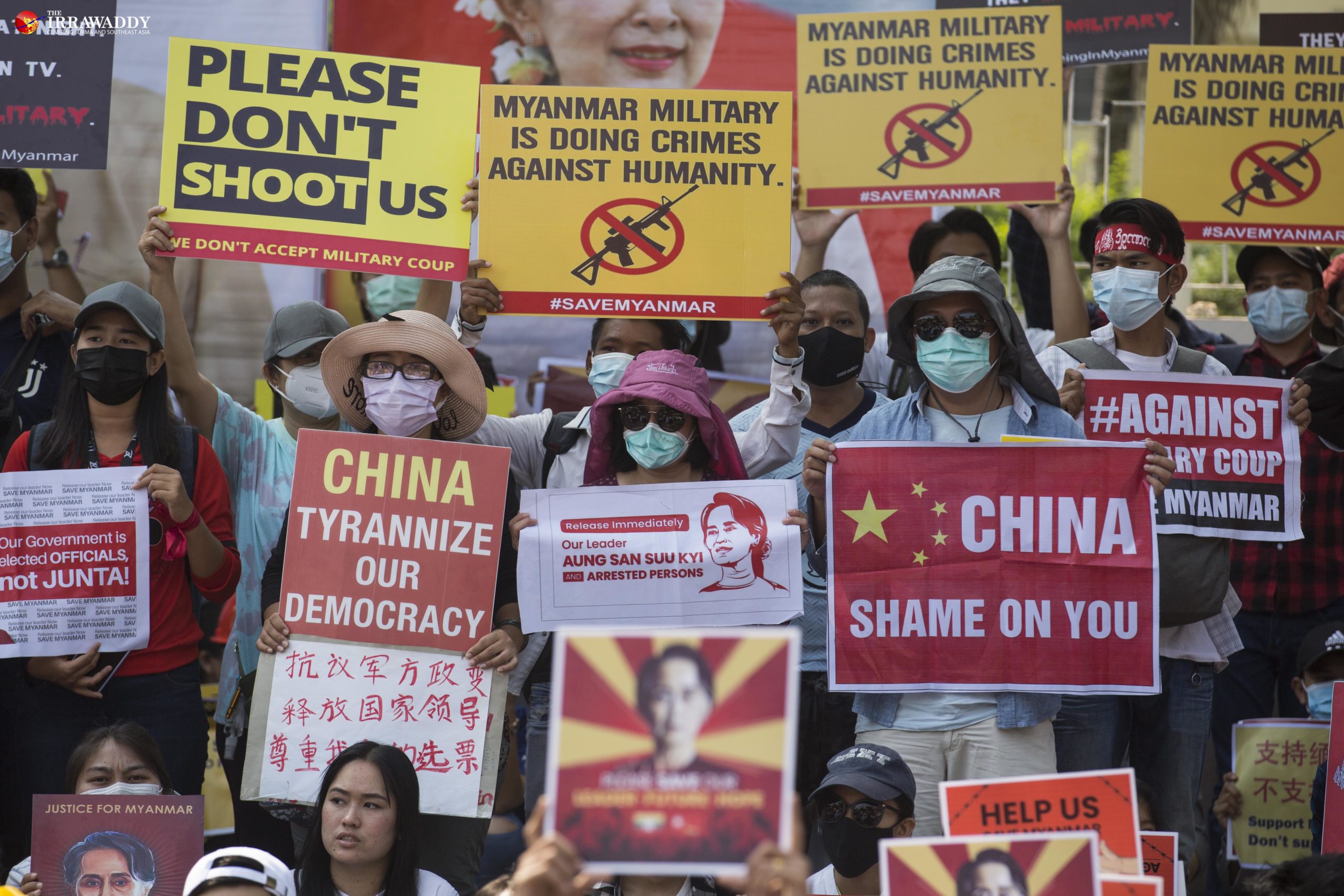 Soon after the regime ousted Myanmar's elected government in February, China's state-run Xinhua news agency described the seizure of power by force of arms as a "cabinet reshuffle." Since then, anti-China sentiment has hit fever pitch due to Beijing's failure to condemn the military crackdown and the mounting perception that it has fully sided with the junta.
If China wants to throw in its lot with the widely detested coup leader Senior General Min Aung Hlaing, so be it. Its geostrategic ambition and economic interests in Myanmar know no bounds; Beijing will always make friends with whoever has the upper hand politically in Myanmar.
A recent report in the Financial Times suggests that the Beijing-based Asian Infrastructure Investment Bank (AIIB) has left open the door to funding projects in Myanmar even if the country does not return to democracy. Joachim von Amsberg, AIIB vice-president, told the newspaper that while the bank did not have any new projects under consideration for Myanmar, it did have a framework for dealing with "de facto governments".
"We would not take a view on the form of government, we would go through our checklist," he said.
This sort of apparently pragmatic approach has some observers concerned that if Western firms disengage from Myanmar, their Chinese counterparts will be only too happy to step in and fill the void.
Such companies should think twice before investing or providing loans to Myanmar, however. All relevant factors—including the likely lifespan of the current regime and the depth of anti-Chinese sentiment among the Myanmar public—should be included in their "checklists".
The US, meanwhile, is taking the opposite approach to the Myanmar crisis.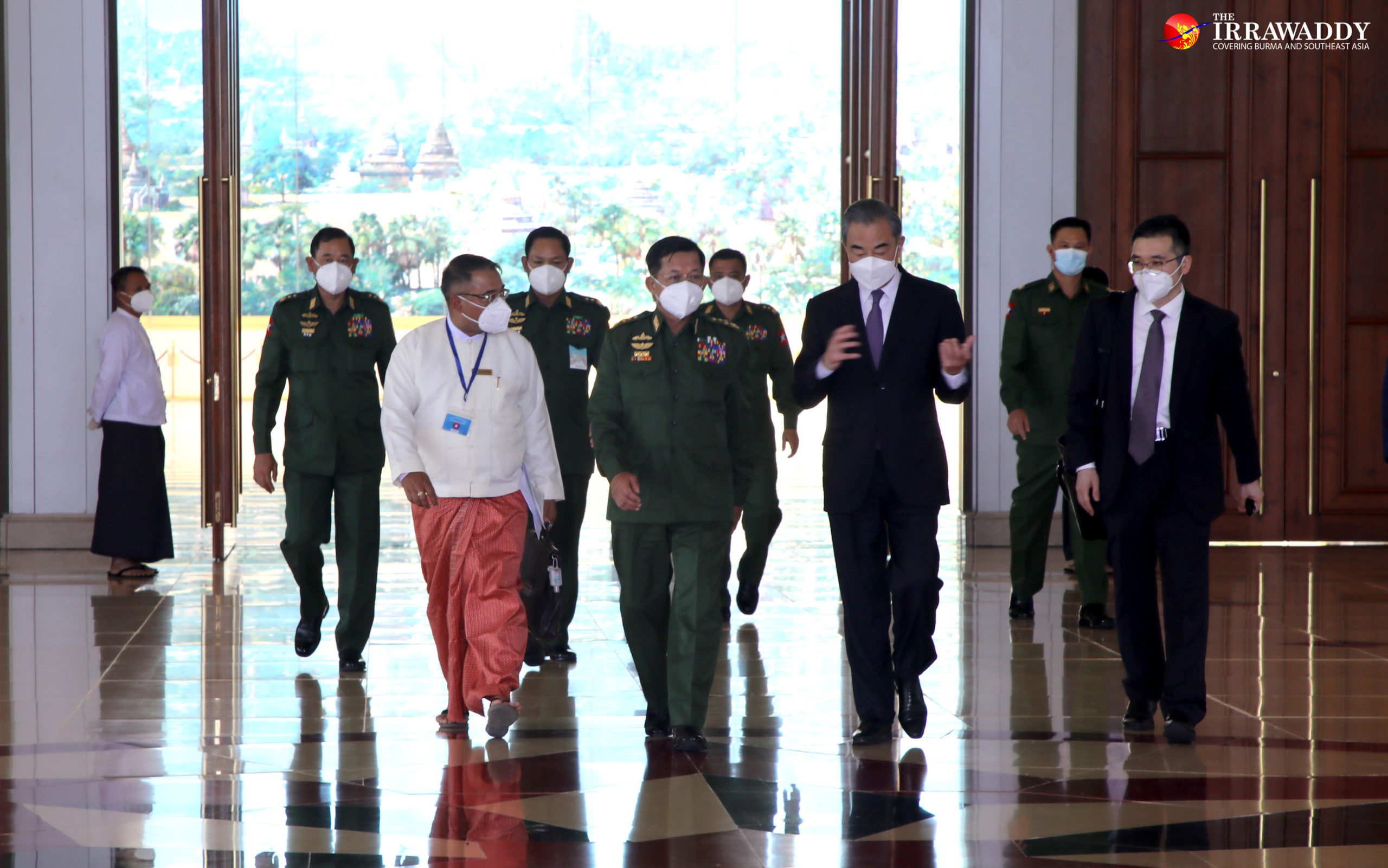 In March, US President Joe Biden condemned the violence against anti-coup protesters in Myanmar, saying, "It's absolutely outrageous and based on the reporting I've gotten, an awful lot of people have been killed totally unnecessarily." In the same month, defense chiefs from 12 countries—the US, Britain, Germany, Italy, Denmark, Greece, the Netherlands, Canada, Australia, New Zealand, South Korea and Japan—said in a statement, "We condemn the use of lethal force against unarmed people by the Myanmar Armed Forces and associated security services."
The US has imposed sanctions on some of the regime's top generals as well as a number of cronies who have developed business ties and cozy relations with the junta. Myanmar observers and insiders also suspect that several young cronies who are close to top regime leaders including Snr-Gen Min Aung Hlaing have developed new business projects, including deals to procure arms from Russia and China.
Washington has also expressed concern for the deteriorating security situation in the country. "Violence is spiraling" in Myanmar, said Kurt Campbell, Biden's policy coordinator for the Indo-Pacific.
The US administration has "privately supported the efforts of ASEAN, particularly Indonesia and Singapore and other countries, trying to begin a process to move the country back to elections and to democracy," Campbell said during a recent online event hosted by the Center for a New American Security, a think tank. "This is a relatively difficult and challenging path. It's hard not to be discouraged, and the situation is getting worse," he added.
"And frankly, we're asking other countries in the surrounding regions to take the necessary steps" to both isolate Myanmar and reach out to the military leadership, said Campbell, who was a key architect of the Obama administration's pivot to Asia. In 2009 he became the highest-ranking US official in Washington to visit Myanmar in years, meeting top regime leader Senior General Than Shwe and then-opposition leader (and more recently, ousted State Counselor) Daw Aung San Suu Kyi.
For its part, ASEAN is now held in universal contempt throughout Myanmar.
In any case, the US and China see the Myanmar issue through diametrically opposed lenses.
To China, in addition to the rise of Western influence in Myanmar, it is concerned about the widespread Civil Disobedience Movement within the country—in which civil servants from a wide range of sectors are refusing to work for the regime—while also being confronted with growing anti-China sentiment.
China has for some time been worried that Western-funded organizations and institutions have established a presence and a growing influence inside Myanmar, and it has in the past expressed this concern to Myanmar's military leaders.
Inside the country, anger and disgust toward the illegitimate coup and the regime it spawned are on the rise, along with a willingness on the part of many people to actively fight it. The people of Myanmar are also showing their abhorrence of the regime's allies. That includes China and other sympathetic governments, whether near or far.
Now, it is easy to see who the real losers in Myanmar's crisis are.
You may also like these stories:
Myanmar Junta Accuses NLD Lawmakers of Organizing Armed Resistance
In Myanmar, Pro-Junta Vigilante Groups Wage Campaign of Violence, Disinformation
Bomb Explodes at Chinese-Backed Factory in Myanmar