Military chief Senior General Min Aung Hlaing's high-level visits to China and Russia in April demonstrated that Myanmar's once isolated military continues to diversify while keeping its traditional allies happy.
During his visit to China, the message from the commander-in-chief in Myanmar was loud and clear: "Myanmar regards China as an eternal friend and a strategic partner country," reads a press release issued by Snr-Gen. Min Aung Hlaing's office as he was meeting with top civilian and military officials in Beijing.
The visit came ahead of State Counselor Daw Aung San Suu Kyi's visit to China to attend the 2nd Belt and Road Initiative (BRI) forum and, more importantly, send a message to Wa rebels as they were holding their 30th anniversary celebrations.
Myanmar needs China's support and understanding more than ever.
More than 700,000 Rohingya have fled Myanmar to neighboring Bangladesh since August 2017 to escape a military crackdown triggered by coordinated attacks on security posts in Rakhine State by the Arakan Rohingya Salvation Army. The UN called the military's actions a "textbook example of ethnic cleansing."
Last year, China voted against the UN Human Rights Council's move to establish a body to investigate possible genocide in Myanmar.
"Myanmar is thankful for China as a good neighbor for its correct stance and standing against the international community over the Rakhine State issue," the commander-in-chief said. Sen-Gen. Min Aung Hlaing also told Chinese President Xi Jinping in Beijing that Myanmar's military was ready to cooperate on implementing China's ambitious BRI, which he said includes a host of projects that could benefit Myanmar. This statement should appease the Chinese.
But behind the handshakes and smiles between the two leaders, there is uneasiness. (The most recent visit was Sen-Gen. Min Aung Hlaing's fifth. His first overseas visit as commander-in-chief of military forces was to Vietnam in 2011—a move seen by observers as snubbing "big brother" China.)
'External Destructive Elements'
Diplomatic relations between Myanmar and the People's Republic of China were established in 1950. They remain complicated due to China's economic and geopolitical interest in the country, unresolved border issues and Beijing's backing of ethnic insurgents in Myanmar along the Chinese border.
Underneath the rhetoric during his visit, the really pressing issue between China and Myanmar (which share a border that is more than 2,000 km long) is the powerful ethnic armies stationed along China's border with Myanmar. These groups, known collectively as the "Northern Alliance", are well funded, well armed, resourceful and backed by China.
During the visit, China requested that Snr-Gen. Min Aung Hlaing extend the military's unilateral ceasefire. On Tuesday, the Army announced that the ceasefire has been extended until June.
In a limited edition, 99-page paper released in 2016, the Myanmar military specifically mentioned the military build-up of neighboring countries, and in particular China's involvement with ethnic armed groups along the border, though the paper also lauded China's emergence as a 21st-century power.
In the paper it mentioned "external and internal destructive elements who oppose national reconciliation and the development of border areas."
Sen-Gen. Min Aung Hlaing is no stranger to Chinese and ethnic insurgents along the shared border.
In August 2009, then General Min Aung Hlaing, who was at that time chief of Special Operations 2, led an offensive against one of the ethnic groups in the region, the Myanmar National Democratic Alliance Army (MNDAA), forcing over 30,000 refugees to flee to the Chinese side.
The surprise offensive undoubtedly strained relations between the two countries, particularly as the Kokang are ethnically Chinese.
Beijing warned the junta at the time to "properly handle domestic problems and maintain stability on the China-Myanmar border." A headline in The New York Times bore the bold headline: "Myanmar Army Routs Ethnic Chinese Rebels in the North."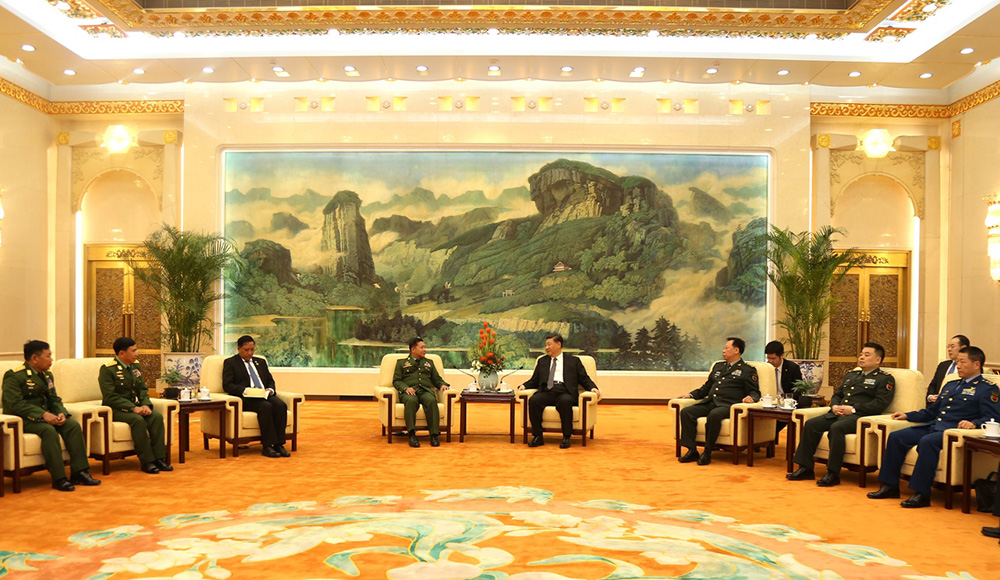 The Kokang are a Han Chinese group, and generally speak Mandarin. The MNDAA is led by Peng Jiasheng, who is believed to be hiding in China or in nearby Wa territory.
The conflict erupted again 2015 when the Kokang rebels launched an offensive to retake their former headquarters, Laukkai.
The Myanmar Army mobilized troops and employed air power to quell the offensive, prompting the Chinese to ask the two sides to resolve the dispute peacefully so that refugees who had fled across the border could return home.
Then-Gen. Min Aung Hlaing claimed he would defend Myanmar's sovereignty by driving out foreign ethnic nationals, specifically the ethnic Kokang Chinese. This no doubt upset the Chinese.
Myanmar's generals have always been cautious in their dealings with China, and Beijing has long been suspected of supporting certain armed ethnic groups in northern Myanmar, particularly the United Wa State Army and the Kokang.
Therefore, the issue of stability along the border with China was discussed during the recent visit. Myanmar promised to ensure stability in border areas and Beijing repeated its commitment to support peace and national reconciliation in Myanmar. But in reality, this is going to be difficult. Ethnic rebels based along the China-Myanmar border have developed not only lucrative trade ties but also patron-client relations with China. The Myanmar military's containment strategy over ethnic armed groups along the border definitely needs to be defined and reviewed.
Toys for Boys in Russia
After his China visit, Snr-Gen. Min Aung Hlaing went to Russia in the same month to attend the 8th Moscow Conference on International Security. Myanmar shares no border with Russia and there are no proxy armies in Russia's pocket fighting against Myanmar; this means the two sides can get straight down to business.
Like China, Russia is not interested in issues of democracy, human rights and press freedom in Myanmar. It is a relationship of convenience between the two.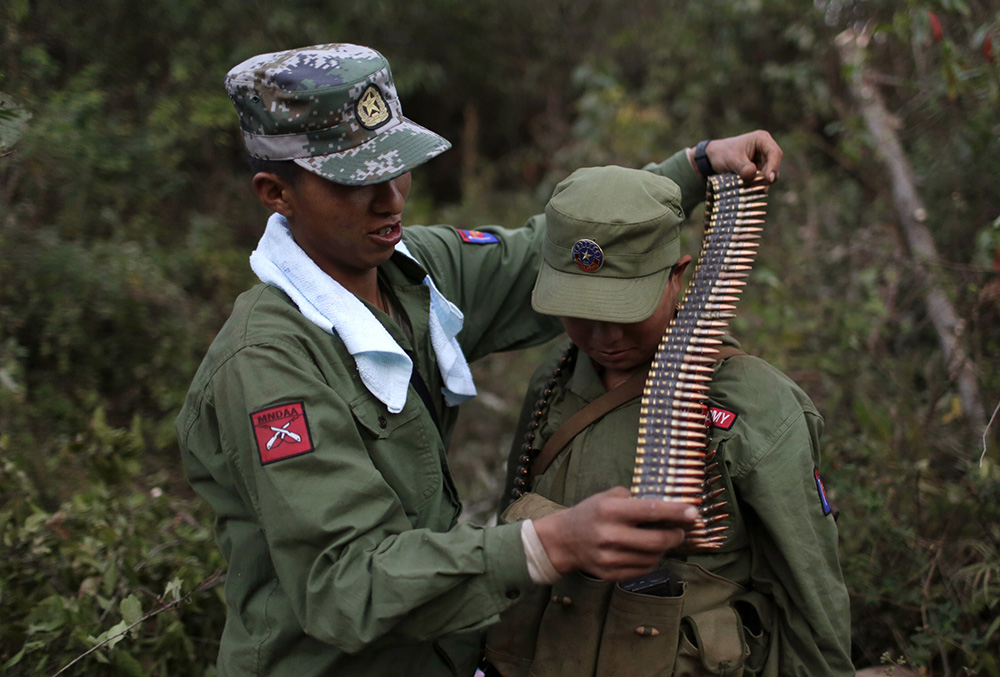 During the visit, Sen-Gen. Min Aung Hlaing's delegation visited several military facilities. Russia is currently assembling six Sukhoi SU-30SM fighter jets for Myanmar under a contract worth about US$204 million (310.66 billion kyats) signed between the two nations last year. Previously, Myanmar bought MiG29B fighter jets and Yak-130 trainer aircraft from Russia. Myanmar also operates Mi-17, Mi-24 and Mi-35 combat helicopters.
At a press conference, Sen-Gen. Min Aung Hlaing praised Russia's military hardware, saying it was "very useful" for the Tatmadaw in key locations in Myanmar.
Upon meeting Snr-Gen. Min Aung Hlaing, Russian Defense Minister General Sergey Shoigu said, "I have learned that the Myanmar delegation visited Russian arms manufacturing enterprises and examined their production and manufacturing capacity. Now you have an independent opinion of our capabilities."
Interestingly, Shoigu said Russia considers Myanmar to be a reliable ally and strategic partner in Southeast Asia and the Asia-Pacific.
Russia and Myanmar established ties in 1948, and three years later opened embassies in each other's countries. Like China, Russia also voted at the UN Security Council to block a resolution on Myanmar over the Rohingya crisis.
According to the Stockholm International Peace Research Institute, Myanmar was the fifth-biggest importer of Russian weapons and aircraft in 2014, spending $20.4 million on Russian weapons in that year. Additionally, Myanmar sends officers to Russian military academies for training. (The Tatmadaw also sends officers to India, China, Japan and Israel.)
China is one of Myanmar's biggest trading partners but trade between Myanmar and Russia is very modest. Russia has invested in the energy sector but Russian businesspersons still see Myanmar as a risky market.
However, Myanmar imports machinery, industrial equipment and vehicles, chemical products and metals from Russia and exports rice and textiles to the country.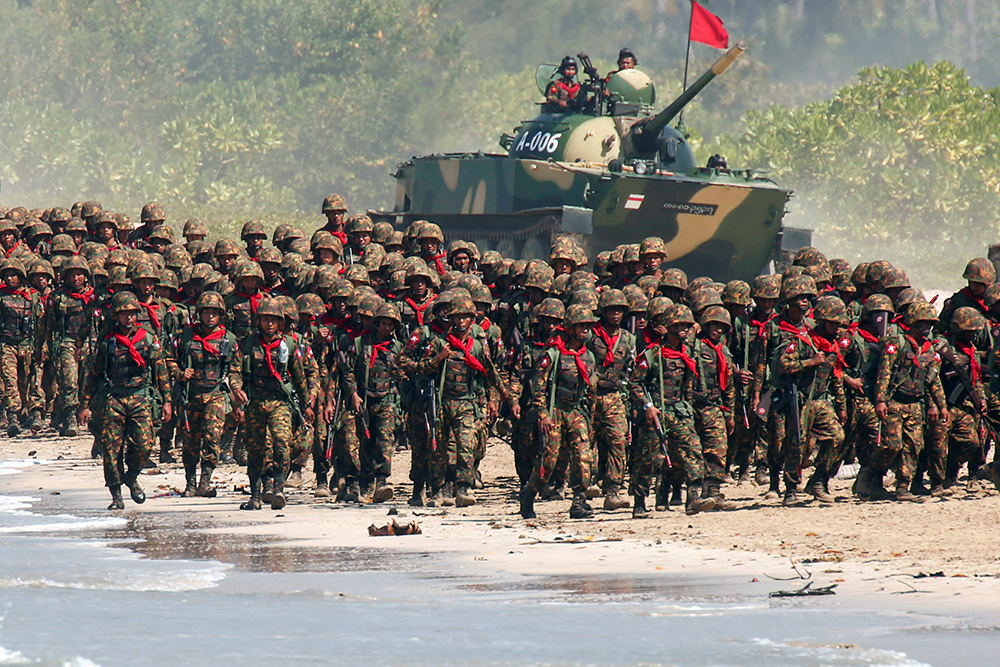 But defense ties between the two are strong, as Myanmar military leaders look beyond China to search for advanced and reliable weapons.
Moreover, Myanmar also sees Russia as a helpful "big brother" to counterbalance the influence of China, India and Western powers. Some observers see Myanmar as a strategic market for Russia, which is eyeing increased arms sales in the region.
Submarines Next?
Interestingly, Myanmar's military delegation paid a visit to St. Petersburg's Admiralteyskie Verfy Shipyard, one of the largest in Russia. There, the senior general and his team studied the manufacture, repair and maintenance of submarines.
It is an open secret that Myanmar's leaders want to acquire submarines, as the country has recently built up its naval capabilities. Over the past decade, Myanmar naval officers have undergone technical training in Russia, India and Pakistan. It is believed that Myanmar generals have been looking at several types of submarines, with diesel-powered models being the most likely option, as they are the best fit for Myanmar's waters.
When the military conducted its Combined Fleet Exercise-Sea Shield 2019 in the Bay of Bengal, Commodore Moe Aung, Navy chief of staff, told the press that Myanmar was planning to buy submarines.
The Royal Thai Navy signed a contract with China to buy a diesel-electric submarine in May 2017. The vessel is expected to be delivered by 2023.
In 2017, the Bangladesh Navy also bought two refurbished Type 035G (Ming class) submarines from China.
Over the past decade, the Myanmar Navy has upgraded its frigates, corvettes and missile boats, and improved its domestic shipyards with help from foreign countries, especially China and Russia. Looking at Thailand and Bangladesh, the Myanmar Navy wants to safeguard its long coastline and foreign and maritime security threats, as well as tackle human trafficking, arms smuggling, terrorism and drug trafficking.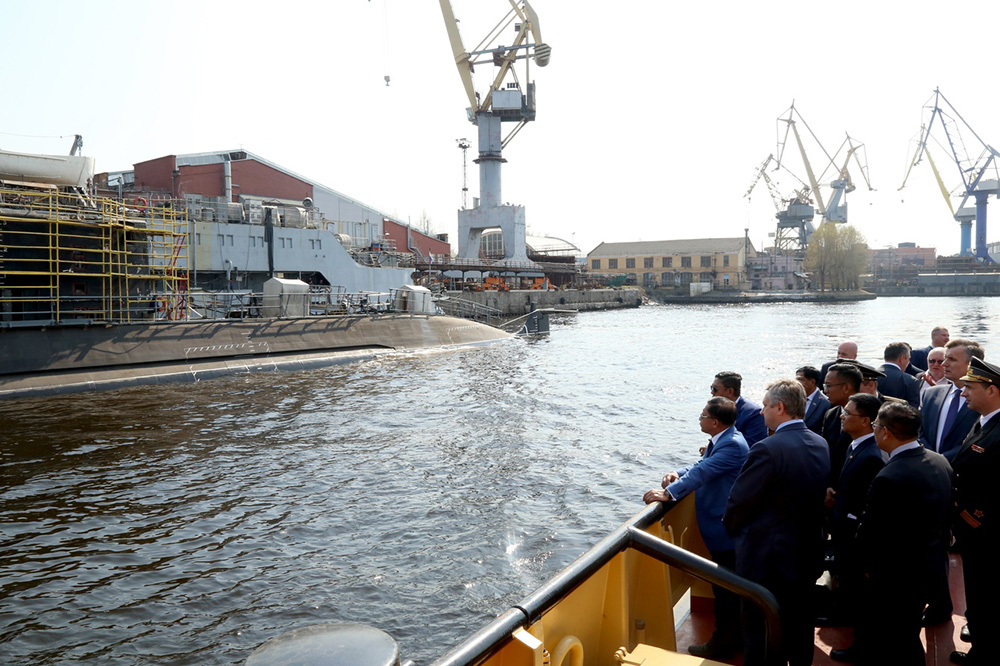 In 2008, Myanmar and Bangladesh sent warships into the Bay of Bengal amid escalating tensions over a vast disputed gas find. And with growing unresolved migration issues along the border, Myanmar military leaders no doubt see Bangladesh as a threat.
In 2001-02, Myanmar engaged in serious military skirmishes with Thailand on the northern border in Mae Sai-Tachilek.
Thailand scrambled F-16 jet fighters in the border region and successfully disrupted communications between commanders and frontline troops. Myanmar's generals were humiliated and subsequently bought Russian-made MiG-29 jet fighters and missiles, and even sent secret military delegations to North Korea to buy more weapons.
'Guardian of the State'
According to the 2016 defense strategy paper, in which the military outlined its strategies and policies, one of its key goals is to build a strong, competent and modern patriotic force to serve as the guardian of the state. The military has also improved relations with neighbors including Thailand, Vietnam, China, India, Japan and Russia.
The immediate concern Myanmar and the military face is continuing pressure from the West, including sanctions.
This week, the European Union extended an arms embargo and placed sanctions on 14 top military and border officials. Military spokesperson Brigadier General Zaw Min Tun told the media that most of the military's weaponry systems come not from the EU, "but from Russia and China, so Myanmar will not be affected very much."
With Western sanctions on Myanmar remaining in place, Myanmar generals will have zero chance to forge military relations with the U.S., the E.U. and others in the West.
It is true that Myanmar's generals will have to contend with regional and traditional allies. The military is accused of human rights violations while wanting to retain its national political role. It is impossible that the generals will get a welcome reception in the West.
When it comes to the Bear and the Dragon, history teaches Myanmar's military leaders that their best bet is to play safe.
Aung Zaw is founding editor-in-chief of The Irrawaddy.