President Joe Biden has ordered new sanctions against the Myanmar military after it seized power in the country earlier this month and arrested de facto leader Daw Aung San Suu Kyi and other senior politicians.
Biden said he was issuing an executive order that will prevent Myanmar's generals from accessing US$1 billion (1.4 trillion kyats) in assets in the US. Biden added that more measures were to come.
"The military must relinquish [the] power it seized and demonstrate respect for the will of the people of Burma," Biden said. In Myanmar, a nationwide peaceful uprising has gained momentum across the country calling on junta leader Senior General Min Aung Hlaing to step down.
Biden said the new sanctions will allow his administration to freeze US assets that benefit Myanmar's military leaders while maintaining support for health-care programs, civil society groups and other areas that benefit the country's people. He said the administration planned to identify the specific targets of the sanctions later this week.
"The people of Burma are making their voices heard, and the world is watching," Biden said, using an alternate name for Myanmar. "We'll be ready to impose additional measures and we'll continue to work with our international partners to urge other nations to join us in these efforts."
Thailand 
Thai Prime Minister Prayuth Chan-ocha, who himself first seized power in a coup, said on Wednesday he had received a letter from Myanmar's new junta leader asking him to support democracy. Sen-Gen Min Aung Hlaing has visited Thailand several times and gets along well with the Thai generals. Many observers believe that he and his subordinates have studied and learned from the Thai military's methods for maintaining power.
"We are supportive of the democratic process in Myanmar but what is most important today is to maintain good relations because it impacts the people, the economy, border trade, particularly now," Prayuth said.
"Thailand supports the democratic process. The rest is up to him to see how to proceed," he said.
US National Security Adviser Jake Sullivan called the secretary general of the Thai National Security Council, General Natthaphon Narkphhanit, to convey the US' commitment to the longstanding US-Thailand alliance based on a shared commitment to peace and stability, and also conveyed Biden's deep concern regarding the coup in Myanmar.
Singapore 
Singapore's Minister for Foreign Affairs Vivian Balakrishnan and US Secretary of State Antony Blinken spoke via telephone on Wednesday and the duo discussed regional developments including the situation in Myanmar.
"Minister Balakrishnan and Secretary Blinken also exchanged views on regional developments, including the situation in Myanmar," according to the Ministry of Foreign Affairs.
In a separate release by the US State Department, spokesman Ned Price said the two diplomats "expressed deep concern over the coup in Burma."
EU ponders sanctions
EU foreign policy chief Josep Borrell said the bloc could impose fresh sanctions on Myanmar's military over its seizure of power, but warned any punishment should not hit the population.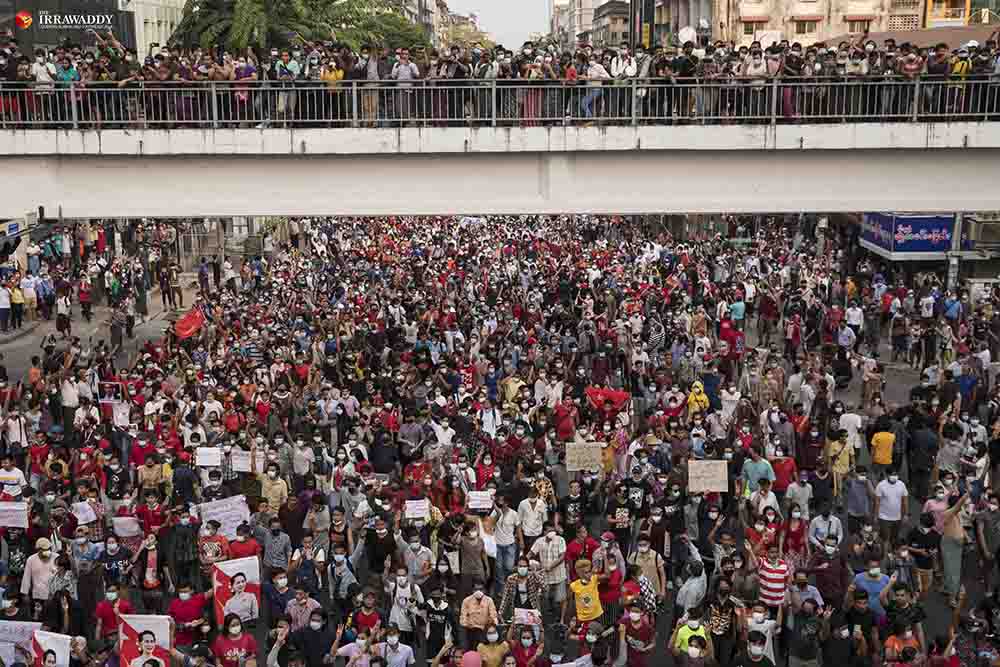 "We are currently reviewing all our options," Borrell told lawmakers at the European Parliament on Tuesday.
Borrell said one of the paths open to the bloc was "additional targeted sanctions on individuals and on business owned by the military."
The EU already has an arms embargo on Myanmar and has slapped asset freezes and visa bans on 14 officials over the bloody crackdown on the Rohingya population in Myanmar's Rakhine State.
UN expresses strong concern 
The United Nations in Myanmar expressed strong concern about Tuesday's use of force by security personnel against demonstrators in Naypyitaw, Mandalay and other cities, which left numerous demonstrators injured, some of them seriously.
"I call on the security forces to respect human rights and fundamental freedoms, including the right to peaceful assembly and freedom of expression," Ola Almgren, the UN Resident Coordinator and Humanitarian Coordinator in Myanmar, said. "The use of disproportionate force against demonstrators is unacceptable."
He went on to reiterate the words of United Nations Secretary General Antonio Guterres urging the military leadership to respect the will of the people of Myanmar and adhere to democratic norms, with any differences to be resolved through peaceful dialogue.
Japan 
Tokyo is one of the key allies of Myanmar and is among its key investors and donors. Myanmar's generals have kept up the strong relations with the Japanese government. It is believed that up until now Japanese Special Envoy Yohei Sasakawa, the chairman of Japan's Nippon Foundation, has been in regular phone contact with coup maker Snr-Gen Min Aung Hlaing.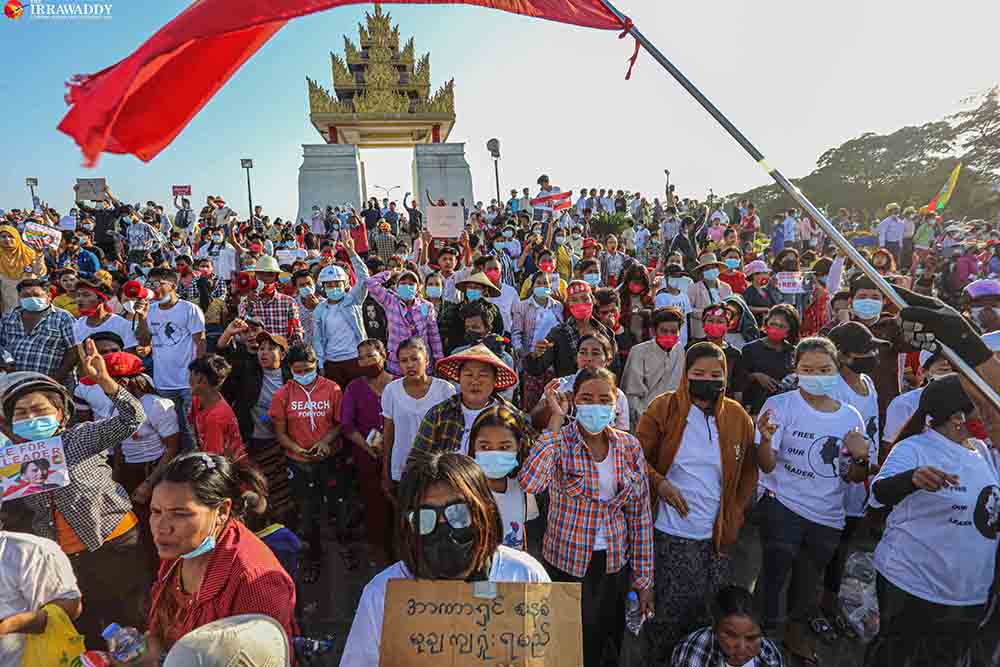 He visited Myanmar to witness the Nov. 8 general election, and held meetings with State Counselor Daw Aung San Suu Kyi and military commander-in-chief Senior General Min Aung Hlaing.
Japanese lawmakers plan to urge their government to work with the US and the EU to impose effective sanctions against the military leaders in Myanmar following the coup.
The West and governments in the region again expressed concern after Tuesday night's raid by police and military personnel on the headquarters of the NLD in Yangon.
A woman protester remains in a coma after being shot in the head in the capital Naypyitaw on Tuesday. Massive protests continue throughout the country but remain peaceful. Many tech savvy youth, celebrities, doctors, nurses, civil servants, and some police officers have joined the protests, known collectively as the Civil Disobedience Movement, or CDM.
Daw Aung San Suu Kyi and President U Win Myint are believed to be under house arrest. Several chief ministers and union ministers have been arrested and taken into detention in undisclosed locations.
You may also like these stories:
Myanmar Military Rounds Up Former Election Commission Officials
Myanmar Military Detained 220 Political Prisoners Since Coup: AAPP
China Denies Helping Myanmar Military Regime Build Internet Firewall