At least 14 Myanmar junta forces as well as two resistance fighters were killed in the last four days as People's Defense Force groups (PDFs) and ethnic armed organizations (EAOs) continued to attack regime targets across the country.
Incidents were reported in Sagaing, Magwe, Mandalay and Bago regions and Mon and Kachin states.
The Irrawaddy has collected the following reports of significant attacks from PDFs and EAOs.
Some military casualties could not be independently verified.
Regime forces bombed in Sagaing
The resistance group Ghost Team Ranger (Myinmu) said it and other resistance groups used drones to drop 10 bombs on regime forces from the military's Division 33 based in Sagaing Township, Sagaing Region on Thursday.
The regime forces were attacked with drone bombs as they were returning to Nyaung Pin Wun police station after raiding villages. Military casualties were unknown.
Military checkpoint attacked in Sagaing
At least six regime forces were killed or injured in Monywa Township, Sagaing Region on Monday when Monywa Lightning PDF of the National Unity Government (NUG) used 40-mm bombs to attack the Ma Au military checkpoint at the entrance of Monywa town, the resistance group said.
After being attacked, the regime forces blocked the road and killed a civilian.
Junta flotilla ambushed in Sagaing
Joint resistance forces take part in an ambush of a military flotilla in Kani Township on Tuesday. / KLG PDF
Kyauk Lone Gyi PDF said it and other resistance groups jointly ambushed a military flotilla of seven vessels in Kani Township, Sagaing Region on Tuesday as it was traveling between Kani and Mingin townships along the Chindwin River.
Three soldiers were killed by resistance snipers.
Military flotilla attacked in Mandalay
Combined resistance groups engage in a clash with a military flotilla in Thabeikkyin Township on Monday. / Bo Linn Yone
Some regime forces are believed to have been killed or injured in Thabeikkyin Township, Mandalay Region on Monday when three local resistance groups used firearms and heavy explosives to attack a military logistics flotilla of six vessels traveling to Kachin State along the Irrawaddy River, said Bo Linn Yone group, which joined the attack.
One of the explosives hit a vessel. Two ambulances were used to transport injured or killed soldiers after the flotilla arrived at the port in Thabeikkyin town, the resistance group said.
Military unit ambushed in Magwe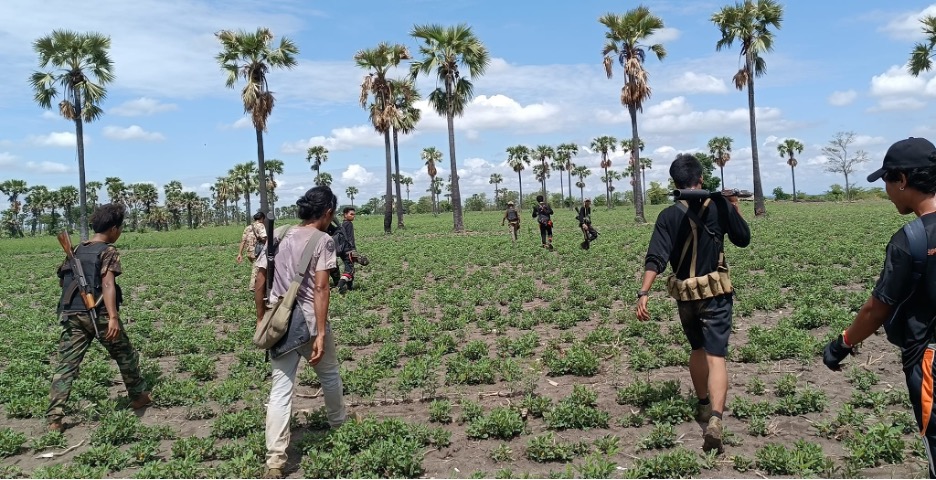 Four regime troops were seriously injured in Yesagyo Township, Magwe Region on Wednesday when Yesagyo PDF used land mines and drone bombs to ambush a military unit of 50 troops between two villages in the township.
The PDF group said it lost a drone in the mission but there were no resistance casualties.
Clash erupts in Bago
A clash broke out in Okpho Township, Bago Region on Thursday when a military unit attempted to raid the base of Okpho Underground Guerilla Force, a unit of Thayawady District PDF Battalion 3802 under the command of the civilian NUG, the resistance group said.
After learning of the junta's plan in advance, the resistance group triggered eight land mines to ambush a military unit of 30 troops as they were on their way to the resistance base. Regime forces fled the area after a 20-minute shootout. A junta soldier was killed and another injured but there were no resistance casualties, the PDF group said.
Two military headquarters shelled in Mon
Several resistance groups jointly shell the headquarters of two military battalions in Ye Township on Tuesday. / Daw Na Column
Daw Na Column said it and seven other resistance groups including the All Burma Students' Democratic Front (ABSDF) and the Karen National Liberation Army (KNLA), the armed wing of the Karen National Union (KNU), used mortar rounds to bombard the headquarters of military Light Infantry Battalions 538 and 591 based in Ye Township, Mon State on Tuesday.
In the attacks, four regime forces and associated people including the wife of a soldier were killed and seven others injured.
In retaliation, the junta bases shelled nearby villages with 81-mm and 60-mm mortar rounds, injuring six villagers, said Daw Na Column.
That night, the military bases continued to indiscriminately shell nearby areas.
Clash breaks out in Kachin
Two resistance fighters were reportedly killed in a clash in Hpakant Township, Kachin State when regime forces raided a joint camp of ethnic armed group the Kachin Independence Army (KIA) and Kachin Regional PDF forces in Haung Par Village, according to local Kachin media.
After the clash, both sides urged residents to evacuate to safe places.