Since the 2021 coup, junta chief Min Aung Hlaing has sought to relieve rising international pressure by strengthening Myanmar's ties with Russia, relying on Moscow's cooperation in the military, economic and energy sectors.
Several Myanmar tycoons have been eager to help the junta chief in this aim, seeing it as a lucrative opportunity.
U Zeya Thura Mon, CEO of RGK+Z&A Group of companies, is prominent among cronies who are working closely to achieve the junta's Russian ambitions.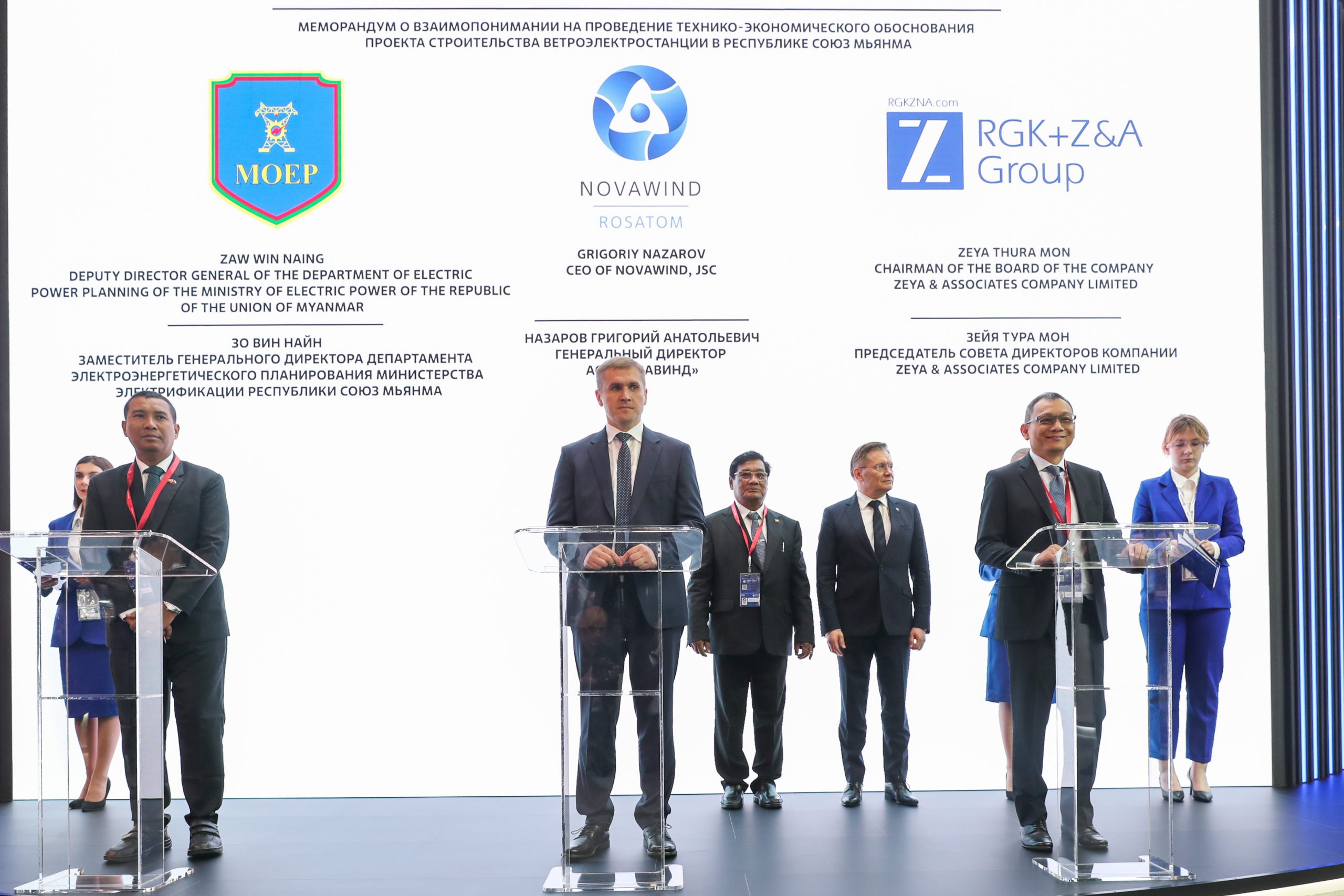 The 57-year-old businessman joined the junta's delegation at the St. Petersburg International Economic Forum last month. On June 15, the junta's electricity ministry signed two memorandums of understanding (MOUs) with NovaWind, a subsidiary of Russia's state-owned nuclear firm Rosatom, and two Myanmar companies to launch feasibility studies for wind-power projects.
The two local companies were Zeya & Associates Company Ltd under the RGK+Z&A Group and Primus Advanced Technologies Ltd under the Supreme Group of Companies.
Supreme Group is developing the 135 MW Kyauk Phyu Combined Cycle Power Plant (CCPP) in Rakhine State and the 1,390 MW Mee Lin Gyaing LNG Power Plant in Shwe Thaung Yan Township, Ayerwaddy Region.
U Zeya Thura Mon's RGK+Z&A Group is operating a 50 MW natural gas power plant near Hlawga National Park in Taik Kyi Township, Yangon Region. It has been selling electricity to power ministries of successive regimes since 2013.
Zeya Thura Mon also signed a 2014 long-term service agreement with the world-renowned Rolls-Royce Power Systems Holding to supply spare parts, supervision and maintenance for phase 2 of the Hlawga power plant.
In Russia last month, he joined the Electric Power Planning Department in signing an MOU with NovaWind, to launch a feasibility study for a 200 MW wind farm in Kyaukpadaung or Nyaung-U township in Mandalay Region.
The same day, an MOU to develop non-energy nuclear technologies in Myanmar was signed in St. Petersburg by Rosatom and Zeya & Associates. They agreed long-term, mutually beneficial cooperation on a joint project to build multifunctional facilities in Myanmar for processing products using ionizing radiation. An official from Zeya & Associates told The Irrawaddy the deal involves nuclear medicine technology.
Zeya Thura Mon has managed to grow a successful business empire in Myanmar without becoming well known as a crony or high-profile tycoon.
Yet he has made no secret of his ambition.
"I want to be a crony," he told local business media outlet Myanmore in 2021. "The biggest crony is on a dollar bill," he declared, brandishing the image of US statesman, inventor and businessman Benjamin Franklin.
"The definition of a crony is being a very big businessman. We are in the list of powerful companies but only between 100th and 200th," he told the media outlet.
He has acted as a mentor, speaker and panelist on business training courses, conferences, and lectures held by associations under the Union of Myanmar Federation of Chambers of Commerce and Industry (UMFCCI).
He was an executive member of the UMFCCI until the end of 2021 before being elected to its central executive committee under the military regime for the next term (2022-2025).
The junta also handed him the title of Agga Maha Siri Sudhamma Manijotadhara for his donations and assistance to Buddhism. Junta chief Min Aung Hlaing, who likes to style himself as the guardian of Burmese Buddhism, attended the honors ceremony in December 2021.
Zeya Thura Mon has a history of working with Thai business partners.
His first-ever job was as an overseas sales manager at Gunkul Engineering, which is now listed on the Stock Exchange of Thailand.
When Gunkul Engineering Supply Co Ltd was established in 1997 as the Myanmar subsidiary of the Thai company, Zeya Thura Mon was tasked to lead it along with his younger brother Thiha Thura Mon, eventually becoming CEO and a member of the board of directors.
In 1995, he set up Zeya & Associates with his wife Daw Khine Khine Myint, and his brother.
In 2013, the Thai subsidiary was reregistered as Gunkul Myanmar Central Power 1, with executive directors that included three Thai investors: Naruechon Dhumrongpiyawut, Phongsakorn Damnoen, and Sopacha Dhumrongpiyawut. This trio are also currently the executive director, chief operating officer and CEO, respectively, of Gunkul Engineering Public Co Ltd in Thailand.
U Zeya Thura Mon also does business in Singapore, where he founded Royal GK Pte Ltd in 2006 and Zeya and Associates Pte Ltd in 2010 to trade computer accessories, energy equipment, hardware, and other IT and energy-related utilities.
He uses Royal GK Pte Ltd to finalize transactions with foreign currencies, and for international procurement and banking transactions for his businesses in Myanmar.
In 2012, he registered Myanmar Central Power Co Ltd as the investment vehicle and operator of Hlawga Power Plant, which launched operations a year later.
Other companies he founded as subsidiaries of his group include Double Trees Co Ltd and South Dagon Engineering Co Ltd.
He has also invested in companies outside the RGK+Z&A Group.
His wife, Daw Khine Khine Myint, is a director of Myanmar Coach Center Co Ltd, Myanmar's sole authorized dealer of U.S. forklift brand Clark.
In 2014, his brother, Thiha Thura Mon, partnered with Thai investors to found Myanmar Information Highway Ltd. (MIH). MIH, a broadband business service provider, is a subsidiary of Benchachinda Group in Thailand.
In 2015 he became a director of the Yangon Bus Company (YBPC). Three years later, his brother became director of SCI Metal Tech (Myanmar) Co. Ltd., the local arm of Thailand's SCI Electric PCL—a top investor in the Thilawa Special Economic Zone.
The February 2021 coup did nothing to halt his pace of foreign expansion.
Two months after the military takeover, he established Mon Enterprise (Thailand) Co Ltd in Thailand for trading motor vehicles, motorcycles, other machinery, and equipment.
U Zeya Thura Mon was born to a couple of medical doctors who made their living from their profession. Thus he has always described himself as a self-made businessman who worked his way up from the bottom. However, he has also enjoyed support from well-connected family members.
Sources close to Zeya & Associates said that among his older relatives are two uncles – Captain Aung Thwin and Colonel Khin Maung Htwe – who served under the Burma Socialist Programme Party (BSPP) dictatorship (1964-88).
Up until the early 2000s, one of his cousins also worked as a high-ranking officer at Thai Sawat, one of only five Thai firms with logging rights in Myanmar after the SLORC military regime expelled all Thai logging companies.
U Zeya Thura Mon is also involved in the importation of jet fuel for the junta, whistleblowers in Myanmar business circles told The Irrawaddy, but his company denied it.
The Irrawaddy discovered that U Zeya Thura Mon has expanded his network to the United Arab Emirates, one of the world's largest producers of petroleumm products, including jet fuel.
He founded two companies in the UAE in December 2021, 10 months after the coup. Victory Energy Power FZCo Co Ltd was registered under the Jabel Ali Free Zone Authority in western Dubai, while Zeya General Trading FZ-LLC was registered in the Ras Al Khaimah Economic Zone under the Dubai Department of Economic Development. An official from U Zeya Thura Mon's RGK+Z&A Group said the companies have nothing to do with jet fuel, and were established solely for financial purposes, such as handling international transactions.
His group describes these companies as subsidiaries for international trade, but what they are importing to Myanmar remains unknown as both were founded as free-zone companies.
The junta needs jet fuel for its ongoing campaign of airstrikes against civilians and armed resistance.
Editor's note: The story was updated with RGK+Z&A Group's responses on Wednesday.