YANGON—If China wants to fish in Myanmar's troubled waters, the Belt and Road Initiative (BRI)-linked Kyaukphyu Special Economic Zone (SEZ) in Rakhine State is a good place to cast a line; those projects will face as much controversy and objection as did the  Myitsone dam near Myitkyina, the Kachin State capital, said Kyaukphyu Rural Development Association (KRDA) coordinator U Tun Kyi. 
"Whoever accepts Chinese projects, if those (projects) do not bring positive impacts to the Arakanese people, then we will definitely oppose them, as was done in the Myitsone campaign," he said.
His message comes after a three-day visit to Kyakphyu in July by Chinese ambassador Chen Hai, who was appointed ambassador to Myanmar just a few months ago. The Kyaukphyu visit was his first to a BRI-related project in the country.
Conflict between the Arakan Army (AA) and Myanmar's military (or Tatmadaw) has racked Rakhine State for months, displacing more than 50,000 so far and killing more than 70 local Buddhists and Rohingya Muslims since the beginning of the year. 
Eight townships in the north of the state—home to more than a million people—have been living without internet access since June 21 under the National League for Democracy (NLD)-led government's internet shutdown. 
With the human rights situation in Rakhine State sharply deteriorating, the Chinese diplomat's decision to visit Kyaukphyu raised eyebrows among Arakanese business circles and with observers and lawmakers, who wondered if the visit had a hidden agenda behind it.
Choice destinations
Hai visited Kyaukphyu from July 26-28, where the Chinese government is heavily pushing for a SEZ and a deep seaport in the Bay of Bengal—a strategic location for logistics and for Chinese maritime security. 
The tour came after an AA announcement welcoming foreign investment in Rakhine State that can benefit locals—and welcoming in particular those related to Chinese President Xi Jinping's BRI initiative. 
The Chinese embassy in Yangon said on Monday the ambassador's trip included discussions with district-level authorities on BRI projects as well as stops for t-shirt donations to local schoolchildren there. 
According to the embassy, Hai visited four destinations in Kyaukphyu including Shwe Gas, a China-Myanmar off-shore gas terminal on the town's outskirts, and the rural site where a Chinese state-owned conglomerate is hoping to implement a deep seaport and a 50-year SEZ. 
Shwe Gas cuts 480 miles across Myanmar to Yunnan, transmitting 22 million tons of crude oil annually to China, for which Myanmar annually receives a Right of Way fee of $6.9 million. The project is a joint venture between China National Petroleum Corporation and the Myanmar Oil and Gas Enterprise, holding stakes of 50.95 percent and 49.1 percent, respectively.
At the site in rural Kyaukphyu, Chinese state-owned conglomerate CITIC Group (formerly the China International Trust Investment Corporation) is trying to implement a $10 billion deep seaport and a 50-year SEZ with a possible 25-year extension. CITIC has said the projects would provide 100,000 jobs for locals and earn the Union government $7.8 billion in revenue from the SEZ and $6.5 billion from the deep seaport annually. 
Connecting China, India and ASEAN
The Kyaukphyu SEZ is uniquely positioned to serve as a trade corridor connecting China, India and ASEAN. The deep-sea port project was initially valued at $7.3 billion and the SEZ at $2.7 billion. Under the terms of the deal, CITIC will build and operate the project for the 50 years of the SEZ and the potential 25-year extension.
The SEZ would cover a total of 520 hectares (1,280 acres)—20 for the port, 100 for housing and 400 for an industrial park. Some 50 percent of the land would be allocated to fisheries, 30 percent to garment factories and the rest to other small enterprises.
Kyaukphyu SEZ central body operating under the NLD government has been looking for a suitable surveyor to assess the potential  environmental and social impacts of the projects, which could take about a year, according to SEZ body's Vice Chair U Oo Maung. He said CITIC and the Ministry of Planning and Finance are currently negotiating transition documents for the project but declined to offer specifics.
Local dismay
Depsite the Chinese envoy's optimistic view of the projects, Arakanese politicians, lawmakers and civil society groups say they felt overlooked during Hai's visit. 
Local businessman U Nyein Chan Maung, who operates the Hotel Varanathi in Kyaukphyu, told The Irrawaddy the Chinese envoy even spent one night on Maday Island.
KRDA's Tun Kyi said, "We have no idea who he met and what promises he gave to them. Whatever. He should have met with and inquired about the will of the local people and listened their challenges."
He said that locals are facing many difficulties at this time, with almost every town in the state under curfew, including areas in Kyaukphyu. 
A military-imposed curfew near the Thanzit River near the deep seaport area bans fishermen from fishing there at night, and during the day they are prohibited from fishing around a nearby naval base where vessels were recently attacked by AA rebels, leaving little time or area for them to earn an income.
Hotelier U Nyein Chan Maung said when the deep-seaport covers the water's surface (about 4 kilometers worth) between Danyawaddy Naval Base and Maday Island, local fishermen may lose access to the entire river, as international cargo ships will commute there day and night. 
He suggested that the government and developers create a reasonable livelihood and resettlement plan for affected fishermen. 
But with a perceived lack of transparency, distrust is growing among locals, who worry about a repeat of the CNPC pipeline in 2013, in which Chinese companies and the Union government promised job opportunities that never materialized and land compensation schemes were rife with mismanagement. 
Resource rich but impoverish
Despite a long coastline, tourist attractions and abundant natural resources, Rakhine Sate remains one of Myanmar's most impoverishment. Large foreign projects generating billions in revenue flow straight to Union government coffers.
Foreign investors from Singapore, Malaysia and China have recently submitted proposals to the state government for projects in the state capital of Sittwe, in Kyaukphyu Township and on Ramree Island.
Locals have expressed anger at Union government budgets that prioritize spending in commercials hubs like Yangon over Rakhine. They say Arakanese MPs are sidelined in Parliament by the ruling NLD and military parties and lawmakers. 
U Tun Kyi believes the fate of the Arakanese dream of federalism, development and equality are linked to BRI projects in the Kyaukphyu SEZ. He said the projects should be put on hold until the Union government enacts legal safeguards for the common people there, such as farmers and fishermen.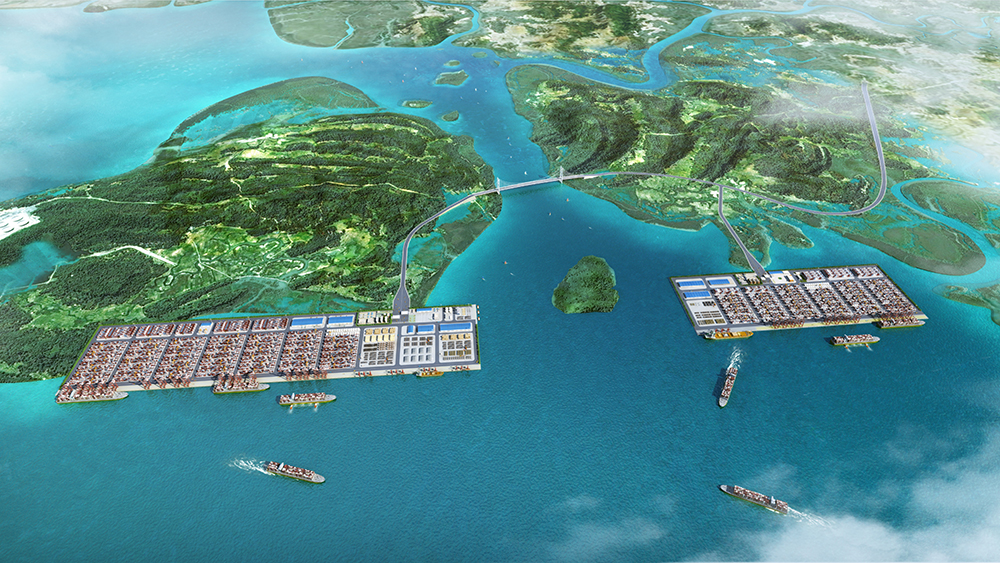 Chinese model on economic zone
Myanmar Country Manager for American think-tank the National Resources Governance Institute Ko Maw Htun Aung said both host countries and international developers are responsible for the consequences of these kind of projects. 
China has created its own resettlement and job creation mechanisms for its own foreign-backed industrial projects in past, he said—for instance, when seizing land from farmers for an economic zone near Shanghai, they consulted with local communities and created a rehabilitation and livelihood substitution plan, establishing a public company for farmers that gave them a reasonable share in the future economy, Ko Maw Htun Aung said.
"Farmers were satisfied with the development plan even though they lost farmland," he said. "As soon as the industrial zone generated income, they were able to benefit from that economy." 
Ko Maw Htun Aung said Chinese think-tanks are starting to adopt similar mechanisms for state-owned investments abroad. Formed under China's Ministry of Commerce, such groups are looking at ways forward with the Myitsone Dam project in the wake of its massive resistance from Kachin State environmentalists, politicians and locals. 
He said the Chinese government and policymakers once thought that the least developed countries, like Myanmar, would never deny mega hydro-power project; now, experts from Bejing and Xhin Hua University  come to Myanmar to learn about local perspectives.
Safeguard for locals
Ko Maw Htun Aung suggested that the Union government have a systematic legal framework in place for voluntary resettlement in line with international standards, such as the guidelines outlined by the International Labor Organizations, or implementing its own stringent screening practices using a publicly-accessible project bank database platform that can measure the environmental and social impact of proposed developments. 
"Locals should be prioritized as beneficiaries … of these gigantic projects," he said.
He also suggested that, if these industrial plans proceed by traditional means, vocational training should be provided for local populations so they can benefit from the job creation that developers often promise.  
But, while some farmers may be compensated for confiscated land, what about fishermen that lose access to waterways? A majority of locals rely on the Thanzit River for their living. 
"We are [already] losing fishing areas in the Thanzit River to make way for international cargo. I can't even image what will happen to our livelihoods once a deep seaport is built in this river," said Maday Islander Ko Maung.
Union government officials are still in negotiations with CITIC about a framework agreement, but details of those discussions have not been made public. It remains unclear what exact model the government will use to oversee community development plans for the tens of thousands of people living in the industrial SEZ or the deep seaport area. 
"We don't oppose any foreign investment but I think we are not ready to host a Kyaukphyu SEZ. We don't trust in it because the safeguards for locals are still undefined by officials," Arakan League for Democracy party member U Tun Lwin told The Irrawaddy.
You may also like these stories:
Chinese Officials Push for Kyaukphyu SEZ to Move Forward
Hong Kong Facing Biggest Crisis Since Handover: Senior China Official