Yangon – Six anti-regime protesters have now died since the Feb. 1 coup after two activists in Mandalay died days after being injured.
On Saturday, a raid on government personnel taking part in the civil disobedience movement (CDM) at a dock in Mandalay was carried out by police and military personnel using live ammunition, rubber bullet, tear gas and slingshots.
Demonstrators had appeared in the street to protect government staff from being forced to return to work.
Two protesters were killed immediately and more than 25 others were injured.
About 83 people, including some seriously injured protesters, were arrested without being treated.
On Wednesday, Ko Yarzar Aung, a 26-year-old protester, who was shot in the leg, has reportedly died at Mandalay's military hospital amid questions about that the quality of medical care he received.
Dr. Aye Nyein Thu from a charity in Mandalay who tried to treat Ko Yarzar Aung told The Irrawaddy on Thursday that, except from some minor treatment, the military authorities did not allow her to attend to detainees before they were taken away.
She said that Ko Yarzar Aung would not have died from his leg injuries if he was treated properly.
On Sunday the authorities handed the body of Ko Kyi Soe, 48, who suffered from a head injury, to his family.
Ma Su Latt Win of Mandalay told The Irrawaddy on Thursday that her detained 22-year-old husband, Ko Tin Tun Aung, had not received proper treatment at the military hospital, despite being shot in the hand.
He is now reportedly being held in a prison. "I want him back home. I want to treat his injury," said Ma Su Latt Win.
On Saturday, Ko Wai Yan Tun, 16, and Ko Thet Naing Win, 36, were shot dead by the security forces.
That evening a civilian vigilante, Ko Tin Htut Hein, was allegedly shot dead by police in a civilian van in Yangon's Shwepyithar Township while he asked why the vehicle was breaking the nighttime curfew.
On Feb. 19, Ma Mya Thwet Thwet Khine, a student who was shot by the police at a protest in Naypyitaw more than a week earlier, died in hospital.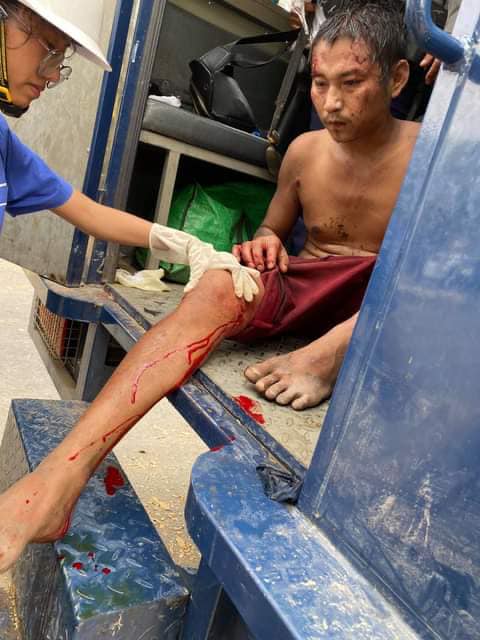 After the Feb.1 coup, crackdowns have been held against peaceful anti-regime demonstrations in Mandalay, Myitkyina, Bago, Myawaddy, Thandwe, Naypyitaw, Mawlamyine and Myaungmya.
Police and military personnel have used water cannon, tear gas, slingshots, rubber bullets, live ammunition and air guns firing lead pullets.
Several journalists covering protests have been hit with batons and slingshots.
More than 100 people, including a pregnant woman and a five-year-old, have been injured by police and military personnel.
On Feb. 23, the G7 foreign ministers of Canada, France, Germany, Italy, Japan, the UK and US and the European Union's representative condemned the military's violence against the peaceful protests.
A joint statement said the use of live ammunition against unarmed people is unacceptable.
It said the military and police must respect human rights and international law.
The Assistance Association for Political Prisoners said by Thursday at least 728 people, including officials, leaders and National League for Democracy MPs, political activists, artists, monks, writers, protesters and striking government staff, have been detained.
Ko Aung Myo Kyaw of the AAPP said on Wednesday the regime is detaining increasing numbers and amending several laws illegally.
"The military is completely violating human rights. It must stop" he said.
You may also like these stories:
Myanmar Anti-Coup Protestors Get Creative with Thanakha in Fresh Protests
World Bank Halts Payments to Myanmar After Coup
Lawyer for Myanmar's Detained Daw Aung San Suu Kyi Says He Has Not Been Able to Meet Her