Fighting has escalated between Myanmar junta troops and the Ta'ang National Liberation Army (TNLA) in Mogoke Township, Mandalay Region.
Clashes broke out on September 10 after junta troops raided a village to the south of Mogoke town where TNLA troops were based. Frequent fighting has since been reported in the area.
The TNLA has suffered no casualties in the fighting but a military vehicle fell into a ravine, according to the armed group.
TNLA spokesman Tar Aik Kyaw said the regime had carried out repeated airstrikes and shelling since September 10.
Light Infantry Battalions 102 and 104 under the 44th Light Infantry Division, and Infantry Battalion 148 under the Central Command are involved in the fighting. According to frontline sources, Mogoke People's Defense Force (PDF) is fighting alongside the TNLA but Tar Aik Kyaw said the TNLA is fighting alone.
Mogoke PDF posted on Facebook on Sunday that it was fighting with the TNLA around Mogoke town as part of Operation Moe Lone Hmine. It urged people to avoid junta troops.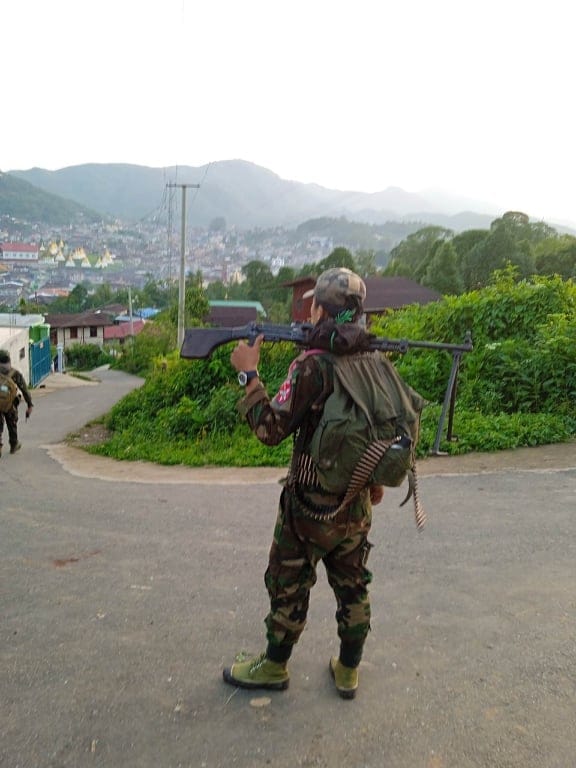 A Mogoke resident, who asked for anonymity, said the fighting on Sunday seemed particularly fierce when the junta carried out airstrikes.
"There was no fighting on Monday. Things were normal in the town with schools and markets open as usual. They are fighting around 30km from the town," said the resident.
A military analyst said he heard the TNLA and PDF raided Kyetpyin village in the west of Mogoke on Tuesday morning and that junta reinforcements were ambushed.
Mogoke Township is at the intersection of three military regions — the Northern, Central and Northeastern commands. There is a junta command headquarters in Mogoke, Momeik to the northeast and Nawnghkio to the southeast.