NAYPYIDAW — State Counselor Aung San Suu Kyi briefly met over 100 members of the Wa and Mongla public on Friday afternoon in Naypidaw.
Suu Kyi delivered a speech and hosted a question and answer session with community members, in which she emphasized the importance of developing the education and healthcare sectors across the nation, including in the remote regions of ethnic states.
The 20-minute event, which followed an earlier meeting with leaders of the United Wa State Army and the National Democratic Alliance Army—also known as the Mongla Group, had to be conducted through an interpreter, from Burmese into Wa. Chinese, rather than Burmese, serves as a lingua franca in the Wa self-administered zone in Shan State, which also borders China.
Addressing the language barrier at the event in the context of educational development, Suu Kyi told the audience that the country still lacked the capacity to provide textbooks for schools in the country's many ethnic languages.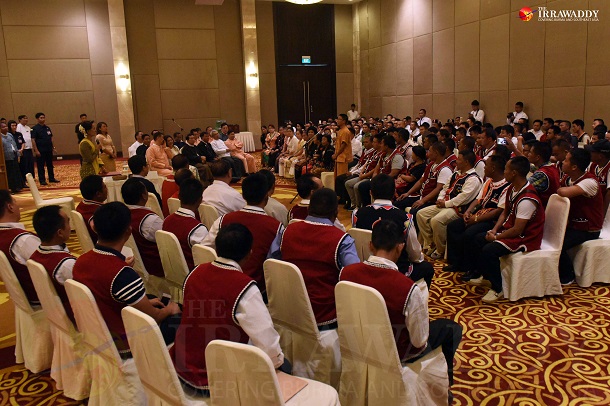 "We need more teachers for our ethnic regions; having enough teachers is more important than having more school buildings," she said. To this end, the State Counselor suggested training more teachers who are able to speak the languages of Burma's ethnic minorities, so that they can better communicate with students and thereby give them "a more effective education."
She also cautioned the Wa and Mongla community to keep in mind "the practicality in using the Bamar [Burmese] language for official use."
"If we have many official languages—more than two or three—it is difficult to work in the administrative sector," she added.
"I recognize that the education level is far worse [in remote ethnic areas] than the central part of the country, but the central region also does not have such a good situation," Suu Kyi said. Stressing a need to work beyond the curriculum, Suu Kyi told the participants, "We have to try many ways to have equality…to achieve unity, equality and respect among us, I invite all of you to give input and suggestions."
In response to a question from a participant from the Mongla region, she urged parents to consider the importance of encouraging knowledge acquisition in their children, and investing in vocational skills training to support their livelihoods.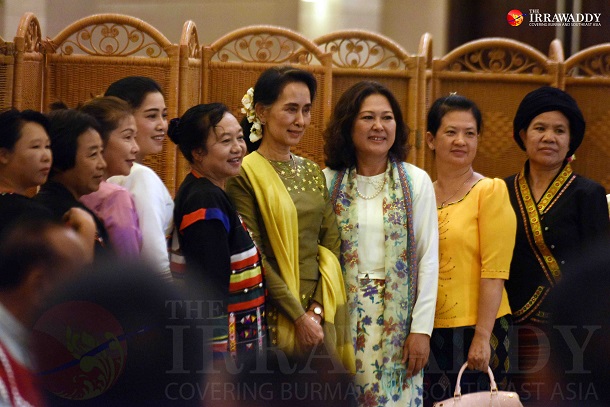 Suu Kyi also highlighted the importance of youth and women's participation in building peace.
"As I see many youth and women here, whatever we do, it is crucial to use the power of these people who make up more than half of the population," Suu Kyi said.
She encouraged youth to build a network, describing young people as "key" in creating a strong Union; her comment comes as organizers from across Burma hosted an ethnic youth conference this week in Panglong, Shan State, with the aim of forming a "collective youth voice."