Myanmar junta troops and pro-regime Shanni Nationalities Army (SNA) fighters abducted 100 residents of Homalin Township in Sagaing Region last week as potential human shields. All the abductees, however, managed to escape the same day.
Over 100 junta and SNA troops raided Nat Nan Village around 6am on January 5, attacking a checkpoint manned by resistance fighters and detaining villagers, according to residents and resistance forces.
A woman resident of Nat Nan who was detained before escaping said: "They [regime forces] came down from Mt. Ar Mann on January 5 and fired two or three shots before entering our house. When we opened the door, they told us to come out. We were then taken to the mountain at gunpoint."
Military regime troops also robbed the woman's family of over eight million kyats, as well as their house ownership certificate. Male villagers were beaten as they were detained, while female villagers were robbed of their gold earrings and necklaces.
The villagers were then taken to Mt. Ar Mann. Junta forces were checking the detainees' phones to see if they had any links with People's Defense Forces (PDFs) when resistance fighters attacked around 10am, allowing the detained villagers to escape.
"As they were saying that they [junta forces] would shoot dead anyone financially supporting PDFs, we heard gunshots. So we took the chance and fled. They opened fire on us as we fled. Luckily, no one got hurt," said the Nat Nan woman.
All the detained villagers managed to escape, she said, adding that her family has been forced to take shelter at a temporary camp after they were robbed of all their possessions.
An information officer for a Homalin PDF named Moe Gyo said that a combined force of four PDFs attacked junta forces on January 5 and 6, after withdrawing from Nat Nan Village. Resistance fighters have since retaken Nat Nan Village.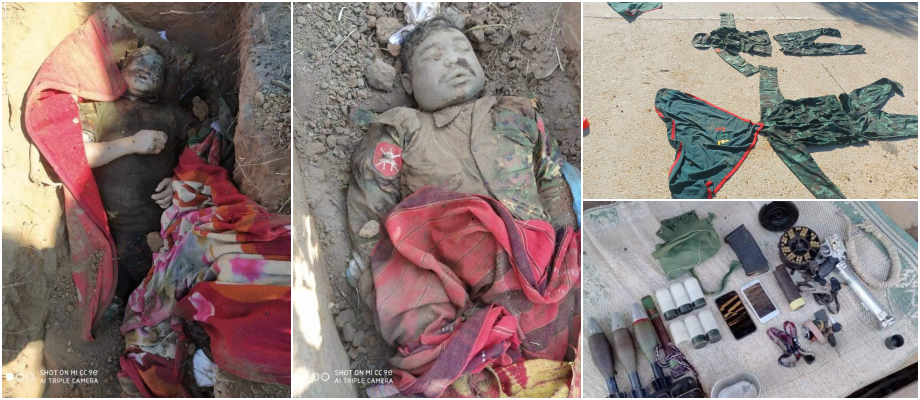 The Myanmar military's infantry battalion 222, based in Homalin, and the Hkamti-based light infantry battalion 347, along with the SNA's battalion 753, conducted the raid on Nat Nan Village, according to the Moe Gyo information officer.
Eight junta soldiers and SNA fighters were killed by PDF snipers in the fighting, according to Moe Gyo. The Irrawaddy could not independently confirm casualties.
The Moe Gyo information officer said: "The SNA denies its association with the Myanmar military, but people are suffering on the ground. They stole money and gold jewelry worth 300 million kyats in Nat Nan Village. They are harming the people and taking advantage of this chaotic period. They say that they are working for the interests of the Shanni people. But they are doing the opposite."
SNA spokesperson Colonel Sai Aung Mein confirmed the fighting between PDFs and the SNA in Nat Nan Village, but said he did not know precise details. He denied that the SNA detained and robbed the Nat Nan villagers. He accused the ethnic armed organization the Kachin Independence Army (KIA) of plotting to take over Shanni areas.
"Those villages are largely inhabited by ethnic Shanni people. We are the same ethnic group and we won't use them as human shields. The people making such accusations are in fact an organization pulling the strings behind the curtain. It has been doing so for a long time. It is the KIA. The KIA wants to penetrate into our areas. So they have raised PDFs to destroy our region," said the SNA spokesperson.
There is a long-running feud between the SNA and the KIA.
Regime soldiers and SNA fighters also carried out sneak attacks on PDF bases in Nat Nan and Pin Kote villages in November last year.
Military tensions in the area are currently running high as some 100 junta troops have been deployed in the new town of Shwe Pyi Aye, to the northwest of Nat Nan Village.
The SNA was founded in July 1989 on the Myanmar-India border with the aim of securing political equality, self-determination and a Shanni State for the Shanni people.
SNA fighters are active in Hpakant, Indawgyi and other parts of Kachin State as well as Homalin, Pinlebu, Banmauk, Hkamti, Paungbyin and Tamu townships in Sagaing Region.
Military analysts say its four brigades are based in Hkamti, Homalin, Banmauk and between Homalin and Banmauk.