A pro-junta militia leader attempted to rape an eight-year-old in Sagaing Region's Kantbalu Township, and the victim's family dare not file a complaint, said residents. 
U Shwe Ba, 53, the leader of a local Pyu Saw Htee group, a militia formed and armed by the Myanmar military, attempted to rape the second grader on June 6 at a school in Nat Inn Village, some four miles to the east of Kantbalu Town.   
A resident of Nat Inn village said: "The would-be rapist is a distant relative of the girl. She is the granddaughter of his brother-in-law. He took her to an empty classroom. The girl ran out naked, which was spotted by soldiers at the school." 
U Shwe Ba gave three million kyats as compensation to the parents of the victim, via junta soldiers, asking them not to file a police complaint. He was publicly beaten by regime troops as a punishment, said a local.
A relative of the victim said: "When we planned to file a complaint, they [Pyu Saw Htee] said they would pay three million kyats and told us not to file the complaint. We fear them because he is the Pyu Saw Htee leader in Nat Inn. We want to file a complaint, but where can we file a complaint and who we can rely on in this age? If possible, I want the whole country to know about this case." 
Pyu Saw Htee militia have a strong presence in Nat Inn Village. The village has a post-primary school at its center, where Pyu Saw Htee militia led by three junta soldiers and two police from Kantbalu Town are based. Pyu Saw Htee and junta troops are based in schools across Kantbalu Township.
U Shwe Ba is married with three children. He is a former traditional medicine practitioner who settled in Nat Inn in 2017 and farmed betel for living. He joined the Pyu Saw Htee after last year's coup, according to residents. 
"He is a quack who calls himself a medical practitioner. When Pyu Saw Htee groups were formed in Kantbalu he helped fund them and became a Pyu Saw Htee leader," said a Nat Inn villager.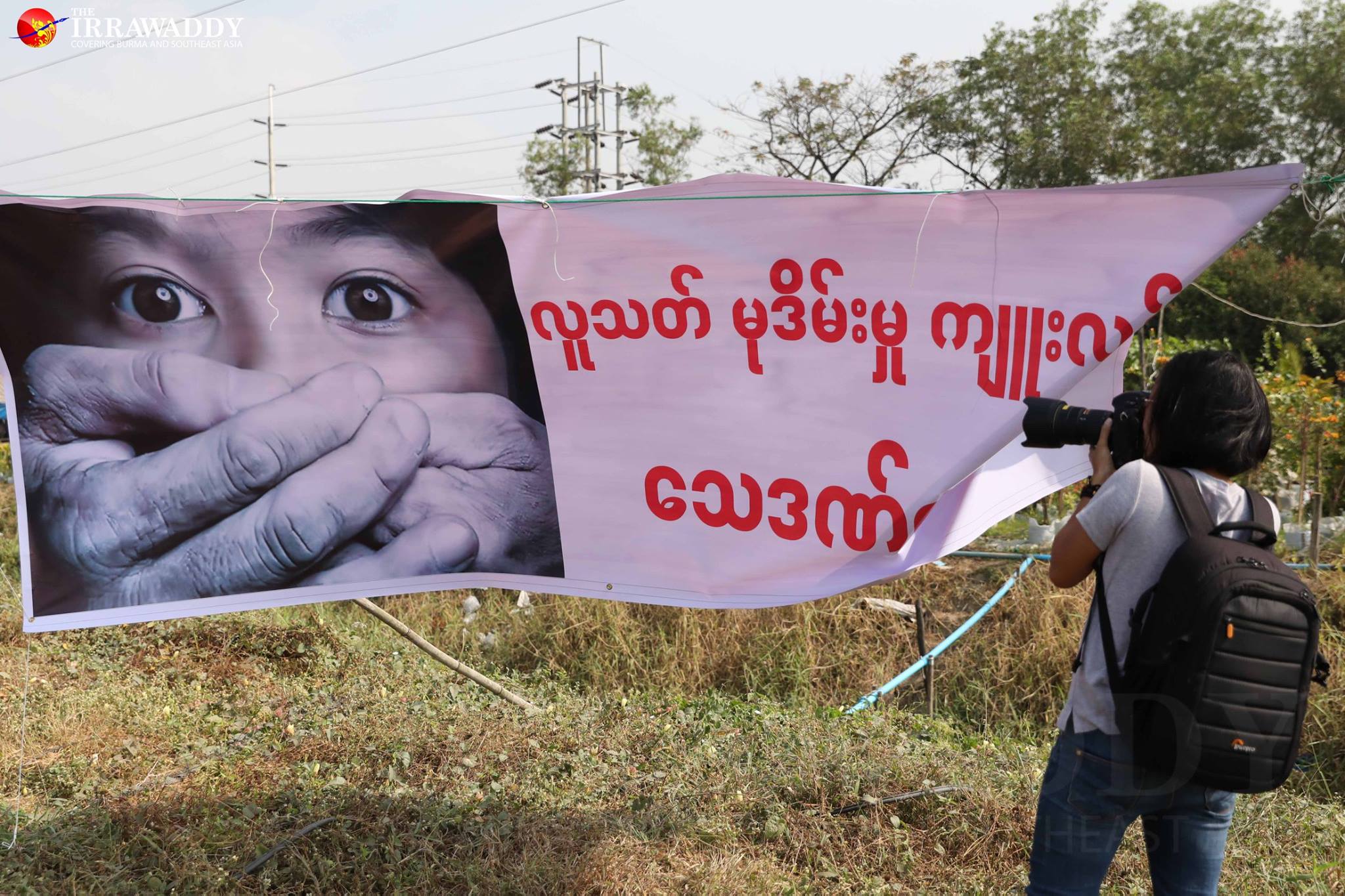 U Shwe Ba was sent back to his native village, Koe Myo, after the attempted rape. The village, where Pyu Saw Htee militia are also based, is located in the south of Kantbalu Township.
The Nat Inn Pyu Saw Htee group took 900,000 kyats from the three million kyats compensation given to the victim's family for its own funds. The group has also threatened the victim's family.
 "They put pressure on the parents of the girl and forced them to sign a paper saying that the attempted rape never happened," said a resident. 
"We want fitting punishment for him. And I would also like to urge parents to learn a lesson from this and take greater care of their school children," he added. 
A lawyer from Mandalay said police have the responsibility to open a case of attempted rape against U Shwe Ba under Section 511 of the Penal Code. 
"It is difficult to seek justice because police do nothing despite their responsibility to open the case of attempted rape. There is no need to say anything about the state of rule of law in Myanmar at present. As there is no enforcement of law, the law is just beautiful words written on paper," said the lawyer. 
Under Section 511, the crime of attempted rape carries a penalty of up to ten years in prison and/or a fine. 
Infinity Group, a local group that reports on the fighting in Kantbalu Township, said Pyu Saw Htee members from Nat Inn Village extort money from people using the Kantbalu-Nat Inn-Sabel Nanthar road, and locally-based Artillery Battalion 6006 has had to settle disputes among Pyu Saw Htee members over the distribution of the extortion money.  
There have been several rapes committed with impunity by junta soldiers as victims dare not file complaints for fear of retaliation. 
In early April, a junta soldier guarding a school in Za Jan Village in Taung Tha Township, Mandalay Region raped a 21-year-old woman with mental health problems.
In February, a 30-year-old widow from San U Village in Taung Tha was raped by the leader of the Pyu Saw Htee group in the village and was unable to file a complaint.
In November last year, a woman from Nat Saunk Village in Taung Tha was gang-raped by regime soldiers. She was taking cattle out to pasture with her uncle when four junta soldiers appeared. They beat and threatened her uncle to leave before raping her.
In March, regime forces raped a mother before killing her and her two daughters in Magwe Region's Pauk Township. In November last year, junta soldiers gang-raped an ethnic Chin woman in Chin State who had given birth little more than a month previously. 
You may also like these stories:
Top China Official Reaffirms Beijing's Support for Myanmar Junta
Myanmar Junta Airstrikes Continue in Kayah State
Hell Hounds Are Loose in Myanmar; Who Can Stop Them?