Nine resistance members, including four teenagers, were executed by Myanmar's junta in Shwebo Township, Sagaing Region, on Wednesday.
Ko Moe Gyo, a leader of the Generation Z Special Task Force in Wetlet, an adjacent township, told The Irrawaddy on Friday that their comrades were detained and killed while they were unarmed in Shwebo Township to attend medical training.
The female victims were Ma Pa Pa Khaing, 14, Ma Win Ei Kyaw, 15, Ma Naing Naing Aung, 25, and Ma Thit Thit Hlaing, 34. The males were Ko Phoe Htaung, 17, Ko Phone Kyaw, 17, Ko Thein Than Oo, 21, Ko Aung Kyaw Moe, 23, and Ko Phoe Nyein, 25.
Two of the male victims were on sentry duty in Wetlet while the others, including the five women, were on the group's medical team, said Ko Moe Gyo.
They all joined the group two to three months ago, he said.
The group said two male comrades were gunned down while trying to avoid arrest and the other seven were tortured to death by junta troops.
A pro-regime Telegram channel posted photos of the corpses saying they were killed for refusing to stop at a regime checkpoint.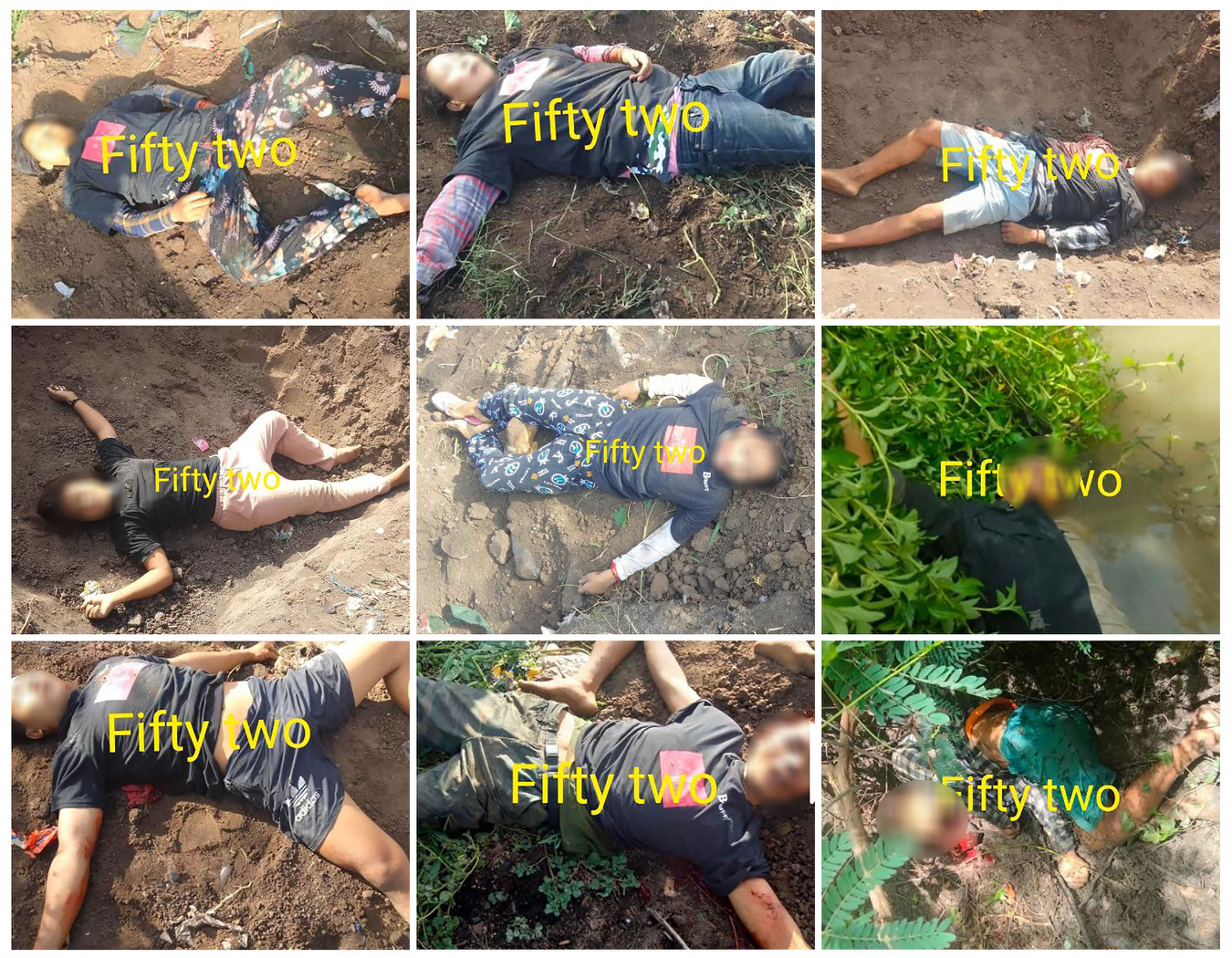 "We are very upset. We must avenge the executions. We will fight back until the victory of our revolution," said Ko Myo Gyo.
Regime forces are relentlessly committing atrocities against civilians, including arbitrary arrests and killings, torture, extrajudicial killings, massacres, burning alive, using civilians as human shields, aerial bombing and shelling residential areas and looting and burning houses, which United Nations representatives have called war crimes and crimes against humanity.
An estimated 2,040 people have been killed by the regime while 14,402 people, including elected government leaders, have been detained since the coup last year, said the Assistance Association for Political Prisoners (AAPP).
At least 95 people, including National League for Democracy members, student activists, resistance fighters, peaceful protesters, striking civil servants, politicians and bystanders, have been tortured to death in junta custody, according to a joint statement by 14 rights groups, including the AAPP.
SEO: executions, Generation Z Special Task Force, Sagaing Region, people's war, regime, political prisoners, People's Defense Force, PDF, junta, National Unity Government, civilian deaths, crackdown, military regime, State Counselor Daw Aung San Suu Kyi, coup, military in politics, rule of law, Tatmadaw, National League for Democracy, human rights, democracy, November 8 general election, Min Aung Hlaing, State Administrative Council, civil disobedience movement