CHIANG MAI, Thailand — Myanmar needs a new mineral resources policy and fresh laws developed through a transparent and consultative process if the mining sector is ever to be sustainable, the Myanmar Center for Responsible Business (MCRB) said at the launch of a sector-wide impact assessment (SWIA) report on March 8.
The fourth SWIA based on MCRB's field research focused on mining of three commodities: tin, gold and limestone. In 2016, field researchers investigated a total of 41 mine sites in eight areas: Shan, Karen, Karenni and Kachin States, and Bago, Sagaing, Mandalay and Tanintharyi regions.
Among them were 11 large-scale permitted operational mine sites (of which one was in the exploration phase), 15 small-scale permitted mine sites, and 15 informal mining areas of various sizes.
Based on the many negative impacts on the environment and on mine workers observed by the researchers, the MCRB said in a press release that to achieve responsible mining, "The entire approach to mining in Myanmar needs a rethink."
"Most of the harms were felt by workers — including women and children — and borne by the environment. A rethink is also needed if Myanmar is to develop the modern mineral rights cadaster it needs to meet EITI standards. A fresh start, a clear policy vision, and simple laws to underpin it, are essential if mining is ever to contribute to sustainable development in Myanmar," it said. EITI refers to the Extractive Industries Transparency Initiative.
MCRB identified five key challenges based on field research and an extensive review of current laws and initiatives. These are: a lack of clarity on policies, laws and regulations relevant to mining activities, which inhibit responsible investment; the limited capacity of government and business actors to monitor and address the environmental, social and human rights impacts of mining; the externalization of the environmental, social and human rights costs of mining on local communities; problematic governance of mining in conflict-affected areas; and extensive informality in the mining sector.
Vicky Bowman, the director of MCRB, said at the launch of the SWIA in Yangon that the development of mining sector regulation in Myanmar over the past two decades has been based on the 1994 Mining Law, which she said is outdated.
"The legal framework is also fragmented between mining and gemstones," she said, adding that the 2015 Amendments to the Mining Law only made minor changes. New rules imposed this year and based on those amendments have only tinkered at the edges of reform, she said.
The existing Mining Law developed under the former State Law and Order Restoration Council (SLORC) "was designed at a time when mining, and oil and gas, both fell under the same minister [Vice Admiral Maung Maung Khin] and [this continued] even after amendment in 2015," she told The Irrawaddy. Vice Admiral Maung Maung Khin was Myanmar's deputy prime minister under the SLORC.
Bowman explained that the 1994 Mining Law "favors use of production sharing contracts [PSCs] in mining, which are used in the oil and gas industry.  However almost no other country in the world uses PSCs for mining, as the commercial risks in mining are different to oil and gas. Furthermore, it does not establish a mining cadaster, which is the fundamental basis for managing mining transparently and attracting investment."
She pointed out that although additional elements related to the environment, health and safety have been introduced, these are either unclear or not in line with international good practice.
"If the law is compared to other countries' mining laws such as Mongolia or Peru, with whom Myanmar is competing to attract investment, the weaknesses are evident," she added.
The MCRB director said the current Ministry of Natural Resources and Environmental Conservation (MONREC)'s decision to consider adopting a Mineral Resources Policy was "a positive step."
"But it needs to be done as part of a transparent, cross-government and multi-stakeholder process, [and] have concrete actions that incorporate modern international standards. It also needs to be developed in a way which supports the peace process and EITI, the National Environmental Policy and the draft Myanmar Sustainable Development Plan," she said.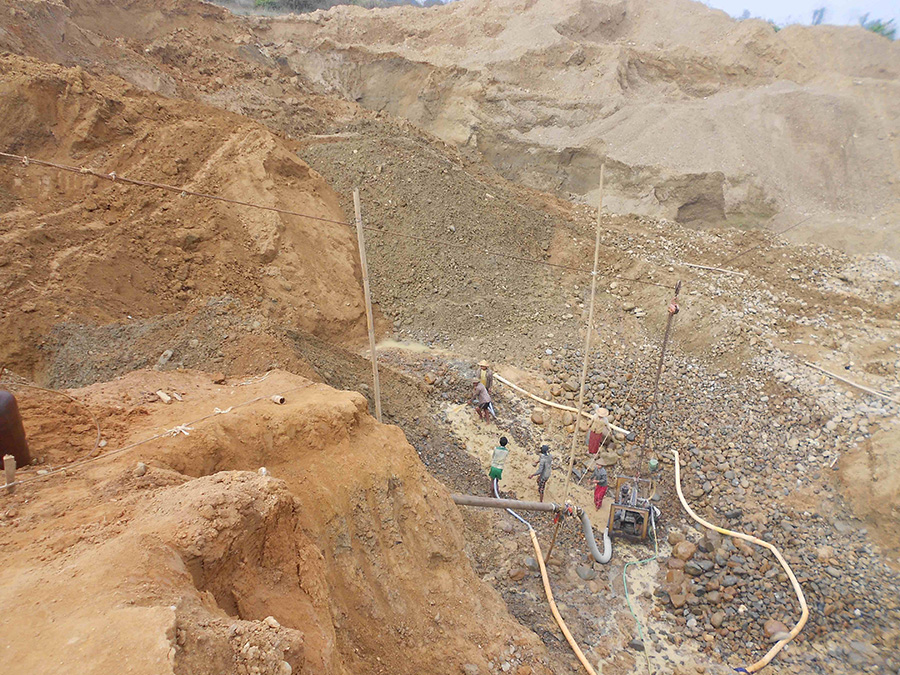 Claus Teilmann Petersen, director of the Human Rights and Development think tank at the Danish Institute for Human Rights (DIHR), was quoted in the press statement as welcoming the government's intention "to formalize artisanal and subsistence mining [ASM] rather than outlaw it."
Teilmann Petersen, an expert on the relationship between business and human rights standards, emphasized that although ASM has serious negative impacts on human rights and the environment, it also benefits thousands of poor people.
"Formalizing artisanal mining is a difficult task," he said. "It can't simply be addressed by a new set of rules on licensing."
He suggested Myanmar take lessons from other countries that have followed the ASM track.
"One lesson for putting together an affective Artisanal and Subsistence Mining (ASM) Management Strategy is that governments need to consult with all stakeholders, including the subsistence miners themselves," he said.
"Their right to livelihood will be affected by an approach which doesn't take the specific nature of ASM into account," he added.