In Myanmar's state-run media these days, security forces are occasionally portrayed as "someone working hard day and night for the rule of law and safety of the people." Whenever they have to quell protesters, they always follow crowd control protocols. They only apply a "minimum use of force" and use "riot gear" because "live ammunition is not allowed to be used."
Scenes on the ground suggest differently, however.
Following the February coup, anti-regime protests have erupted across the country every day, demanding the restoration of democracy and the release of the country's democratically elected leaders of the President U Win Myint and State Counselor Daw Aung San Suu Kyi and others arrested by the junta. The regime's troops have responded to the protests with lethal force. More than 250 people have been killed so far.
Contrary to what the state and military-controlled media continue to claim, the men in uniform have behaved like thugs and looters while treating people they have arrested with no respect for human dignity. Arrests and killings have been arbitrary.
Last week security forces fired tear gas, used stun grenades and fired live rounds on anti-regime protesters in Twante Township in southern Yangon. When the protesters fled and residents went into hiding, security forces committed robbery in broad daylight. The ransacked shops and houses, looting everything they saw, from buckets of ice cream to iPads. They stole everything from cash to jewelry to cooking gas cylinders to dried fish. Personal belongings looted by the forces were worth nearly 20 million kyats, local residents said.
"It was an armed robbery. Once they [security forces] stopped their truck, they came into my house, shooting. They also shot open the door of my house and looted everything," a man who sells dried fish and gas cylinders told The Irrawaddy.
In local wet markets, they took advantage of the absence of people amid the crackdown to steal things. Two policemen were caught on camera taking bunches of bananas from a roadside fruit stall after the vendor had run for his life. When the pictures went viral on Facebook, Myanmar's popular social media, the police were condemned. "They are like a plague of locusts. They steal everything, even from the poorest of the poor," one person wrote.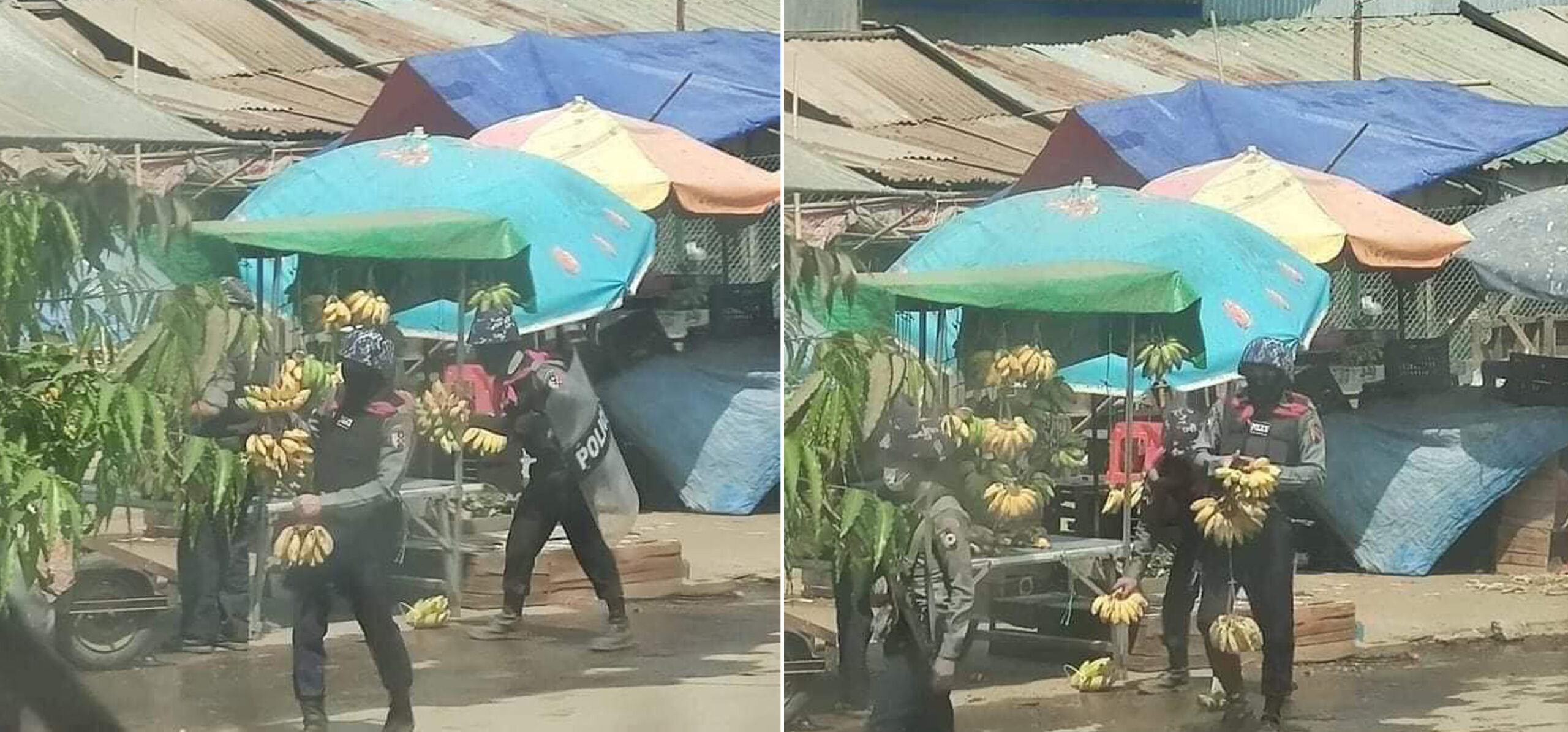 Apart from looting and robbing residents, soldiers and police smashed civilians' property amid the crackdowns.
Since last week, many residents in Yangon, Mandalay and other cities have reported that their cars and motorbikes — parked right in front of their homes — were destroyed during day and night raids in their neighborhoods. On Monday night alone, more than 20 vehicles in Yangon's Dawbon Township were destroyed during a night raid, according to local residents.
During a visit to the area on Tuesday morning, The Irrawaddy witnessed cars with smashed windshields, broken windows and damaged hoods. Some were defaced with bullet holes. A stained glass façade of a nearby building was shattered, apparently from a spray of bullets during the night raid. People were visibly traumatized from the night ordeal. When asked for comments, a resident just said, "You see it all, what happened."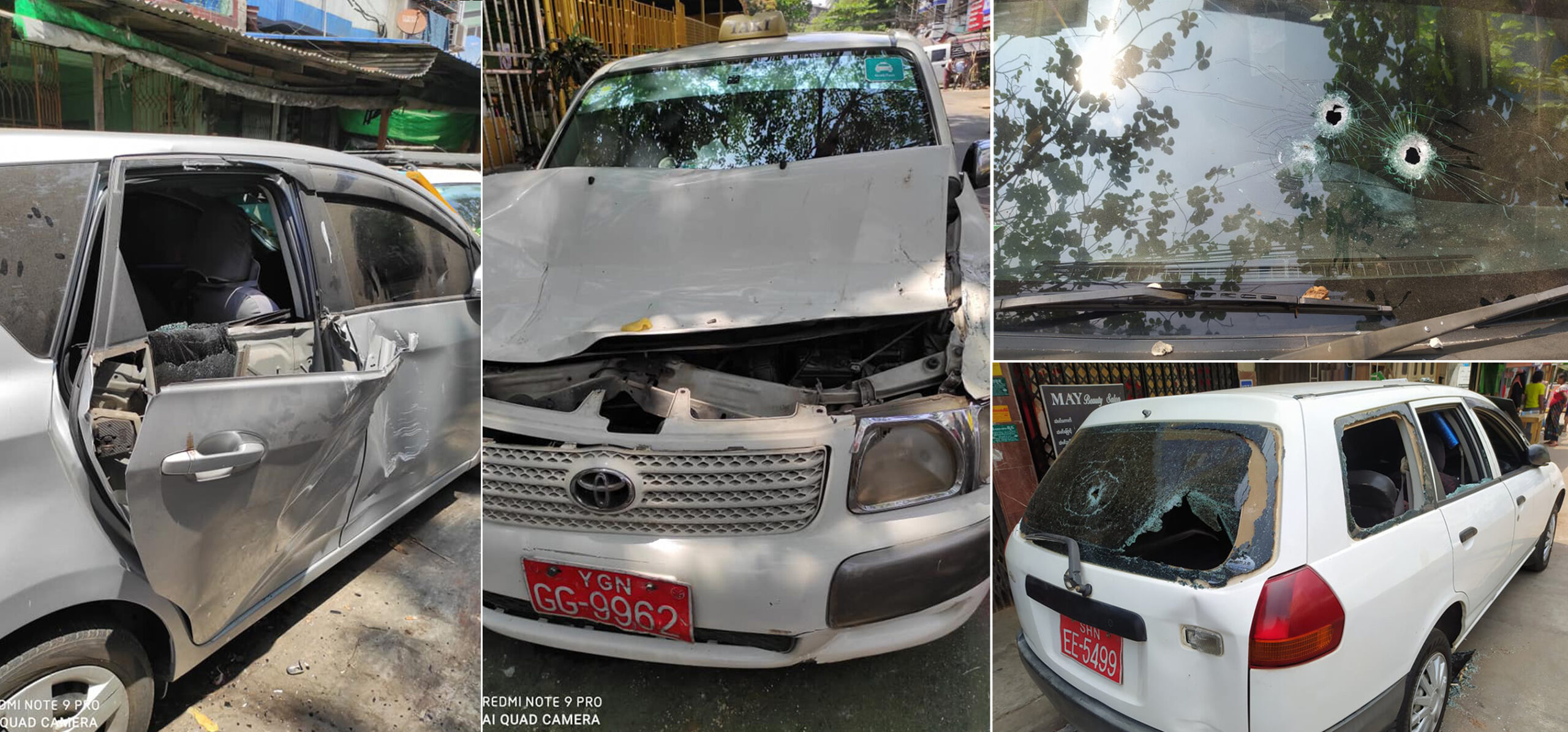 Thomas H. Andrews, the UN Special Rapporteur on the situation of human rights in Myanmar, told The Irrawaddy, "The theft, destruction of property and other crimes that are being committed by security forces reflects the criminality of their superiors, starting with the theft of a fledgling democracy and government."
Bertil Lintner, a veteran journalist who has been covering Myanmar for decades, said what the Tatmadaw (military) was doing in urban areas now is "plunder and pure criminal behavior" and equivalent to what they have done for decades in the parts of the country where ethnic minorities live.
"It is as if they want to punish people and destroy their lives because they are having the audacity to challenge the power of the military," he said.
Old Habits Die Hard
While civilians in cities are just now experiencing firsthand the arbitrary shootings, looting, and destruction of personal belongings by security forces, Myanmar's military has long been notorious for the use of those tactics in the country's ethnic areas.
Human Rights groups and the media, including The Irrawaddy, have recorded and exposed the mistreatment for years.
Until a few months ago, for example, villagers in Rakhine State in the country's west woke up every morning uncertain of their survival amid fighting between the government's soldiers and local Arakan Army's (AA) troops who fought for their autonomy in the region.
Media reports showed villagers were taken away from their homes by the government's soldiers "for questioning" after being accused of being AA sympathizers.
Riot police destroy motorbikes parked alongside the road.
"They took villagers in the morning. They told their families to retrieve the bodies in the evening," a villager said.
For many years, soldiers also used forced labor in ethnic areas, grabbing anyone they saw and putting them to use them as porters. During their recent clearance operations in cities against protesters, soldiers found the tactic was still useful as they forced people to remove roadblocks that had been set up to deter them.
Recent videos recorded by residents show soldiers and police forcefully entering some homes to grab able-bodied men at gunpoint and force them to remove barricades on the road.
On Sunday morning, residents of Kyaukmyoung in Yangon's Tamwe Township were left with no choice when security forces appeared to summon people to get to the street to remove barricades with a warning that "if [you do] not comply, we will bulldoze everything and not take responsibility for any damage," posing a threat to cars parked along the roadside.
"We were under threat. We don't know what would have happened if we refused," said a resident, recalling that even women had to carry sandbags while soldiers and police were standing guard to make sure their order was followed.
The official line from the military regime was far different from that reality.
In the evening news on the same day, the military-owned Myawady Television announced,  "Dutiful citizens in some townships in Yangon helped security forces on their own volition clear roadblocks that had been set up by rioters."

You may also like these stories:
Made Homeless by Junta, Myanmar Govt Workers Vow to Continue Strike Till Regime Falls
Dissidents Fleeing Myanmar Junta Find Shelter and Support with Ethnic Armed Groups
Myanmar Junta Fires Striking Ministry of Foreign Affairs Staff