Timber logging usually takes a break in the monsoon. Even smugglers halt their activities from mid-May to early October to avoid the rainy season. However, Salai witnesses 15 to 20 timber trucks passing each day near his village in Hkamti, Sagaing Region—a highly forested region in northwest Myanmar between the border with India and Kachin State.
Salai, a local environmental watchdog, said that the logging trucks are headed for northern Shan State via Pinlebu, Kale and Katha, a transit hub for the timber trade, and that their final destination would be Nongdao or Ruili in China's Yunnan Province. Both locations have acted as storage and trade hubs in Yunnan for timber from Myanmar for decades, with the timber then transported on to other parts of China. Some of the timber is also transported to China via crossing points in northern Kachin State.
"Illegal logging is out of control since the military's coup," Salai told The Irrawaddy. He asked for his full name not to be used for security reasons.
Four environmental watchdogs in Katha, Hkamti and Sagaing Townships told The Irrawaddy that illegal logging was rampant from March to May in Sagaing Region, amid the chaos caused by the coup and the COVID-19 pandemic.
"There were at least 40 to 50 trucks loaded with timber heading to China every day [from March to May]," U Tin Myint, another environmental watchdog from Sagaing said.
"Due to the political conditions, we were unable to speak out about it….even on social media. You know, it is very risky for us," he added.
China's demand for teak and other valuable hardwoods has driven massive illegal logging and deforestation in Myanmar for over three decades. Timber smugglers are known to transport large amounts of logged teak from Kachin and Shan States and Sagaing Region to China via overland routes. As a result of illegal logging, Myanmar lost tree cover roughly equivalent to the size of Switzerland between 2001 and 2020, according to Global Forest Watch (GFW).
Myanmar law prohibits the overland trade of timber and requires all timber exports to go through Yangon's port. However, annual seizures of large amounts of timber near the China-Myanmar border indicates the presence of sophisticated cross-border trafficking networks and corrupt officials. The illegal timber trade has proven to be resilient in the face of conflict, ceasefires, recessions, government policy changes, temporary clampdowns and nascent political reform in the county, the UK and US-based Environmental Investigation Agency (EIA) has said.
Much of the world's remaining supply of teak is in Myanmar and the logging trade was a major source of income for previous military dictatorships. When the civilian National League for Democracy (NLD) government took office in 2015, it made several efforts to stop illegal logging and reduce the destruction of forests in the country, including banning timber exports and logging. This was a significant move in reducing logging in Myanmar.
Moreover, the NLD government seized more than 200,000 tons of illegal timber. However, the military takeover has dismantled the progress made by the civilian government as the junta has taken control of Myanmar Timber Enterprise (MTE), which regulates all harvesting and sales of timber.
The U.S, UK and European Union all imposed sanctions on MTE in response to the coup and the subsequent lethal crackdowns on anti-regime protesters. But Myanmar can turn to neighbouring nations, with timber travelling overland through porous borders to sawmills in China, India and Thailand, according to the British Conflict and Environment Observatory group (CEOBS).
"Myanmar's military has an appalling track record in environmental governance. But it does have strong links with China, which was the country's sole international backer prior to democratisation, and a continuation and amplification of Belt and Road projects is expected," said the CEOBS.
In May and June, the junta auctioned off a stockpile of 25,000 tons of illegal timber seized in Sagaing, Bago and Yangon regions and Rakhine and southern Shan State under the NLD government. Moreover, it also invited tenders for the transportation of 67,690 tons of timber from western Sagaing Region to Monywa and Yangon. The logs are set to be sold in future auctions.
Sagaing is one of the major regions for illegal timber smuggling, with thousands of tons smuggled mainly to China every year. From 2016 to July 2020, the NLD seized more than 45,000 tonnes of illegal timber such as hardwood and other types of wood in Kani, Mawlaik, Paungbyin, Kalewa, Tamu, Banmauk, Katha, Kyunhla, Yinmabin and Pale townships.
Local watchdogs said that, following the coup, they have also witnessed rampant illegal logging in Sagaing Region's Alaungdaw Kathapa National Park, Myanmar's oldest and largest national park, which is listed as one of the Association of Southeast Asian Nations heritage parks. It protects over 160,500 hectares of intact tropical forest and wildlife habitats. It has an abundance of rosewood and other hardwood, which is in the highest demand in China. Rosewood is the most popular timber exported from Myanmar in China. Massive demand for Myanmar's rosewood from China to make furniture has driven illegal logging and timber smuggling in Myanmar over the past ten years.
The watchdogs said that illegal logging in the Alaungdaw Kathapa National Park intensified after the coup because forest officials began participating in the civil disobedience movement (CDM) from early March, refusing to work under military rule.
"Trees were cut down in the national park and hundreds of rosewood poachers were operating daily in remote areas of the park after the officials were gone," a local environmentalist, who asked not to be named, told The Irrawaddy.
"We saw at least 20 to 30 trucks loaded with timber in and out of the park every day from late March to mid-May," he added.
Following the rapid surge in illegal logging, the popular monk Shwe Sanpin Sayar Taw visited Alaungdaw Kathapa National Park in March and requested the authorities to stop the logging activities. The monk also posted photos of old trees being cut down on Facebook.
However, local environmentalists said that the logging activities continued until mid-May. "The heavy rain forced them to stop. I am sure they will restart the logging as soon as the monsoon season ends," one said.
Trees cut down in late March in Alaungdaw Kathapa National Park./ Shwe Sanpin Sayar Taw

The Irrawaddy was not able to confirm how many tons of timber were cut down or smuggled in Sagaing Region since the military takeover. However, deforestation alerts produced by GFW's Global Land Analysis & Discovery (GLAD) lab at the University of Maryland showed that there were 209,260 alerts reported in Sagaing Region between February 1 and August 9, of which 46 percent were high confidence alerts.
GLAD uses imagery from NASA's Landsat satellites to automatically flag areas where the forest canopy has been disturbed. The GLAD system analyzes the most recent images and compares them to historical data to determine where trees have been lost. Each alert indicates a 30 by 30 meter area [around the size of two basketball courts] that has experienced a disturbance in the forest canopy, which indicates that trees in that area may have been lost or removed.
Based on the satellite images, a Yangon-based environmental expert said that it is possible that a major part of the rainforest in Alaungdaw Kathapa National Park has vanished within the last six months. But he said that it is difficult to identify the exact amount of forest area lost from illegal logging from satellite images alone.
"This is the nightmare, the park is not only a holy place for Buddhists but is also one of the most important biodiversity areas in the country," said the environmental expert.
Deforestation alerts in the Alaungdaw Kathapa National Park, Sagaing Region since Feb 1.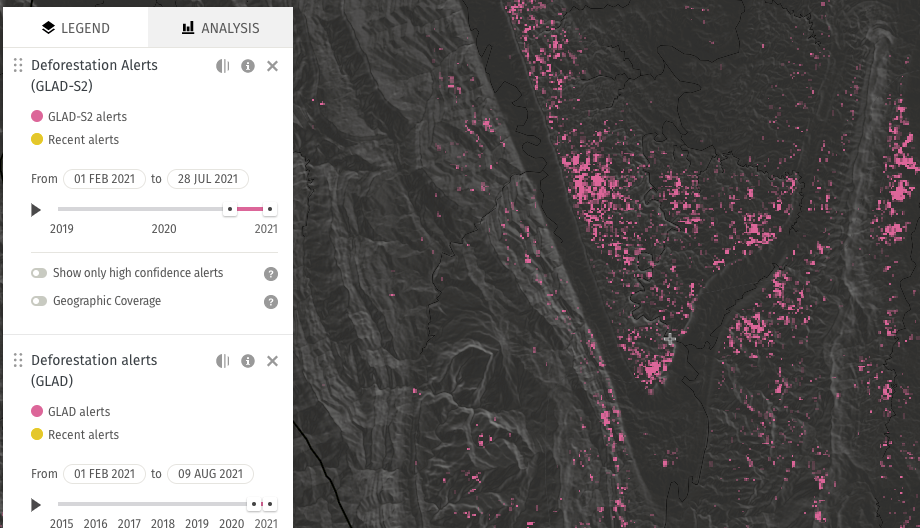 The location of deforestation alerts in Sagaing Region in the last four weeks and total deforestation alerts since the coup.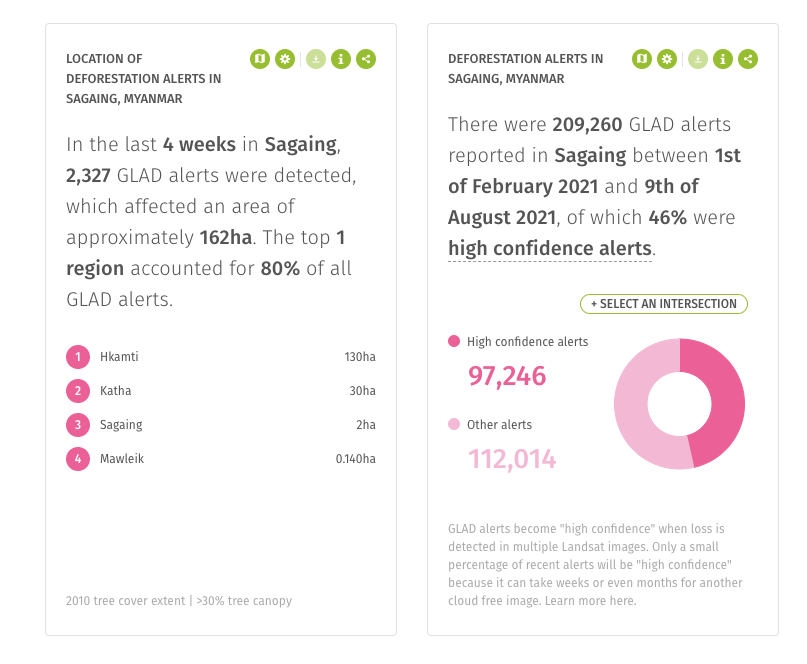 One member of the forest staff from the Alaungdaw Kathapa National Park who joined the CDM and is currently in hiding to avoid arrest, told The Irrawaddy via Signal, an encrypted messaging service, that there is no way that logging and the transportation of timber can be carried out without the consent of officials.
"There are two possibilities: officials are turning a blind eye to logging because of bribery or else the junta is directly involved in the activities," he said.
In April, EIA also reported that illegal logging operations by the Dazu syndicate [previously punished by the Chinese government for illegal logging] had resumed following the coup and expanded to include sawmills and warehouses to process timber, presumably on order from traders in China. The sheer scale of this operation means that it can only take place with the knowledge and involvement of the state, said the EIA.
Timber being smuggled into China and monitored by EIA has been coming from Sagaing Region, an area controlled by the state and, as such, timber operations in the region will have been conducted with the knowledge and control of the junta since the beginning of February, the EIA said.
EIA said that it was aware of sawmill operations in four different locations along the Kachin-China border, in Yit Zang, Nba Pa, Gai Daw and Lwej. "Information we received indicates that a new syndicate is now involved in the processing and transporting of the timber," EIA added.
The EIA's long-term investigations have revealed that the military junta is financially benefiting from the timber trade to China, including profits amassed from charging for the use of trade routes and passage through checkpoints controlled by military, as well as military connections with other criminal syndicates supplying traders in China.
Chinese companies and illegal logging
The illicit cross-border timber trade with China has been carried out since the early 1900's. Myanmar has been a major timber source for Yunnan province ever since the Chinese government banned logging in 1996. For more than three decades, revenue from the illegal timber trade has bankrolled the military, ethnic armed groups, militia and border guard forces in the areas of northern Shan and Kachin States close to the frontier with Yunnan.
In recent years, the Chinese government has cracked down on companies trading illegally from Myanmar. But the effect has only been to slow the illegal trade. In 2019, Chinese authorities seized more than 100,000 tonnes of illegal wood worth tens of millions of dollars. However, thousands of tons of timber still enter China from Kachin and Shan States in various ways every year. Many Chinese companies are still advertising that raw materials, such as most popular valuable rosewood and teak, originate from Myanmar.
Chinese media reported that the price of Myanmar's redwood increased 10 to 15 percent in mid-April, as supplies in Ruili came close to running out. Whenever there is high demand in Ruili, there is more smuggling of redwood timber from Myanmar. Recently, the Chinese Dongyang Redwood Company has advertised huge logs bought from Myanmar, saying that the price per log is 600,000RMB, or 152,041,729 Kyats.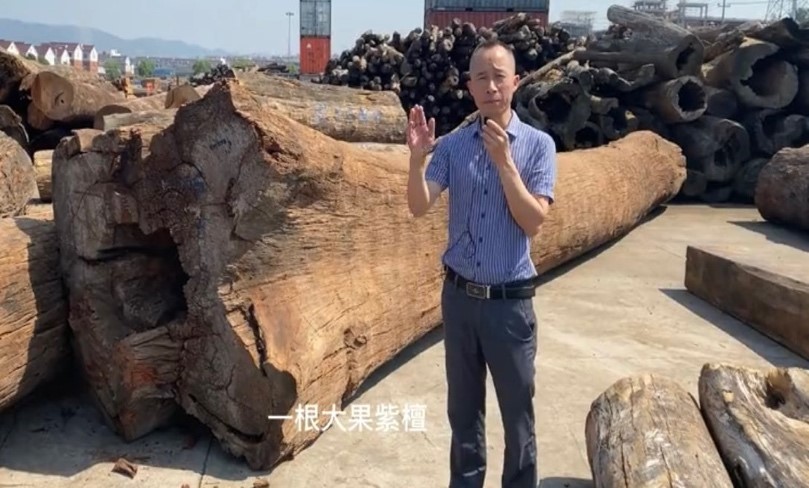 Moreover, another Chinese company based in Zhejiang Province also advertised on the Chinese messaging app WeChat that 300 year-old logs from Myanmar arrived in June. However, neither company indicated when they had purchased the timber from Myanmar.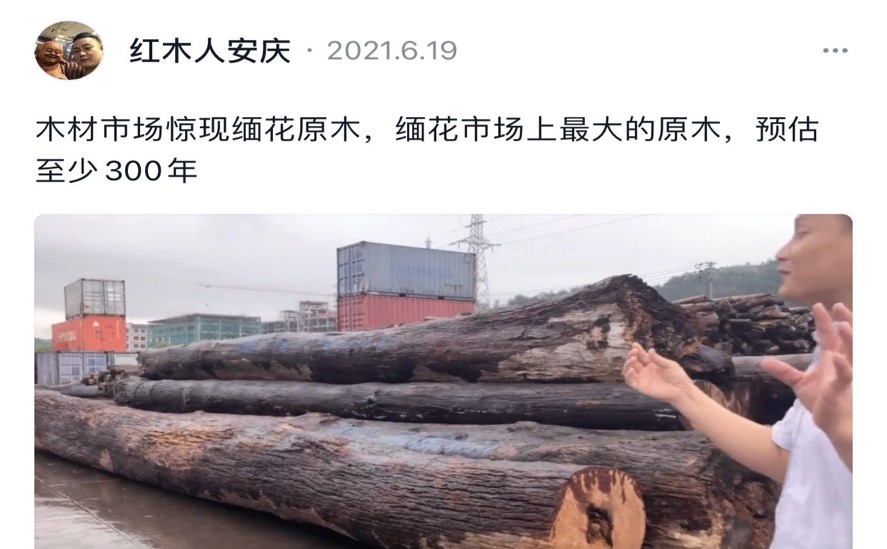 Deforestation alert after the coup
When The Irrawaddy compared the data from GFW for a six month period before and after the coup, it found that deforestation alerts in Myanmar in the last six months are almost five times higher than they were before the coup. 2,231,211 deforestation alerts were reported in Myanmar since the coup, of which 49 percent were high confidence alerts. The data showed that Shan, Kachin, Karen States and Tanintharyi and Sagaing Regions have been most affected by forest loss during the past six months, with an area of more than 140,340 hectares affected. Shan and Kachin States and Tanintharyi Region accounted for 63 percent of all alerts, according to the data.
GFW received a total of 376,150 deforestation alerts in Kachin State from the coup to August 9, of which 47 were high confidence alerts, according to the data. During the past four weeks, there were 25,952 deforestation alerts in Kachin State, with Myitkyina, Putao and Bhamo the top three affected townships.
Local environmental watchdogs in Myitkyina told The Irrawaddy that they are unable to travel to the forests since the coup, due to political turmoil and the COVID-19 surge.
The Kachin State Working Group Conservation Group (KCWG) told The Irrawaddy that they have recorded the escalation of illegal logging activities in Khaunglanhpu and Chipwi townships following the coup. The two townships are in the northernmost part of Kachin and are controlled by local militias.
The location of deforestation alerts in Kachin State in the last four weeks, total deforestation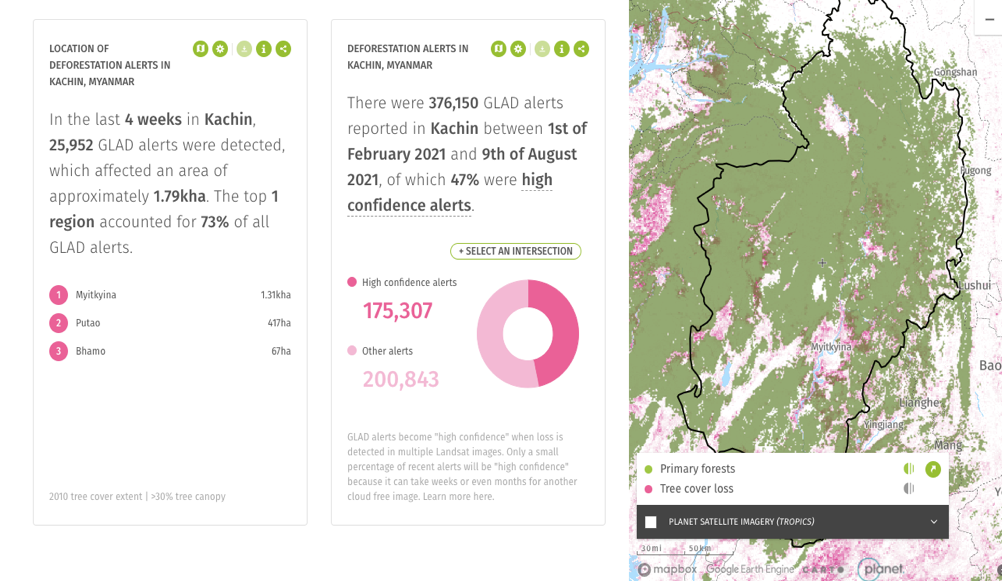 alerts and map since coup.
There were also more than 697,000 deforestation alerts, of which 49 were high confidence alerts, in townships in eastern, northern and southern parts of Shan State, including towns that border Yunnan province.
The location of deforestation alerts in Shan State in the last four weeks, total deforestation alerts and map since the coup.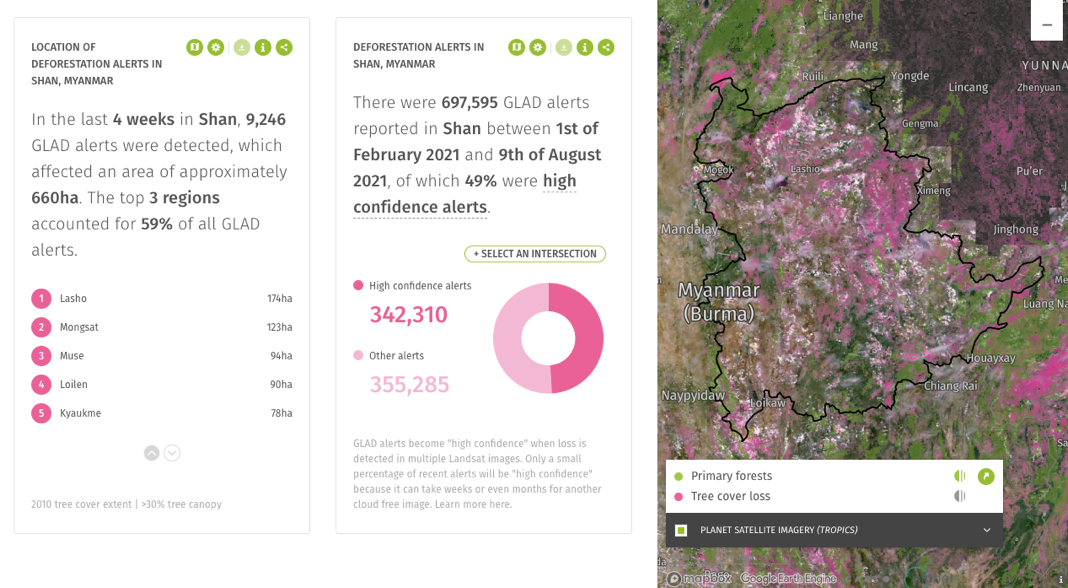 Tanintharyi Region, the southernmost part of Myanmar, has also recorded significant deforesation alerts since the junta's coup. It had more than 355,000 alerts from February 1 to August 9. The CEOBS also said that it found a highly-deforested area near the proposed site of the Lenya National Park in Tanintharyi.
The location of deforestation alerts in Tanintharyi Region in the last four weeks, total deforestation alerts and map since the coup.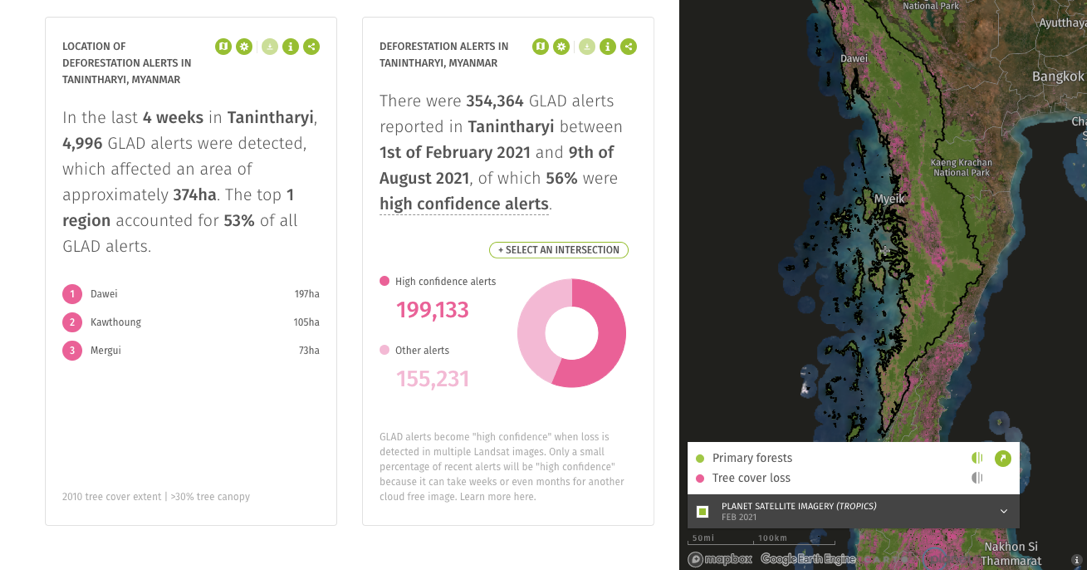 Comparison high resolution satellite imagery of forest loss in Tanintharyi Region, before and after coup./Conflict and environment observatory

A total of 187,705 deforestation alerts have also been recorded in Kayin State since the coup, of which 53 percent were high confidence alerts.
The location of deforestation alerts in Kayin State in the last four weeks, total deforestation alert and map since the coup.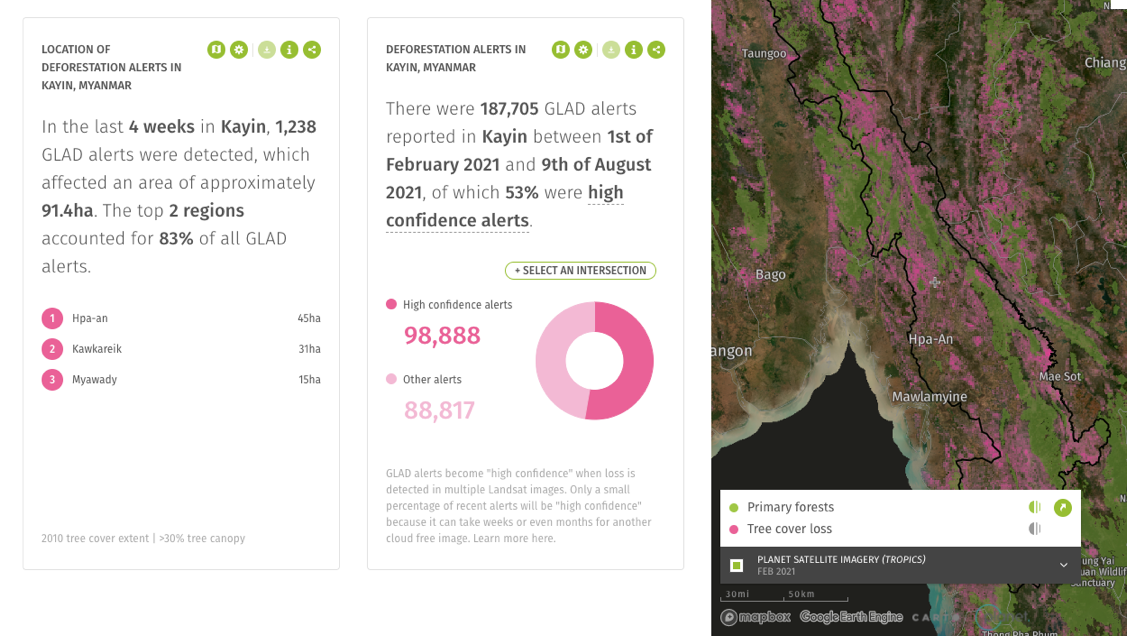 Local watchdogs face toucher challenges
Amid ongoing reported deforestation and a rapid rise of illegal logging, most of the forest monitors, watchdogs and local environmentalists are hiding from the junta or participating in the CDM. Even the people still living in their homes are having to maintain a low profile.
"Forest monitoring is a bit risky even in normal conditions because a lot of criminal syndicates are involved in it, especially in Sagaing Region," said Salai, the watchdog from Hkamti.
"Some field monitors are reporting that new illegal logging syndicates are emerging. It has become more dangerous [for us]," he said.
As a result of the coup, watchdogs who are focused on the battle against illegal logging and the need to improve forest governance and transparency in the sector have been forced to stop their activities due to security concerns. The progress made in fighting the illicit timber trade over the past years have been stalled and destroyed by the junta. Also, it is much harder, or even impossible, for international organizations to continue working with local monitoring groups and officials from the forest department to strengthen forest governance in Myanmar.
Hkawng Zawng, field officer of the Transparency and Accountability Network Kachin told The Irrawaddy that, in collaboration with the ousted NLD government, the organization has made progress in improving transparency in the extractive sector in Kachin State in the past few years. However, he said that watchdog activities may now face challenges and risks as a result of the coup and that "major activities are postponed for now."
He added that, "We are very worried that the destruction of natural resources will become out of control. If the current situation continues, we might lose protected forests in Kachin State. As the military regime is facing a foreign currency shortage, they may give permission to companies to log timber in areas where the forest is supposed to be protected".

You may also like these stories:
Myanmar's Wa, Mongla Fall on Hard Times Amid Chinese Exodus
Civilian Fighters, KIA Troops Kill Six Myanmar Junta Soldiers in Mandalay Region
ASEAN's Hypocrisy is Fuelling the Crisis in Myanmar