The world today has more than 190 countries but it seems there is only one nation willing to open its doors to Myanmar military junta chief Min Aung Hlaing, who has been ostracized internationally for his illegitimate coup and his brutal response to protesters. And that's Russia.
The coup leader and his family have been there since Sunday. It is the second time Min Aung Hlaing has been to the country since the coup last year. In fact, it's just the second time he's been anywhere, as Russia is the only country in the world he has visited, more than 15 months after the takeover. (Admittedly, he flew to Indonesia last year. But it would be generous to call it a "visit"; he was more or less summoned by the Association of Southeast Asian Nations, ASEAN, which presented him with a peace plan for Myanmar in a failed effort to end his bloody crackdowns on protesters.)
But while it seems that it's "destination Moscow" for the time being for Min Aung Hlaing, it would be unfair to say that he is entirely without other friends.
Apart from Russia, the regime chief, who has killed more than 2,000 civilians so far for rejecting his rule, also enjoys support from China. Both countries have refused to denounce the regime and have even protected it at the UN Security Council. Furthermore, Min Aung Hlaing has warm relations with Myanmar's southern neighbor, Thailand. Plus, early this year, Cambodian Prime Minister Hun Sen became the first international dignitary to meet the bloody dictator after flying in to Naypyitaw.
Some may wonder why Min Aung Hlaing has confined himself to shuttling between Moscow and Naypyitaw while there are other "friendly nations." The reason is that his coup against a democratically elected government makes it hard for them to recognize him as Myanmar's legitimate leader. Take China. For all Beijing's affirmations of support for the regime—which simply reflect China's strategic and economic interests in Myanmar—Min Aung Hlaing hasn't set foot on Chinese soil since the coup; he hasn't so much as crossed the border, let alone traveled to Beijing. And when Chinese Foreign Minister Wang Yi was in Myanmar early this month for a regional meeting, he didn't even pay a courtesy call to Min Aung Hlaing. The Chinese government's mouthpiece Global Times said the trip was for the sole purpose of attending a regional meeting, and did "not hint at China 'recognizing' the current administration".
These "friends" are well aware that Min Aung Hlaing has been shunned internationally since the coup for his bloody response to protesters against his regime. He has even been barred from attending summits by the Association of Southeast Asian Nations (ASEAN), of which Myanmar is a member state.
Internationally, his regime has received very little recognition and many countries have kept their distance from it. They fear meetings with the coup leader could be used as PR tools by the regime, which craves legitimacy. So, even a personal visit from Min Aung Hlaing would be a nightmare for those friendly nations.
But Russia doesn't seem to share these qualms about engaging with Min Aung Hlaing, mainly because his regime is a cash cow for it; Moscow is a major arms supplier to Naypyitaw and Myanmar has been its arms industry's biggest patron. According to the Stockholm International Peace Research Institute (SIPRI), Russia sold US$247 million worth of arms to Myanmar between 2015 and 2021. In the same period, it sold $105 million worth to Laos, and $47 million worth to Thailand, according to SIPRI data.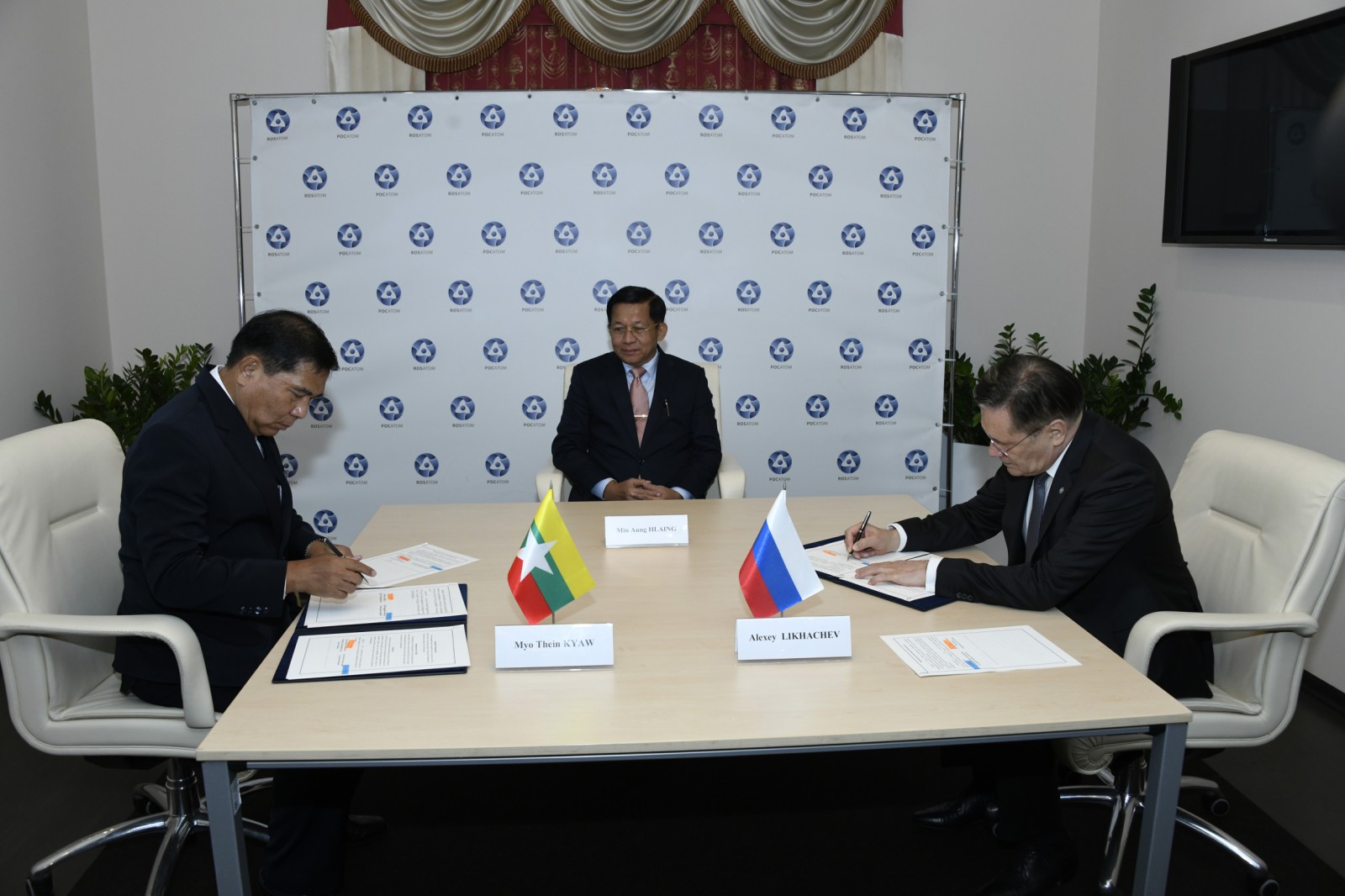 Despite his consistent patronage of Russia, Min Aung Hlaing isn't treated as a state leader there. During his trip last year upon the invitation of the Russian Defense Ministry, Russian President Vladimir Putin didn't meet him. The most senior Russian official he met was the secretary of the Security Council of the Russian Federation. Russian media just described him as either "Myanmar's military chief" or "Myanmar's commander-in-chief", but not as the head of state.
This lack of recognition must be painful for Min Aung Hlaing, who craves international legitimacy for his regime. However, he can't afford to complain, as Russia has stood steadfastly behind him, as China has done, at every UN meeting.
'Private' visit?
For those who are wondering if Min Aung Hlaing will get the chance to meet with Putin this time, the answer is that it's very unlikely; Russia's Defense Ministry said on Tuesday that Min Aung Hlaing was on a "private visit". Period!
In describing the trip as "private", Moscow is highlighting the fact that one of Min Aung Hlaing's plans for the visit is to consecrate a pagoda at the Ethnomir cultural center in Kaluga near Moscow. It's not clear why the Defense Ministry took pains to release a statement providing details of a non-state, "personal" visit.
The regime's media seemed to see the visit differently, however.
On Wednesday, the front pages of the junta's mouthpieces were emblazoned with headlines like "SAC Chairman Prime Minister Senior General Min Aung Hlaing and delegation hold talks about cooperation in various sectors with Russia Federation"—which sounds like pretty serious business for a person on a private, and more like the agenda of an official visit.
Contrary to the "private visit" described by Russia, the papers reported that Min Aung Hlaing held a working meeting with "dignitaries" of the Russian Defense Ministry. It should be noted that the dignitaries he met did not include Russian Defense Minister Army General Sergey Shoigu.
Furthermore, he met with the chairman of the Russia-Myanmar Friendship Association to discuss enhancing economic cooperation between the two countries, as well as cooperation on educating military and civilian trainees, among other things.
He also met, during the private visit, with the chairman of the Russia-ASEAN Economic Council to discuss boosting exports of agrobased products, enhancement of generating electricity and the bilateral export and import sectors. His trip also included a meeting with the Director General of State Space Corporation Roscosmos "to exchange views on development of science and technological sectors and improvement of human resources."
More importantly, at Russian state-owned nuclear firm Rosatom State Corporation, Min Aung Hlaing met Director General Alexey Likhachev to talk about cooperation on the peaceful use of nuclear energy.
At the meeting, a memorandum of understanding was signed between the regime's Ministry of Science and Technology and Rosatom State Corporation. The content of the MoU was unknown.