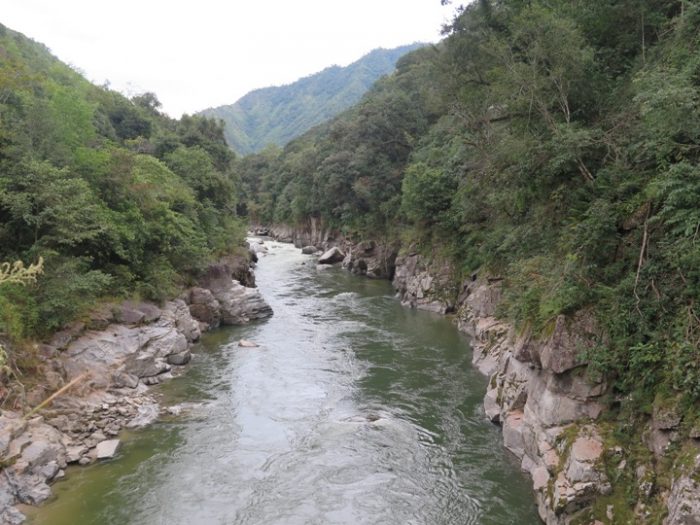 Locals have sent an open letter to Burma's President opposing the planned hydropower project to be built over the May Kha River and Ngaw Chan Kha Creek in Kachin State's Chipwi and Tsawlaw townships.
Community elders held a workshop with locals on Sept. 22 and 23 to discuss the issue. Participants released a statement voicing their objections to the dam and sent an open letter to President U Htin Kyaw calling for a halt to the project.
Mone Ra, a spokesperson from a Kachin community development group, told The Irrawaddy: "We heard that the project will be led by [Kachin private militia leader] Zahkung Ting Ying and [his son] Zahkung Ying Seng, of the border guard force."
The deal, Mone Ra added, was signed by the former military regime and Chinese companies.
"We are concerned that all our houses and farms will be submerged if dams are built. But they are planning to start the project. That's why we expressed our opposition," he explained.
The open letter to the President states that there are at least 68 villages with a total population of over 30,000 along Ngaw Chan Kha Creek that stand to be affected, and that locals in the area are mainly sustained by the generations-old practice of terraced farming on the nearby mountainsides.
"It is not possible to move to upstream areas since the terrain is rocky," added Mone Ra. "And we were not informed of the project either."
Locals live between the two waterways, in houses that face the May Kha River, with the Ngaw Chan Kha Creek at their backs. Community elders are concerned that at least four dams will be built for the hydropower project, displacing their communities.
Law Waw, La Cheik, Ngaw Chan and Lisu communities—classified as sub-groups of the Kachin ethnic group—mainly reside in the project site area. The Ngaw Chan tribe insists that their history dates back some 1,200 years in the region.
The Irrawaddy found out that local authorities had issued an order to ban terraced farming in Chipwi and Tsawlaw townships last year.
There is thought to be a link between the ban and the mineral deposits found in the area's mountains; Chinese companies have expressed interest in gaining more mining access to these areas. Locals reported that these same companies dumped waste to Ngaw Chan Kha Creek in 2014, killing fish and contaminating the water, which communities drink.
Engineers from China also came to the site at the end of 2015 looking to construct dams, but they reportedly left after being met with strong opposition from locals.
"We have engaged in farming in this place since long ago, and now we are being asked to leave. They gave us new places to stay, but the mountains there are rocky and are not suitable for living and farming," said local Dawng Khawn.
Yet locals remain more afraid of clashing with the Burma Army-backed Border Guard Force than the possibility of their ancestral land diminished.
Zahkung Ting Ying has a private militia—New Democratic Army-Kachin (NDA-K), which is firmly allied with the Burma Army and became a Border Guard Force in 2009. He was a lawmaker under the previous government.
Chipwi and Tsawlaw lie in Kachin State Special Region 1, which is controlled by this armed group. The project site itself lies in remote area without telecommunications services or even a road. It is difficult for outsiders to get into the area without the help of locals.
The Irrawaddy called Zahkung Ting Ying for comment, and he replied that he knew nothing about the response of locals to the hydropower project, pointing out that such a project could not be implemented without the approval of the central government.
"I have no idea about the location of the site. It is none of my business. I have no idea. [Locals] did not ask me nor consult with me. It does not concern me. I have no comment," he said.
Locals said they would continue to direct their demands to the central government to stop the hydropower project. Also attached to the open letter to President U Htin Kyaw is a petition with 45 signatures of representatives of religious organizations, literature and culture committees and community elders, Mone Ra told The Irrawaddy.
As an independent candidate in the general election in November of last year, Zakhung won the Upper House seat of Kachin State-5, covering Chipwi, Tsawlaw and Injingyang townships, a sparsely populated area home to fewer than 20,000 people, according to the 2014 census. But then he was found guilty of intimidation, defamation and alleged violence in the election and has since had to forfeit his seat.
Translated from Burmese by Thet Ko Ko.