Myanmar junta forces are demolishing the houses of civilians in Mandalay Region's Myitnge, a town whose population is mainly Myanma Railways (MR) staff, many of whom are on strike as part of the Civil Disobedience Movement (CDM) protesting military rule.
The regime has been bulldozing houses in Myitnge's 16 wards since Tuesday, declaring them to be squats. The town is home to a railway carriage and wagon factory run by MR.
Large numbers of junta soldiers arrived in Myitnge on March 5 and restricted travel in and out of the town, which is located in Amarapura Township. On Tuesday, they started demolishing buildings including houses and shops, according to local residents.
"They cut the town off before bulldozing buildings. Two days ago, they distributed notices of eviction which say that we must move out within five days. But yesterday they said they were told to demolish houses and bulldozed them. Some houses that were built 70 years ago were all flattened," a Myitnge resident told The Irrawaddy on Wednesday. Residents were continuing to move out of Mytinge on Thursday.
Although the military regime claimed the eviction orders were targeted at squatters, almost all the town's residents have been forced to move, he added.
Low-cost shops and houses that were built with funds from the carriage and wagon factory and sold or rented to MR staff and residents were also demolished.
Myitnge is located by the old Yangon-Mandalay Road. A railway workshop was built there in 1905 during British colonial rule, and started to run as a carriage repair department in 1912. Currently, Myitnge is home to some 80,000 people from 12,000 households.
The town covers over 630 acres and 12 wards were built to accommodate MR staff when the carriage repair department was established. Four more wards were built later.
"As the factory grew busier, shops and houses were built [on its compound]. The houses have numbers and people who live in them pay rent to the factory. Residents do not have any ownership documents, but they have been living there for more than 70 years," said one resident of Myitnge's Aung Mingalar Ward.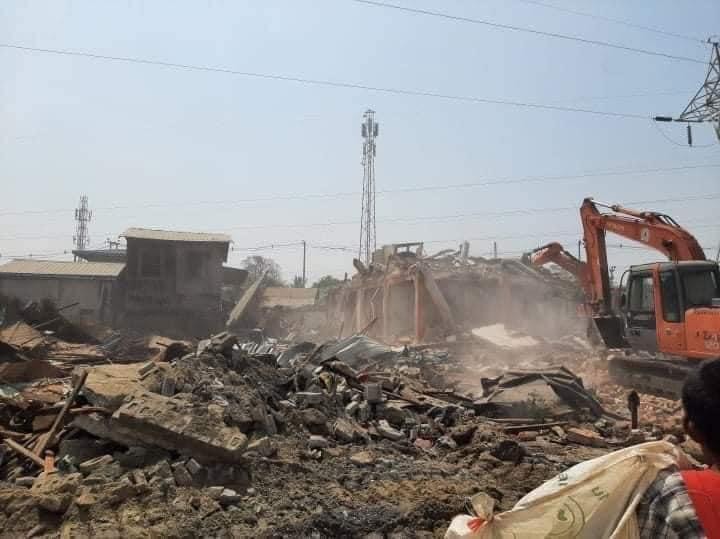 Over half of the 2,000 MR employees at the carriage and wagon factory joined the CDM after last year's coup.
When the strike forced the factory to halt operations, the regime pressured the strikers, forcing them to move out of staff accommodation and then sealing it off. Myitnge residents believe the town is being targeted because so many people there support the CDM, according to a man assisting the striking MR staff.
"The regime is not happy with MR because many staff have joined the CDM, and so it has targeted Myitnge and also demolished the houses of people who have nothing to do with the CDM," he said.
Myitnge's multicultural population led to the town being dubbed a little San Francisco. With many of the original rail workers coming from India during the colonial period, the town is home to mosques, Sikh temples, Hindu temples and Christian churches.
Among the people who have been forced to move by the junta's demolition tactics are those who maintain religious buildings. Myitnge residents are concerned that those houses of worship may also be bulldozed.
"They are demolishing the houses of everyone, apart from non-CDM staff. They checked the staff quarters thoroughly, asking the occupants if they are on strike or not. They removed all the possessions from the uninhabited houses of strikers and sealed them off. Over 500 units have been sealed off," said one MR striker.
The majority of the population in Myitnge are MR staff or retired MR employees. Successive generations have worked at the Myitnge factory, always living in government-provided staff quarters rather than private homes. Some strikers have reportedly registered to return to work following pressure from the junta.
With their homes demolished, many Myitnge residents have moved to villages to the west of the town or to the homes of their relatives elsewhere.

You may also like these stories:

Witness Disputes Myanmar Junta Allegation of Suu Kyi Power Abuse
Hun Sen Asks Japanese Envoy to Work With ASEAN on Myanmar Crisis
Myanmar Junta Forces Rape and Kill Mother, Before Killing Her Two Daughters