Naypyitaw – Paletwa Township in Chin State, which borders Rakhine State, is facing food shortages after renewed clashes between Myanmar's military and the Arakan Army (AA) since early February blocked land and water routes.
The routes are part of the India-backed Kaladan Multi-Modal Transit Transport Project. The project includes 158 km of waterways on the Kaladan River from the Rakhine capital, Sittwe, to Paletwa and a 109-km road from Paletwa to Zorinpui along the Indian border in Mizoram.
The escalating clashes have seriously hampered the project and blocked transport links since Feb.5, leaving Paletwa without food supplies.
According to Myanmar's military spokesman Brigadier-General Zaw Min Tun, AA troops have been attacking a military outpost between Kaladan River and Meewa Creek in Paletwa Township since Feb. 12. Two government soldiers were injured when approximately 160 AA troops attacked the outpost on Feb. 17.
AA spokesman Khaing Thukha said fierce clashes have occurred in Paletwa since the first week of February between the AA, and around 400 government troops, who were being reinforced by a Myanmar military artillery base near Meewa Creek.
According to Chin State minister U Soe Htet, river transport is no longer available as the AA has taken control of the Kaladan River downriver from Paletwa. Ten vessels with around 200 passengers heading to Paletwa are stranded following the fighting on Feb. 17.
Rice stocks are running low in Paletwa and 1,000 bags of rice reserved for displaced civilians are running out. Fuel was also dwindling, said the minister, adding that the state authorities had reported the situation to the Union government.
"Though the land routes were inaccessible from time to time in the past, the route along the Kaladan River was largely accessible although [the AA] blocked it sometimes. But what is happening after Feb. 5 has been the worst. Vessels can't go anywhere. This has caused troubles for both passengers and crew," said U Soe Htet.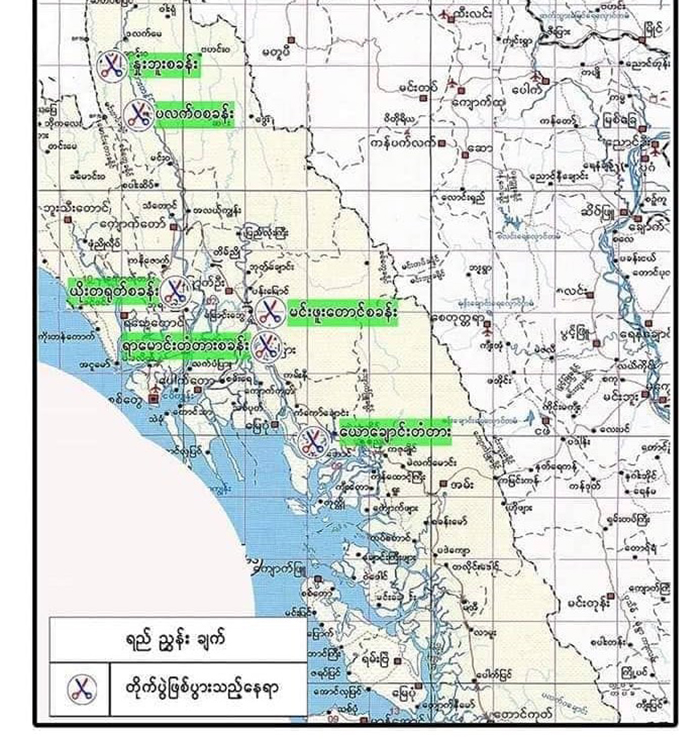 Ferry services between Paletwa and Rakhine State's Kyauktaw have been suspended since Feb. 6.
"I came to Kyauktaw on Feb. 6 for shopping. I stayed overnight and when I was to leave the following day, vessels had ceased operations. I heard clashes are taking place on the way. I don't know where they happened. I can only hear the sound of gunfire," said Paletwa resident Hary Thae, who has been stranded in Kyauktaw.
More than 100 people from Paletwa are stranded in Kyauktaw. Some are staying at guesthouses or with relatives.
"We are short of rice. There is nothing left to buy. Some villagers dare not go into the forest to search for food because they fear landmines. Mine blasts have already killed and injured dozens. I heard some villages asked for help from the township administrator," said a Paletwa resident who asked for anonymity.
He said lower-ranking administrators in villages were being forced by the AA to hand over cattle and pigs for free. Villagers cannot report it due to the internet shutdown in the township, he added.
"We reported the movements [of the AA] in the forest, but [the military] did not respond. We heard the sound of shelling and we don't know which side was firing. We are in a state of panic. The situation might be worse in villages than in the town," he added.
The Myanmar military said the AA was trying to shift the battleground back to Paletwa because it is losing the war in Rathedaung, Buthidaung, Mrauk-U and Minbya townships in northern Rakhine State. The AA intends to re-gather its forces in Paletwa and cut off the transport links, said Brig-Gen Zaw Min Tun.
"This place is important militarily to gain control of the area. They are trying to secure the river between Kyauktaw and Paletwa," he said.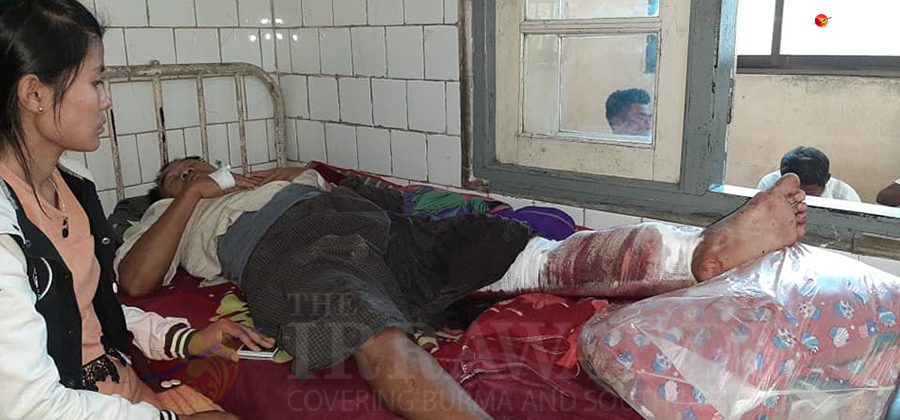 The AA's Khaing Thukha refused to answer The Irrawaddy's question about whether the AA was trying to cut off food supplies to carry out major attacks on military outposts in Paletwa and take control of the entire township.
He refused to say if the AA wanted to retake Paletwa but said the rebel army had no intention of cutting off food supplies to Paletwa.
It has been more than a year since clashes broke out in Rakhine State. The government peace commission has held talks with the Northern Alliance of four ethnic armed groups of which the AA is a member. But there has been no progress.
The AA was established in 2009 in Laiza, Kachin State, with the support of the Kachin Independence Army (KIA) and in 2014 it managed to return to its Rakhine homeland.
The following year, it built a stronghold in Paletwa before deploying in Buthidaung, Kyauktaw, Rathedaung, Ponnagyun, Minbya and Mrauk-U townships.
Brig-Gen Zaw Min Tun said: "The first clash with the AA took place in Paletwa in 2015 at Pyaing Su Village. They are based there. Most of their outposts are in Paletwa and the border. From there they infiltrated into Rakhine. One group went into Buthidaung, and another to Mrauk-U and Kyauktaw."
The fighting was the fiercest in mid-2019 and both sides reportedly suffered heavy casualties. More than 100,000 people have been displaced by clashes, according to regional sources.
 Additional reporting by The Irrawaddy's Sittwe-based reporter Min Aung Khine
 You may also like these stories:
Rakhine Parliament Speaker: Myanmar Govt Must Do More to Help IDPs
Another NLD Member Abducted by Unknown Armed Group in Western Myanmar