YANGON—More than a dozen Myanmar Army soldiers, including a captain, were killed during a battle with the Arakan Army (AA) in Chin State's Paletwa Township on Thursday.
Captain Aung Chan Moe was among the troops from Light Infantry Battalion No. 542, based in southern Rakhine State's Kyaukphyu Township, who were killed in the clash.
The AA released an update via its official website on Friday afternoon displaying a number of soldiers' ID cards, including that of Capt. Aung Chan Moe, along with badges, epaulettes and a 9-mm pistol. The AA said at least 15 government soldiers were killed.
It also displayed photos of three dead Army troops as well as a number of pieces of military equipment including binoculars, mine detectors, three MA assault rifles, more than 20 mortar rounds of different sizes, and six RPG rounds. In the AA handout, the ID of another captain, Saw Maung Maung Nyein, and an epaulette with three stars were also displayed, but it remains unclear whether the officer was among a group of soldiers who managed to escape, or if he was freed by the AA.
Since March 3, the AA has occasionally released battle updates via its website and that of its political wing, the United League for Arakan (ULA). The AA recently announced that it killed more than 30 Myanmar military (or Tatmadaw) soldiers in a March 4 attack in Mrauk-U Township.
The AA said its fighters claimed to have ambushed two wooden motorboats carrying dozens of Tatmadaw soldiers who were part of reinforcements for an Army offensive in Mrauk-U. It said the soldiers drowned when the boats sank. The Irrawaddy could not independently verify this claim.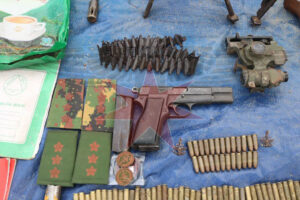 According to the AA, the Tatmadaw's Light Infantry Division (LID) No. 55 has been pouring more troops into the frontline in Paletwa, and troops from LIDs No. 22, 33, 66 and 99 are also being deployed to battlefields in northern Rakhine. The AA estimates that the Tatmadaw has dispatched not less than 10,000 soldiers to Rakhine since armed clashes there escalated in December. The AA predicted the fighting would only intensify as long as the military continues to send in reinforcements.
After learning that the Tatmadaw was using private boats and vehicles to transport troops, the AA recently warned boat owners not to transport soldiers to contested zones.
A spokesman for the Office of the Commander-in-Chief did not respond to The Irrawaddy's calls on Friday.
In late December, the Tatmadaw acknowledged that some high-ranking officers had been killed in clashes with the AA, without providing details. Another officer, Major Aung Ko Nyein, was shot dead during a battle in February.
Local relief groups estimate that nearly 10,000 civilians have been displaced across Rakhine due to the intense fighting in the northern of the state. Most of the IDPs are sheltering in poor conditions and are relying mainly on donations from the local groups.