YANGON—Melia Hotel Yangon's new high tea set is a sweet and savory delight. Relax with friends during this sweater-weather season over a tea or coffee set served up amid the beautiful, white interiors of the hotel's Olea Mediterranean Restaurant.
High tea culture has become increasingly popular in Myanmar over the past few years. It's mostly to be found at luxury hotels or upmarket teahouses, but prices are often reasonable.
Most sets cost about $15. If shared, a high tea at that price is an affordable and pleasant way to spend quality time with your favorite people.
Melia's new high tea set costs only $19 net per set for two persons. It includes the hotel's special selection of cakes and pastries as well as free-flow tea and coffee.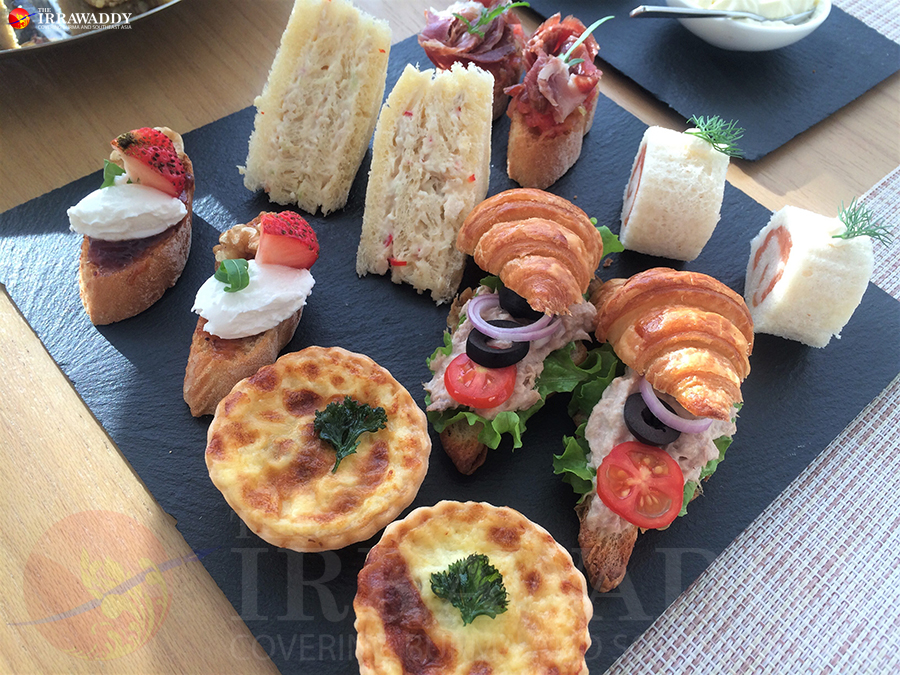 When it was launched on Dec. 4, my friend and I jumped at the chance to try a new high tea set at this unique restaurant. Olea is beautifully decorated in bright shades of white, blue and cream. Even the crockery has Mediterranean-style blue and white patterns. Though it's a hotel restaurant, it is illuminated with plenty of natural light.
To begin with, we were invited to select a drink from the wide-ranging coffee and tea menu. We ordered iced coffee and chatted as we waited for it and the food to arrive.
About 10 minutes later, the coffees and a pretty selection of foods appeared, with the drinks served in bamboo tubes. The food was fresh and the presentation was perfect down to the last detail.
The new menu includes a selection of 28 cakes and pastries including goat cheese with walnut and strawberry, mini tuna croissant, mushroom quiche, iberico ham on toast, salmon roll with cream cheese, sponge chicken sandwich, chocolate eclair, white chocolate pistachio cake, fruit tart, oreo cheese cake, white chocolate brownie, raspberry macaroons and scones.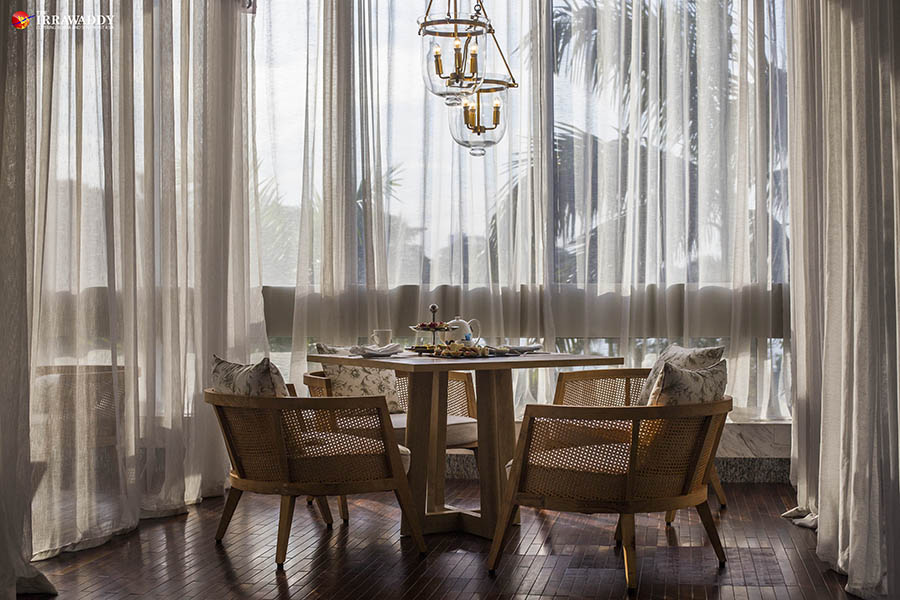 Some were a bit sweet for my taste, but all of the flavors were amazing. In particular, the iberico ham on toast is unique to Melia's high tea. And while I'm not usually a fan of macaroons, I couldn't pass up the raspberry one on offer; it wasn't too sweet and the raspberry aroma was irresistible. The coffee was of good quality, as well.
The restaurant has a quiet, peaceful vibe, enhanced by the view of Inya Lake through its windows. The effect is beautifully serene. The staff was friendly and attentive. My friends and I had a great time chit-chatting and snapped a bunch of photos against the backdrop of the restaurant's Instagram-friendly decor.
So, if you're looking for the perfect place to catch up with your favorite people or some old friends—or you just don't know where to go on your holiday or weekend and are craving somewhere quiet with a beautiful vibe, great coffee and tasty cakes—Melia's new high tea set at Olea is a good choice.
The new high tea set is available daily from 2:30 p.m. to 4:30 p.m.