YANGON—In Myanmar, locals don't always have knowledge about how the foods they eat on a daily basis impact their health. They're very familiar with the vegetables, eggs and other ready-made foods but don't realize they contain chemicals and are grown with fertilizers and pesticides that cause negative health issues.
Recently, some locals have been getting familiar with chemical-free vegetables and organic eggs and chicken in town, but it's only a small group of people, including doctors and others with specific knowledge, those working with foreigners, and people who don't care about the price tag on their produce.
That leaves the average resident still eating plenty of unhealthy foods from nearby wet markets, who often think organic and chemical-free products are unnecessary.
Ma Kye Mon Lwin, a founder of Organic Valley Myanmar, wants to change their minds.
"Health issues are everyone's concern. You are what you eat and you should know where your foods come from," she said.
What is Organic Valley?
Organic Valley was founded last May and mainly offers chemical-free fruits and vegetables to customers in Yangon Region. The main purpose of the Organic Valley is to promote healthier lifestyles through chemical-free and organic foods.
"We want to create a clean and sustainable environment through eco-friendly packaging," said Ma Kye Mon Lwin. "The other thing is to help the women's communities that need support," she added.
"We also want to help the farmers because many products come from abroad, and farmers are confused about what they should plant or how to compete with those imported products."
Organic Valley began with only six different vegetables, and now they have over 50 types of chemical-free fruits and vegetables.
"I get all of the healthy and chemical free products from our trusted farmers' vegetables farms, from Taunggyi, Pindaya, Pyin Oo Lwin and Yangon," Ma Kye Mon Lwin said.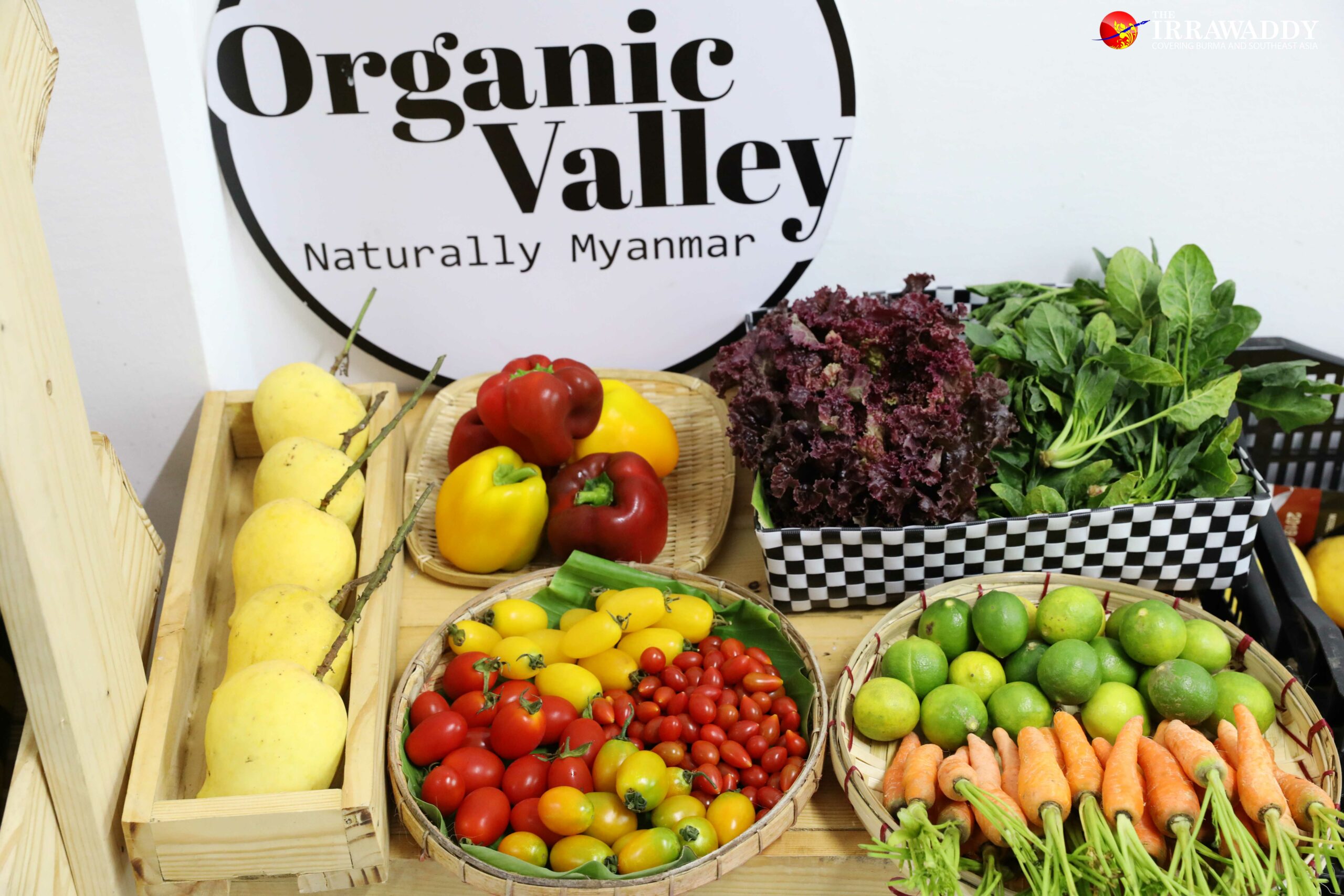 The Beginning
Ma Kye Mon Lwin had been working at IT departments for over a decade in Yangon and Singapore when she found her life a little boring.
"I wanted to do something new," she said. "I quit my job and worked freelance. One day, I got a present—a fresh cauliflower from one of my friends who owns a small farm. That was the beginning of the idea to start Organic Valley."
"I loved it so much," she added. "Then I asked my friend if I could buy the other vegetables as a regular customer, but my friend didn't accept because the small farm was for their own family. But she suggested I [grow and] sell the products [myself]."
Ma Kye Mon Lwin started researching where she could get natural and chemical-free products.
"My friend introduced me to a farmer from Pearl City, in Mingalardon Township, Yangon. He has a farm but he doesn't know what kind of vegetables to plant. I provided ideas and instructions. We started with a total of six types of vegetables," she said.
At first, they had just a few customers so the products were really pricey. The main challenge for them with the organic market was a lack of demand at the time.
"I started with two small refrigerators from my home and started selling six types of fruits and vegetables," Ma Kye Mon Lwin explained.
But then she started selling her products through her Facebook page and at Yangon's Farmers Market—every Saturday at Karaweik Gardens.
Growing a chemical-free business
Over the last year, Organic Valley has continuously grown and now many people know the brand.
"Within a year, the market has changed, and many people have started caring about what is healthy food and what should they eat, so the demand is rising continuously," said Ma Kye Mon Lwin.
The proof is in the fact that, though she started with two small refrigerators, she now has her own office "with big refrigerators and a staff, and I've got many suppliers as well," she said.
Though prices began high because they produced only a few types of vegetables, and the production costs were high, now they have more customers and the product line is increasing.
"So," she explained, "the prices keep falling and I get more customers."
The farmers get more opportunities and customers can be healthier by eating locally-grown chemical-free natural products for a reasonable price, she said.
"I hope many more people start to care about the food they eat. The price will keep falling and our community will change slowly," said Ma Kye Mon Lwin.
Currently, Organic Valley has 60 types of fruit and vegetables from different farms located in Taunggyi, Pindaya, around Inle Lake, Pyin Oo Lwin and Yangon.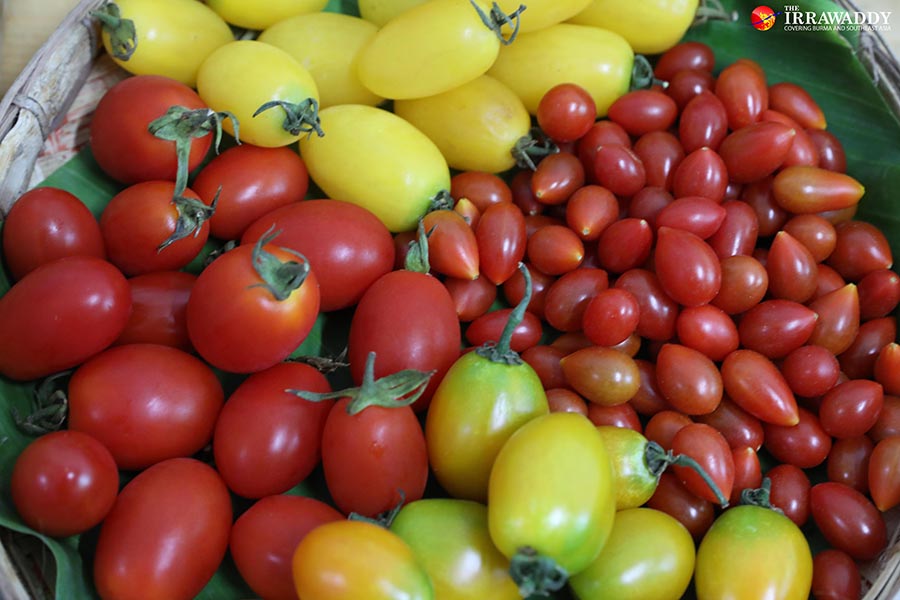 Why should people eat chemical-free, natural food products?
"If your body is full of chemical products it will obviously harm your health. I know I can't change the whole community because many local people are already familiar with those imported vegetables, but I still want to help as much as I can," she said.
Eating chemical-filled food can cause cancer and other health issues. Some of them are also contain pesticides. If we don't clean the vegetables carefully or repeatedly, those dangerous pesticides will go into our bodies.
Ma Kye Mon Lwin admitted that her products are not officially organic certified products.
"The fruit and vegetables from Organic Valley are natural and chemical-free, not organic. This is because if I want to say organic products, I need to change everything [starting] from the ground. To be organic needs more perfection," she said.
She guarantees that the products from Organic Valley are safe and natural and she has the tools that can show this in the products too.
"I'm not telling [people] to buy the products from my business, I just want to spread information on the health issues which other countries are currently facing," Ma Kye Mon Lwin said.
She added, "If you buy products from Organic Valley, you are also part of our team, and that means we help farmers and other women communities together. We're using new packaging methods using leaves and paper bags even though it doesn't make the product stay fresh for as long. We want to create a plastic-free environment as much as we can and don't want to harm the environment."
Where can we get Organic Valley products?
Organic Valley is mainly distributed in Yangon via their online platform. People from Yangon can order the products from Organic Valley's Facebook page.
The company has a stall at Yangon Farmers Market every Saturday morning at Karaweik Gardens, in Kantawgyi Park from 7 a.m. to 11 a.m.
"Some of our items are now available at Marketplace by City Mart outlets. We are supplying Metro, the wholesale company, as well," Ma Kye Mon Lwin said.
Organic Valley products are also available at Marche Yangon showroom which is located at Mercure Yangon Kabar Aye Hotel compound.
Future plan
Ma Kye Mon Lwin will keep trying to expand her business and keep spreading the message about why people should eat healthy food.
"I will help more farmers and this community to become a healthy community and environment, not only in Yangon but also in other regions," she said.
You may also like these stories:
Fostering Pride in the Art of Chin Textile Weaving
Makers Market Focuses on Handmade Goods from Local Artisans
At The Pansodan, Sublime Flavors in an Architectural Gem