During his freshman year in college, Wunna Soe and his classmates were asked to mention the names of Myanmar painters that they knew. Unlike other students, all the names he gave belonged to comic artists. As an art student who majored in painting, he felt embarrassed for not knowing the difference between comics, cartoons and painting.
Nearly 20 years later, he is known as an illustrator, cartoonist, painter and animator. His latest works include "Thaa Shin Pyu" (Novice Ordination Ceremony), an award-winning short animation film about Myanmar parents' endeavors and sacrifices to monastically ordain their sons, which he directed under the name Edo Vader.
The 38-year-old artist is also praised for his brave political cartoons drawn under his pseudonym Be Ru Ma. However, not many people know that the pseudonyms Edo Vader and Be Ru Ma belong to the same artist. Regardless of the differences between cartoons, illustration and animation, for him they are all sourced from his childhood love of drawing.
"I started drawing when I was a kid—as young as 3- or 4-years old," Wunna Soe told The Irrawaddy at his downtown Yangon studio, filled with his paintings, collections of vintage cassette players and anime figures.
"I could not understand when my father explained to me at that time that the animated movies I watched were created with many drawings like the ones I drew," he said.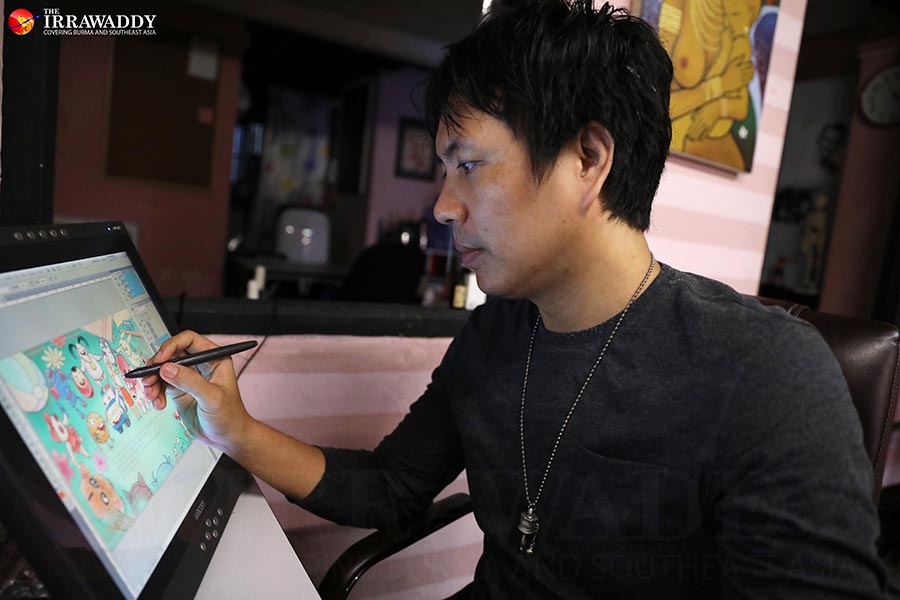 Makings of an Artist
Born in Kalay, a town in Sagaing Region situated in upper Myanmar, Wunna Soe is the youngest child of three siblings and the only one in the family who is now making a living as an artist.
Inspired by Disney movies that he watched as a child, he eventually started studying animation and even made some flipbook animations. Knowing without any doubt that he wanted to continue drawing, he went to Yangon University of Arts and Culture (YUAC) after high school in 1998.
While studying painting, Wunna Soe began drawing cartoons under the name Edo Vader. "Edo" means "most beloved" in ethnic Karen language and "Vader" is dedicated to the name of his favorite master of Myanmar traditional orchestra "Sein Baydar." He combined the transliterated version of "Baydar" with his childhood nickname "Edo," Wunna Soe explained.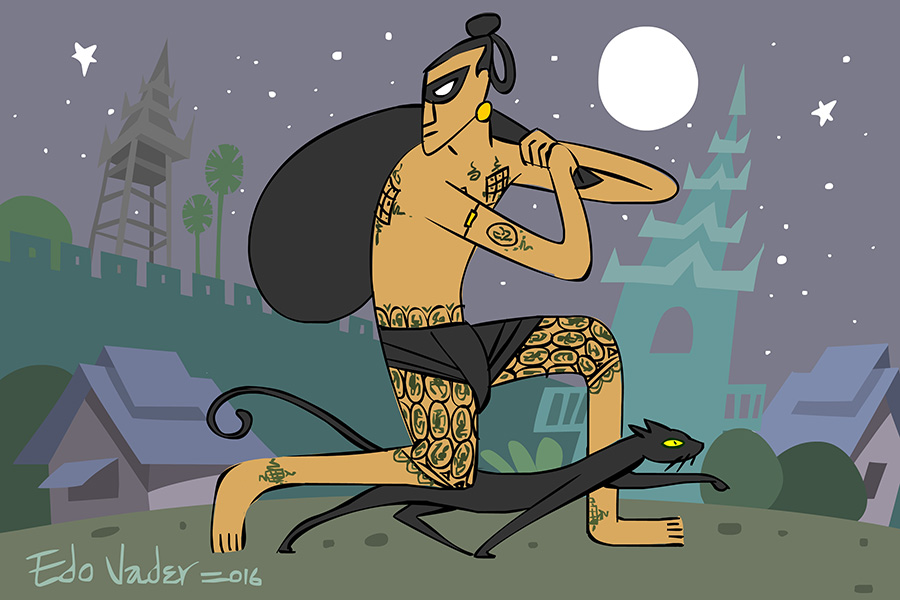 He distributed his comic strips for free on campus. Even though the strips only cost the price of a tea, the country was in deep poverty and he felt bad for college students who could not afford to buy cartoons.
"I just wanted them to read and enjoy my works," he said. "I didn't feel right if they would be unable to read my comics just because they didn't have enough money to spend," he added.
Political Cartoonist
As Wunna Soe immersed himself into drawing cartoons, his strips attracted a fan base at college. He satirized everything in his environment—from the lifestyles of college students to blackouts in Yangon to many other social issues. His fame as a political cartoonist came in light of the Saffron Revolution in 2007 that resulted in the death of several demonstrators and the arrest of hundreds of Buddhist monks by the junta.
Due to the military government's sensitivity to criticism and strict censorship at the time, he had to use a different pseudonym to hide his identity. Coinciding with his studying of the Japanese language, he chose the name "Be Ru Ma," meaning "Burma" in Japanese.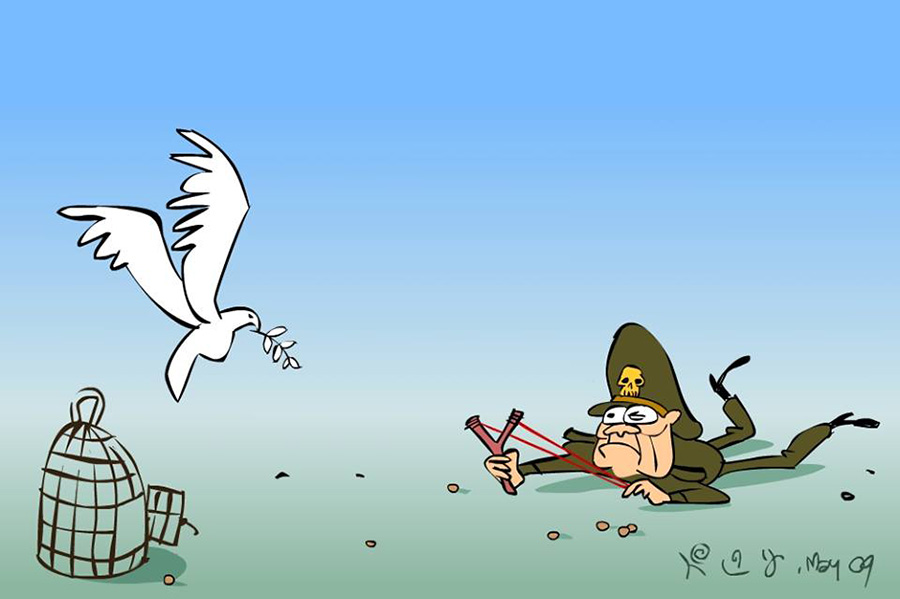 "As I was drawing political cartoons, I wanted to remind myself that it was a fight against military dictatorship but not against military personnel, like it was a fight against fascism but not against Japanese people during the Japanese colonial time in Myanmar," he said on the thinking behind the pseudonym "Be Ru Ma."
Photojournalist and cinematographer J Paing said his editorial cartoons about the Saffron Revolution were "brave and memorable."
"He is very creative and his cartoon characters have got personalities," J Paing told The Irrawaddy.
"We can recognize and distinguish his cartoons from other ones drawn by different artists because he's got his own style," he added.
However, Wunna Soe said local artists U Ba Kyi, Maung Sein and Paw Oo Thet have a lot of influence on his works.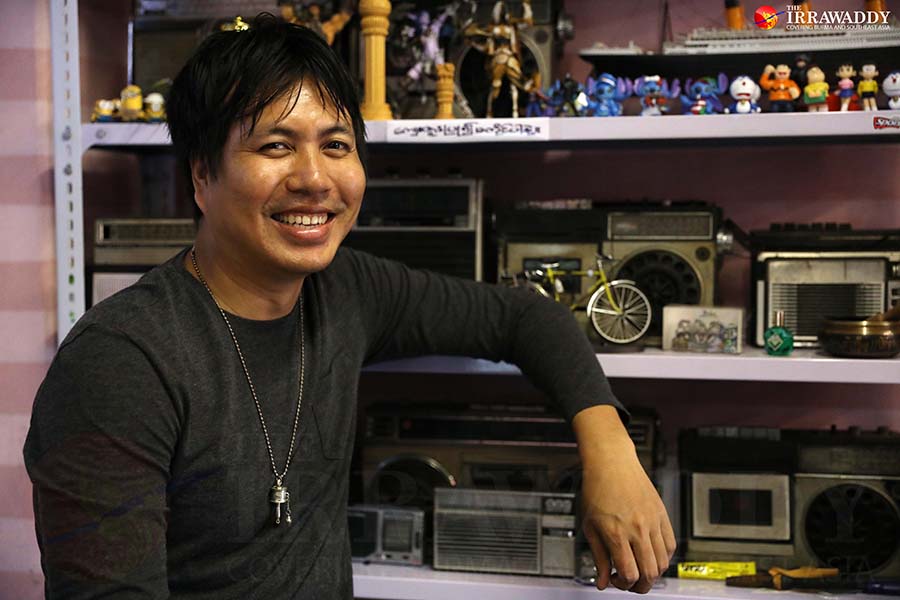 Animating Myanmar
Wunna Soe escaped the political turmoil left in the dust of the Saffron Revolution to Thailand, where he worked for two and a half years for exiled media Democratic Voice of Burma (DVB). Then in 2012, the man of many interests left for Korea to do a master's degree in animation at the Korea National University of Arts.
Though acknowledging an unprecedented number of animation companies producing films in Myanmar, he stressed many lack narrative and storytelling skills. The companies must prioritize creativity over profit, he added.
A fan of American illustrator and painter Norman Rockwell and legendary Japanese animator and manga artist Hayao Miyazaki, Wunna Soe said he wants to present Myanmar traditional and cultural stories in a contemporary style.
"I always think about how I can include our traditional and cultural identities in my works," he said.
His film "Thaa Shin Pyu" won the best short film award at local Wathann Film Fest in September this year. It tells a story about a Myanmar father who risks his life securing money in order to hold a monastic novice ordination ceremony for his only son, addressing many realities and social issues in Myanmar—from land grabbing to illegal organ trade to corrupt institutions—all in a 12-minute piece.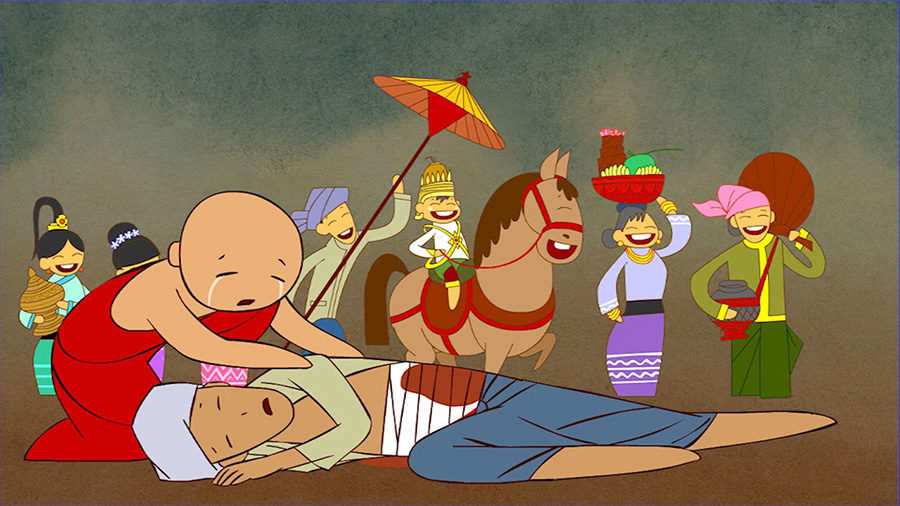 The festival's audience and judges praised the film as an emotional piece about a father's love and an honest portrayal of Myanmar society.
"If it's a comedy, I want to make it really humorous. If it's a sad piece, I want to make it really emotional," Edo Vader said of his film.
For J Paing, the award-winning animation lacks the trademark style of its creator. "As much as I liked the film, it's also hard to tell that its creator is the same person as the cartoonist Be Ru Ma whose works I used to enjoy," he said.
Next Chapter
While best known as a cartoonist and an animator, Edo Vader has also not stopped painting. He will have a solo exhibition in December this year in Yangon and, like his films, his paintings are a mixture of Myanmar aesthetics with a contemporary style. (He posted a sneak peek of his works on social media.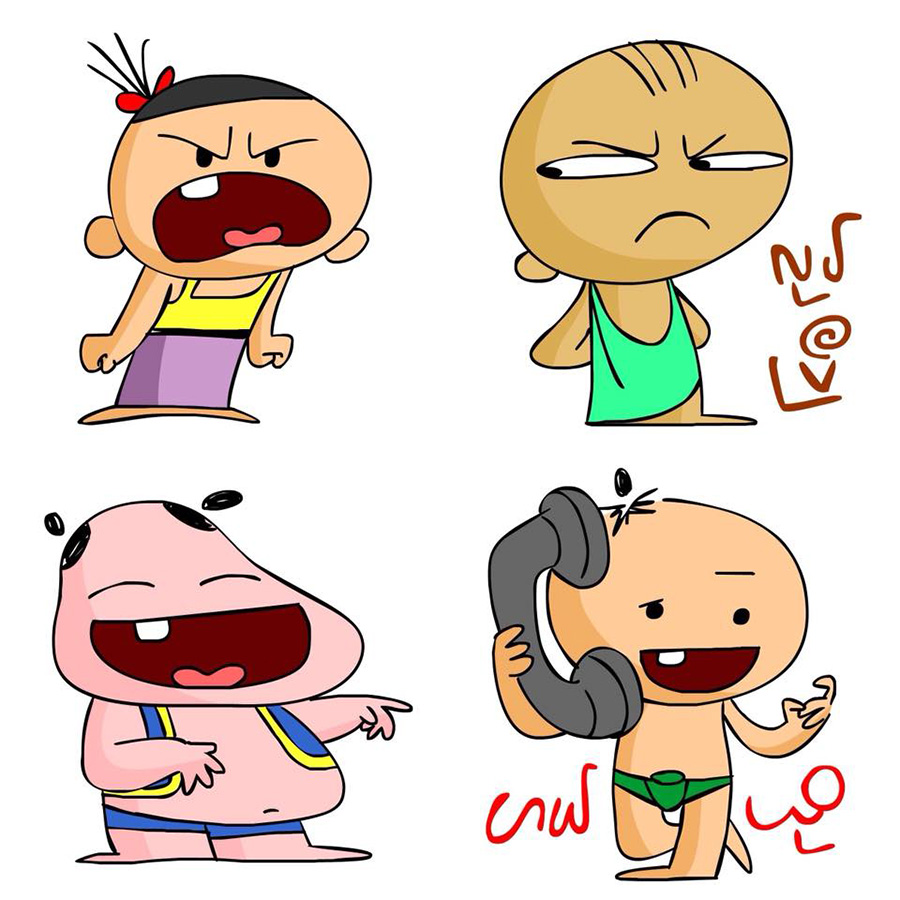 Wunna Soe would choose illustrations as his long-term profession over his other passions because he wants to fill a gap in the local industry of illustration, focusing on children's books.
"There is limited contents if we talk about children's literature in Myanmar. There are some story books but rarely is there illustration."
He currently makes illustrations for the Third Story Project that creates children's books in Myanmar language and other local ethnic languages, addressing various issues including tolerance, diversity, gender, environment and children's rights.
"We used to have more choices of books to read when we were young," he said.
"Now the industry is in desperate situation and it needs people like us to contribute," he said.