YANGON—Since the end of the rainy season, air pollution in Myanmar's commercial capital, Yangon, has frequently reached the "red" danger level, which is hazardous to residents' health. Contributing to the problem is the burning of trash and dead leaves in many areas in the early mornings and evenings. The cool season brings falling leaves, and many Myanmar people burn them without giving it much thought, and with little concern for public health.
According to a World Bank report, air pollution was responsible for more than 45,000 deaths in the country in 2017.
Currently, the burning of dry leaves and trash is commonplace across the city, including at military compounds, university campuses, schools and monasteries. Many residents are calling on the government to take action against the burning of trash, as the choking smoke causes them breathing difficulties.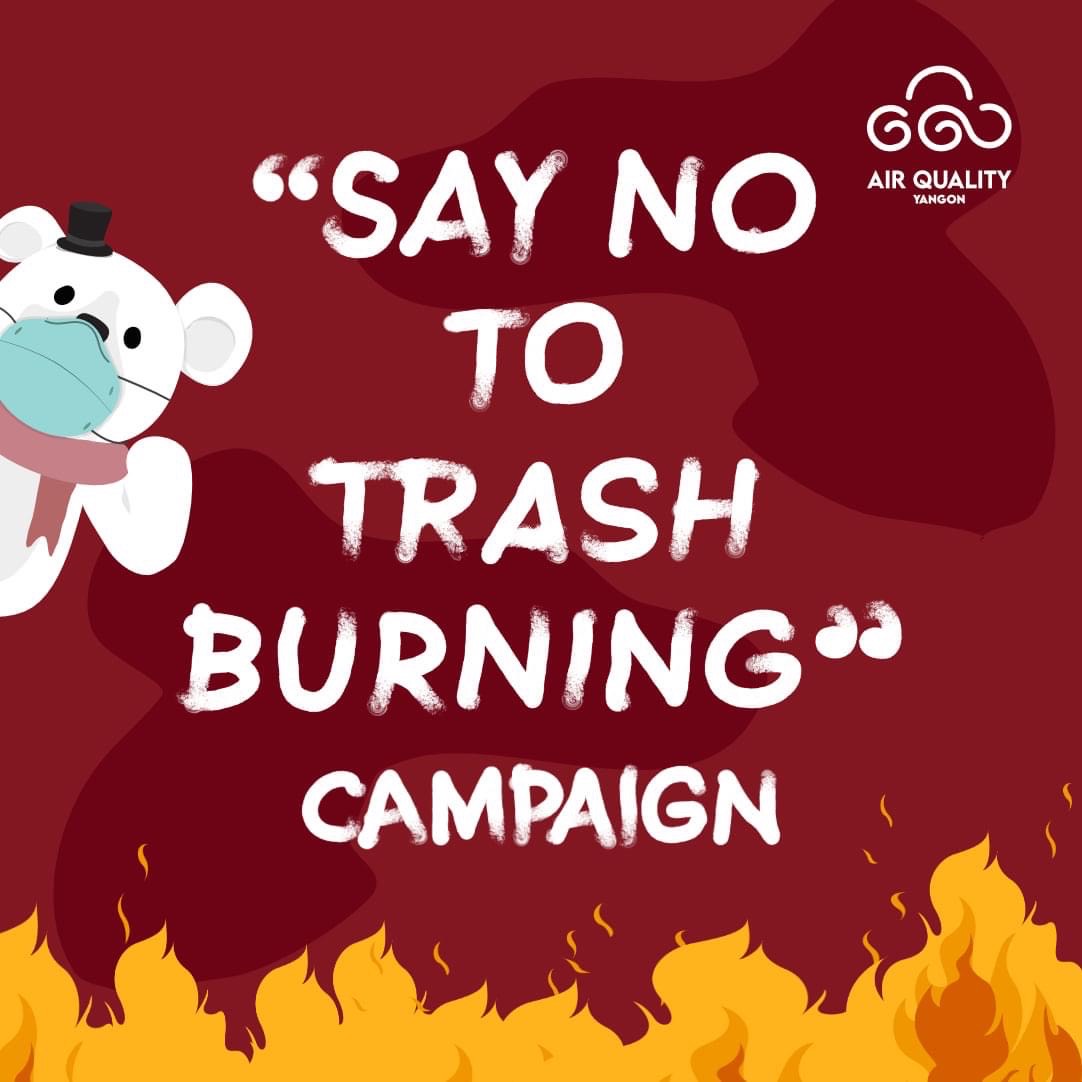 Though it is prohibited under the Yangon City Development Law, authorities have taken no action to stop trash burning, and no activities to prevent the practice by the relevant government departments have been reported.
However, aware that trash burning is one of the main causes of air pollution in the city, several civil society groups like Bokashi Myanmar and Air Quality Yangon are conducting campaigns to promote air pollution awareness and to call on residents to stop setting fire to their refuse.
Air Quality Yangon, a team monitoring the condition of the city's air, is one of the groups actively promoting public awareness about air pollution. The team was formed in 2018 by Dr. Kirt Page, an academic adviser at the American University of Yangon, with six of his students. The team uses 13 monitors to record Yangon's air quality and shares its data on Facebook.
Irrawaddy reporter Zaw Zaw Htwe spoke with Ko Kyaw Wai Thwin, Air Quality Yangon's planning, communication and content creation officer, and Ko Inda Aung Soe of Bokashi Myanmar about the atmospheric conditions in the city and their groups' activities.
The Irrawaddy: In which season does Yangon have the worst air pollution, and why?
Ko Kyaw Wai Thwin: The quality of air can be measured by the Air Quality Index [AQI]. We see the worst pollution in the cool season, rather than in the rainy or hot seasons. According to a 2018 study on Source Apportionment of Coarse Particulate Matter (PM10) in Yangon, burning trash is the main factor in the air pollution in Yangon. Aerial views have shown us how the burning of trash and leaves creates smoggy air. There are also other factors including smoke from vehicles and factories. There are more fallen dry leaves in the cool season. The city usually faces the worst air pollution due to the burning of leaves.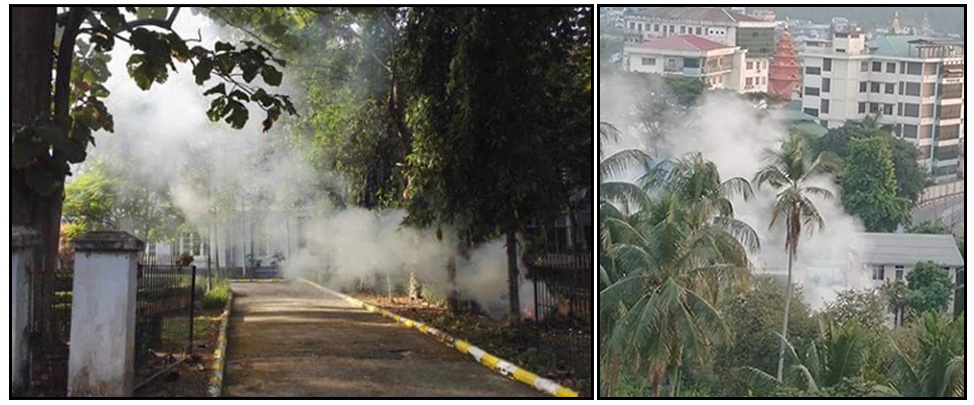 What stage does Yangon's air pollution reach during these periods? How does it affect residents' health? 
KWT: Red stage air pollution [an AQI from 151 to 200 micrograms per cubic meter of PM10] is the danger level. Air pollution in the orange stage [AQI from 101 to 150] can affect sensitive people who have low resistance and underlying diseases, especially for the elderly and children. The yellow stage [AQI from 51 to 100] is moderate. The green stage [AQI from 1 to 50] is the best condition.
Since the end of the rainy season, we have seen orange stage air pollution in the morning and yellow stage in the evening. We have not seen the green stage of air quality in the city since the end of the rainy season. Currently, the air quality moves between yellow, orange and red. The air pollution situation is usually worst in the morning due to the rush-hour traffic and early morning trash burning.
Have you ever seen a worse air pollution situation in Yangon?
KWT: During the last cool season, the air pollution was mainly in the red and orange stages. We also saw it reach the purple stage [AQI from 201 to 300: very dangerous to health] on some days.
This cool season, we are seeing the red and orange stages of air pollution.
Irrawaddy: How can air pollution affect people's health?
KWT: As an immediate reaction, people can suffer from headaches and feel out of sorts when they breathe in smoke. In terms of long-term diseases, people can develop heart and lung diseases from [prolonged exposure to] the smoke from trash fires.
Burning dry leaves emits sulfur dioxide, nitrogen oxide and polycyclic organic matter—the gas that forms air pollution. People can develop respiratory diseases.
Why was the 'Say no to trash burning' campaign launched this year?
KWT: In December last year, we conducted a campaign called "Know what you breathe" to let people know about air pollution. Many people learned about air pollution due to the campaign. This year, we have received many reports about trash burning, including photographic records, from the public via our Facebook page. This is why we are conducting the "Say no to trash burning" campaign; to educate people about air pollution caused by trash burning. Most importantly, we want to have good air quality in the city.
Irrawaddy: What should the government do to stop trashing burning?
KWT:The government needs to cooperate with people and organizations. We want the government to enforce the existing law, which already prohibits burning trash. Penalties have been prescribed in the law for burning trash.
Do you plan to cooperate with the Yangon regional government on your campaign?
KWT: For the current campaign, we have a plan to cooperate with the government. We have divided it into two categories. The first is to educate the public about air pollution. The other is to cooperate with the Yangon City Development Committee [YCDC] to gather dead leaves. We have discussed it with the YCDC. But the discussions are not finished yet. The YCDC told us they will cooperate with our campaign. However, the project implementation plans have not been finalized, as we face budget limitations.
How can residents contribute to improving the air quality in the city?
KWT: Instead of burning trash, we can compost dry leaves. There are organizations like Bokashi that do this. People need to be provided with solutions if we want them to stop burning trash.
We and the government can provide awareness, but the air quality in Yangon will not improve without the cooperation of residents. If every individual is willing to change their behavior to comply with the rules, we can hope for better air quality in the city. For example, people can cooperate with us by reducing the use of their own cars and using more public transport.
And we want people to get into the habit of systematically managing waste and to stop burning trash.
————
Also playing a role in improving the city's air quality is Bokashi Myanmar, a business specializing in recycling organic waste. Since its establishment in 2019, it has conducted a campaign to stop the burning of dead leaves in the community by creating awareness of air pollution and providing ways of composting households' organic and garden waste.
Bokashi Myanmar is working on many projects to help communities with waste management and organic waste recycling in order to create a sustainable process of soil rehabilitation and to reduce the environmental impact of burning dead leaves.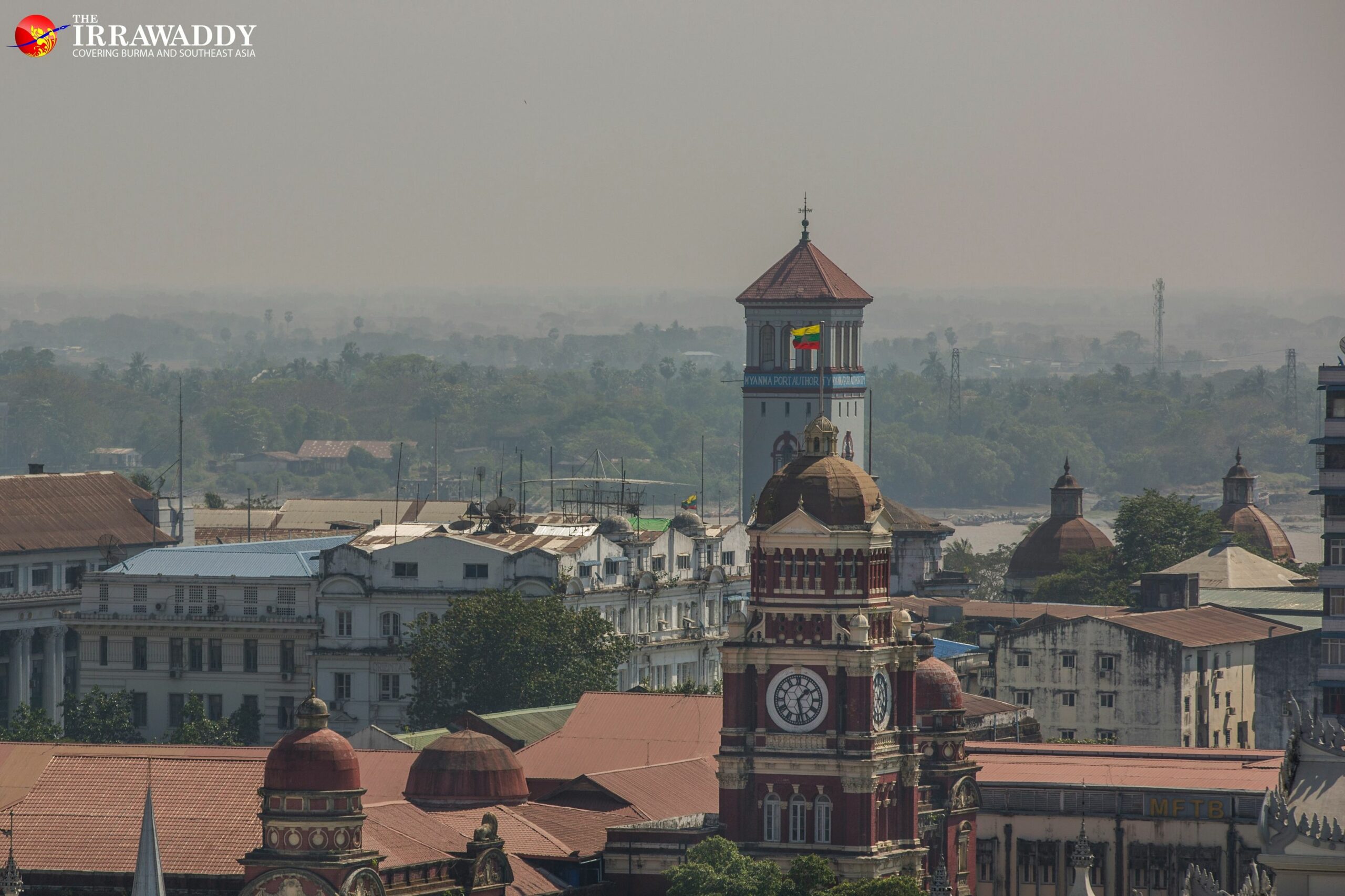 Ko Inda Aung Soe, one of the cofounders of Bokashi Myanmar, talked to The Irrawaddy about the environmental impact of burning leaves and ways to stop the burning of trash in the city by recycling organic waste.
The Irrawaddy: What are the main causes of air pollution in Yangon?
Ko Inda Aung Soe: Well, Myanmar has many vehicles operating the whole year round, and there are many factories operating in Yangon. However, the air quality in the city is not at the worst level all year. The air quality situation is worst in winter, which is when trees shed their leaves. In Yangon, open burning is the main contributing factor causing air pollution. Very often, people burn not only the dead leaves, but also plastic waste.
So, what are the public health effects of burning trash?
IAS: The most common problems are breathing difficulties and a sore throat. And it may cause cardio diseases or asthma. It can create health problems for people with heart disease by causing heart attacks, as well as cancer.
According to a study by Washington University in St. Louis [in the US], air pollution can increase the risk of death from COVID-19. So, the more air population there is, the more COVID-19 deaths there will be, because particulate matter and carbon monoxide in the air can damage the lungs while COVID-19 is destroying the respiratory system.
What can be done to end residents' habit of burning trash?
IAS: People don't know that burning trash is not a good thing. And people have the habit of setting fire to keep warm in the winter. So, we shouldn't blame them. But we need to prevent trash burning. To do so, we need to give people other options.
Currently, dumping garden waste [dry leaves or branches] at the YCDC's garbage dump is not allowed. If we want to dump garden waste, we have to use a separate YCDC service, and pay a fee. So, people burn dry leaves, as it's the easy way of destroying trash.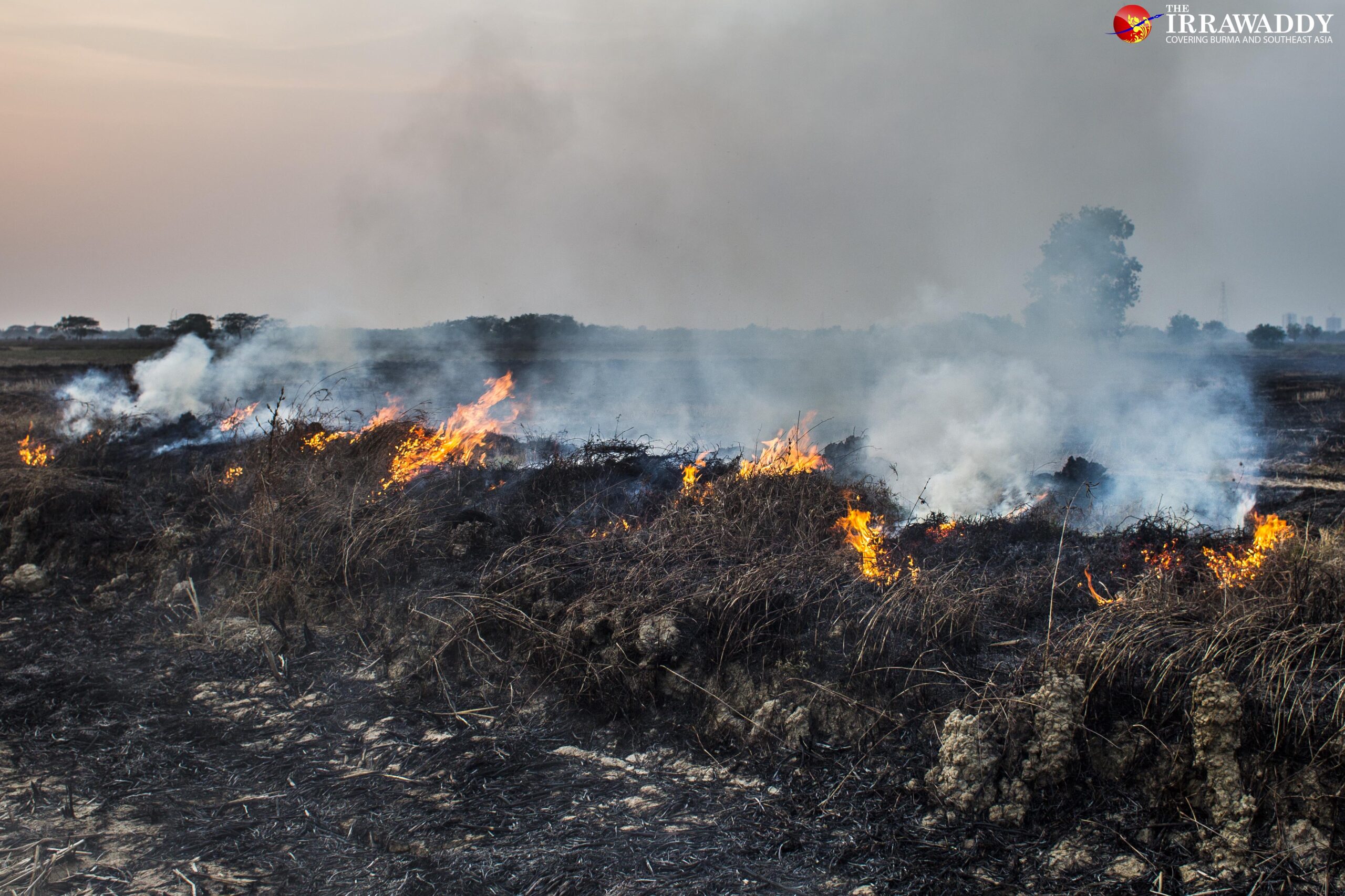 What options are there for disposing of dead leaves other than burning them?
IAS: Last year, we started the "stop burning" campaign. In Yangon, we are teaching people free of charge how to compost dry leaves. People can send dry leaves to us rather than burning them or if they don't want to use the service of the YCDC. We have distributed thousands of pamphlets about ways of composting dry leaves.
Composting dead leaves doesn't cost much, and it can solve other trash-related problems, too.
What have the results of your 'Stop burning' campaign been like?
IAS: Due to our campaign, people are sending their dead leaves to us now. Last year, our awareness campaign reached larger organizations including international schools and embassies, as well as the homes of their employees. They sent much of their garden refuse to us. Residents of Bahan Township including foreigners sent us many tonnes of dry leaves. We received approximately 100 tonnes from those households last year. This year, we managed to reach the general public with our awareness campaign. More people are composting dry leaves by themselves instead of sending them to us because they know how to do it.
Though we are based in Yangon, we aim to spread our "Stop burning" campaign to rural areas across the country. We are also providing training in rural areas as we want farmers to compost their garden waste themselves to reduce stubble burning.
The Myanmar government recently vowed to reduce the country's carbon emissions by hundreds of millions of tonnes. How should it go about doing this?
IAS: The government already has a plan to reduce carbon dioxide emissions. The main necessity is law enforcement. The Yangon City Development Committee already has a law in place. Burning trash without the approval of the relevant authority is illegal and those who do so are subject to legal action. Now, we are even seeing trash burning in compounds owned by the YCDC.
Actually, people lack knowledge about garden waste. Awareness of trash burning issues should be shared via television, radio and social media. We want the government to do this. It doesn't cost much.
In my view, we have to give people solutions to problems related to trash while asking them not to burn waste. The best way to dispose of dead leaves is composting, because leaves come from the soil. They are owned by the soil. It is nature's design that dead leaves must return to the soil. By burning dead leaves, people are destroying the cycle of nature and causing a big problem.