PAN PAUNG, Mrauk U – For those who are interested in seeing Myanmar's famous women with traditional face tattoos, Pan Paung, one of the few ethnic Chin villages in Rakhine State's Mrauk-U district, is a must-see destination. The village is home to the last five elderly women with tattoos on their faces and enlarged ear piercings.
Until last year, the villagers enjoyed their routines: growing crops in orchards and paddy farms, cutting trees and bamboo on the hills and hosting tourists, including foreigners. Pan Paung and the other villages are located next to the Laymyo River and their products are traded to Mrauk-U and elsewhere via the local waterways. Business was thriving, locals say.
But that all changed this year, following the intensification of fighting between the Myanmar military and the Arakan Army (AA) in the area. The rebel ethnic AA's military initiatives began in northern Rakhine State and Chin State's Paletwa Township in 2015. In late 2018, both sides mounted offensives and counteroffensives.
Mrauk-U district residents were directly impacted when the AA attacked four places including a Mrauk-U police regiment and military outposts next to the Laymyo River in April. The locals' agriculture routines were disrupted, as they now fear going to the farms, and they often hear the sound of artillery fire. During The Irrawaddy's recent visit to the area, The Irrawaddy reporters learned that some villagers are still taking shelter at internally displaced person (IDP) camps, while others stay put in the villages despite the security concerns.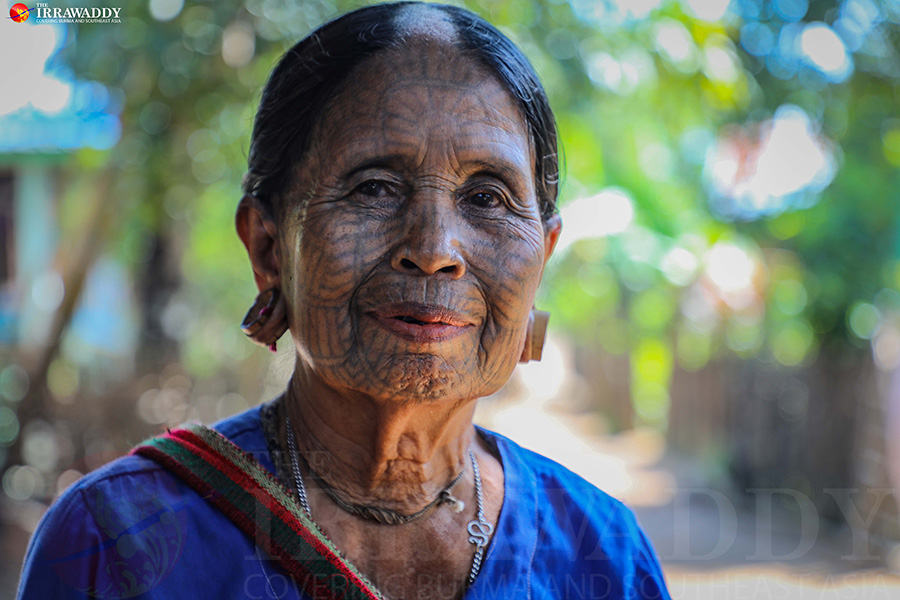 On a sunny morning in September, an elderly woman with a tattoo on her face and enlarged ear piercings through which bamboo and a flower were inserted, greeted The Irrawaddy reporters with a smile at the entrance of Pan Paung village, one of 14 ethnic Chin villages in Mrauk-U district. The elderly woman is known by both the Burmese name Daw Ma Hla Sein and the Chin name Ma Phawl.
Soon after our boat docked at the village on the Laymyo riverbank, we walked up into Pan Paung village, some 72 kilometers from Mrauk-U, and were very warmly welcomed, as we were among the first visitors to the village so far this year.
Daw Ma Hla Sein showed us the way to her home. She was happy to receive us. She changed her big bamboo earpieces to silver plugs and explained that she had her face tattooed at the age of 7. It was not easy to get tattooed, as the girls' fathers would have to find ox or buffalo bile to be used as paint. It took them one-and-a-half days to complete the spiderweb pattern face-tattoo. This permanent tattoo – applied using a painful procedure – lasts for their whole lives, but the tradition is in danger of dying out when the elderly women of the village pass away.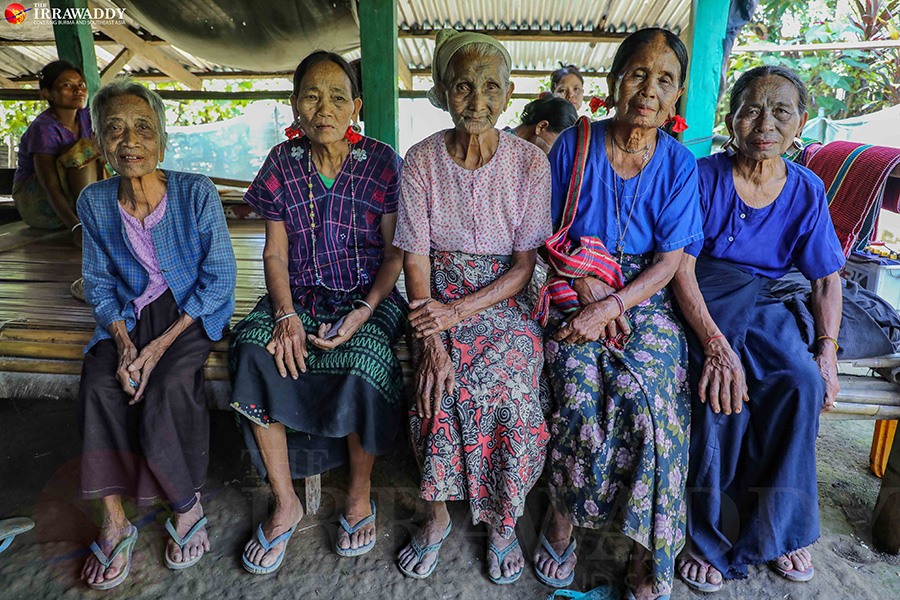 She introduced us to four other elderly women with tattooed faces. The five women, ranging in age from 68 to almost 90, are among the last generation of the ethnic Chin tribes who have tattoos on their faces in Pan Paung. Until 50 years ago, face tattoos were popular among young Chin girls, who would start to get them aged as young as 7.
"If we didn't do the tattoos, it was considered shameful to see the girls' faces without any painting, so we were eager to do it," added Daw Ma Lway, 75, recalling the peer pressure she felt in her childhood.
Fading tradition
But the tradition has faded for various reasons, one of which is not having the experts who can paint the faces around anymore. It has been 50 years since the local sayama (teacher) who could do face-tattooing died, and they are left with no one who can do it in the village, Daw Ma Hla Sein explained. Another reason is that it is a painful experience, and many mothers would rather not pass the tradition on to their daughters, according to the few remaining elders.
Currently, it is very rare to see women aged under 50 with face tattoos. The newer generation is integrated into the ethnic Rakhine and Burmese cultures and are not easily noticeable as ethnic Chin until one hears them speaking their language.
While preserving culture is a challenge, the local Chin people are also losing their jobs and face livelihood problems, as the fighting has made it impossible for them to do their traditional work.
In April, all 260 villagers in Pan Paung had to flee artillery shelling into nearby villages. They took refuge for three months at Sin Kae Village, located upstream before returning.
But IDPs from other villages are still not able to go back to their homes, for fear of being caught between the fighting sides. In early March, when fighting erupted at least four times in Phayagyi Village, on the opposite bank of the Laymyo River, residents of Phayagyi, Cheik Chaung and a few other villages fled to Sho Mae and Sin Baw Kaing villages' IDP camps. They are still sheltering there.
The Irrawaddy visited a few of those IDP camps and the villages, and met the IDPs, who are Rakhine, Chin and Mro, in Mrauk-U.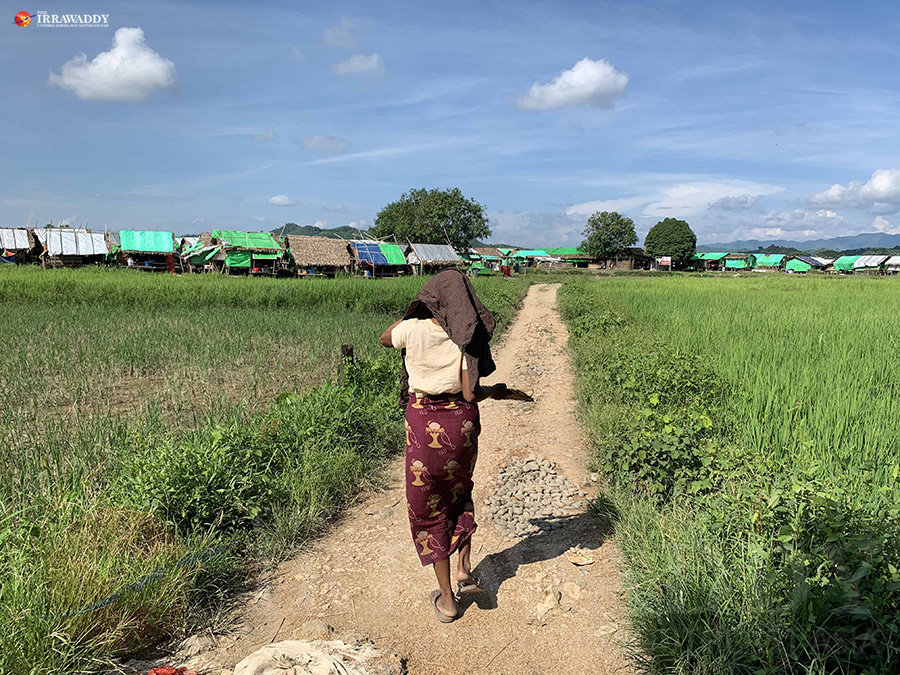 "Since March, many of our villagers left home and ran to villages far away from the fighting. So we cannot do any crop plantation this year," said U Maung Khiang Kyaw from Cheik Chaung village.
He was worried about how they will continue to survive without their subsistence crops.
"We dare not go out to grow paddy, and the plantation season is already over anyway," added U Tun Hla Aung, another resident of Cheik Chaung. Before the fighting, he would grow citrus including lemon and pomelo, as well as sesame, paddy and other crops, but his farming was halted by the fighting. The burden, he said, is "even harder for day laborers" in the villages, who have no particular jobs.
He recalled that, "When the fighting was in Phayagyi [in March], we felt like the artillery would strike near our homes. It was so close and we could not sleep."
Making a living has become more difficult this year compared to previous years, said Pike San, also known as U Maung Phyu La, the ethnic Chin village head of Pan Paung.
Echoing the villagers' safety fears, Pike San said they still did not dare go and work on the farms. "It has been [this way] for months. We hear the artillery constantly falling near the villages. It hinders our ability to farm on our plantations. We are afraid to keep doing our regular work on the hills and in the forest, such as cutting trees and bamboo and growing rice and marrow plantations," he added.
He also had concerns about the safety of transporting goods, as one boat can carry only two bags of rice for those transporting the staple to their villages from town, and vice versa. "We were told if we carry more than two bags of rice on a boat, we could be shot, so we worry," he said.
In peacetime, it is a day trip to visit to the remote Chin villages, including Pan Paung and Cheik Chaung, from Mrauk-U to explore the natural surroundings and meet the tattooed women.
"Because of the war, access to food and income have become difficult," added Daw Ma Hla Sein, 68, who used to sell her woven scarves to tourists arriving in her village. Outside visitors who happen to be interested in their weaving are the sole source of income.
Looms packed away
Since early this year, the women have not been weaving, because they don't have enough material available, and they cannot afford to buy thread. Also, they are worried artillery will strike their homes while they were weaving. So they keep their looms packed up.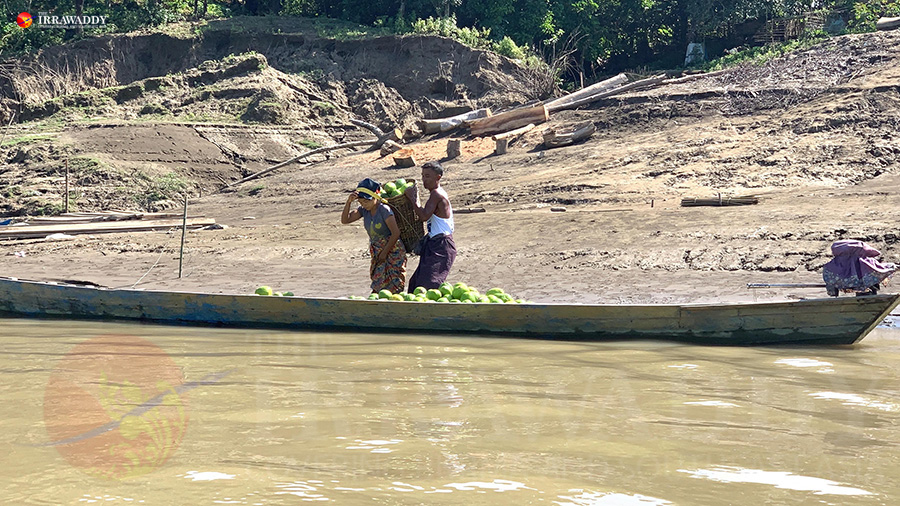 One of the few jobs still available for the locals is to be a carrier. Ma Khine Htwe Yee, 32, carries green citrus in a big bamboo basket worn on her back, trudging uphill from Pan Paung village to the village jetty. She is paid 1,000 kyats (65 cents) per basket. It has been the only job available to her and most of the villagers since early this year.
Ma Khine Htwe Yee said, "We cannot afford to buy thread—it's expensive. So I work as a crop carrier. Also, the foreigners have stopped coming since the fighting broke out. In previous years, even in the rainy season, we had visitors and that helped us."
The fighting also harms the health and limits the educational development of the villagers in the area, added the village head. Teachers dare not stay in the area; when they do, they only stay for two or three weeks and go back for nearly a month.
"Our main concern is that the artillery will strike our villages. If fighting continues near our villages, which are surrounded by hills, it is inevitable that the artillery will hit us. And we cannot say whether it is the AA or the Tatmadaw [firing], because both have troops in the hilly areas," U Pike San said.