The Association of South East Asian Nations called for the immediate cessation of violence in Myanmar on Saturday, but the junta's brutality has continued unabated.
Even as the ASEAN leaders sat with coup leader Senior General Min Aung Hlaing in Jakarta on Saturday, his troops killed at least three civilians, including a student, and continued brutal crackdowns on peaceful demonstrators demanding the restoration of democracy.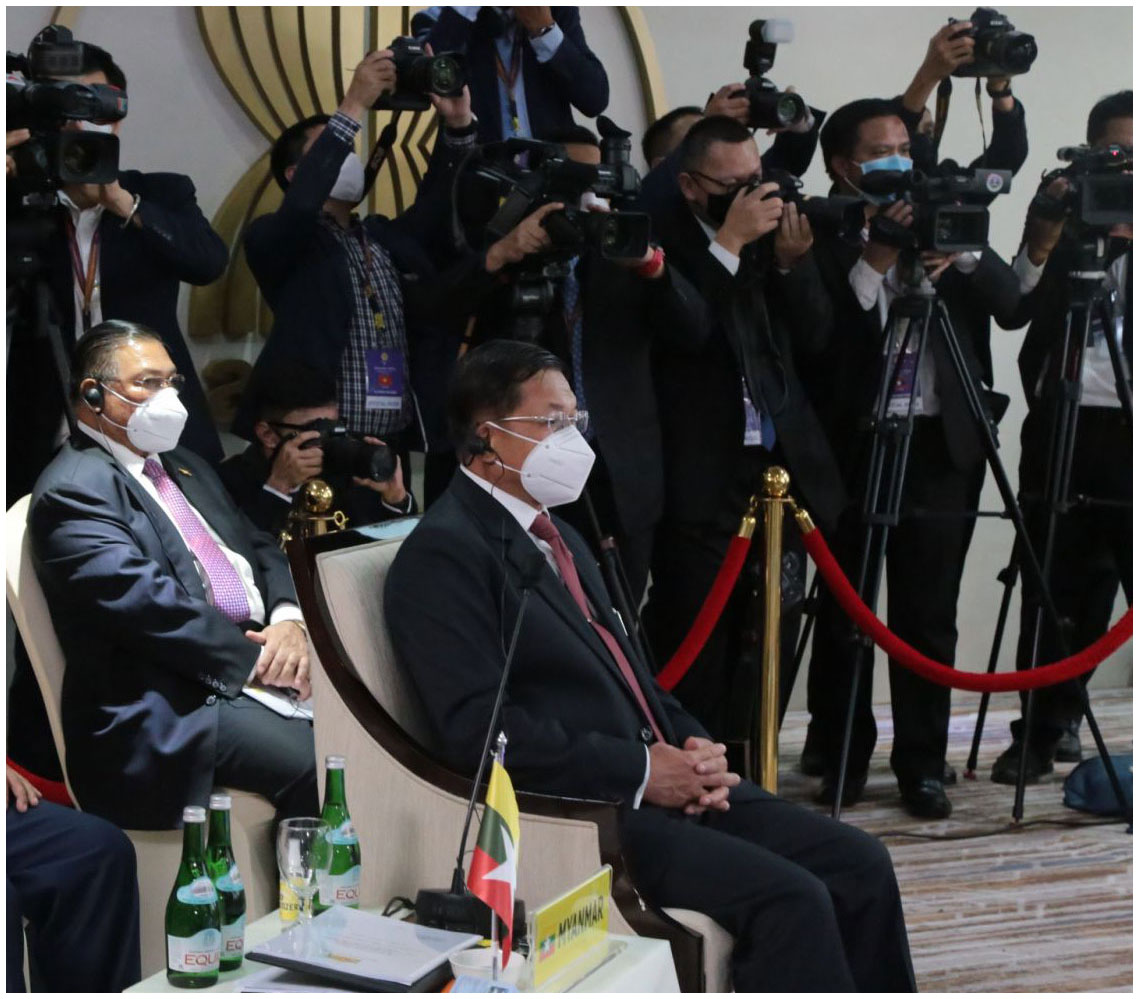 University student Kaung Htet Naing, 22, was shot dead by plainclothes officers in Mandalay's Chanmyatharzi Township on Saturday morning while he was setting tires on fire to distract regime troops.
He was shot at least twice and beaten in the head before being dragged away, according to a witness. Soldiers and police washed his blood off the street. His shoes were left behind.
His family, who confirmed the death of their son by identifying his shoes and hearing a witnesses account, performed a memorial service Sunday morning though the body has not yet been returned.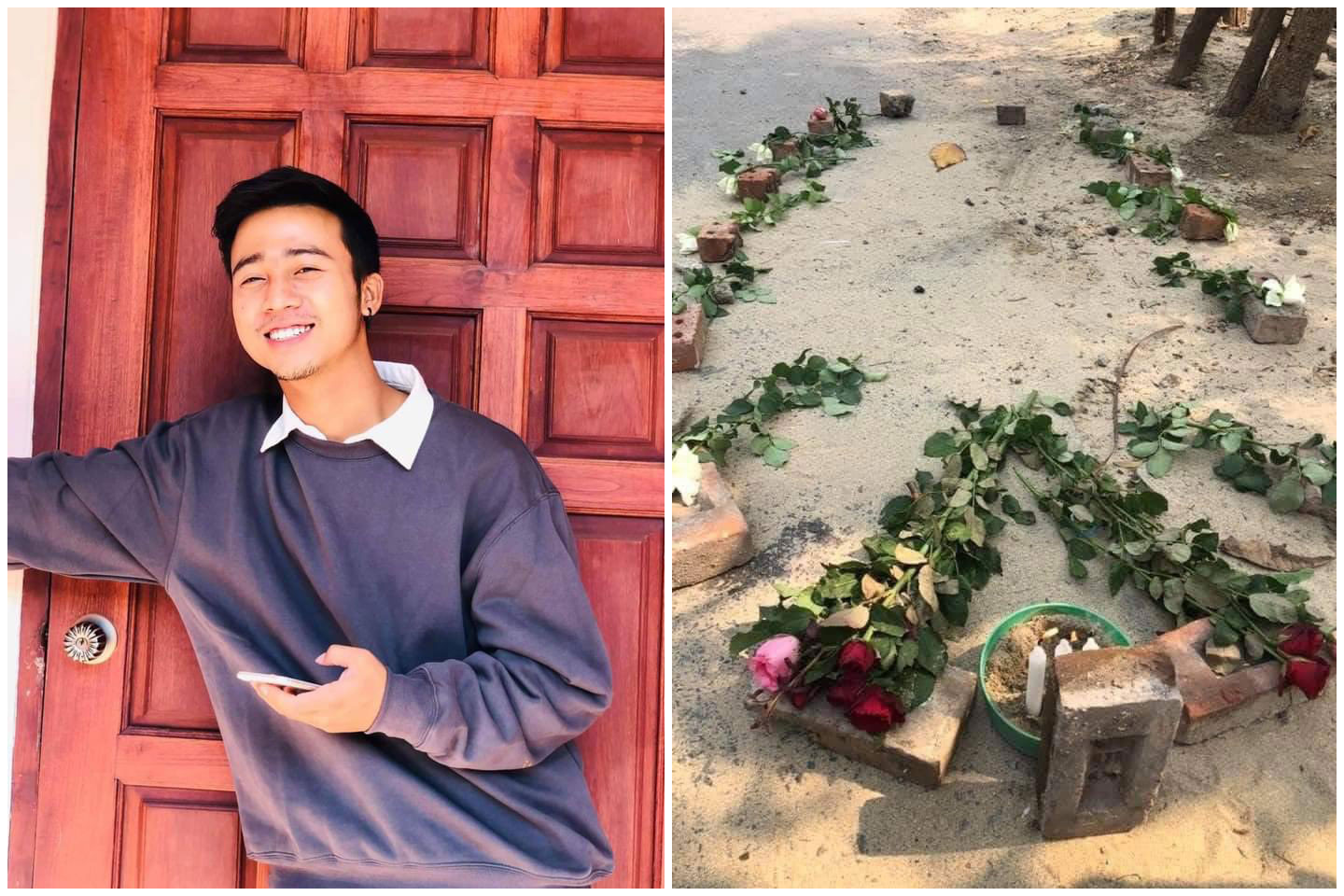 In Naypyitaw's Pyinmana Township, an anti-regime protester was shot dead when junta's troops fired on a motorbike strike protesting against military rule.
After the regional meeting, Singapore Prime Minister Lee Hsien Loong told the media that "he [Myanmar junta leader] said he heard us." The coup leader was urged by leaders from neighboring countries to end the violence against civilians, but his security forces continued their brutal behavior both day and night.
Daw Win Kyi, 63, a resident in a town in Sagaing Region located on the west bank of the Ayeyarwady River, died in custody after being abducted from her house. She was arrested at around 4:30 p.m. and relatives were informed of her death at 5 p.m. Police claimed that she passed away due to a heart attack and epilepsy. The 63-year-old was arrested under three charges including incitement.
The regime forces also raided a monastery in Sagaing Region's Yinmabin Township in search of a monk involved in anti-regime protests.
Junta forces also rammed into a motorbike strike rally by residents in the town of Phayathonzu (Three Pagoda Pass) in Karen State on Saturday, injuring a woman and arresting four. According to witnesses, the injured woman was severely wounded in the face when her motorbike was run over.
In one case of night raids across the country following the summit, the regime's troops dragged about 10 residents from their homes in Thamine ward in Mayangone Township, Yangon, for banging pots and pans about 8 p.m. on Saturday. Troops forced them to continue to hit their pots and made two women in their pajamas dance for them for two hours in the street. Some male civilians were also beaten.
About 11:30 p.m. on Saturday, the writer and media trainer Ma Tu Tu Tha and her family members were arrested by the junta's troops.
According to a relative, soldiers and police searched her house in Yangon's Thanlyin Township, and arrested four, including her son, brother and one of their friends. The troops found anti-regime pamphlets in their house and confiscated phones and laptops, the relative said.
They were taken into a military interrogation center in Shwepyitha. Ma Tu Tu Tha was editor-in-chief of Thanlyin Post, a local weekly journal, and used to work for the Irrawaddy (Burmese Edition).
Another media personnel, who had previously worked for Democratic Voice of Burma (DVB), was arrested on Sunday night. At around 8:30 p.m., soldiers and police raided the house of a former cameraman for DVB, Ko Thura Soe, in Yangon's Pazundaung Township and arrested him.
According to witnesses, the troops opened fire as they broke into his house and also confiscated some of his belongings and a computer. Operation Director U Toe Zaw Latt told The Irrawaddy that they learned Ko Thura Soe was sent to an interrogation center.
Ko Thura Soe was one of the staff members terminated from the news outlet after the junta revoked its license along with four other media. DVB has continued running its operations in exile.
More than 70 journalists have been arrested since the Feb. 1 coup and of them, 40 are still under detention. Another 22 journalists also face arrest warrants on incitement charges.
Several arrests were made on Sunday and Monday. According to regime-controlled state TV, the regime arrested at least 34 on a single day on Sunday.
Six, including three women, were arrested in Shan State's Muse. One man and two women were arrested in Yangon Region's Tamwe and three in Chin State's Mindat. Fourteen men and two women were arrested at a farm beside the Yangon-Mandalay highway in Bago Region. Two more were arrested in Mandalay Region's Myingyan. Single arrests were reported in Ayeyarwady's Pathein, Bago Region's Pyay, Naypyitaw's Pyinmana and Mandalay's Meikhtila.
State TV, however, didn't include the arrests of four Grade 9 students in Tamwe Township, five anti-regime protesters in North Dagon Township in Yangon Region and a striking teacher in Bago Region for joining the civil disobedience movement.
The regime is increasingly detaining the relatives and friends of those who are in hiding. In Mogoke, Mandalay Region, its troops arrested family members of anti-regime protester Thaw Thaw on Monday.
Mogoke General Strike Information Group confirmed the arrests. According to the group, soldiers and police surrounded the young activist's house at around 3 p.m. and, when they couldn't find her, arrested both of her parents and her sister-in-law.
In Tamu of Sagaing Region, three villagers were also arrested by the junta's forces on Monday. There were reports of looting by soldiers and police in several locations.
Since the coup, the regime has killed at least 751 people including 50 children, and arrested 4,462. Of those, 3,431 remain under detention.

You may also like these stories:
Thousands of Sagaing Region Villagers Flee Myanmar Military
Myanmar's Junta Continues to Arrest Journalists
Detained Myanmar Leader Daw Aung San Suu Kyi Still Can't Meet Lawyers in Person