Junta bombing raids destroyed around 100 houses in Demoso Township, Kayah State, late last week in retaliation attacks for heavy losses suffered in clashes with ethnic Karenni resistance forces.
Heavy clashes broke out from March 20 to 23 in the east of Demoso Township when resistance groups including People's Defense Forces (PDFs), Karenni Nationalities Defense Force (KNDF) and the Karenni Army (KA), the armed wing of the Karenni National Progressive Party (KNPP), combined in defensive attacks against three military columns of over 330 regime troops occupying Daw Ta Ma Gyi village.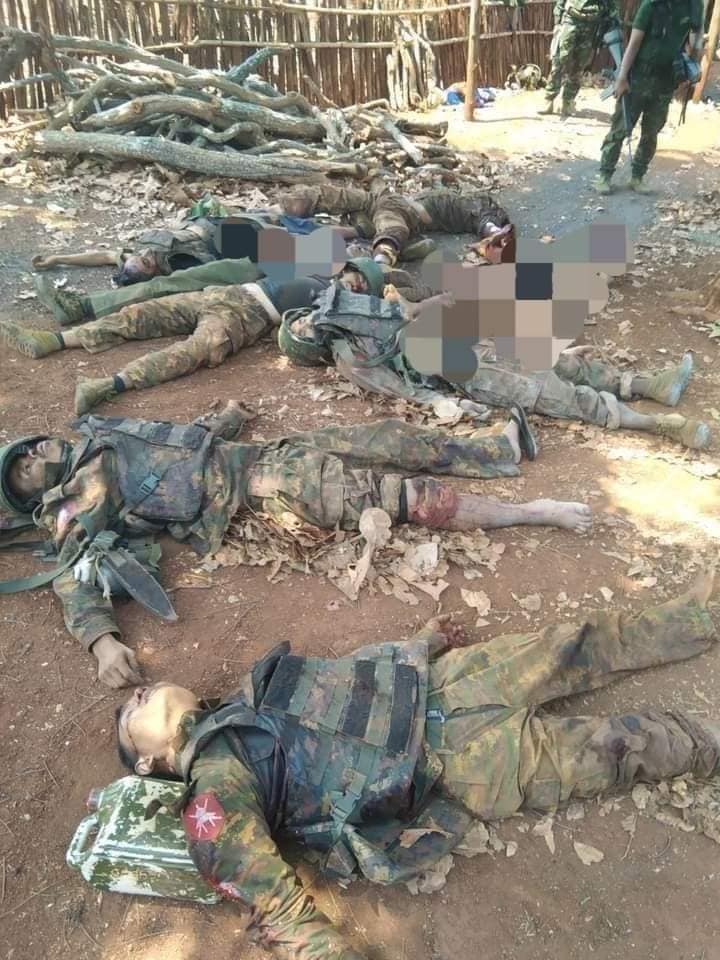 The junta columns had been raiding and occupying Daw Ta Ma Gyi and surrounding villages and forest since arriving in the area from Bawlakhe Township on March 8, according to a KNDF spokesperson.
The four days of heavy fighting last week saw more than 90 regime forces including several army officers killed in Daw Ta Ma Gyi village, and a large quantity of military weapons, ammunition, and equipment seized by resistance forces.
Five resistance fighters were also killed in the firefights.
After sustaining heavy losses, the regime columns retreated from the village on Thursday (March 23).
However, after three junta aircraft bombarded houses in the village on Friday, regime troops re-entered Daw Ta Ma Gyi.
An aerial video released by the KNDF shows houses ablaze after the airstrikes.
On Monday, junta forces continued to shell the village and nearby areas from a military training school in neighboring Hpruso Township, using 120-mm and 60-mm artillery rounds without provocation, the KNDF spokesperson said.
"Clashes could erupt again at any time as our forces and junta troops are still in the area. But for now, regime forces are shelling the areas but there are no clashes," he added.
The KNDF has requested help in replenishing its ammunition stocks from citizens both at home and abroad.
Junta boss Min Aung Hlaing, in a speech to mark the 78th anniversary of Myanmar Armed Forces Day in the administrative capital Naypyitaw on Monday, vowed to crush the civilian National Unity Government (NUG), the political wing of the Peoples Defense Forces, and ethnic armed organizations (EAOs) fighting alongside the NUG.