Sittwe, Rakhine State — Four civilians were killed and two others injured on Wednesday in shootings in Rakhine State's Minbya Township.
Three ethnic Rakhine men, one from Na Yan Village, and two from Pyi Taw Thar ward in Minbya and a 15-year-old Muslim from Sa Ma Lel Village were killed, according to residents and relatives.
"It was around 8 pm. My younger brother and his friend were riding a motorbike in the town. They apparently encountered a military column. There they were shot summarily," U Thein Tun Oo from Pyi Taw Thar ward told The Irrawaddy.
"[The military] could have interrogated them if they were suspicious. The curfew in Minbya only starts at 9 pm. It was shortly after 8 pm when the shooting took place. It is not good to shoot people like that. [The military]'s repression is beyond unbearable," he added.
The Office of the Commander-in-Chief of the Defence Services said military personnel providing security in Minbya saw two suspicious men riding a motorbike from Minbya to the Yar Maung Bridge at 8.10 pm and shouted at them to stop for interrogation. They rode away at high speed and the troops fired.
The statement said the personnel searched the bodies and found three fuses and a bamboo pedal used to explode mines. The military claimed they were Arakan Army (AA) "terrorists" who were planning to set mines.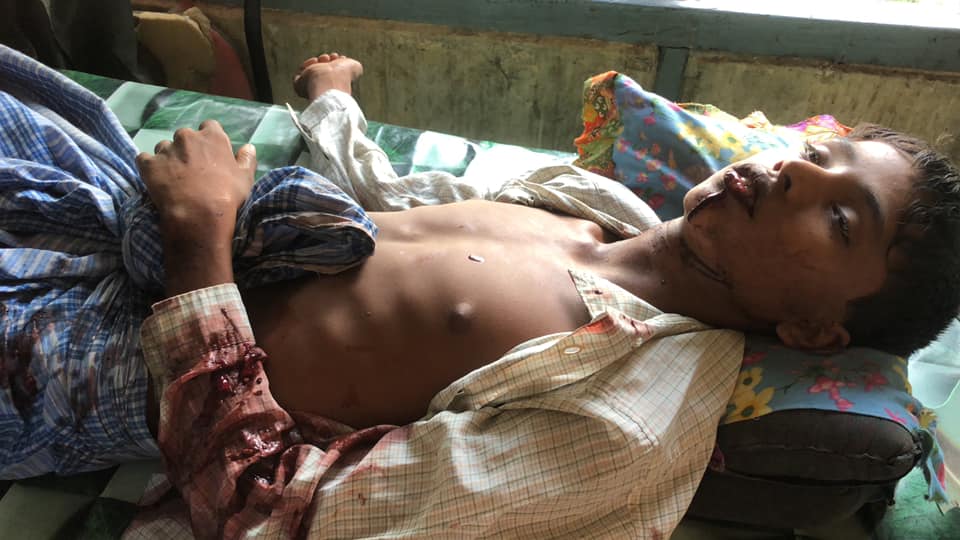 The 60-year-old Na Yan villager and the Sa Ma Lel villager were shot while herding cows near their villages.
"There was no fighting on Wednesday. A child was killed and two others — a boy and a woman — were injured. I don't know what happened," U Shwe Maung of Sa Ma Lel told The Irrawaddy.
The Sa Ma Lel villager died at the spot and the Na Yan villager lost limbs and bled to death in a hospital.
The two are from neighboring villages on the Yangon-Sittwe road in the east of Minbya.
The four funerals were held on Thursday and the two Sa Ma Lel villagers, aged 14 and 25, are receiving hospital treatment in Minbya.
A 30-year-old civilian was killed and several others were injured in fierce clashes between Myanmar's military and the AA near Yar Maung Bridge in Minbya Township on Monday.
That day a World Health Organization (WHO) vehicle transporting swabs from suspected COVID-19 patients came under attack near Yar Maung Bridge. The driver died and his colleague's hand was injured.
On Tuesday afternoon, a vehicle delivering disinfectant from Ann Township to a bank in Sittwe was fired upon near Phar Pyo Village in Minbya. The driver was killed and another employee was wounded.
Translated from Burmese by Thet Ko Ko
You may also like these stories:
Four Civilians Including Two Children Killed in Shelling of Myanmar State-Owned Bank
Villager Killed, Nine Hurt as Myanmar Military, AA Clash in Rakhine State
COVID-19 Swabs to be Flown from Myanmar's Rakhine After Fatal Shooting