Burma's retired Vice-Sen-Gen Maung Aye, number two in the previous ruling military junta, plans to visit Singapore for medical treatment after suffering a stroke, according to sources in Naypyidaw.
The 74-year-old was admitted to a military hospital in the capital on Sunday evening. He regained consciousness on Monday morning and decided to leave for Singapore for further treatment the same day.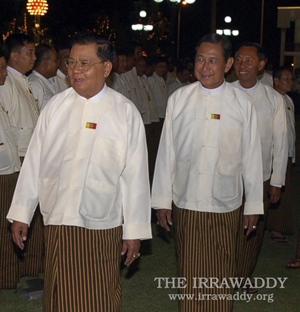 Maung Aye will receive medical care at Mount Elizabeth Hospital in the affluent city-state where Burmese generals have been frequent visitors in the past. He will arrive on Monday evening on a private flight, according to sources close to the Burmese embassy in Singapore.
A military source in Naypyidaw confirmed that Maung Aye will be transported by a specially equipped medical aircraft. His elder brother, Kyaw Nyunt, will accompany him to Singapore where relatives of his wife Myat Myat San stay, according to sources.
Maung Aye graduated from Intake One of the Defense Services Academy (DSA) in 1959.
In 1970, he was promoted to major and assigned to work as an instructor at the DSA. He also previously worked as the director of Defense Industries and then commander of Division 77 based in Pegu.
In September 1988, after the army staged a coup and brutally crushed a nationwide pro-democracy uprising, Maung Aye became a member of the newly installed State Law and Order Restoration Council. In 1990, he was promoted to major-general.
When Than Shwe took over as commander-in-chief of the armed forces from Gen Saw Maung in 1992, Maung Aye became deputy to the new junta chief—passing several experienced military officials including Maj-Gen Htun Kyi, Maj-Gen Kyaw Ba, Maj-Gen Sein Aung and Maj-Gen Myint Aung.
Maung Aye is known for his heavy drinking, love of golf and extreme bad manners. He was once drunk and stepped over the flag of the Karen National Union (KNU) at a ceremony at which Lt-Col Thamuhe, the commander of KNU Battalion 16, and his soldiers surrendered their arms to the Burmese government.