RANGOON — To solve current challenges in the commercial capital, the Rangoon divisional government will form a coordination committee with young entrepreneurs, said Chief Minister Phyo Min Thein.
Phyo Min Thein visited his alma mater, the National Management Degree College, on Wednesday afternoon and convened a two-hour meeting with students. He said that the first meeting with young businesspeople will take place on August 14, but did not mention a location for the event.
Once the committee is successfully formed, the Rangoon divisional government will supervise it. Committee members, Phyo Min Thein said, should have practical experience in the business sector and extensive knowledge of economics.
The chief minister admitted that the regional government is unable to solve every problem in Rangoon, identifying some of the most pressing issues as traffic congestion, growing squatter communities and poor rail transport.
"The Rangoon divisional government is formed of nine ministers, but to solve all these problems with just nine people is not possible," said Phyo Min Thein "We will share these duties with the younger generation, especially those who have practical business experience and knowledge. We will invite them to take on duties [depending on] how they can serve."
He continued, describing Rangoon as an attractive place for foreign business prospects, pointing out that while investors are interested in pursuing projects in the city, many complain of delayed trade flow and high daily expenses due to a lack of road infrastructure.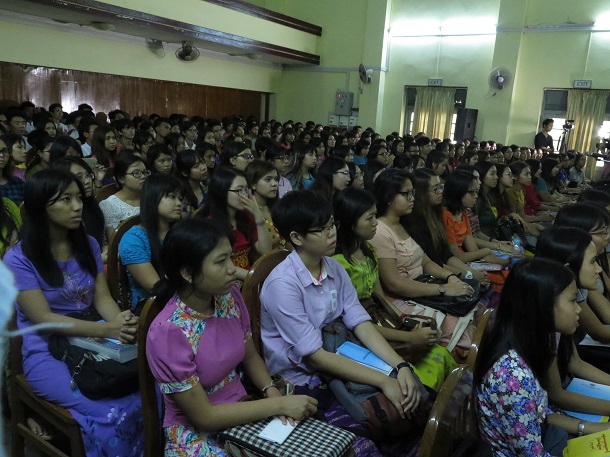 "The logistical cost is about 30 percent of the goods' value," he said of the high price of road transport.
Originally, the Rangoon divisional government decided to construct a new highway on the outskirts of the city, connecting the Hanthawaddy International Airport in Pegu Division—currently under construction—with Rangoon's Thilawa Special Economic Zone. Now, the new government is also looking to upgrade water transport and rail options. Phyo Min Thein said that better utilizing inland water transport could serve as a cheaper alternative to roads.
To accelerate the country's economy, the chief minister said that special economic zones could play an important role, even though the private industrial projects are accompanied by several challenges, including hosting a growing number of squatters who migrate to Rangoon seeking work. With comparably more infrastructure than many other states and divisions in Burma, job opportunities are perceived as more plentiful in the commercial capital. Yet housing in Rangoon is limited and can be expensive, leading many workers to set up makeshift shelters near factories where they work.
"This is the right time to change current situation," Phyo Min Thein said. "To relocate these people systematically, we will coordinate with the youth to solve this," he continued, referring again to the young entrepreneurs' committee, adding that he hoped their coordinated action would make it possible for those now living as squatters to "become valuable human beings."