The anti-coup protests in Myanmar have spread to the nation's capital, Naypyitaw—the fortress-like "Abode of Kings" that serves as home to the top Union government officials and the headquarters of the military. 
Protesters riding motorbikes took to the streets to show their disapproval of the military coup on Saturday and Sunday. They chanted slogans including "Down with the dictator!" "We want full democracy" and "Be in good health, Amay Suu!", referring to detained State Counselor Daw Aung San Suu Kyi. Local residents lined the streets to cheer them on. Those demonstrations ended peacefully over the weekend, when the regime blocked the Internet and social media services until Sunday afternoon.
On Monday, however, the situation between anti-coup protesters and security forces grew tense at Thabyae Gone Market, where more than 5,000 people started gathering in the morning to stage a protest against military rule. Before noon, police used water cannons to disperse the protest, spraying the crowd in short bursts. Video from the scene showed some protesters who appeared to have been hurt after being knocked to the ground. 
But it did not keep them quiet. The protesters gathered again in the afternoon and repeated their demands in front of a heavy police presence. At various times police were heavily barricaded and lined up in rows in riot gear.
Myanmar citizens elsewhere turned out for nationwide protests on Monday to reject military rule, with many civil servants refusing to work.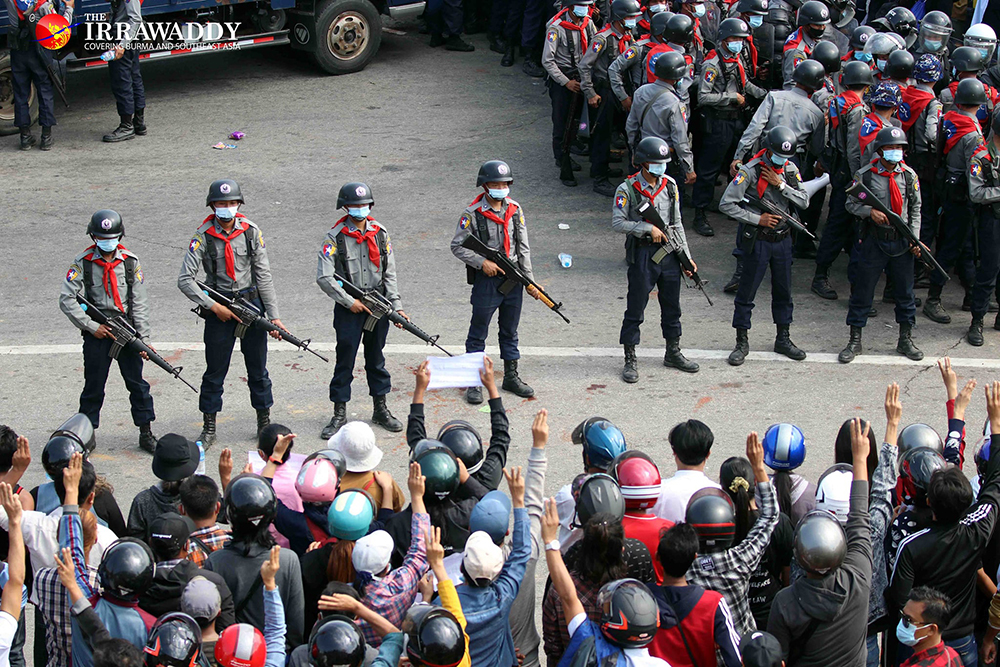 Meanwhile health-care workers at Naypyitaw's 1,000-Bed Hospital continued their civil disobedience movement for a sixth day. 
Naypyidaw once again proved it is no longer the military's stronghold, after a majority of its residents voted for the National League for Democracy in the 2015 and 2020 elections. 
The capital was built in secret and the generals relocated their regime to the city in 2006. 
The decision to move from Yangon to isolated Naypyitaw surprised many at home and abroad. Some asked whether the move was based on carefully considered military, political and economic factors, or whether it was a product of the whimsical superstitions of the country's then leader, the astrologically minded Senior General Than Shwe.
Western diplomats and journalists have in the past speculated that junta leaders were worried about a possible seaborne invasion by a foreign power, notably the US, or another nationwide popular uprising such as the one that occurred in 1988, during which the War Office in Yangon was surrounded by thousands of demonstrators. The top generals monitored the unfolding demonstrations barricaded in an operations room behind fortified walls and guarded by machine guns.
If the rationale for moving Naypyitaw was to put it out of reach of demonstrators, Monday's events demonstrate that the city is no longer a protest-proof capital. 
You may also like these stories:
Myanmar's Military Re-Arrests Two Chief Ministers
US Ambassador Calls for Myanmar Military to Restore Power to Elected Government