YANGON – Although there have been no fresh clashes in northern Rakhine State, at least 2,560 people have fled to Bangladesh from the strife-torn area since the start of the year. Meanwhile, a further 818 are currently encamped near Gawdu Tha Ra village, the main launching point in southern Maungdaw for the final cross-border boat trip to Myanmar's western neighbor.
The ongoing flight from Maungdaw seems at odds with the refugee repatriation process that Myanmar and Bangladesh authorities had agreed would begin on Jan. 23. As of Feb. 15, not a single refugee has been returned to their Myanmar homes.
According to recently updated Ministry of Home Affairs statistics seen by The Irrawaddy, security forces and local authorities determined about 500 Muslims initially left rural areas in Buthidaung and Rathedaung around Jan. 5.
The statistical report shows 1,000 people crossed the border by boat in January, with a further 1,360 Rohingya leaving the country in the first 15 days of February. In addition there are now 818 Muslim villagers waiting at the Gawdu Thara shore.
According to the government statistics, an average of 75 Rohingya had fled their villages each day between Jan. 1 and Feb. 15. The villagers are mostly from Buthidaung and Rathedaung townships, which are situated on the western and eastern sides of the Mayu mountain range. Some of these areas were spared during the military's clearance operations in late 2017.
The Cause of the Exodus
According to the Home Affairs reports, Muslim residents are fleeing their villages after suffering food shortages and financial hardship since fighting broke out between government security forces and the Arakan Rohingya Salvation Army (ARSA), formally known as Harakat Al-Yaqeen (faith movement), in Maungdaw region last August.
In total, the government army's months-long offensive has forced more than 650,000 Rohingya to flee to the Bangladesh border, with almost two-thirds of Rohingya villages reduced to ashes. The UN described the devastation as a "textbook example of ethnic cleansing."
United Nations High Commissioner for Refugees (UNHCR) head Filippo Grandi reported during a UN Security Council gathering on Tuesday that since the start of the year Bangladesh authorities had registered 1,500 new refugees who had come from the Maungdaw side.
A Muslim civil servant from Buthidaung, U Tun Thar (name changed for his safety), explained that the Rohingya had abandoned their villages as they have been living for seven months without being able to harvest crops, and they don't dare enter the nearby forest to search for edible plants or try to catch fish in nearby waterways.
"Villagers are scared of entering the forest or harvesting paddy as they are worried about being arrested by security officials. Border police check every person wherever they go and residents hesitate to go outside of their villages or to the Buthidaung market."
U Tun Thar said that although the Myanmar authorities are claiming that the Union Enterprise for Humanitarian Assistance, Resettlement and Development (UEHRD) is providing humanitarian assistance to Muslims in Maungdaw, Buthidaung and Rathedaung Townships, in practice, not much food is being delivered.
"Many Rohingya, including my relatives and friends have sought refuge in Bangladesh. At least on the Bangladesh side, they don't have to worry about starvation and being detained," he said.
Tough Journey
This Irrawaddy reporter went to southern Maungdaw for several days in December in order to observe the situation in Inn Din where a mass grave containing the remains of 10 murdered Muslims was found, and noted how all of the Muslim villages along the side of the Ah Ngu Maw-Maungdaw highway had been burned to the ground.
In some places, even years-old raintree, mango and coconut trees had been cut down and their roots dug up. Occasionally, Arakanese villagers and plain-clothes armed soldiers were seen patrolling the burned-out sites where signs warning "Forbidden Area" were nailed to trees.
U Tun Thar said that Ale Than Kyaw and Inn Din villages no longer had any Muslim inhabitants. The area had been nearly 80 percent Muslim before the 2017 August violence but most of the Rohingya displaced from Rathedaung and Buthidaung had since made the six-hour-long trek across the Mayu mountain range to reach Ale Than Kyaw and Inn Din villages before getting a boat to Bangladesh.
Now, Gawdu Thara is an essential gateway for refugees. A displaced Rohingya, Abdul Wahid (not his real name), who had been sheltering for six months in a neighboring village in Buthidaung Township explained that border police often blocked the route, preventing Muslims from crossing Mayu mountain. However, on paying a bribe they are allowed to take the path, which leads directly to the Gawdu Thara seaside of southern Maungdaw.
"They charge 1,000 kyat for each person who wants to cross the mountain," he said.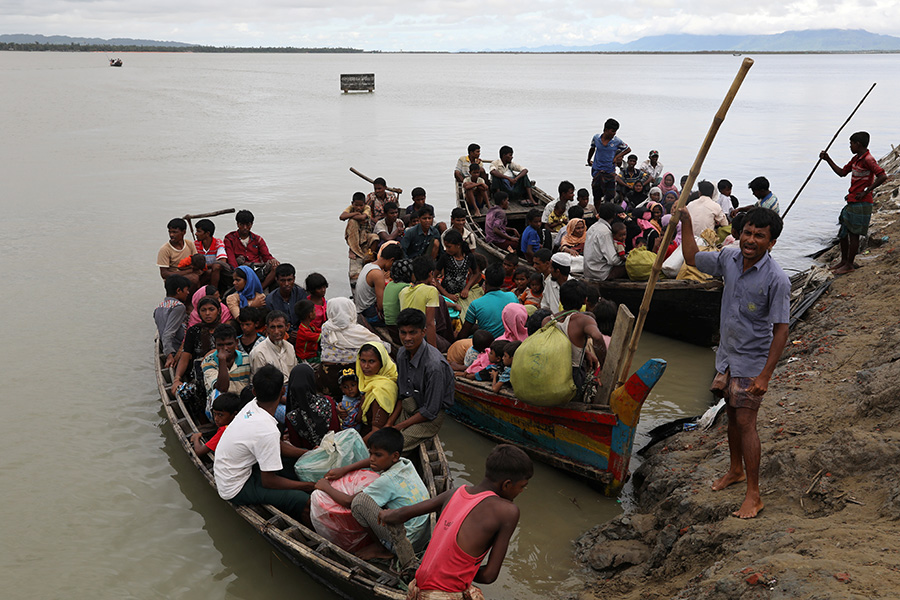 After arriving at the Gawdu Thara shore, refugees can make contact with Bangladeshi boatman. Each passenger is charged around 60,000 kyats (US$45) for the three-hour trip to Bangladesh, although children are allowed to travel for free.
Why Does the Government Allow the Border Crossing?
Normally, crossing the border without an official permit is illegal in Myanmar but an exception has apparently been made in strife-torn Maungdaw. Local authorities and border police visited the refugees at Gawdu Thara and made an updated headcount but took no other action to stem the flow of humans leaving the country.
Commenting on the recent exodus, President Office's spokesman U Zaw Htay explained that authorities could stop the border crossings but such conduct would likely attract a lot of international criticism. Local authorities had sought to reassure the Muslim refugees about their personal security and had offered them food but failed to convince them to stay in Myanmar.
He noted that Muslim residents were still receiving death threats from ARSA, while relatives in Bangladesh IDP camps were urging them to seek refugee status in a third country. He echoed the presentation of Myanmar envoy Hau Do San to the UN Security Council on Tuesday, who noted that the death of two camp leaders in Bangladesh had scared Rohingya from returning.
U Zaw Htay said the killings were the work of ARSA militants – who mingle among the occupants of the Muslim camps as ordinary residents —in order to undermine the repatriation process.
As the number of those still fleeing climbed, UK Secretary of Foreign Affairs Boris Johnson made a one-day visit to Maungdaw Township in a military chopper over the weekend. He was joined on the trip by Social Welfare Minister Dr. Win Myat Aye, Rakhine State Chief Minister U Nyi Pu as well as British Ambassador Andrew Patrick.
The Rohingya Horror
The group met with residents of Pan Taw Pyin on the outskirts of Maungdaw, which was one of the villages that had been spared arson attacks during the military's sweep through the area, although the majority of villagers have already fled to Bangladesh, and Taung Pyo Let Wei in the northern part of the state, where temporary camps have been established for the refugee repatriation.
Mr. Johnson asked the villagers, "Do you feel safe here?"
The Muslim residents answered in the affirmative and the delegation also noted the perspectives of Pantaw Pyin villagers on refugee repatriation and the rehabilitation process. Johnson uploaded a video of the visit to his official Facebook page on Feb. 11, which was taken near a border post in Maungdaw.
In the clip he says, "There has never been an exodus like it in our memory. Our hope is, they would be allowed a safe, voluntary and a dignified return."
Johnson also met with State Counselor Daw Aung San Suu Kyi, and the government issued a short note about their discussion. Johnson expressed sympathy for the tough position of Myanmar's de facto leader and urged her to show some leadership by working together with the international community and UN agencies to show the Rohingya that Myanmar welcomed them back and regarded the villages in the troubled area as their homes.
Mr. Johnson told the reporters, "The difficulty is, to be honest, I am not sure she really understands the full (Rohingya) horror."
Zaw Htay disputed Johnson's statement. "Making a conclusion on Myanmar by reading international news outlets' coverage could be misleading. It could result in a mismatch with the situation on the ground. Myanmar citizens know the country's situation better," he said.
On Thursday morning, Home Affairs Minister Lt. Col Kyaw Swe and 11 fellow officials from relevant departments travelled to Bangladesh to discuss border security and collaboration on counter-terrorism operations, while also providing a list of 1,300 alleged Muslim terrorists to their Bangladeshi counterparts, Zaw Htay said.
He reiterated that Myanmar had already delivered a verified list to Bangladesh of 500 Hindus and 600 Muslims that it had identified as former residents of Rakhine State but none had been handed over as of Feb. 14.
"We (Myanmar) are ready to take them back but it is not happening because of one side," Zaw Htay said.
Meanwhile, Bangladesh authorities repeated their appeal for the UN to become involved in the repatriation process. Instead the issue seems likely to become a deadlock between the two nations. Based on Zaw Htay's comments, Myanmar will not allow UNHCR aid workers to resume their relief efforts in Maungdaw until a time deemed suitable by the government.