More than 110 people, many of them student activists and youth protesters, were abducted by the junta this week as it intensified its clampdown on opponents of the re-instatement of military dictatorship.
Junta forces conducted arbitrary abductions in a number of cities in Mandalay, Sagaing, Yangon, Tanintharyi and Ayeyarwady regions and Kachin, Karen and Shan states throughout the week.
On Thursday, they rounded up four university students in Myayi Nandar ward in Mandalay. Two university students were arrested in Pathein Township in Ayeyarwady Region by plainclothes officers, while two students, including a high school student, were arrested in Dawei, Tanintharyi Region during a crackdown on anti-regime protests. The other three civilians were arrested during the crackdown.
On Friday, junta troops detained six civilians in another raid in Myayi Nandar ward.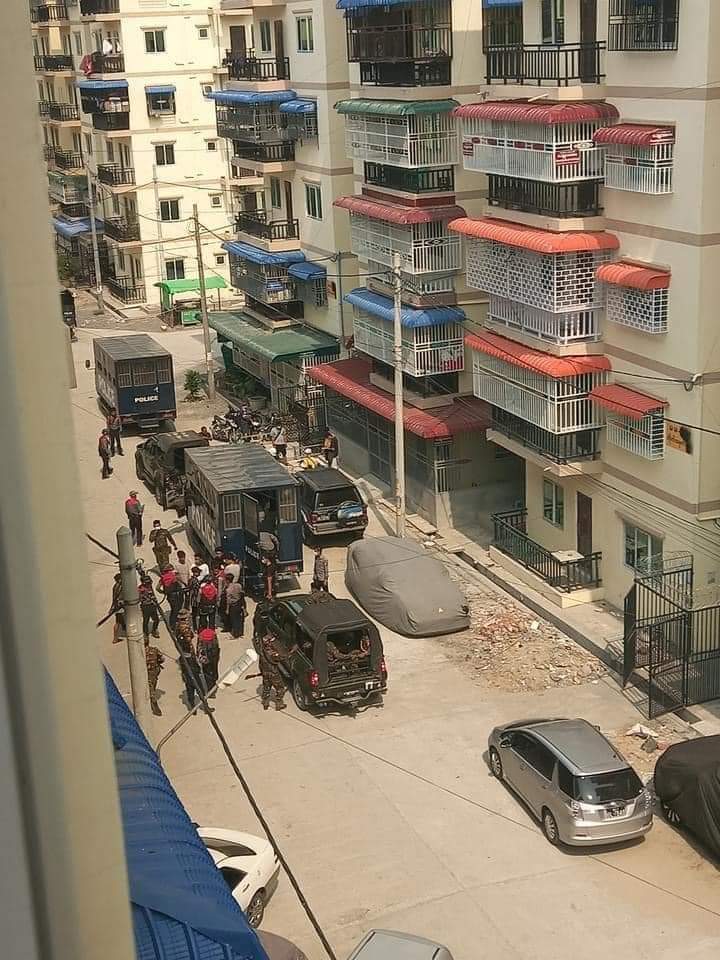 The junta accused the detained youths of being "rioters" and disrupting the tranquility of the state. The same accusation was cited in abductions of youths in various other places, with many facing additional accusations of destroying property, as numerous explosions and arson attacks have occurred across the country recently following the regime's brutal crackdowns on protesters.
In a case in Yangon Region's Yankin Township, the regime's troops tortured a number of youths after arresting them in pre-dawn raids of residential areas following a series of deadly blasts that killed a police officer and wounded three others.
The regime's propaganda TV channel announced that six people—two women and four men—had been arrested in the township with homemade bombs and related materials after a tip-off. In pictures aired during the report, the accused show signs of severe torture.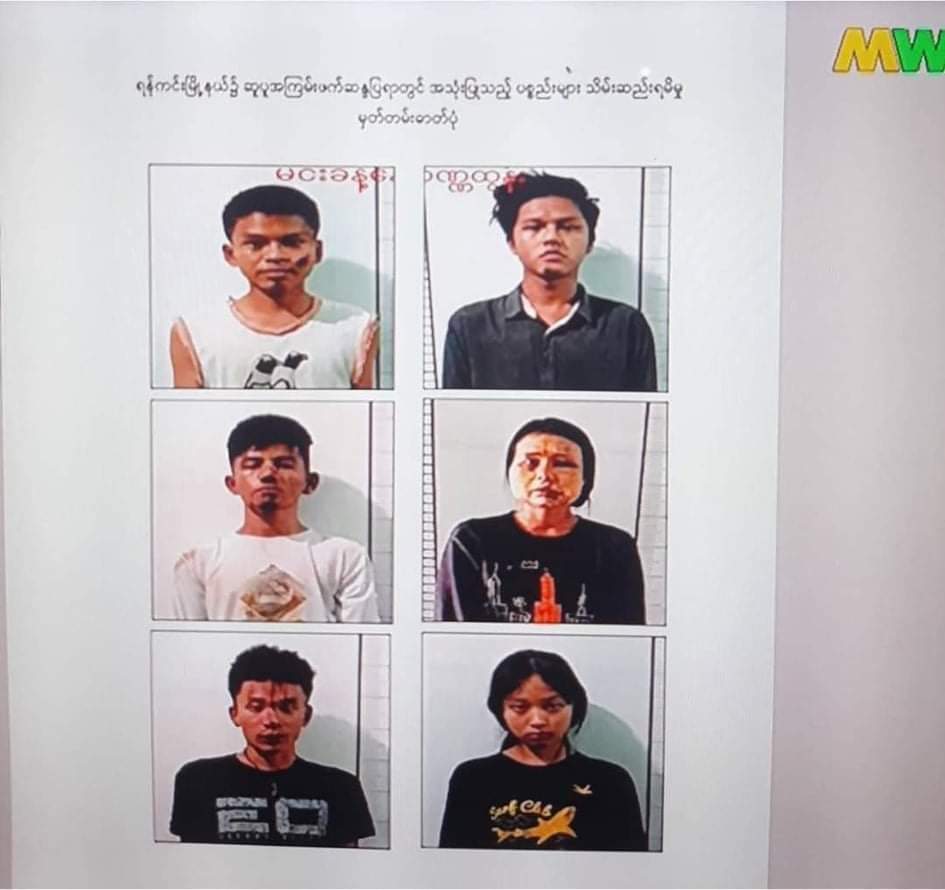 However, locals said that many more people had been arrested and that at least 10 of them, including the six identified by the junta, were being held at an interrogation center on the outskirts of Yangon.
In Kachin State's Myitkyina, a large number of troops surrounded the residence of Myo Htet Naing Lin, a second-year university student at Myitkyina University who has actively participated in anti-coup protests, at around 6 a.m. and abducted him.
At least 20 civilians were arrested in Sagaing Region this week, including two university students from Shwebo, and others from Kanbulu, Khin U, Monywa, Kalay, Yinmabin, Mingin and Wetlet townships. Some were beaten and dragged away as the regime's forces raided residences in search of homemade weapons.
Other pro-democracy protesters from Mohnyin, Myikyina and Bhamaw in Kachin State; Mogoke in Mandalay Region; Bago Region; Taunggyi in Shan State; Yangon Region; Pakokku in Magwe Region; Dawei and Kawthoung in Tanintharyi Region; and Maupin and Myaungmya in Ayeyarwady Region, were also arrested this week.
Sayadaw U Yewata, a Buddhist monk in Mogoke, famous actor Zenn Kyi and film director Christina Kyi, actress Myo Thandar Tun, two striking teachers from Hpa-an in Karen state, a former administrator who resigned from his job because he was unwilling to work under the regime, and a number of journalists were also among the most recent prisoners of the junta detained this week.
Sayadaw U Yewata, who is a former chairman of the All Burma Federation of Student Unions, was beaten and taken from Yaypu Monastery in Mogoke. The abbot of the monastery was also arrested for trying to stop police brutality against protesters and forced to disrobe while in detention. The senior monk was also sentenced to three years in prison by the regime on April 10.
The junta-controlled state TV announced on Thursday night that the celebrity couple Zenn Kyi and Christina Kyi were being interrogated while under house arrest after plainclothes officers stopped them at Yangon International Airport as they were preparing to leave for Bangkok on April 17. The inclusion of the picture of their son in the report has drawn widespread condemnation.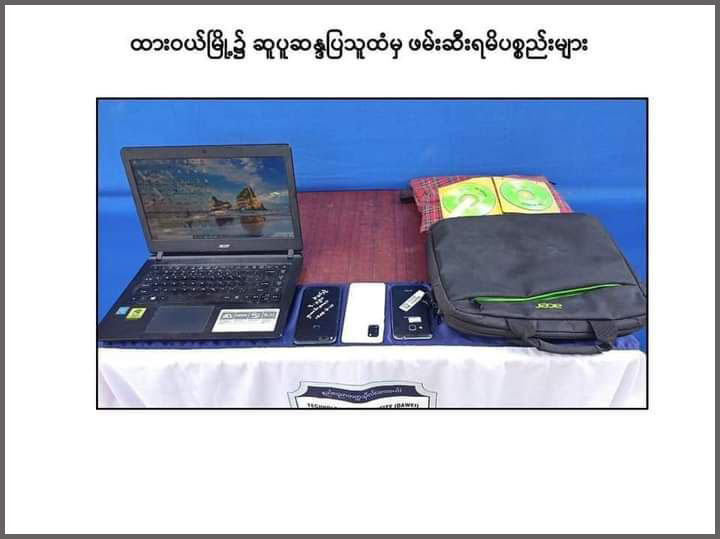 On April 21, Ko Naing Lin Tun, a reporter for the Dakkhina Insight online news page, was arrested. Local news outlet Dawei Watch reported that he was arrested while covering an anti-regime protest and suffered a head wound after being grazed by a bullet. The junta announced that the detained reporter was charged with inciting unrest and circulating fake news under Article 505(a) of the Penal Code.
According to the Assistance Association for Political Prisoners, which tracks detentions, the regime had detained more than 3,300 people by April 22 and issued arrest warrants for 1,099.

You may also like these stories:
China Says ASEAN Summit Should Fend off External Interference in Myanmar
Myanmar's National Unity Govt Asks Interpol to Arrest Coup Leader
Bangkok Ducks ASEAN's Myanmar Challenge