This month marks the 13th anniversary of the Saffron Revolution, a series of mass protests led by Buddhist monks against Myanmar's military government.
Nine days of demonstrations not only rocked Myanmar but shook the conscience of the free world. Protesters in Yangon and other cities and in the country's monasteries endured just over one week of bloody suppression.
Bangkok-based author and photojournalist Thierry Falise lived through the events in Yangon and wrote a diary of the nine days of terror, first published in The Irrawaddy magazine in November 2007. We republish it here.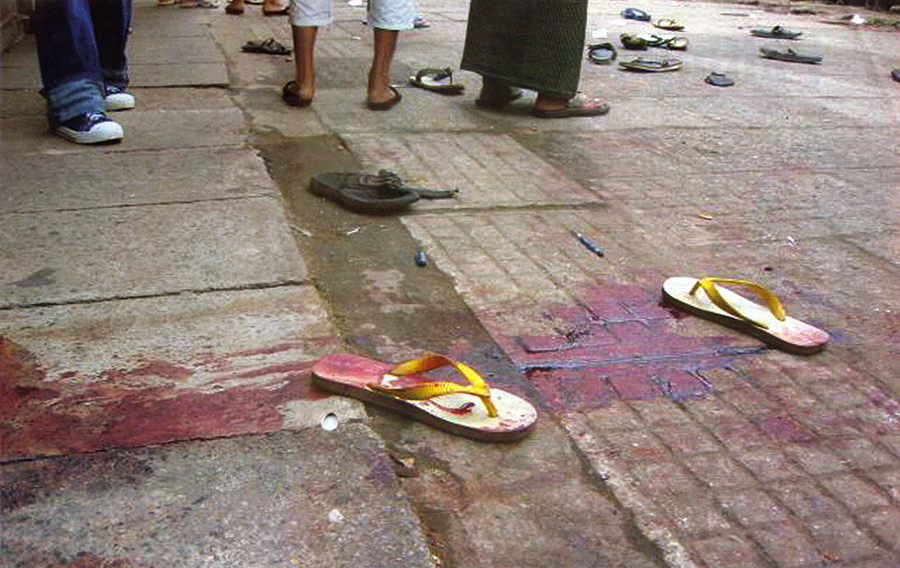 Friday, September 21—It has been raining nonstop for days. I rushed down from Mandalay yesterday when I heard about the first demonstrations by monks in the former capital. Around 3 p.m., while working in my hotel room, I hear some psalmody rising up from the street. From the window, I observe a couple of hundred monks walking in the rain. By the time I pack my photo equipment and rush down, they have reached the nearby Sule Pagoda. Most of the monks are under 30. A small crowd of civilians have joined them. Some applaud, others bow on the wet ground, a group of youths form a human chain as if to protect them against a still invisible enemy.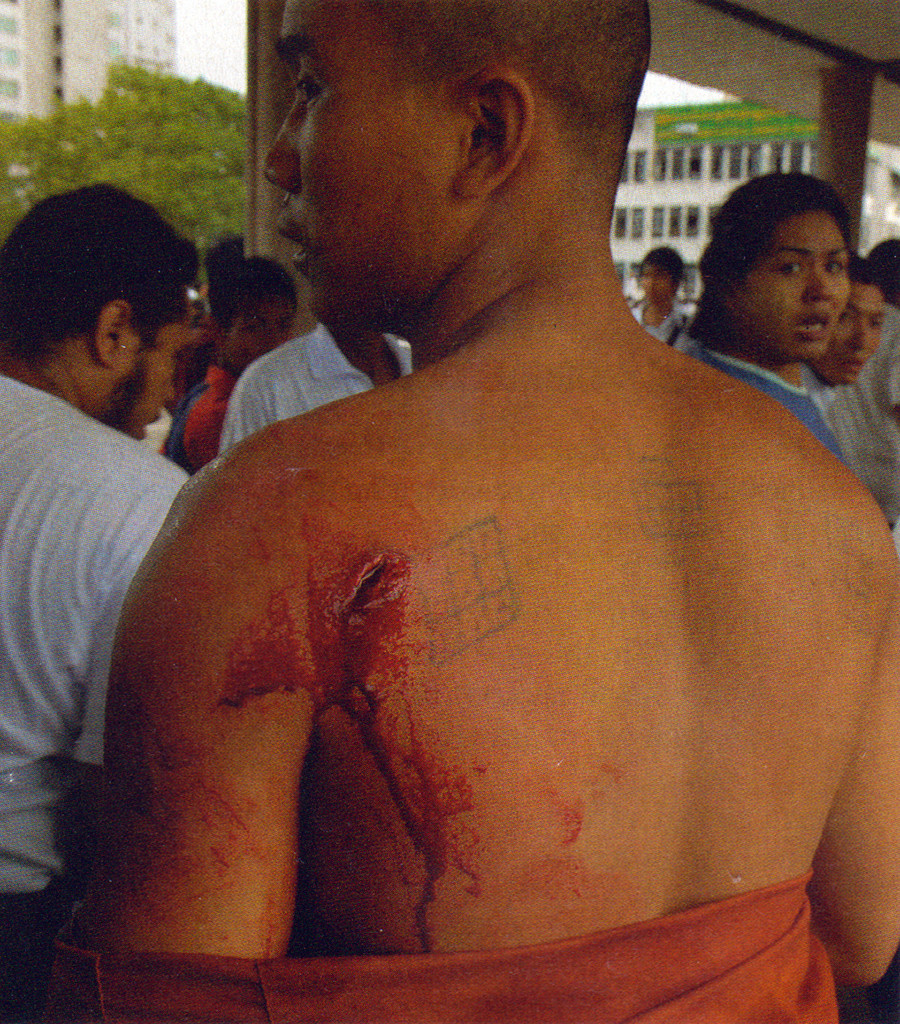 The monks leave the City Hall area and, under torrential rain, start to walk at a quick pace on streets transformed into rivers. They repeatedly chant the Buddha's loving kindness incantations.  A smiling man offers to hold my umbrella while I am taking pictures. Two hours later, the procession ends at the Bohtataung Pagoda. I did not see any uniformed men during the whole afternoon, nobody has asked me any questions, but I am sure the crowd is infiltrated by plainclothes policemen and members of the government-back thuggish organization, Union Solidarity and Development Association. "See you tomorrow," a man whispers.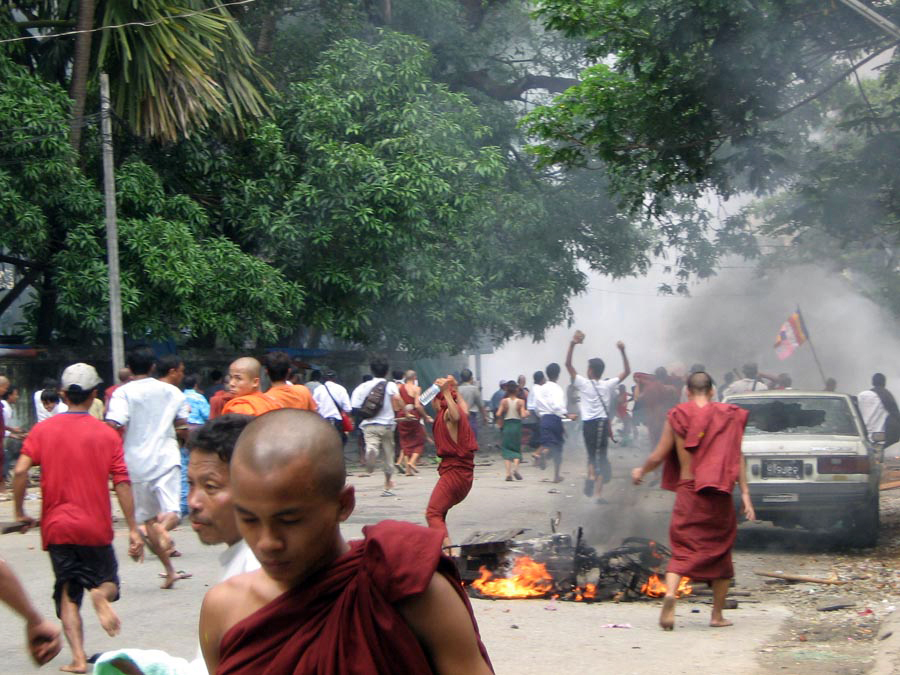 Saturday, September 22—After vainly looking for them around the Shwedagon Pagoda, I finally meet the demonstrators on their way to the Sule Pagoda. There are more monks and civilians than yesterday. A nasty-looking guy with a "Press" badge is filming the whole scene, apparently only interested in people's faces. At an almost racing pace, under an unrelenting rain, the cortege passes through Rangoon townships before dissolving around 6 p.m.
Some people tell me that several hundred monks marched through barricades on University Avenue, where detained Burmese Nobel Peace Laureate Aung San Suu Kyi lives and chanted the "Metta Sutta" (the Buddha's words on loving kindness) in front of her house.  Authorities made no effort to stop the monks. Suu Kyi came out of her home to pay her respects to the monks.
I start to feel that something serious is happening. It's an odd, exciting, emotional feeling to be living history from within.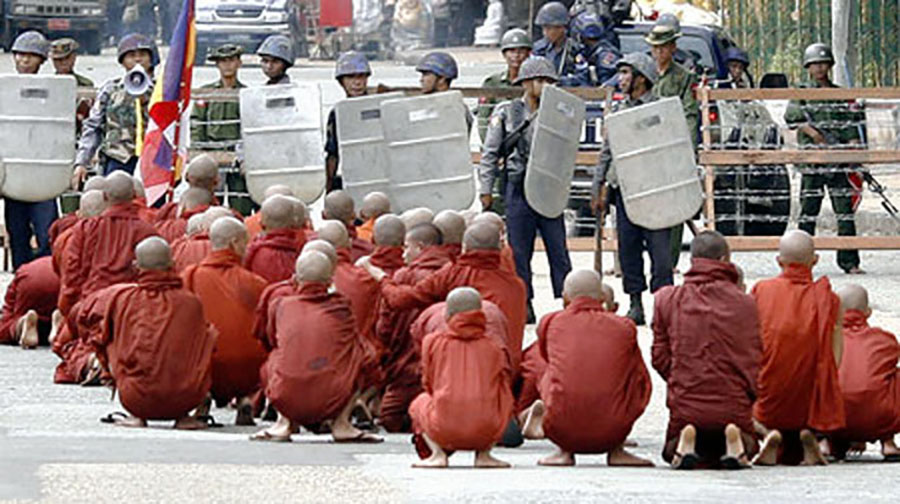 Sunday, September 23—I meet the day's protesters at the Sule Pagoda. Two monks hold a banner in English: "The loving kindness must win everything." In a strong sign of protest, a monk raises his turned-up alms bowl.
About 2,000 monks, joined for the first time by white-clad nuns, march from the Shwedagon Pagoda towards the city center. The monks and nuns, together with hundreds of accompanying young people and students, shout demands for lower commodity prices, a start to meaningful political dialogue and the release of Suu Kyi and other political prisoners.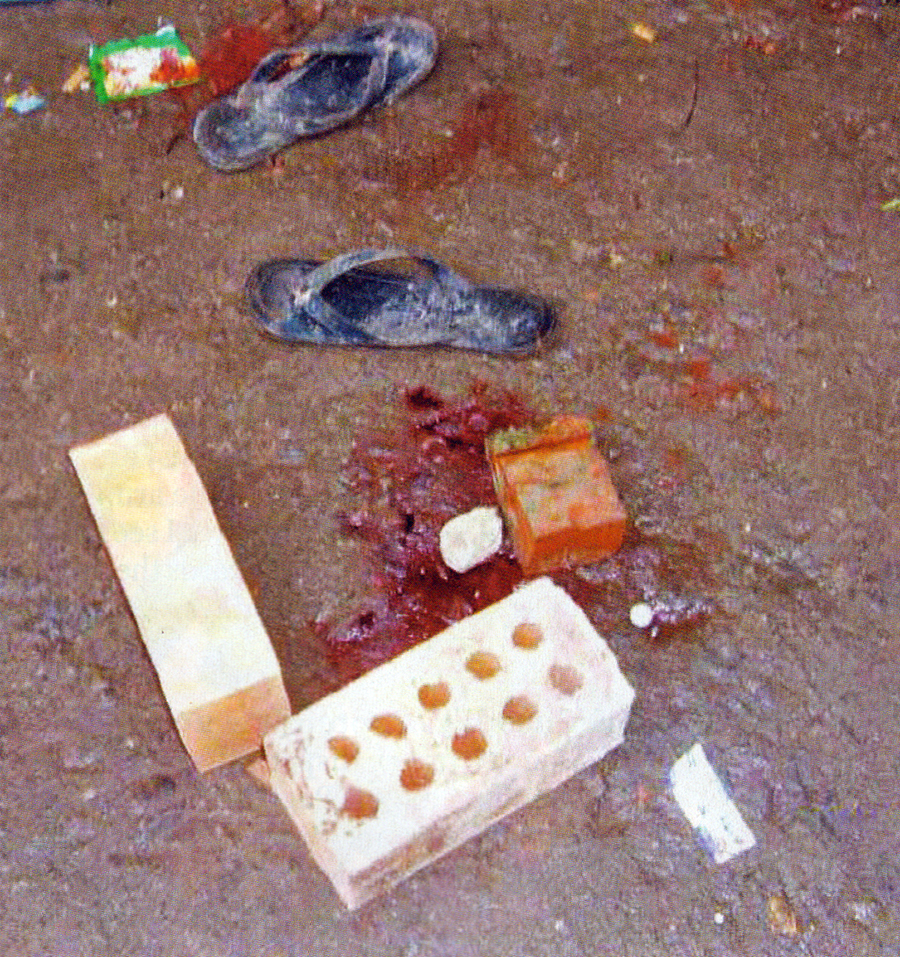 Monday, September 24—The sun is back today. I go to watch thousands of monks gathering at the foot of the Shwedagon Pagoda. A maroon and purple wave cuts through a compact crowd, sweeps through the sacred pagoda and then flows down to the city center. I feel enveloped by a sweet cyclone of fervor and hope. A huge crowd is now gathering all along the streets. Hundred of thousands of Rangoon dwellers applaud from sidewalks, balconies, apartment windows, the roofs of department stores, businesses, from every corner of the city.
Tuesday, September 25—A scorching and humid heat covers the city. The protest turns out to be more political today. People wear T-shirts with portraits of Suu Kyi and her father, Aung San.
An infirmary has been set up at the Sule Pagoda. Civilians are applying plasters to the blistered feet of monks and are massaging soar legs. Someone announces that members of the National League for Democracy are going to make a speech and loudspeakers are brought. But, at the monks' request, there won't be any political speeches.
The monks start marching again. More and more people cheer them. There are shouts of "democracy" and the demonstrators look as if they have already been liberated. Several other foreign photographers are now covering the demonstrations, and during a brief stop dozens of people cheer us and tell us: "Let the world know about our miserable fate. We are not against the soldiers, but against the army's leaders."
Around 5 p.m., back at the hotel, I see four military trucks full of soldiers driving towards the Sule Pagoda. A curfew is imposed for 60 days. Repression has started.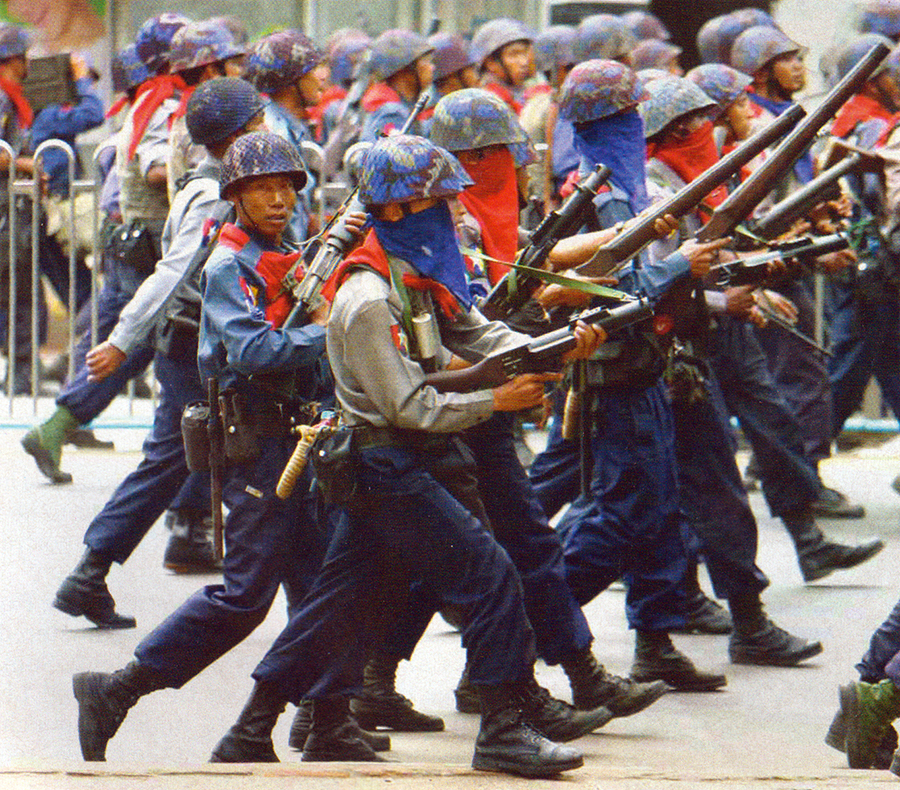 Wednesday, September 26—Shortly before noon, security forces disperse the crowd with tear gas at the Shwedagon Pagoda. About 100 monks manage to gather on a street below the pagoda. In less than an hour, they are met by thousands of people surging from side streets and buses and are welcomed emotionally by their supporters.
People show up in greater numbers than yesterday. They give us, the photographers, water, sweets and protective masks to wear in the case of tear gas attack. People tell us soldiers are shooting directly into the crowds in some parts of Rangoon. Anger and emotion fill the air.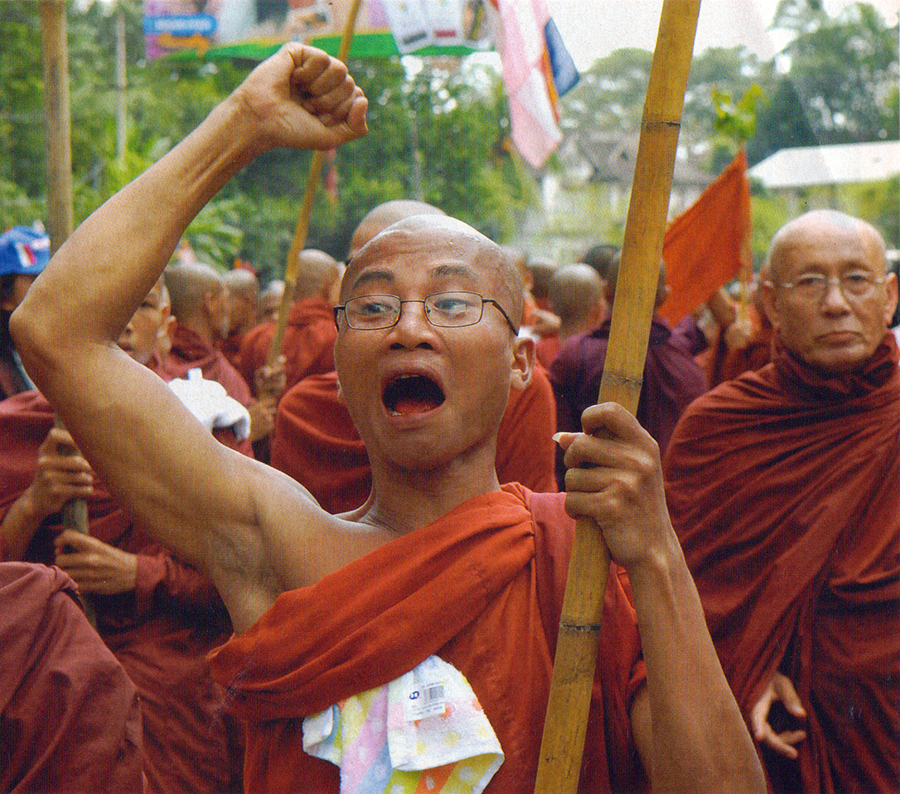 Thursday, September 27—A contact tells me that there is trouble near the Ngwe Kyar Yan monastery, in northern Rangoon. I rush there with two colleagues. Soldiers, policemen and vigilantes block the roads.
The night before, at least 200 monks were brutally arrested in this monastery, and we hear that one died. Hundreds of local people fill the streets, outraged by the arrests. We are told that soldiers opened fire on student protesters in Tamwe Township and that a group of children from a primary school was trapped behind the security forces' lines.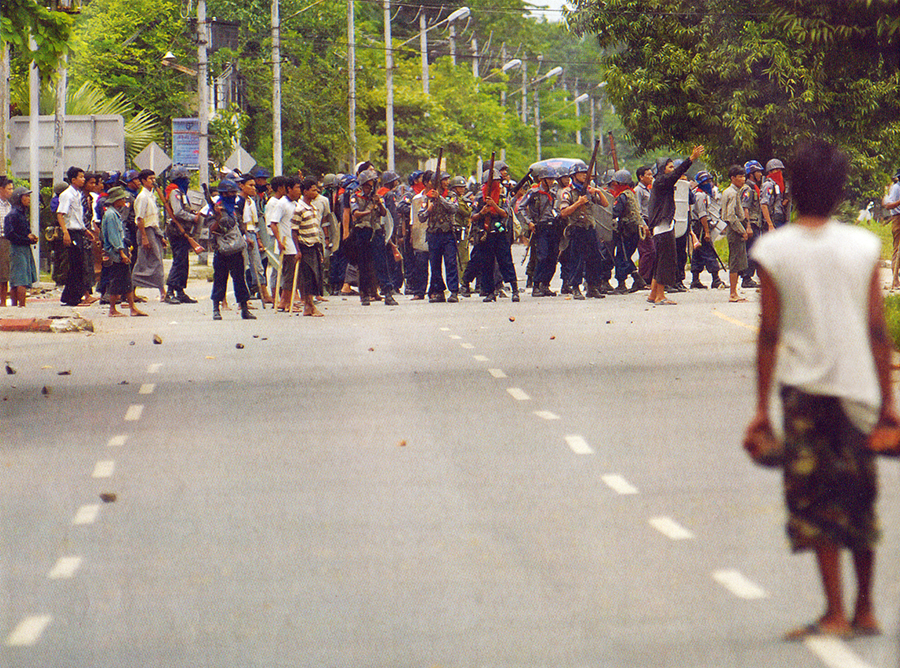 A man says: "Thirty people have been killed at the Sule Pagoda," and we rush back downtown. The report turns out to be untrue, but the whole area is infested with soldiers and policemen. I see two large blood stains and dozens of slippers on the road, and I'm told "a Caucasian journalist has been killed." Later, it's confirmed that a Japanese photojournalist was shot dead.
At a large intersection near the central railway station, a small group of monks has emerged from nowhere. In a few minutes, thousands of people gather around them and start to walk on a nearby bridge. Soldiers suddenly appear from the bridge's sides and shoot at us. Run…run! Everyone must run for their lives.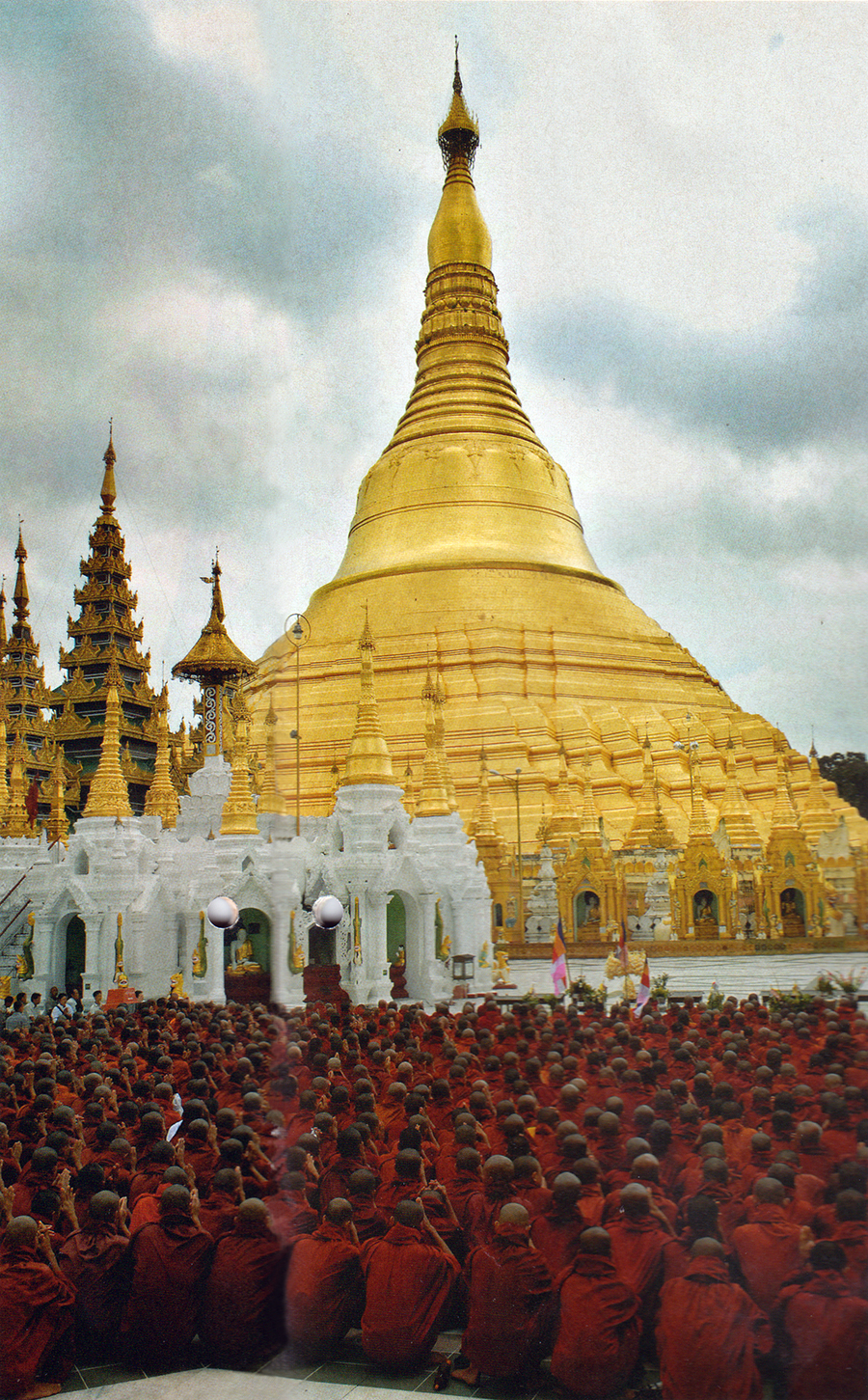 Friday, September 28— Crowds defy the military troops in several parts of Rangoon. Groups of people try to reactivate demonstrations but each time, security forces come and separate them. Downtown, dozens of protesters have been arrested, bound and beaten. The troops pursue fleeing people into buildings, singling out those with cameras.
Trucks loaded with troops raid the offices of Burma's main Internet service provider, Myanmar Info-Tech, located at Rangoon University's Hlaing campus around noon in an effort to cut all public access to the Internet. The move is in response to the flood of photographs, videos, news reports and e-mails sent out of the country to the international media and the rest of the world by Burmese citizens. Burma is returning to the dark ages.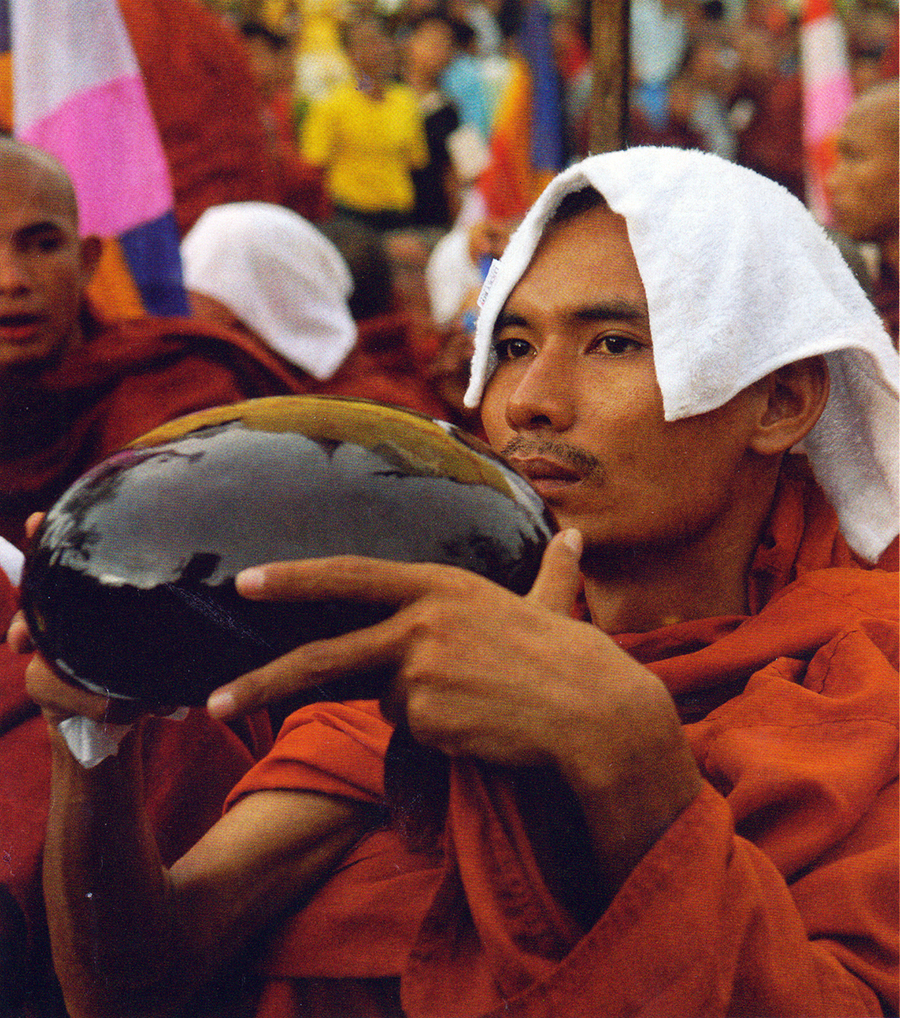 Saturday, September 29—Security forces are now playing cat and mouse with us foreign journalists. Whenever we approach a group of civilians, they start to move towards us, starting a panic. In one incident, we run down from a bridge and take shelter in a monastery, hidden by the monks.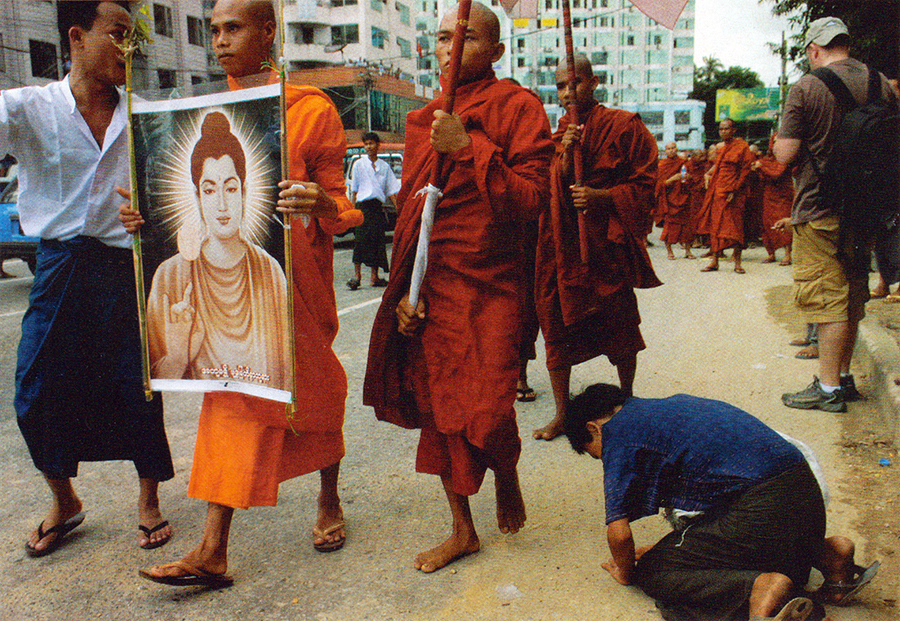 In the late afternoon, I return with two other journalists to the Ngwe Kyar Yan monastery. There are only a few old monks left. First we pretend to be tourists but when we start to ask less innocuous questions we are faced with embarrassed looks. A big man, faking sympathy and interest, shows up. USDA, I guess. Four military trucks appear and soldiers deploy around the monastery. We rush into a taxi. Later I learn that UN special envoy Ibrahim Gambari has arrived in Rangoon and is being briefed by UN officials. He heads immediately to the capital, Naypyidaw, to meet with the military leaders.
Burma's state-run media announces that junta chief Snr-Gen Than Shwe is prepared to meet Suu Kyi, while the UN Security Council discusses the Burma situation. The Security Council issues a unanimous statement saying it "strongly deplores" the regime's violent crackdown—yet the arrests and intimidation continue regardless.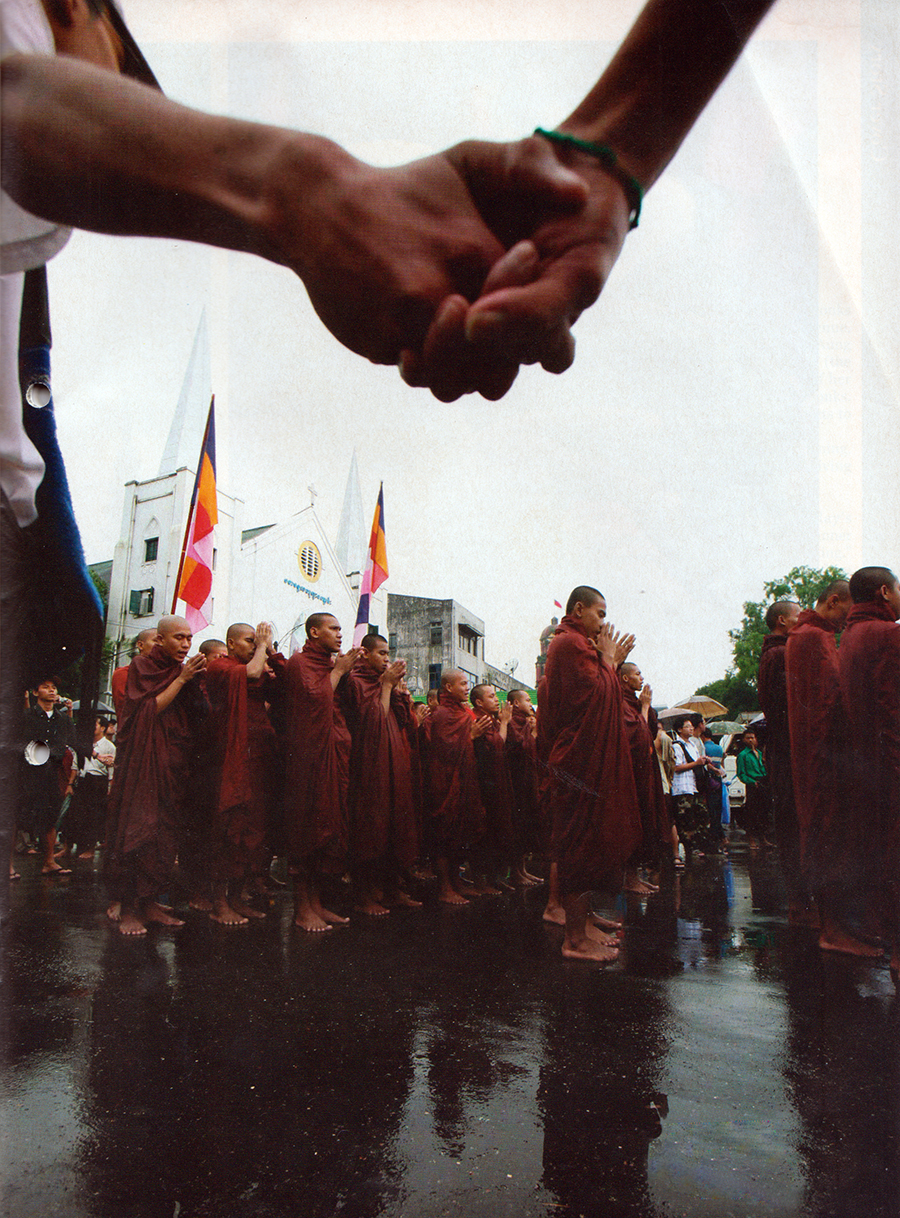 (Additional reporting by Yeni)