Arts
Animal-loving Artists Showcased in Exhibition of Pet Portraiture
The exhibition runs through Sunday at 43 Art Gallery in Yangon.
By Wei Yan Aung 1 December 2017
An unusual exhibition of paintings currently on display in commercial capital Yangon showcases three artists' talents for depicting animals, or what they collectively refer to as their "Innocent Models."
The "models" depicted here are all companions of the artists, but not of the human variety. Rather, the works all show pets of various kinds, or in the words of artists KM Kyaw Oo, Nyein Nyein Ei and Yi Yi Khin, their "little creatures" and "cute characters."
"This is a gathering for those who love pets. We want to show that domestic animals have feelings and a consciousness that people aren't aware of," KM Kyaw Oo said.
A common theme in these paintings is the concept that the eyes are "windows to the soul." The artists show that, just as with humans, the eyes of animals convey much about their emotional lives.
"I love his eyes. He seems to be deep in thought," KM Kyaw Oo said of the canine subject of his painting "His Thought."
Among KM Kyaw Oo's other animal subjects are roosters. While these animals are not commonly kept as pets by residents of urban areas in Myanmar, they are found in many rural households. "They're lovely, especially with their combs and tail feathers," the artist said.
Like KM Kyaw Oo, cat lover Nyein Nyein Ei focuses on the eyes of her subjects. "I have tried to interpret the feelings reflected in their eyes. My paintings are mainly about capturing that gaze," she said.
Yi Yi Khin's preferred subjects are colorful fish. "I love their movements, and colors. My favorite are goldfish. I think their colors are captivating and I love replicating them in my paintings."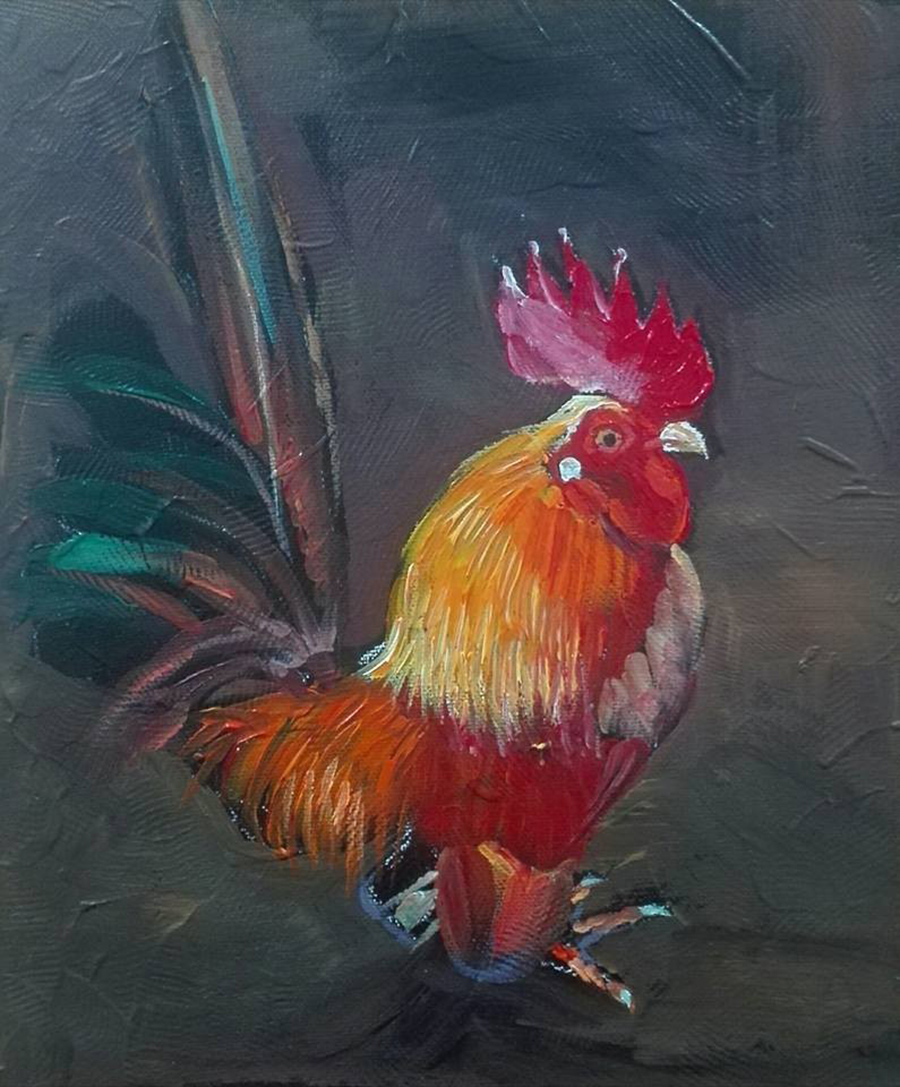 The exhibition, which runs through Sunday at 43 Art Gallery on 43rd Street, Botahtaung, features around 60 paintings, which can be purchased for between US$100 and $400.