The Myanmar junta's nuclear ambitions are once again in the spotlight after it begged China to help train its experts in the use of nuclear technology at a China-ASEAN (Association of Southeast Asian Nations) nuclear forum last week.
The request makes China the second country to be approached by the junta regarding the technology. Currently, the regime is collaborating with Russia's state-owned nuclear corporation Rosatom after opening the country's first nuclear information center in Yangon early this year.
During the Second China-ASEAN Forum on the Peaceful Uses of Nuclear Technology in Guangxi in southern China on Saturday, the Myanmar junta's Ambassador to China and North Korea Tin Maung Swe asked China to share its expertise in using nuclear technology in the agriculture, health and energy sectors, as China already has advanced technology in these areas, according to the junta's Information Ministry.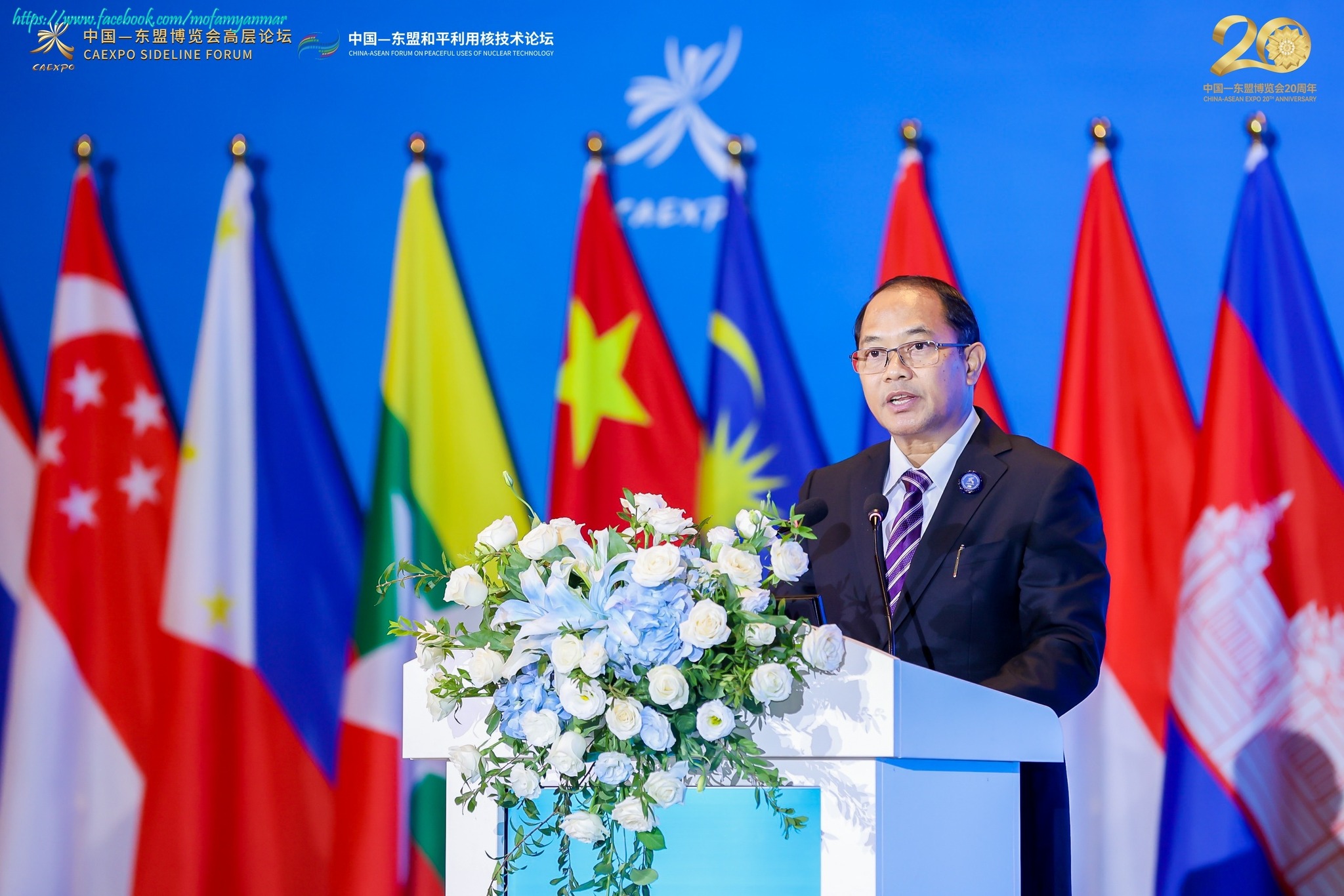 At the same forum, the regime's Deputy Minister for Science and Technology Dr. Aung Zeya invited Chinese collaboration with Myanmar on research and human resource development related to the peaceful use of nuclear technology.
The forum was jointly hosted by the Guangxi Autonomous Region government and the China National Nuclear Corporation. It was joined by ASEAN secretary-general Kao Kim Hourn.
Liu Jing, vice chairman of the China Atomic Energy Authority, told the forum that China has cooperated with Indonesia to establish a joint laboratory for high-temperature gas-cooled reactors; with Thailand to design and build micro research reactors and experimental tokamak nuclear fusion devices; and with Malaysia to build commercial reactors.
Liu added that under regional cooperation programs, China provides training and seminars, scientific visits and exchanges for ASEAN countries, suggesting Myanmar could expect to receive such assistance on nuclear technology from China.
The Myanmar regime's pursuit of Russian assistance to acquire nuclear capability dates back to the previous military regime in the early 2000s.
In 2007 the then regime led by Than Shwe struck a deal with Rosatom to build a nuclear research center in Myanmar, which Rosatom said would be under the control of the International Atomic Energy Agency. But construction never moved forward amid pushback from the US and other countries.
The nuclear information center's launch early this year was the latest step on Myanmar's path to nuclear capability following the signing of a memorandum of understanding with Russia in St. Petersburg in June 2015.
The Myanmar military regime has made rapid moves to acquire nuclear technology since staging a coup in February 2021. The regime and Rosatom signed a roadmap for "peaceful use of atomic energy in 2023 and 2024" at the 7th Eastern Economic Forum in Vladivostok in September 2022, including an initial agreement with Russia's atomic energy agency on the possible implementation of a modular reactor project in Myanmar.
Junta spokesman Major General Zaw Min Tun told the press that the project was aimed solely at developing nuclear energy for peaceful use in Myanmar.